Injured in an Accident in Forty Fort? Call Munley Law Personal Injury Attorneys Today.
If you or a loved one were the victims of an accident caused by someone else's negligence in Forty Fort PA, you likely have many questions. Will your insurance offer you enough to cover your losses? Can you get fired for filing a workers' compensation claim if you were hurt on the job? Will the negligent party pay up in a personal injury lawsuit? These are common, yet highly complex questions which is why having an experienced Forty Fort personal injury lawyer on your side is so critical.
$32 Million Wrongful Death
$26 Million Truck Accident
$17.5 Million Car Accident
$12 Million Product Liability
$9 Million Truck Accident
$8 Million Truck Accident
$8 Million Truck Accident
$7.5 Million Auto Accident
$6.9 Million Garbage Truck Accident
$6.5 Million Traumatic Brain Injury
$5 Million Medical Malpractice
$5 Million Bus Accidents
Munley Law Personal Injury Attorneys is one of the highest-rated law firms in Forty Fort, PA. Named after a Revolutionary War-era fort, this borough is one of the Luzerne County communities Munley Law Personal Injury Attorneys has been proud to serve for over 60 years. We have been named by our peers to the Best Lawyers in America for decades and we have won millions of dollars for our clients in verdicts and settlements in Forty Fort, PA.
How Do I Know If I Have a Personal Injury Case Worth Pursuing?
When you are hurt at work, on someone else's property, or in a car accident, you may begin to wonder if the injuries you sustained are severe enough to pursue a personal injury lawsuit.
In general, if you have sustained injuries and suffered property damage as a result of someone else's negligence, it is worth meeting with a Forty Fort personal injury lawyer to determine if the claim should stay with the insurance companies or move to the court.
Once you have determined if the damages sustained are worth pursuing legal action, you'll also need to determine whether the other party owes you a responsibility to be safe and avoid harm. The elements of negligence you'll need to prove with the help of a personal injury and accident lawyer are:
The at-fault party owed you a duty of care. These parties may not have an established relationship with the victim. It could be another driver on the road who has assumed the liability to drive safely, a doctor or surgeon who is supposed to protect their patient from harm, or an employer who is responsible for maintaining a safe work environment.
There was a breach in that duty of care. Because the person who had a responsibility to keep others safe from harm breached that responsibility, an accident occurred. This may be a driver that crashed into you because they were distracted behind the wheel; a doctor didn't notify you of all the risks of a procedure; or, your employer knew there were unsafe conditions in the workplace and didn't remedy them.
An injury resulted from the breach. Due to the negligence of the at-fault party, the accident had caused you an injury.
The accident resulted in damages. Damages are any losses you incurred because of the accident. This includes medical bills, pain and suffering, lost wages, etc.
If all elements of negligence have been met, you may have a personal injury claim worth pursuing in Forty Fort against the at-fault party. A Munley Law Personal Injury Attorneys personal injury attorney can help you move forward with a claim.
Why Choose Munley Law Personal Injury Attorneys?
Munley Law Personal Injury Attorneys has the Experience in the Pennsylvania A Legal System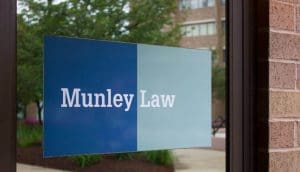 With 60 years of experience, our injury lawyers have the necessary expertise and resources to achieve the best possible results for you. If you live in Forty Fort, Wilkes-Barre, Hazleton, or anywhere else in Luzerne County, and have suffered an injury or been in an accident, we would welcome the opportunity to work with you. For a free evaluation of your case, call the personal injury lawyers of Munley Law Personal Injury Attorneys or complete our easy-to-use online form. We are ready to help you today and our initial consultation is FREE.
In addition to our experience in Forty Fort, we also have a reputation that precedes Luzerne County. Our personal injury and accident lawyers have been recognized as national leaders in personal injury litigation, willing millions of dollars in verdicts and settlements for our clients throughout Pennsylvania.
Not only do our clients appreciate the work we do for them, but we have gained peer recognition in various legal publications and associations. Three of our partners are board certified by the National Board of Trial Advocacy and many of our attorneys have been consistently recognized by Best Lawyers of America, Super Lawyers, Lawdragon, and many other highly regarded legal awards.
While our standing in the legal community is important, so too is our ability to connect with those who need our support. Our compassionate team works with you along the entire process to ensure you know exactly what to expect. Further, if we need more information or input from the professionals, we call upon our experts in the medical field to ensure that your case is fully documented and calculated for the most beneficial outcome.
Many attorneys can claim they have the track record, but our client testimonials say so much more.
Marion not only is an accomplished lawyer who gets great results, but also she brings genuine compassion and zealous advocacy to each person she represents. Our firms have worked together on important cases and I look forward to future opportunities to work together.
Rena Leizerman
Chris Munley represented my dad at a very difficult time with compassion yet in the courtroom he was the fighter we needed. Chris helped my family during a time of incredible hardship when my dad was hit head on by 2 teenage girls. He took the time to answer all of our questions at any given time when we needed him. He treated my entire family with respect and helped us to get what we deserved. I would recommend Chris Munley to anyone in need of a reliable, determined, and trustworthy attorney.
A Car Accident Client
Munley Law Personal Injury Attorneys did a great job with my 7-year-old son's dog bite case. We were very satisfied. They took care of everything and got the job done quickly and efficiently.
Renee, Dog Bite Case
How Can an Experienced Personal Injury Attorney Help You With Your Claim?
Personal injury cases can quickly become emotionally and physically taxing on the victim and the family. Medical bills begin to pile up, you need to get back to work, and now you need to figure out how you'll replace your damaged property.
While you may want to just go through the insurance company and take whatever settlement they provide, this isn't always in your best interest. Unfortunately, the insurance companies are not looking out for your best interest but rather, their own bottom line.
This is why it's important to have a Forty Fort personal injury lawyer by your side to help you navigate the legal process.
The Munley Law Personal Injury Attorneys personal injury and accident lawyers can help you by:
Calculating the Value of Your Claim
Oftentimes, the settlement the insurance company offers you will not cover the total value of your losses. While you may have an idea of what your total damages are, a personal injury lawyer can help you calculate the value of your claim by assessing:
Past, present, and future medical bills
Long-term care needs
Lost wages (and lost earning potential)
Disability
From there, we will work to come up with a settlement value that will better help you in the future. But, if you accept a settlement before seeking legal advice, you cannot pursue further compensation.
Collecting the Evidence Needed to Build a Claim
When you are involved in an accident, the last thing on your mind is collecting evidence of what occurred, but this can be highly valuable to your claim. Whether it is photos, videos, witness testimony, or medical exams, a personal injury lawyer can help you collect the evidence you need to build a successful claim against the negligent party.
Negotiate a Settlement
While there is no law saying you have to seek legal advice in a personal injury claim, it can prove incredibly impactful on the value of your settlement. A personal injury attorney can negotiate a settlement with your insurance company to seek the compensation you need.
Represent You in Court
When settlements have reached a dead end, you may need to bring your claim to court to seek the justice and compensation you deserve. A lawyer can prepare you for the legal process or represent you if you are physically unable to do so yourself because of the severity of your injuries.
FAQs About Personal Injury Cases in Forty Fort PA
Q: What Type of Personal Injury Cases Does Munley Law Personal Injury Attorneys Handle in Forty Fort and throughout Luzerne County?
A: The Munley Law Personal Injury Attorneys Forty Fort personal injury lawyers have experience in a variety of personal injury and accident claims. Our firm has become a national leader in the following areas of law:
Q: Do I need a Forty Fort Personal Injury Lawyer?
A: You are never legally required to hire a lawyer to represent you in a personal injury lawsuit however, it does come with its benefits. Oftentimes, victims are eager to accept a settlement and move forward, but this may not be in your best interest. A Forty Fort personal injury and accident lawyer can help you when you have:
Suffered serious injury
Need help establishing fault
Have been denied compensation from the insurance company
Have been offered a low settlement from the insurance company
You are not sure what your legal rights are
Q: How Long Do I Have to File a Lawsuit in Forty Fort PA?
A: You have two years to file a personal injury lawsuit in Pennsylvania.
Q: How Long Will My Personal Injury Case Take?
A: There is no defined timeline for how long a personal injury case can take to resolve. It depends on multiple factors from the willingness of the liable party to work with you, to what the insurance company has to offer, or what the court rules. Some cases take months to conclude, while more complex cases can take years.
If you have a personal injury claim in Forty Fort or anywhere in Luzerne County and need an experienced lawyer to guide you through the process, the Forty Fort PA personal injury lawyers at Munley Law Personal Injury Attorneys are here to help. Contact us today for a free consultation.