Heavy Truck Accidents Require Experienced Attorneys
If you've been injured in a truck accident, a heavy truck accident lawyer at Munley Law Personal Injury Attorneys is here to help. With more than 60 years of experience helping truck accident victims get the justice they need to recover from their injuries, our lawyers are ready to do the same for you.
These accidents can be complex and you should not try and fight alone against large insurance and trucking companies.  At Munley Law Personal Injury Attorneys, we are considered among the Best Lawyers in America and have recovered millions of dollars in settlements and verdicts for our trucking accident and injury victims.
Dan Munley has served as the the Chairman of the Trucking Litigation Group for the American Association for Justice and Marion Munley serves on its executive committee.  We are asked to speak nationally on trucking cases and are considered true experts in trucking law. Our truck accident lawyers would love to help you get the justice you deserve for your Heavy Truck accident case.  Call us today at 844-686-5397or fill out our easy to use online contact form.
$32 Million Wrongful Death
$26 Million Truck Accident
$17.5 Million Car Accident
$12 Million Product Liability
$9 Million Truck Accident
$8 Million Truck Accident
$8 Million Truck Accident
$7.5 Million Auto Accident
$6.9 Million Garbage Truck Accident
$6.5 Million Traumatic Brain Injury
$5 Million Medical Malpractice
$5 Million Bus Accidents
What Are Heavy Trucks?
The primary method for moving freight across this country is inside heavy trucks. According to the American Trucking Association, trucking revenues recently totaled more than $875 billion, which is 82.1% of the U.S.'s bill for freight in 2021. Due to this volume of trucks on the road, heavy truck-related fatal and injury truck crashes are a significant issue for road and highway safety.
Any vehicle with a gross vehicle weight of more than 10,000 pounds is considered a large or Heavy Truck and is governed by specific federal safety regulations and laws. The government requires that truck drivers qualify for commercial licenses and are subject to limited drug and alcohol testing. Unfortunately, many truck safety advocates question the effectiveness of the licensing and testing programs.
What Causes Heavy Truck Accidents?
Heavy trucks can cause accidents in many of the same ways car accidents occur. However, due to their size and weight, a heavy truck accident can often cause more devastating injuries for all passengers and vehicles involved in the accident. From driver fatigue to unsafe vehicle operation, large, unstable loads or defective equipment, accidents involving heavy trucks present many unique issues.
Here are just a few of the causes of heavy truck accidents:
Hours of Driving. Driver fatigue and drowsiness are conditions that result in reckless behavior such as failure to keep in the proper lane and running off the road. The U.S. National Transportation Safety Board blames driver fatigue as a probable factor in 20-40% of truck crashes.
Intoxicated Drivers. A study of truck driver fatalities was conducted by The National Transportation Safety Board and The National Institute on Drug Abuse in eight states and one or more drugs were detected in 67% of these fatally injured drivers and 33% of these drivers had detectable blood concentrations of psychoactive drugs or alcohol.
Driver Error. Heavy Truck drivers are responsible for the safe operation of their vehicle. When semi-trucks travel at rates that exceed the speed limit, they are speeding and increasing the likelihood of a jackknife or rollover.
"Under-rides." These refer to passenger vehicles that slide under another vehicle, with the majority of these incidences happening between Heavy Trucks and passenger cars.
Blind Spots. Blind spots exist in the front, back and sides of a Heavy Truck. When vehicles are in these blind spots, the Heavy Truck may make a wide right turn into the passenger car.
Squeeze Plays. These involve heavy Trucks making wide right turns. When a car is caught between a Heavy Truck and a curb – the car caught in a "squeeze" that can cause a serious accident and injuries. Another turning issue is called "off-track," occurs when a heavy truck turns at high speed and swings into a neighboring lane without warning.
Following Too Closely. Unlike cars, heavy trucks require up to 40% more stopping space. Following too closely results in inadequate stopping distance between heavy trucks which then rear-end vehicles in front. It is not difficult to imagine the devastating results that occur when a car, van or SUV is hit from behind with over 10,000 lbs. of moving metal.
Substandard Inspection. There are approximately 2 million plus roadside inspections of heavy trucks and about 23.2% of these heavy trucks were found to have serious violations, leading to catastrophic accidents and injuries on our country's roads and highways.
Longer Combination Vehicles (LCVs). These vehicles are tractor-trailer heavy trucks combinations with two or more truck trailers that weigh more than 80,000 pounds. These heavy trucks are at high risk of jack-knife rollover, sway, and loss of control. Longer lengths, heights, and weights make these heavy trucks perform and handle differently than other types of tractor semi-trailers or twin trailers. The LCVs are more dangerous due to their tendency to sway and leave the lane they are traveling in, as well as requiring increased passing distance.
Hazardous Materials (hazmat). Revenue from hazardous materials shipments has increased to $10 billion with more than 800,000 shipments every day. Hazardous materials (hazmat) in Heavy Trucks may contain flammable liquids, like gasoline. Each year about 200 hazmat heavy trucks are involved in fatal crashes and 5,000 in nonfatal crashes.
How to Avoid a Heavy Truck Accident
There's no foolproof way to prevent every single truck accident, the same goes for car accidents. However, there are of course things every driver can do to help prevent these accidents and dramatically decrease their chances of getting into an accident with a heavy truck.
Here are a few suggestions to help motorists improve the odds when sharing the road with large commercial trucks:
Stay Visible. Stay out of a heavy truck's blind spots. When behind a truck, stay far enough back to see both of the truck's side mirrors.
Maintain a Safe Following Distance. Heavy trucks can take longer to brake due to their size, so it's important you are giving yourself enough space to react accordingly. This ensures both vehicles have enough space and time to brake.
Practice Defensive Driving. Learning about how to drive defensively means you'll be equipped to follow safety protocols when faced with challenges on the road — including other drivers, debris, inclement weather, and more.
Use Your Signals. It's imperative you use proper signals before you turn or pass. You should also avoid sudden moves such as swerving to pass.
Make Sure Lights and Windshield Wipers Work. Follow all safety procedures, including putting on your lights and windshield wipers on rainy days.
See our list of frequently asked questions about trucking accidents and visit our blog on trucking accident news.
What Kind of Injuries Can I Sustain From a Heavy Truck Accident?
Heavy trucks are exactly what they sound like: Large, cumbersome, and can cause catastrophic injuries. This means if you've been injured in a heavy truck accident, it could take years to truly recover from the accident.
Here are just a few of the common injuries a person could sustain in a heavy truck accident:
Paralysis
Broken bones
Neck and back injuries
Disfigurement or amputation
Emotional injuries, such as post-traumatic stress syndrome
It's important that you are thinking of everyone who is impacted after an accident. This includes families who end up devastated when a loved one is involved in a semi truck crash. Sometimes loved ones are forced to become full-time caregivers, which adds a tremendous amount of financial stress to the family, as just one example.
If you are a heavy truck accident victim and can no longer work, your family is now forced to survive on one less income. This is exacerbated if you were already the sole earner and provider for your family. If your injuries are as severe as traumatic brain injuries, your life could be permanently altered, which means your family has to cope with personality and behavioral changes. In the worst cases, a family suffers a loss of a loved one and will be grieving while trying to seek justice through a truck accident claim.
The truck accident lawyers at Munley Law Personal Injury Attorneys deeply understand the consequences of truck accidents. They have worked with countless clients who have gone through similar situations. Call the truck accident lawyers today to speak with a compassionate attorney who will gently guide you through the claims process.
Accidents With Heavy Trucks Require Immediate Attention
When heavy trucks accidents happen, the trucking companies involved in the accident immediately send representatives to the truck accident scene. These agents work carefully so that they can limit their company's liability to you. These trucking company representatives know that the ideal time to confront a heavy truck accident victim is immediately following the truck accident.
In the aftermath of a truck accident, you, as a victim of a truck accident, will need to make many important decisions that will impact your future. Grieving, anxious and injured people are often pressured by these high-pressure tactics By working with an experienced attorney, you can have some control and participation in ensuring that their rights and interests are protected.
Contact Munley Law Personal Injury Attorneys About a Heavy Truck Lawsuit Today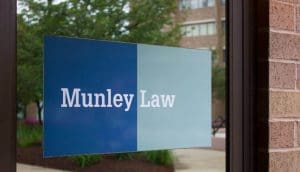 If you or a loved one has been injured in an accident with a Heavy Truck, you need the experienced lawyers of Munley Law Personal Injury Attorneys to protect your rights. Heavy Trucking companies have their own investigators and attorneys fighting for them, you need someone on your side.
When choosing a truck crash lawyer to protect you and your family, consider the following tractor trailer accident settlements and verdicts:
At Munley Law Personal Injury Attorneys, our goal is to provide exceptional legal services to our clients. We strive to achieve the highest standard of excellence for the protection of individual rights through teamwork and the use of our considerable resources and experience. For a Free consultation regarding your Heavy Truck accident, call us toll free at 844-686-5397 or use our online contact form or use our Chat Now button. We are ready to fight for you today!