Injured in an Accident in Kingston? Call Munley Law Today.
If you or a loved one have been injured in an accident in Kingston PA, you likely have many questions on your mind. How soon can I get back to work? How can I afford these medical bills? Can I hold the person who caused the accident responsible?
If you were hurt in an accident caused by someone else's negligence, a Kingston, PA personal injury lawyer from Munley law can guide you through the process.
$32 Million Wrongful Death
$26 Million Truck Accident
$17.5 Million Car Accident
$12 Million Product liability
$8 Million Truck Accident
$8 Million Truck Accident/Wrongful Death
$7.5 Million Auto Accident
$6.9 Million Garbage Truck Crash
$6.5 Million Traumatic Brain Injury
$5 Million Medical Malpractice
$5 Million Bus Accident
$4.7 Million Truck Accident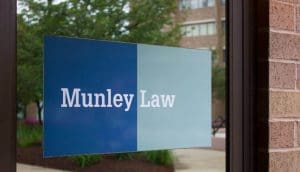 Our staff includes lawyers, paralegals and other professionals who are specially trained to assist in the investigation, development, negotiation, and trials of personal injury cases throughout Pennsylvania. Our Kingston personal injury lawyers have won millions of dollars in settlements and trial verdicts, including numerous multimillion-dollar cases. We are named by the U.S. News & World Report as one of the Best Law Firms in 2020, are Million Dollar and Multi-Million Dollar Advocates, and have been named Pennsylvania Super Lawyers.
The Kingston personal injury lawyers at Munley Law know how hard the people of Kingston work to put food on the table. And when you suffer an injury in an accident, there are concerns about how you'll keep providing for your family. That's why our personal injury attorneys work on a contingency basis – you do not pay a fee unless we win your case. It's that simple. This gives you and your family a chance to recover and continue with your lives as we work diligently to get you the compensation you deserve following an accident.
If you have been in a workplace accident or were injured in an auto accident in Kingston, don't wait. Contact the Kingston personal injury lawyers at Munley Law today for a free consultation.
Why You Need a Kingston Personal Injury Lawyer
While there is no legal requirement that says you must get an accident attorney for your claim, not having one by your side can prove disastrous for your case. You deserve to have your rights protected the moment an accident occurs, and that means trusting a Kingston personal injury lawyer from Munley Law to help you through the legal process.
At Munley Law, we work quickly to preserve the evidence, gather the facts, and compile all of the testimony needed to strengthen your case. Our injury lawyers will sit down with the insurance company and negotiate fair settlement. If negotiations go sour, our trial attorneys will fight on your behalf in the courtroom. And, we do all this while you focus on the most important thing–your own physical recovery.
Since 1959, Munley Law has made a commitment to standing up for the people in the Wyoming Valley who have suffered a serious injury due to the negligence of another person, company, or other liable parties. Being injured can drastically change your entire life in a matter of seconds which is why we work to help you make it to the other side of the ordeal as quickly and smoothly as possible.
The results of a personal injury accident are not just the physical ramifications to your body, it can also take a financial toll on your family. While you cannot go back in time to stop the accident from occurring, we can help you receive the compensation you need to move forward and get back to living life.
You may worry that you cannot afford a Kingston personal injury lawyer, but the reality is you cannot afford to go without one. It is estimated that personal injury victims who secure representation from a personal injury lawyer are granted nearly three times the compensation than those who take on the insurance companies alone. We handle all the background work of phone calls, paperwork, and back-and-forth negotiations. And, if we're not satisfied with the settlement offer, we'll take your case to court.
Munley Law lawyers work on a contingency fee basis which means you won't pay anything until we win your case–so if we're unsuccessful, you don't pay a thing. And as always, the first consultation is free.
What Practice Areas Does Munley Law Handle in Kingston?
The Kingston accident lawyers of Munley Law are well-versed in many personal injury cases. Our board-certified trial lawyers can help you through the most complex claims to ensure you are properly compensated for the damages incurred from the accident.
Be the accident the result of a negligent individual, a company, or another third party, we can take even the biggest entities to court.
The Munley Law personal injury lawyers in Kingston can handle the following cases and more:
Truck Accidents
Getting into an accident with a large truck can be devastating. Not only is your vehicle likely totaled, but your injuries may be so severe that it impacts your life forever. With the busy highway intersection in our communities, Luzerne County and Kingston have become all too familiar with truck accidents.
Munley Law has received numerous accolades from law organizations and our peers on how we handle truck accident cases and how we've secured millions of dollars in settlements and verdicts on our clients' behalf.
If you have been injured by a tractor trailer, the Kingston truck accident attorneys from Munley Law can help. Our team can determine who was at fault for the wreck, calculate the total value of your claim, and help you go after the liable party be it the truck driver, their employer, or another third party.
Car Accidents
According to the Pennsylvania Department of Transportation, in 2020, there were 104,475 car accidents in Pennsylvania. Of these accidents, 1,129 people died and 61,248 people were injured. These numbers have ranked Luzerne County as one of the top ten deadliest counties in Pennsylvania, accounting for over three percent of the state's traffic fatalities.
The severity of your injuries can not only put your life on pause for the physical recovery period, but it can also hurt your bank account as medical bills pile up.
At Munley Law, we represent drivers, passengers, truckers, motorcyclists, and pedestrians who suffered serious injuries in motor vehicle accidents in Kingston. No case is too complex and we can handle even the toughest of negligent parties, including large corporations.
If you've been hurt in a car accident in Kingston, call Munley Law.
Workers' Compensation
Northeast Pennsylvania is home to a wide variety of employers in dangerous industries. From transportation, healthcare, maintenance, and manufacturing, getting hurt at work can be detrimental to your family.
While many of us know workers' compensation is a right for nearly all Pennsylvania employees, injured workers still fear that their claims will be denied, or their employer will retaliate against them for reporting the injury.
At Munley Law, we can help you file your workers' compensation claim to avoid denial of rights. And, if the insurance company still will not accept your claim, we'll help you through the appeals process so you get the benefits you are entitled to.
Our compassionate legal team has helped many injured employees across Pennsylvania get the coverage they need while they recover from their workplace injury. If you are in need of legal guidance, call Munley Law.
Premises Liability
When you enter a business or someone's home, you expect the property to be maintained for everyone's safety. However, when injury occurs because a property owner fails to maintain their property, someone needs to be held responsible.
Premises liability cases can be complex as the insurance company will likely try to deny your claim and blame you for the injuries sustained. That's where Munley Law comes in. Our attorneys will help you gather the evidence needed to show how the accident occurred as well as where the breach in the owner's responsibility to maintain and care for the property went wrong.
If you need to file a premises liability lawsuit in Kingston, PA. Munley Law is here to handle any type of premises liability claim. Call today for a free consultation.
Product Liability
When you have been hurt because of a defective or dangerous product, you need someone who can represent you and protect your rights. Be it an unsafe drug, defective medical device, malfunctions car part or vehicle, damaged machinery or a common household item, the Munley Law product liability lawyers can help you.
We have decades of experience handling product liability cases and have secured large settlements and verdicts for our clients. Our legal team will use all our resources to ensure you get the compensation you deserve.
Medical Malpractice
Pennsylvania is no stranger to medical malpractice lawsuits. According to The Unified Judicial System Of Pennsylvania, in 2020 alone, 1,476 medical malpractice lawsuits were filed, with 33 occurring in Luzerne County.
With the large number of hospitals and medical facilities in Kingston and the surrounding areas, it is important to know who you can turn to if you or a loved one have suffered injury, illness, or death at the hands of a medical provider.
The medical malpractice lawyers of Munley Law have the experience and compassion needed to get your family through this trying time.
Wrongful Death
Be it a car accident turned fatal, a medical malpractice case turned lethal, or another accident which has resulted in the death of a loved one, the person or persons responsible for the accident should be held accountable.
Wrongful death claims can be gut-wrenching as your family is forced to relive the horror of losing a loved one over and over again. At Munley Law, we know how painful this can be. We represent the families of wrongful death victims through the legal process to move the case through as quickly as possible.
If you have lost a loved one because of the negligence of another, call Munley Law.
Frequently Asked Questions About Personal Injury
Q: How Much Will It Cost to Hire a Personal Injury Lawyer in Kingston?
A: At Munley Law, we work on a contingent fee basis. This means that you do not pay a fee up front until we win your case. If we need to hire expert witnesses or another professional group, we take on that cost for you, and only will require payment if we win the case.
Q: What Can I Recover in a Personal Injury Case?
A: The severity of your injuries will ultimately determine what you can recover in a personal injury case. In general, you can recover damages to pay for some or all of your injury expenses including hospital bills, medication, rehabilitation, etc. Further, you may be able to collect for missed wages, and pain and suffering.
A Kingston personal injury lawyer can help you calculate the total value of your claim to determine what you can recover in your personal injury filing.
Q: Why Should I Choose Munley Law?
A: At Munley Law, our personal injury lawyers have earned a nationwide reputation for being aggressive in trial, and compassionate to our clients. We have a track record of success and can use that experience to bring your case to justice.
But don't just listen to us, see what our clients have to say:
Marion not only is an accomplished lawyer who gets great results, but also she brings genuine compassion and zealous advocacy to each person she represents. Our firms have worked together on important cases and I look forward to future opportunities to work together.
Rena Leizerman
Chris Munley promised results, and that's what I got. He was very compassionate and he answered every question I had about my personal injury case. When we couldn't settle with the insurance company out of court, he was a fighter in the courtroom. Needless to say, we won and I couldn't be happier with the results.
Patrick, a Personal Injury Client
Marion and the Munley Law Firm are THE best legal experts in NEPA. I am happy to have found her and to have established an ongoing relationship with such a powerful and reputable law firm. I highly recommend Marion and the Munley Law Firm. I had a difficult Web Site poaching problem no one else wanted to tackle – but Marion and her team were quick to help and delivered outstanding results. I'm glad that they are working for me! Marion is a professional and VERY knowledgeable attorney who will serve you exceptionally well. I think one of her strongest attributes is the depth of her team – she has specialists where it counts. If I could give her 5 stars I would. I have referred several of my colleagues to Marion and they have been well satisfied too. I can't say enough about her as a person and legal expert.
Matthew, Personal Injury Client
Contact Our Kingston Personal Injury Lawyer to Schedule a Free Consultation
Whether you are hurt in a car accident, at work, or in another event, Munley Law will put in the work to ensure you are compensated for your losses. We know that a personal injury is more than just bruises to your body — it can turn your entire life upside down.
To meet with a Kingston personal injury lawyer, chat live, email us, or call for a free consultation with a Munley Law attorney today.