Representing Injury Victims Throughout the Scranton Area
The Scranton personal injury lawyers at Munley Law have been helping clients with their personal injury claims for decades. Fighting the insurance company alone is never the right option. You could be settling your claim for much less than what's it worth. But having a Scranton attorney by your side, you will get the legal advice and representation that you need to get the maximum amount of compensation for your injuries.
We know the tactics insurance companies play to prevent paying what your claim is worth. We understand what your family is going through at this time and will work to make sure you are properly compensated as you heal from your injuries. Whether you were injured in a car accident, suffering from an injury while on the job, or dealing with the aftermath of a truck accident, our Scranton personal injury attorneys are here to make things right.
Schedule an appointment at our Scranton office:
Munley Law Personal Injury Attorneys
227 Penn Ave.
Scranton, PA 18503
(570) 865-4699
$32 Million Wrongful Death
$26 Million Truck Accident
$17.5 Million Car Accident
$12 Million Product Liability
$9 Million Truck Accident
$8 Million Truck Accident
$8 Million Truck Accident
$7.5 Million Auto Accident
$6.9 Million Garbage Truck Accident
$6.5 Million Traumatic Brain Injury
$5 Million Medical Malpractice
$5 Million Bus Accidents
Why Choose Munley Law Personal Injury Attorneys Firm as Your Scranton, PA Personal Injury Attorney?
Our Scranton personal injury attorneys have over 60 years of experience in recovering some of the largest settlements and verdicts for our clients in Lackawanna County. In our extensive history, we have recovered hundreds of millions of dollars for our clients and we continue to help clients every day with their personal injury claims. Our history of service goes back for generations with an enduring commitment to standing up for what's right. Our law firm continues to build on this legacy by seeking justice for the people of Northeastern Pennsylvania.
Consistently named to the "Best Law Firms" list by US News and World Report, Munley Law Personal Injury Attorneys has had numerous record-setting jury verdicts against trucking companies, insurance companies, hospitals, and big businesses throughout Scranton, PA.
If you suffered a serious injury or lost a loved one in an accident in Scranton, you should know your legal rights and know how much your claim is worth. A Scranton personal injury lawyer at Munley Law Personal Injury Attorneys will review the details of your case for free, and guide you through the legal process. There is NO FEE unless we win your case.
A Personal Injury Law Firm with a History of Fighting for the People of Scranton, PA
Since day one, Munley Law has been a fixture in the Scranton community. This is where we grew up, built our personal injury law firm, and raised our families. The people we represent aren't just our clients – they're our friends and neighbors. We will fight to protect the rights of Scranton residents who suffer injuries in car accidents, truck crashes, workplace accidents, and more.
If you or someone you love suffered a serious injury in Scranton, contact Munley Law for a free consultation with a personal injury attorney. Chat live, fill out our email form, or call today. We do not get paid unless we win your case.
Do I Need a Personal Injury Attorney?
After a serious accident or injury, you may have many questions. How will I pay my medical bills? How long will I be out of work? Who is responsible for the damage? Do I need to hire a personal injury lawyer?
As the injured victim, you may be legally entitled to compensation to cover some of the costs you've incurred through no fault of your own. This includes things like medical bills, physical therapy, long-term care, lost wages, pain and suffering, and other losses. However, you're unlikely to get the full, fair compensation you deserve without a lawyer to represent you. People who have a personal injury attorney typically get three times the amount (or more) than those who attempt to settle on their own.
Our Scranton personal injury attorneys can help your injury case in the following ways:
Investigate Your Accident: A thorough investigation is required following an accident. Evidence will be needed to show who is at fault for the accident and how it could have been prevented if the at-fault party acted responsibly. A personal injury lawyer will get witness testimony, consult with expert witnesses, and gather important data such as video footage and logbooks to bolster your case.
Negotiate With the Insurance Companies: The insurance company will offer you the lowest amount it is willing to pay for your claim. Many people don't realize that the insurance company does not take into account any future expenses you may have, such as future expenses or lost wages. Our Scranton personal injury attorneys will negotiate with the insurance company to reach a more favorable settlement.
Represent You in Court: Not all cases settle. If negotiations break down and a settlement cannot be reached, our Scranton injury attorneys are prepared to go to trial. With decades of trial experience and a successful track record, our personal injury attorney is prepared to fight for you.
The legal process can be daunting. Let us handle all of the paperwork, phone calls with the insurance company, and negotiations so that you can recover from your injury with peace of mind. There is no fee for our services unless we win your case.
Scranton Personal Injury Lawyer Near Me: "The Electric City"
Scranton, Pennsylvania, is the county seat of Lackawanna County and the sixth-most populated city in the Commonwealth. With a population of 77,291 people, Scranton is a thriving hub for business and culture in the area. Scranton was acknowledged as a borough in Luzerne County on February 14, 1856, and on April 23, 1866, it was formally chartered as a city. The strong mining and railroad sectors of this developing industrial town swiftly drew in thousands of new immigrants. It is best known today as the setting for the television series "The Office."
After the Dickson Manufacturing Company built its first electric lights in 1880, Scranton, Pennsylvania, gained the moniker "Electric City." The first electric streetcars in the United States started operating in the city in 1886 as a result.
The need for coal and textiles fell after World War II, and Scranton started to diversify its economy. A revitalization drive was started in the middle of the 1980s, making Scranton a desirable location for young professionals and creatives.
Munley Law is proud to be headquartered in Scranton, Pennsylvania. We grew up in Northeastern Pennsylvania and can't imagine living anywhere else.
How Much Does It Cost to Hire a Scranton Personal Injury Lawyer?
The answer is simple: We don't get paid unless you do. At Munley Law Personal Injury Attorneys, we do not charge or collect a fee for our services unless we win your case. When we achieve a satisfactory settlement or verdict for you, we simply take a percentage of it to cover our costs. If you get injured while doing any activities, you may not be able to work which means paying your monthly bills, credit cards, personal loans, or student loans. You don't pay a cent upfront or out of your pocket. If we cannot get you the justice you deserve, you owe us nothing. Our no-fee promise ensures that anyone can hire the best personal injury lawyer. Contact us today for a FREE consultation.
How Do I Choose a Lawyer in Scranton?
If you need Scranton, PA personal injury attorney, you certainly have several firms to choose from. How do you know who you can trust to fight for you and your family? How do you know which experienced personal injury attorney is right for your case? The fact remains that not all personal injury lawyers are created equal. And, choosing the right lawyer may determine the outcome of your case. These are some of the factors that set Munley Law Personal Injury Attorneys apart:
Experience: Munley Law was founded in Scranton in 1959; few firms in the area can claim that kind of longevity and experience. Our attorneys have decades of experience working in personal injury law and taking cases to trial. While many injury lawyers will only settle cases out of court, we are prepared to bring your case to trial if an acceptable settlement cannot be reached.
Track Record: Ultimately, you want a representative who can get results. Our attorneys have a record of success handling complex personal injury cases and obtaining maximum compensation for our clients. See a partial list of our multi-million dollar verdicts and settlements.
Client Satisfaction: It's important to us that our clients not only receive fair compensation but also that they get the assistance and compassion they deserve while recovering from an injury or loss. Our entire staff works hard to make sure our clients have everything they need during this difficult time.
Our Award-Winning Team Members: The Munley Law Personal Injury Attorneys have earned national recognition for their work on behalf of injured victims. Other attorneys across the country look to our lawyers as industry experts, and our lawyers frequently lecture at events nationwide, sharing their expertise with other lawyers.  Our injury attorneys belong to some of the most exclusive groups of elite lawyers in the world, including the International Society of Barristers, the Summit Council, and the American Board of Trial Advocates. We are among a small number of personal injury lawyers to earn board certification in multiple categories from the National Board of Trial Advocacy.
What Types of Personal Injury Cases Do You Handle in Scranton, PA?
Our attorneys have handled thousands of cases, from car accidents to product liability claims, workers' compensation, or medical malpractice cases. Below are some of the personal injury case types we handle at our firm:
Car Accidents or Tractor Trailer Accidents in Scranton, PA
More likely than not, you will be involved in a car accident at some point in your life. While car accidents happen every day, our Scranton car accident lawyer knows that getting seriously hurt in a car crash is anything but routine.  Motor vehicle crashes can be traumatic and costly. If you suffer severe injuries or lose a loved one in a car accident as the result of another driver's negligence, you have the right to seek compensation. We, injury lawyers, represent victims of car, Uber riders, pedestrian, and motorcycle accidents.
Scranton Truck Accidents
Not all Scranton personal injury firms are equipped to handle commercial truck and tractor-trailer accident cases. At Munley Law Personal Injury Attorneys, we devote a significant portion of our practice to these special types of cases. The Scranton area sees a high volume of truck traffic and suffers its share of serious tractor-trailer accidents and crashes. That's why Scranton area residents must have a reputable law firm they can turn to who will stand up to the big trucking companies. We represent drivers, passengers, pedestrians, and truckers who suffer injury or death in collisions with all types of trucks.
The Scranton truck accident attorneys at Munley Law Personal Injury Attorneys have earned national recognition for their work in trucking law, and have won hundreds of millions for truck wreck victims. No personal injury law firm in Pennsylvania has more experience or more success handling truck accident cases.
Scranton, PA Workers' Compensation Claims Guide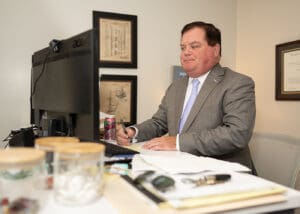 So many people in the Scranton area and throughout Northeast PA work physically demanding jobs. If you suffer an injury on the job, you have the right to collect workers' compensation you need an accident attorney to help, and our super lawyers are here for you. If the insurance company denies your claim, our Scranton workers' compensation lawyer can help you recover the benefits you rightly deserve. We help workers in many different industries, including healthcare, transportation and trucking, warehouse and distribution/fulfillment centers, retail, hospitality, law enforcement, construction development, maintenance, and more.
Premises Liability Cases in Scranton
Property owners, landlords, and business managers must keep their premises safe from hazards. When they fail in this duty, they put the lives of their visitors in danger. You could be walking to Scranton's University and slip and fall on a slippery sidewalk. Our Scranton premises liability lawyers represent people who have suffered injuries from a slip and fall, burn, construction site injury, or other accident on another person's property or at a place of business in Scranton. Even with self-guided tours, the owner needs to keep their place of business safe. There are many activities where you can get injured.
Scranton Product Liability Claims, Our Scranton Personal Injury Attorneys Will Help
If you suffer an injury from a defective product, drug, birth vehicle, or medical device, our Scranton product liability attorneys can help ensure you receive fair compensation. We have helped people in Scranton pursue claims involving hernia mesh, Stryker hip implants, Takata airbags, and other potentially harmful products on the market today.
Scranton Medical Malpractice Attorneys Will Fight and Win Your Case
Scranton is home to some of the region's best hospitals and medical facilities. But, none are immune to incidents of negligence and errors. If you suffered an injury, or illness, or lost a loved one due to a medical error or misdiagnosis, we can help. A Scranton medical malpractice lawyer in our Scranton firm will review the details and development of your situation at no charge. We, injury lawyers, work with experienced doctors and experts to thoroughly examine and view medical records, treatment history, the timeline of events, and every detail of your narrative to determine liability.
Our Personal Injury Lawyer Will Help With Wrongful Death Lawsuits in Scranton
When negligence results in death, the at-fault company or person should be held accountable. A Scranton personal injury lawyer will seek to obtain justice for your family.
Wrongful death lawsuits compensate the family of the loved one that was killed as a result of the negligence of another. Usually, the plaintiff in these cases is the estate of the individual killed. When you have a personal injury case in Lackawanna that involves a wrongful death of a loved one, you should call the top wrongful death lawyer in Scranton: Munley Law.
Nursing Home Abuse and Neglect Claims in Scranton, you Need a Personal Injury Lawyer
Scranton has a large elderly population and several assisted living and long-term care facilities. Abuse and neglect of nursing home residents is a problem plaguing facilities nationwide, including those in our community. With some caregivers, it doesn't register with them it is so important to care for the elderly. Some of their programs may have to walk to and need assistance and instead, are left to go on their own. Nursing home abuse and neglect can lead to serious injuries like a fall or an assault, the spread of contagious illnesses, and even death.
If your loved one has suffered at a negligent elder care facility, a Scranton nursing home lawyer can fight on behalf of your family. We will be there with you for the development of the case.
How Often Do Accidents Occur in Scranton, PA?
According to a report issued by the Pennsylvania Department of Transportation in 2015, 80,004 people were injured in car accidents during travel on the more than 120,000 miles of roadways and interstates in Pennsylvania. An additional 1,200 people were killed in the total 127,127 reported crashes overall. The national average is scary. The data sourced is no joke. These staggering statistics show just how many of our friends, neighbors, and family members are affected by accidents during activities each year in our great state. What's more, these numbers only reflect auto accidents, so when considering the frequency of slip-and-fall accidents, defective consumer products, workplace injuries, and other serious accidents, it is easy to see how each of us may be affected in some way or another by the reckless or negligent actions of another person.
A portion (10,544) of car accidents occurred on the interstates, resulting in 100 deaths and 6,175 people injured. Non-interstate state highways accounted for the majority (82,040) of accidents with 851 fatalities and 55,398 persons injured. Accidents reported on local roads (32,011) included 233 fatalities and another 19,233 persons injured.
How Do I Know If I Have a Personal Injury Claim in Scranton?
A successful claim for personal injuries must satisfy the following four criteria:
The party who was at fault owed the injured victim a duty of care. For instance, a company has a responsibility to keep its customers and staff safe while visiting the property.
That duty of care had been broken by the careless party. Using the example above, the company failed to shovel the sidewalk after a snowfall, causing the sidewalk to become very slippery.
The breach caused the victim to sustain damage. A student was entering the school when they tripped on the black ice on the sidewalk. The customer fell and smacked their head on the sidewalk. They suffered a broken limb and concussion.
Damages were a result of the injury. Any medical expenses, lost pay, emotional hardship, and pain and suffering are all considered damages.
The Scranton Personal Injury Lawyers at Munley Law Will Fight for You
The Scranton personal injury lawyers of Munley Law Personal Injury Attorneys have grown up and lived in this district area for the majority of their lives. We know the people of this region and how hard they work for their paychecks. When a severe accident hits and you are unable to work, we know the worry and the suffering you may experience. We will be right there with you during the development of your case. That is why for more than  60 years, our attorneys have worked non-stop to make sure our clients get what they deserve.
If you have been injured in an accident in Scranton, Pennsylvania, don't wait much longer.
You don't have to travel far in Scranton. We're located right downtown. Contact the Scranton personal injury attorneys at Munley Law today, for any info by chatting live, filling out our email form, or calling today.