Were You Injured by Someone's Negligence in the Lehigh Valley? Munley Law Can Help.
If you were injured by someone else's negligence in the Lehigh Valley, you deserve the maximum amount of compensation for your losses. But it can be impossible to do it on your own. What you need is a skilled Allentown personal injury lawyer to protect your rights and get you the compensation you deserve.
$32 Million Wrongful Death
$26 Million Truck Accident
$17.5 Million Car Accident
$12 Million Product liability
$8 Million Truck Accident
$8 Million Truck Accident/Wrongful Death
$7.5 Million Auto Accident
$6.9 Million Garbage Truck Crash
$6.5 Million Traumatic Brain Injury
$5 Million Medical Malpractice
$5 Million Bus Accident
$4.7 Million Truck Accident
Whether you were involved in a car accident, had a slip and fall in front of a store, suffered medical malpractice at Lehigh Valley Hospital, or were involved in a workplace injury, the Lehigh Valley personal injury attorneys at Munley Law are here to make sure you are properly compensated by the at-fault party. We understand how difficult it can be to deal with the insurance company on your own and we want to make sure you get the best representation for your personal injury case. If you live in Allentown, Bethlehem, Easton, or anywhere in the Lehigh Valley, Munley Law is here to help you through this difficult time.
Why Choose Our Allentown Personal Injury Lawyer?
The Lehigh Valley is filled with personal injury law firms that you can choose from. So what makes our Allentown personal injury lawyers stand out above the competition?
Our Experience
For over 60 years, Munley Law has been helping injury victims throughout Allentown, Bethlehem, Easton, and the Lehigh Valley. Our experienced personal injury lawyer has experience at the negotiating table and in the courtroom. We have helped our clients gain compensation after a devasting accident. An accident is a stressful time in your life. Not only are you trying to recover from the accident, but you also have to deal with the insurance company to get your bills paid. In cases like this, it's best to have someone who has experience with the insurance company's tactics to handle the situation so you can continue to recover.
Our Resources
To file a personal injury claim, you need to prove the other party's negligence was responsible for any damages that you sustained in the accident. But many times, it can be extremely difficult to get the evidence needed to back up your claim. Remember, the other party's insurance company is doing whatever it can to disprove your claims. You're going to need medical professionals, accident reconstructionists, private investigators, and other expert witnesses to support your personal injury claim. This is what Munley Law can provide.
Our Track Record
Munley Law has earned national recognition for our large settlements and verdicts. For example, in 2018, Marion Munley and Daniel Munley achieved the highest settlement for a single plaintiff in our region. After a truck accident, the client had suffered a traumatic brain injury, changing the victim's life for good. Munley Law aggressively went after those responsible for the accident and got our client $26 million. We will fight for your rights and make sure you are properly compensated for your injuries. Check out our recent verdicts and settlements for more information.
Our Reputation
For over 60 years, Munley Law has built a national reputation as a leader in personal injury law. Our personal injury lawyers are regularly asked to share our wisdom at conferences throughout the U.S. and we have served in leadership positions in prestigious legal organizations such as the American Association of Justice, the Litigation Counsel of America, the International Society of Barristers, and the National Board of Trial Advocacy. We are routinely recognized by our peers and legal publications for our work in personal injury litigation, including Best Lawyers, Super Lawyers, LawDragon, and the Million Dollar Advocates Forum.
Our Former Clients
Our Allentown clients have nothing but kind words to say about our law firm. We routinely receive praise for our work ethic, our communication skills, and our compassion to get justice for our clients. At Munley Law, our clients are our family — we keep in touch with many of them after their cases have been settled and many turn to us if they have another legal situation. But don't take it from us — learn what our Lehigh Valley clients have to say about their experience with our law firm.
Our Promise
We are committed to helping our Allentown clients get the compensation they deserve following an act of negligence by another individual. It is our promise to you that you will receive top-notch legal representation. We will keep you informed about any relevant settlement offers and advise you on what your next steps should be. Our lawyers work together to get you the best possible result for your claim. And that is our promise to you.
To schedule a free consultation with one of our Allentown personal injury lawyers, call us, chat online, or fill out a contact form today.
Do I Need an Allentown Injury Attorney for My Claim?
A significant accident or injury caused by someone's negligence can leave you facing unexpected consequences. In addition to physical pain from your injuries, you may have astronomical medical bills. You may require long-term treatment and are unable to return to your job. You may be facing an uncertain future.
Dealing with the insurance company is never an easy process. Not only do you have to understand liability laws in Pennsylvania, but the insurance adjuster will do everything in their power to settle your claim with the least amount possible. In addition, the insurance company never considers any future expenses you may have, such as ongoing medical treatment or loss of earning capacity. Therefore, the only way to get the maximum amount of compensation you need to recover from your injury is by filing a personal injury lawsuit.
As the injured victim of a negligent act, you have the right to seek compensation for your suffering. The Allentown personal injury lawyers at Munley Law can help you retrieve funds to cover your medical expenses, lost wages, therapy, and pain and suffering. Our personal injury attorney in Allentown will negotiate with the insurance companies on your behalf to get you the best settlement possible. If we cannot reach a compromise, we are not afraid to fight for you in court if your case goes to trial. Let us handle the phone calls, paperwork, and legal process so that you can recover with peace of mind.
What Are the Types of Personal Injury Claims Our Allentown Personal Injury Lawyer Handles?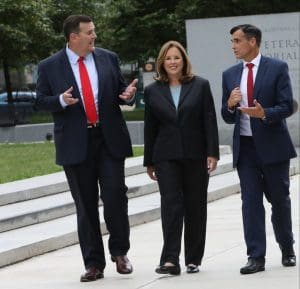 Not all Allentown personal injury law firms are equal. You need a lawyer with a depth of experience and a track record of success to get you the justice you deserve.
The Allentown accident lawyers at Munley Law have more than 60 years of experience handling the following types of personal injury claims:
Car Accidents
Anyone who drives on Routes 22 and 33, I-79, Route 309, and the Pennsylvania Turnpike, know very well how congested these routes can get. These vehicles include those hauling products from area manufacturing plants, including the Amazon fulfillment center, big rigs delivering merchandise along the East Coast, and Lehigh Valley residents traveling to and from work.
A car accident can leave you and your family physically and financially devastated. Our Allentown car accident lawyers can help with legal advice or injury claims. Never accept an offer from the insurance company without consulting an experienced personal injury lawyer at Munley Law first.
Truck Accidents
Many personal injury lawyers in our area may say they handle trucking accidents. However, few have been recognized as national leaders in truck accident litigation, like our Allentown truck accident lawyers. Munley Law has dedicated a significant portion of our practice to commercial and heavy trucking accident cases.
Many large companies are housed in Lehigh Valley industrial parks, including J.B. Hunt, one of the largest transportation logistic companies in North America. Even a "minor" truck accident can have lifelong effects. An Allentown accident lawyer at Munley Law will guide you through the claim and help you on the road to recovery.
Workers' Compensation Claims
Major industry sectors in the Allentown and Bethlehem area include manufacturing, finance, real estate, education, healthcare, and transportation. Munley Law's Allentown workers' compensation attorneys have years of experience and extensive knowledge of workers' compensation claims and workplace injuries, including healthcare worker accidents, warehouse worker accidents, third party claims, death, construction accidents and more.
If you are injured at work in Allentown, you must get the medical help you need for your injuries and report your accident to a supervisor immediately. An Allentown personal injury lawyer will be able to advise you as to the following steps to take.
Munley Law Partner James Christopher Munley was named "Workers' Compensation Lawyer of the Year" in the Allentown Metro Area for 2016 by the legal guide Best Lawyers.
Product Liability Claims
Defective products can include:
Faulty automobiles or auto parts
Dangerous children's toys
Unsafe medicines
Infant car seats
Dangerous machinery and tools
The product may be defective in design or construction. Sometimes, the defective product did not have an adequate warning or usage instructions. When manufacturing companies place more value on profits than safety, unsafe or malfunctioning products may injure consumers in Allentown. When this occurs, you have the right to file a product liability claim against the manufacturer, product designer, or another party involved. And you will need a skilled Allentown product liability lawyer to help you with your claim.
Munley Law Partner Marion Munley was named "Product Liability Lawyer of the Year" for Northeastern Pennsylvania in 2022 by Best Lawyers. 
Medical Malpractice
You put your lives into the hands of a medical professional. So naturally, the last thing you wouldn't expect is that trust to be broken. But, unfortunately, this can happen, even at medical facilities with such high ratings as Lehigh Valley and St. Luke's.
Suppose you've been injured due to medical negligence, such as a surgical mistake, medication error, anesthesia error, misdiagnosis, lab error, or any other type of negligent medical mistake. In that case, you have the right to file a lawsuit against those responsible. In that case, you may have a medical malpractice case. Our Allentown medical malpractice lawyers can evaluate your situation and help you determine what to do next.
Nursing Home Neglect and Abuse
Nursing homes and assisted living facilities are supposed to help people who can no longer take care of themselves. In some cases, neglect and abuse occur in nursing homes.
Nursing home neglect can lead to dehydration, malnutrition, pneumonia, bedsores, pressure ulcers, falls, broken hips, sepsis, wrong medication, and wrongful death. If you suspect an injury was caused by negligence in a nursing home in Allentown, call a Munley Law nursing home abuse attorney in Allentown today.
Premises Liability Claims
Did you get injured as the result of a dangerous condition on someone else's property in Allentown? If so, you may have a personal injury case. Property owners are required to keep their property safe for visitors. When the owner or business fails in their duty of keeping the premises safe, a serious accident can occur and cause an injury.
If you get into an accident on either private or commercial property, such as a slip and fall or a dog bite, you may not be sure what to do next. Your first step is to call our law firm for an Allentown premises liability lawyer to help you with your claim.
Motorcycle Accidents
If you've been involved in a motorcycle accident in the Lehigh Valley, chances are you are trying to recover from serious injuries. When a truck or car hits a motorcycle, the motorcyclist often suffers brutal injuries. In Allentown, Pennsylvania, motorcycle accident injuries can range from deep cuts and lacerations to spinal cord injuries and brain injuries. But, if the accident resulted from negligence, call our Allentown motorcycle accident lawyer today.
Pedestrian Accidents
Allentown sees a lot of pedestrian traffic, with many retail stores and restaurants located throughout the area. When a pedestrian is hit because a driver was negligent, a crossing signal malfunctioned, or an intersection was designed in an unsafe manner, it may be challenging to get the compensation needed to cover your injuries. Let an Allentown pedestrian accident lawyer at Munley Law help you with your claim.
Why Choose Our Allentown Injury Lawyer?
At Munley Law, our personal injury lawyers are committed to bringing a passion for justice to every case. We understand what difficulties you're facing at this time. Many personal injury victims in Allentown just want to pay their bills, recover from the injuries, and move on with their lives. But unfortunately, that does not always happen.
Insurance companies are in the business of making money and are not focused on the best interests of injury victims. We have the experience and resources to stand up to large insurance companies and big corporations to be sure your rights are protected.
During your free consultation, our personal injury attorney will listen to your accident, look at the evidence you have, and give you what legal options are available to you. If we both agree to work together to get you the compensation you deserve, we start by getting more proof of the negligence that caused your injuries. We will negotiate with the insurance company and make sure that you are kept informed about what's going on with your case. Once a settlement is reached, we will let you make the decision as to if it's acceptable or if we should take the case to court.
At Munley Law, we work on a contingent fee basis. This means that we do not get paid unless we win your case. We understand the physical, emotional, and financial strains associated with a major accident or injury. With a contingent fee, anyone can hire a top-notch Allentown personal injury lawyer, regardless of income. As our client, you pay nothing upfront or out of your own pocket. We cover all the costs, and we only get reimbursed if we win your case. And, our fee will never exceed the amount paid to you. That's our promise.
Confidential
A Car Wreck Client
"You can put your trust into Chris Munley. A couple of years ago I got into a car crash and didn't think I would recover financially. The insurance company had denied my claim and I thought that was that. But thanks to Mr. Munley, I got the money I needed from the insurance company and I was able to get on with my life. Thank you again, Mr. Munley."
Confidential
Personal Injury Client
"My car accident last year kept me out of work for over a month. I was afraid of losing my job, the medical bills were piling up and the insurance company would not return my calls. I made the right decision after calling Caroline Munley. She fought the insurance company and helped me get back on my feet. I wholeheartedly endorse her."
Confidential
Personal Injury Client
"After my car accident, I was severely injured and the insurance company refused to pay for my expenses. I knew that I needed help. I turned to Robert Munley and he fought for me like no one else has. Not only was he able to get me the money I needed to pay my medical bills but he kept me informed through the entire process. I don't know where I would be without Robert Munley."
Elizabeth
A Car Wreck Client
"When I got into my terrible auto accident eight months ago, I had nowhere to turn after the insurance company denied my claim. Not only did Dan Munley help me with my case, but he kept me informed every step of the way. Thank you so much for all your work!"
Hello Allentown: Getting to Know The Queen City
Allentown, Pennsylvania Courthouses
As personal injury lawyers in Allentown, PA, we often work in the two courthouses in the area. The first Allentown courthouse is the Lehigh County Court of Common Pleas at 455 Hamilton Street, Allentown, PA 18101, which is the county court in Allentown. The second Allentown courthouse is the United States Courthouse Federal Building of the Eastern District of Pennsylvania at 504 Hamilton Street, Allentown, PA 18101.  Depending on the case brought to Munley Law, your personal injury lawsuit can be brought to either courthouse in the Allentown area. The Lehigh County Court of Common Pleas provides judicial services to Lehigh County citizens and hears a wide variety of cases. The spectrum of cases includes Juvenile court, adult criminal, orphans court, divorce, civil court, and more. In Lehigh County, the district magistrate offices are at 1201 Sumner Ave, 3000 South Pike Ave, 1101 Hamilton St, 14 North 6th St, 1428 Hamilton St, 3900 Hamilton Blvd, 1501 Lehigh St, 1007 Union Blvd, and Green Hills Commerce Center. Our personal injury attorneys are prepared to bring you or a loved one's case to either of these courts in the Lehigh County District.
Allentown Pennsylvania Highways
Allentown has many highways, expressways, and roadways where car accidents, pedestrian accidents, and motorcycle accidents occur. The Lehigh Valley Expressway System consists of major highways such as the Pennsylvania Turnpike Northeast Extension, Interstate 78, and Route 22. The entire length of Interstate 78 is only 77 miles, yet major fatalities occur through car, tractor-trailer, truck, and motorcycle crashes each year. Peak rush hour, inclement weather, and aggressive drivers are some of the main reasons why there is an increase in motor vehicle accidents over the past few years on these Pennsylvania expressways. According to 2020 Pennsylvania Crash Statistics, most crashes occur in the winter months, with the highest percentage on Friday afternoon. Our personal injury attorneys have the intricate knowledge of the Lehigh Valley roadways and will ensure our best results for our Allentown personal injury cases.
Allentown Hospitals
The Allentown personal injury lawyers at Munley Law are familiar with the plethora of hospitals in Allentown, PA. Allentown's best hospitals include St. Luke's Hospital Sacred Heart Campus at 432 W Chew St, Lehigh Valley Hospital- Cedar Crest located at 1200 S Cedar Crest Blvd, Lehigh Valley Hospital- 17th Street at 1627 W Chew Street, and Coordinated Health- Allentown Hospital located at 1503 N Cedar Crest Blvd. Our personal injury lawyers have maintained a relationship with these top rated hospitals and will personally visit you or a loved one at your convenience to discuss your case. If you are in search of a personal injury lawyer in Allentown, we are happy to schedule your free consultation at a Lehigh valley hospital or personal residence to make this difficult experience more comfortable.
Allentown Police Stations and State Police
The lawyers at Munley Law continually do accident reconstruction, site inspections, and hire experts to examine motor-vehicle scenes after an accident. Our personal injury attorneys work closely with the Allentown Police Department in many cases, and have established relationships and credibility with them. The Allentown Police Department is located at 435 Hamilton Street, Allentown PA 18101 and the Pennsylvania State Police- Troop M is located at 8320 Schantz Road, Breinigsville PA and 2930 Airport Road, Bethlehem, PA 18017. After getting in a car accident, motorcycle accident, tractor trailer accident, or pedestrian accident, one of the first things to do is call the personal injury lawyers at Munley Law to review your police report. Our attorneys often work directly with Allentown police immediately after an accident to make sure that you are being properly represented and facts are being recorded.
Lehigh Valley and Allentown Jury Selection
Our Munley Law attorneys are all born and raised in Pennsylvania and are extremely knowledgeable about the Allentown, PA area. The Munley Law trial lawyers are experts in picking and selecting their juries, and often hire skillful jury consultants to further aid in the selection. Our lawyers are familiar with the local community and often participate in events and activities such as visiting the Lehigh Valley Mall at 250 Lehigh Valley Mall, Allentown Art Museum at 31 N 5th Street, and the Lehigh Valley Zoo located at 5150 Game Preserve Rd, Schnecksville, PA 18078. Additionally, Munley Law frequently shops at many local businesses, including Rothrock Motors- Chrysler, Dodge, Jeep, Ram at 1648 Plaza Lane, Merchants Square Mall at 1901 S 12th Street, and the Allentown Kia at 2350 Lehigh Street, Allentown PA 18103. Our personal injury lawyers greatly enjoy going to the PPL Center at 705 Hamilton St, Allentown PA 18101 to enjoy the concerts, watch the Lehigh Valley Phantoms games, and the Allentown indoor race track.  At Munley Law, we know the Allentown community and its people and work diligently to put you first.
Allentown Colleges
Personal injury accidents can happen to anyone, and some at the most inconvenient of times–on a college campus. University students often need representation after a car accident, pedestrian accident, or slip and fall. In Allentown, our personal injury attorneys are available to students who attend Muhlenberg College at 2400 W Chew St, Penn State Lehigh Valley at 2809 Saucon Valley Road, DeSales University at 2755 Station Ave, Center Valley, PA, and surrounding colleges. There are many types of personal injury accidents that can happen unexpectedly on college campuses, and students may not know what their first step should be after an accident. Call the most experienced lawyers at Munley Law for a free consultation if you or your family member have been in an accident due to a variety of reasons, such as poor lighting on campuses, neglected maintenance on buildings/housing, poor weather conditions, and crowded events.
Allentown Public Transportation
Citizens in Allentown, PA have a number of options for getting around via public transportation. The Lehigh and Northampton Transportation Authority (LANTA) located at 1060 Lehigh St, Allentown, PA 18103, operates on a number of routes and schedules in Allentown and the greater Lehigh Valley County. The city of Allentown offers an Amtrak bus station and Greyhound Bus station located at 325 Hamilton St, and the Beiber Transportation Group bus terminal is at 4440 Hamilton Blvd. While many Allentown residents use public transportation, driving is still the preferred method of transportation for most Lehigh Valley residents. Rideshare apps, such as Uber and Lyft, are increasingly popular due to their convenience and affordability. Whether you or a loved one need a lawyer for bus accidents, car accidents, or rideshare accidents, we will focus on getting you the best outcome for your personal injury case in Allentown, PA.
If you were injured in an accident in Allentown, Bethlehem, Easton, or anywhere in Lehigh County due to the negligent or reckless actions of another person, company, or organization, contact an Allentown personal injury lawyer at Munley Law.
Now serving the following locations in the Allentown Area:
Allentown (18101; 18102; 18109)
Bath (18014)
Bangor (18013)
Bethlehem (18015)
Cherryville (18035, 18067, 18088)
Martin's Creek (18013, 18063)
Danielsville (18038)
East Bangor (18013)
Easton (18042, 18043, 18044, 18045)
Freemansburg (18017)
Fullerton (18052)
Glendon (18042)
Hellertown (18055)
Nazareth (18064)
North Catasauqua (18032)
Northhampton (18077)
Pen Argyl (18072)
Phillipsburg (18042)
Portland (18343, 18351)
Roseto (18013)
Stiles (18001)
Stockertown (18040, 18083)
Tatamy (18085)
Trexlertown (18195)
Walnutport (18088)
Wescosville (18103)
Wennersville (18104)
West Easton (18042)
Wilson (18042)
Wind Gap (18091)
Frequently Asked Questions About Personal Injury Cases in Allentown
Q: Where is Munley Law's Allentown Office Located?
A: Munley Law has an office at 1275 Glenlivet Drive, Suite 100-599, Allentown, PA 18106. The office is by appointment only; however, if you wish to meet us somewhere else, we are more than happy to travel to you.
Q: How Do I Know If I Have a Personal Injury Claim?
A: There are four elements personal injury claims will need to meet in order for a successful claim:
The negligent party had a duty to protect the injured victim from harm. For example, a business has a duty to keep its premises safe for its employees and customers.
The negligent party had breached that duty of care. The business in the example above did not clear the sidewalk after a snowstorm.
Because of the breach, the victim received an injury. While walking into the business, a client slipped on a patch of black ice and fell, hitting their head against the sidewalk. They received a concussion and a broken leg.
The injury resulted in damages. Damages include any medical bills, lost wages, emotional distress, and pain and suffering.
If your claim can meet all four of these elements, then you have a personal injury claim.
Q: How Do I Know I Need a Personal Injury Lawyer in Allentown?
A: Anytime you were in an accident caused by someone else's negligent or reckless actions, it's always best to speak with an injury attorney who can advise you on what your next steps should be. This is especially true in the following situations:
You suffered a major injury
It is unclear who is at fault for the accident
The insurance company has delayed payment or denied your claim
The insurance company offers a settlement this doesn't cover your expenses
You have questions about your rights or about the accident
Q: How Long Do I Have to File a Lawsuit in Allentown?
A: The statute of limitations for personal injury claims in Pennsylvania is two years.
Q: How Long Will My Case Take?
A: That depends on the complexity of your case and how willing the other party is to work with you. In some cases, it can take only a month or two to settle your claim; in other cases, it can take years.
If you have a personal injury claim in Allentown and need an experienced lawyer by your side, the Allentown personal injury lawyer at Munley Law is here to help. Contact us today for a free consultation.
Munley Law Personal Injury Attorneys
1275 Glenlivet Dr Suite 100-599,
Allentown, PA 18106
(610) 232-7006
Chat live, fill out our contact form or call today for a free consultation with an Allentown personal injury lawyer.
¿Lesionado en un accidente en Allentown? Llame a Munley Law hoy.  
Si fue víctima de un accidente causado por la negligencia de otra persona en el área de Allentown, es posible que no sepa cuáles deberían ser sus próximos pasos. ¿Debería aceptar el cheque de liquidación que la compañía de seguros está ofreciendo? ¿Cómo pagará los gastos médicos? Si se lesionó en el trabajo, ¿lo despedirán? Es natural tener preguntas como estas, por lo que siempre es importante hablar con un abogado con experiencia en lesiones personales de Allentown para ver qué opciones legales están disponibles para usted. 
Durante más de 60 años, Munley Law ha estado ayudando a las víctimas de lesiones en Allentown, Bethlehem, Easton y en todo la cuidad de Lehigh Valley, con sus necesidades de lesiones personales. Entendemos las dificultades que puede estar enfrentando para obtener una compensación por sus lesiones. Es por eso que nuestros abogados de lesiones personales se toman el tiempo para sentarse con usted y explicarle qué opciones legales están disponibles. La primera consulta con nuestro bufete de abogados de lesiones siempre es gratuita, dándole la oportunidad de obtener el asesoramiento que necesita para saber cuáles son sus opciones y aprender cómo podemos ayudarlo a recuperarse del accidente. 
Para obtener asistencia inmediata, llámenos, o comunícate con nosotros atraves del internet y chatear en línea o llene nuestro formulario de contacto. 
¿Cómo sé si tengo un caso de lesiones personales? 
Una pregunta común que nuestros abogados generalmente reciben es si alguien tiene un caso contra una persona culpable por sus lesiones. Todo se debe a si su caso cumple con los siguientes elementos:
La parte de responsabilidad se debe a quien tiene el deber de cuidado. 
Por ejemplo, un profesional médico tiene la responsabilidad legal de proteger a su paciente de daños. Esto podría significar que proporcionan el mejor tratamiento médico posible a ese paciente. Otro ejemplo es un conductor de camión que es responsable de mantenerse alerto y conducir con seguridad en la carretera. 
La parte culpable ha violado su deber.

 El accidente fue causado porque esa persona había fallado en su deber de mantenerlo seguro de daños. Un conductor, por ejemplo, se pone al volante del automóvil después de haber tomado unas copas -alcohólicas ha fallado en su deber de mantener seguros a otros conductores en la carretera. 

La brecha había causado una lesión.

 Debido a que la parte culpable actuó negligentemente y causó el accidente, usted ha recibido una lesión. 

Y finalmente, el accidente resultó en daños.

 Los daños a menudo se refieren a cualquier pérdida que pueda haber recibido por el accidente. Esto incluye gastos médicos, daños a la propiedad, dolor y sufrimiento, y salarios perdidos.
Si su caso de lesiones personales cumple con los criterios anteriores, entonces puede tener un reclamo por negligencia contra un individuo o empresa. Pero la única manera de estar seguro es poniéndose en contacto con la oficina de Munley Law en Allentown lo antes posible. 
¿Por qué debe elegir a nuestros abogados de lesiones personales en Allentown?
Hay cientos de bufetes de abogados de lesiones personales en todo Lehigh Valley. Entonces, ¿qué hace que Munley Law se destaque? 
Nuestros abogados de accidentes han construido una reputación como líderes nacionales en litigios por lesiones personales. No solo hemos ganado millones para nuestros clientes en todo Pensilvania, sino que nos hemos ganado el respeto de nuestros pares y prestigiosas publicaciones legales. A nuestros abogados se les pide rutinariamente que hablen en conferencias en todo el país sobre asuntos de lesiones personales. Tres de nuestros socios han sido certificados por la Junta Nacional de Defensa de Juicios y muchos de nuestros abogados han sido reconocidos constantemente por publicaciones como Best Lawyers of America, Super Lawyers, LawDragon y muchos otros premios legales. 
Nuestros abogados no solo tienen la experiencia y el historial exitoso necesarios para obtener la compensación que merecen, sino que nuestros abogados son compasivos y comprometidos con sus clientes. Haremos todo lo posible para mantenerlo informado sobre cómo está progresando su caso y le informaremos sobre cualquier oferta de liquidación que reciba. Si no podemos llegar a un acuerdo, representaremos sus intereses en la sala del tribunal y lucharemos agresivamente por sus derechos. 
Eche un vistazo a lo que nuestros clientes tienen que decir sobre nuestro bufete de abogados. Agradecemos la oportunidad de representarlo y nos aseguraremos de que obtenga la cantidad máxima de compensación por sus pérdidas. 
¿Cómo puede su abogado de lesiones personales de Allentown ayudarme con mi caso? 
Puede ser una tentación de simplemente aceptar la primera oferta de liquidación que reciba de la compañía de seguros, especialmente si tiene una gran deuda financiera colgando sobre su cabeza debido al accidente. Pero antes de hacerlo, sepa que contratar a un abogado de lesiones personales para su reclamo puede mejorar sus posibilidades de obtener la cantidad de compensación que realmente vale su reclamo en lugar de un acuerdo que apenas cubre sus costos.  
Un abogado de lesiones también puede ayudarlo de las siguientes maneras:
Calcule cuánto vale su reclamo. Muchas veces la compañía de seguros le ofrecerá un acuerdo rápido que no cubre todos sus gastos. Y desafortunadamente, es posible que no se dé cuenta de esto hasta después de aceptar el acuerdo. Al sentarse con nuestro abogado de lesiones de Lehigh Valley, podemos revisar todos sus gastos y darle una estimación aproximada de cuánto vale realmente su reclamo.
Reúna la evidencia necesaria para su reclamo. Muchas veces, los accidentes pueden convertirse en un caso de él dijo / ella dijo. Todos están dispuestos a señalar con el dedo y culpar a cualquiera que no sea a sí mismos. 
Pero lo que necesita es evidencia concreta que demuestre que la otra persona es responsable de sus lesiones. Un abogado de accidentes de Allentown reunirá la evidencia, hablará con expertos y contactará a testigos para probar quién es el responsable.
Negociar un acuerdo justo con la compañía de seguros. Discutir con la compañía de seguros nunca es fácil, especialmente si no tiene la experiencia para hacerlo. El ajustador puede intimidarlo fácilmente o encontrar formas de retrasar o negar su reclamo. Pero con un abogado experto en lesiones personales de Allentown a su lado, tiene a alguien en su esquina, listo para luchar en su nombre. 
Proteja sus derechos y proporcione una representación justa. Si las negociaciones se rompen, necesita un abogado en Allentown que lo represente en un tribunal de justicia. Preguntas frecuentes sobre casos de lesiones personales en Allentown 
P: ¿Dónde se encuentra la oficina de Munley Law en Allentown?
R: Munley Law tiene una oficina en 1275 Glenlivet Drive, Suite 100-599, Allentown, PA 18106. La oficina es solo con cita previa Si desea reunirse con nosotros en otro lugar, estaremos más que dispuestos a viajar a donde está usted.
 P: ¿Qué tipo de casos de lesiones personales maneja Munley Law en Allentown? 
R: Nuestros abogados de lesiones personales de Allentown tienen experiencia en todo tipo de reclamos por lesiones personales. Estamos particularmente bien informados en las siguientes áreas:  
Accidentes de camiones – Tener un accidente con un remolque de tractor puede causar lesiones catastróficas. Este tipo de casos pueden ser extremadamente complejos ya que múltiples partes pueden ser consideradas responsables.
Si tiene un accidente de camión en la 22, Cedar Crest Boulevard, Airport Road, Route 33 o en cualquier lugar de Lehigh Valley, no espere. Llame a nuestros abogados de accidentes de camiones en Allentown lo antes posible. 
 Accidentes automovilísticos: siempre que se lesione en un accidente automovilístico en Allentown, siempre es aconsejable hablar con Munley Law para saber qué opciones están disponibles. Tratar con la compañía de seguros puede ser difícil y pueden tratar de intimidarlo para que acepte un acuerdo rápidamente. No deje que lo hagan hasta que hable con nuestros abogados de accidentes automovilísticos de Allentown.
Compensación de trabajadores

– Cuando se lesiona en el trabajo, los beneficios de compensación de trabajadores están destinados a pagar sus facturas mientras se recupera de su lesión. Pero muchas veces, la compañía de seguros negará su reclamo o retrasará los pagos. Es entonces cuando debe recurrir a un abogado de compensación de trabajadores de Allentown en Munley Law para que lo ayude con su reclamo.

Responsabilidad de las instalaciones:

desde mordeduras de perro hasta resbalones y caídas, cuando tiene un accidente en la propiedad de otra persona o compañía, es responsabilidad del propietario pagar sus gastos. Pero si se niegan a pagar, es hora de llamar al abogado de responsabilidad de locales de Allentown en Munley Law.
Negligencia médica:

cuando

la negligencia de un profesional médico causa lesiones o enfermedades graves, puede cambiarle la vida a usted y a los miembros de su familia. Necesita un defensor legal en Lehigh Valley para luchar en su nombre y obtener la compensación que merece.
Responsabilidad de producto:

si un fabricante coloca un producto defectuoso en el estante, debe ser responsable de cualquier lesión que pueda sufrir.
 Deje que los abogados de responsabilidad por productos defectuosos de Allentown en Munley Law lo ayuden en su momento de necesidad. 
P: ¿Cómo sé que necesito un abogado de lesiones personales en Allentown?
R: Cada vez que estuvo en un accidente causado por las acciones negligentes o imprudentes de otra persona, siempre es mejor hablar con un abogado de lesiones que pueda aconsejarle sobre cuáles deberían ser sus próximos pasos. Esto es especialmente cierto en las siguientes situaciones: 
Sufrió una lesión importante

No está claro quién tiene la culpa del accidente.

La compañía de seguros ha retrasado el pago o ha negado su reclamo

La compañía de seguros ofrece un acuerdo que no cubre todos sus gastos.

Tiene preguntas sobre sus derechos o sobre el accidente 
P: ¿Cuánto tiempo tengo para presentar una demanda en Allentown? 
R: El estatuto de limitaciones para las reclamaciones por lesiones personales en Pensilvania es de dos años. Es por eso que siempre es mejor hablar con un abogado de lesiones personales lo antes posible.  
P: ¿Cuánto tiempo tomará mi caso?
R: Eso depende de la complejidad de su caso y de qué tan dispuesta esté la otra parte a trabajar con usted. En algunos casos, puede tomar solo un mes o dos para resolver su reclamo; en otros casos, puede tomar años.
Si tiene un reclamo por lesiones personales en Allentown, Bethlehem, Easton o en cualquier lugar de Lehigh Valley y necesita un abogado con experiencia a su lado, los abogados de lesiones personales de Allentown en Munley Law están aquí para ayudarlo. Contáctenos hoy para una consulta gratuita. No nos pagan hasta que ganamos su caso.