The trauma of experiencing an accident doesn't end once you leave the scene. We know that the mental, emotional, physical, and financial impact of a car accident can follow you for a very long time. It can all feel isolating and overwhelming, whether it's you or someone you love carrying the weight and experience of your accident. In 2020 alone, Ohio saw 1,154 fatal car accidents, and 1,230 total traffic fatalities; there are, of course, thousands more accidents every year that are non-fatal but still traumatizing. 
We at Munley Law Personal Injury Attorneys know how hard the aftermath of an accident can be, and we are here to help you navigate a way through it. Don't take this on alone: allow us to help so that you can focus on your recovery. Our highly experienced and compassionate lawyers are standing by and are ready to begin fighting for you at any time. Contact us now for a free initial consultation and learn how we can protect your interests. 
What Are the Most Common Car Accident Causes in Ohio?
A car accident can be caused by any number of factors, or a combination of a few. However, certain states and cities do tend to show patterns in which certain causes are the most prevalent.

Winter.

In Ohio, winter as a whole is an incredibly common cause of car accidents. Driving in winter can be extremely dangerous, especially for people who don't have much experience doing so. In the

Winter of 2020-2

1, there were 14,724 crashes across the state on snow, ice, or slush covered roads. When driving in the winter, make sure to exercise extreme caution and drive slowly.

Unsafe speed.

Ohio comes in at number one for the

state with the most speeding tickets

. In fact, 16.12% of drivers in the state have a speeding ticket on record. Speeding was also found as a primary cause in nearly a quarter of Ohio winter accidents in 2020-2021. Speeding is very dangerous and increases the risk of accidents year round. 
Driving under the influence.

In 2019 in Ohio, there were

351 driving fatalities

that occurred because of drunk driving. This makes up nearly one third of all the driving fatalities in the state that year.
Distracted driving.

Distracted driving is anything that takes the driver's attention off the road, whether visually, mentally, or physically. Today, texting behind the wheel is one of the primary forms of distracted driving.

Reckless driving.

Reckless driving is any driving behavior that is irresponsible and endangers both the driver and others. This includes things like tailgating, unsafe passing, weaving in and out of traffic, and more. 
How Do You Determine Fault in an Ohio Car Accident? 
Just as all drivers in the state of Ohio are expected to drive with insurance, they are also expected to exercise reasonable care at all times when on the road. This means acting in a manner that is reasonable given the circumstances, and avoiding any action that is unsafe or potentially harmful. In order to determine fault in a car accident in Ohio, your attorney must prove a handful of factors.
The first is establishing that this duty of care exists; in other words, that the at-fault driver owes you, and all other drivers, a responsibility of driving with reasonable care. Next, your lawyer will establish that this duty of care was breached. What exactly this means will differ depending on your case. Was the other driver intoxicated? Were they texting? Did they run a light? Whatever the case, your attorney will show that the driver breached the duty of care they owed you. Lastly, your lawyer will show that this breach of care resulted in legitimate damages (such as an injury) for you, and that the other driver's actions are a direct cause of your suffering. 
What Kind of Damages Can You Expect from an Ohio Car Accident? 
Ohio classifies car accident damages into two categories: economic and non-economic. Economic damages are specific, calculable monetary losses that occurred as a result of the accident. This may mean medical bills, property damage, and lost wages. Non-economic losses, on the other hand, are those losses that aren't attached to a clear dollar amount, but still deserve and require compensation. This may include, for instance, something like "loss of enjoyment of life" or "pain and suffering".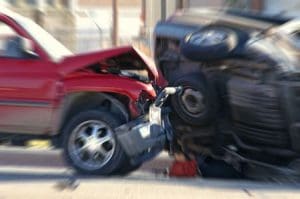 In the state of Ohio, there is a cap on how much a plaintiff can receive in non-economic damages: either $250,000 or 3 times the awarded economic damages (capped at $350,000). However, there are some exceptions to these caps. In accidents that result in a truly severe injury, such as the loss of a limb or permanent disfigurement, as well as in accidents that impact the victim's ability to care for themselves, the cap is removed.
The exact amount you are eligible to receive in compensation depends greatly on the details of your case. How long did it prevent you from working? How severe are your injuries? How much did you spend on hospital bills? Your car accident attorney will look at every possible aspect of your case in order to come up with an appropriate number that reflects your experience. 
What Role Does Insurance Play in Car Accidents in Ohio?
One of the determining factors in how your car accident case will be handled by insurance companies is what state the accident occurred in. Throughout the US, states generally fall into one of two categories: no-fault states, and at-fault states. In a no fault state, your personal car insurance is designed to cover your injuries.
So if you're in an accident, you file an insurance claim with your own insurance company and seek coverage through them. Only once you've maxed out your own insurance coverage is it possible to seek damages from the other driver. Ohio, however, belongs to the typical fault-based, or "at-fault", insurance system. This means that the at-fault driver — the one who predominantly caused the accident — uses their insurance to cover the victim's medical bills and other damages. Therefore, if you were in a car accident in Ohio that was caused by another party, you would file an insurance claim with their insurance company rather than your own.
It's a legal requirement in the state of Ohio that all drivers are insured. They must carry minimum liability insurance of:
$25,000

for bodily injury or death of one person in an accident

$50,000

for total bodily injury or death in an accident 

$25,000

for property damage per accident
However, there are, of course, drivers who disobey this requirement and drive without insurance. If the at-fault driver in your accident is uninsured or underinsured, suing them via a personal injury suit may be your wisest course of action in order to recoup damages. Your Munley car accident attorney can advise you on how to proceed in this case.
Remember that all insurance companies — even your own — are businesses looking to make a profit. It's very likely that whatever you are initially offered by the at-fault party's insurance company will be substantially lower than what you deserve. They will always attempt to pay out the bare minimum, even when you require much more to adequately cover the costs of your injuries and the potential impact the accident may have had on your life as a whole.
For this reason, it's always wise to work with a lawyer as you navigate the insurance system after a car accident. Attorneys can help not just in a courtroom, but far before that — your lawyer can be an essential step in ensuring you're not shortchanged by a greedy insurance company. 
Why Do You Need an Ohio Car Accident Lawyer? 
You are always better off seeking legal aid after a car accident, but it's even more crucial in a fault-based state like Ohio. If you are the victim of a car accident, you can expect to start receiving phone calls from insurance adjusters almost immediately. They may try to pressure you into admitting partial fault, or into accepting an offer that's far lower than what you deserve. 
Especially in the vulnerable and overwhelming aftermath of an accident, you may accidentally say things or agree to things on these calls that you later regret. With legal counsel, you do not have to worry about this. All contact with the other party's legal team and insurance company will go through your lawyer, so there's no chance of you agreeing to something you may later regret.
Your lawyer will help you  obtain crucial evidence that solidifies your case. This mau include CCTV footage, phone records, police reports, and more, some of which can be difficult or even impossible to get your hands on without the help of an attorney. Additionally, your lawyer will help you reach a settlement that accurately reflects your needs and the damage done to you. While you may have a sense of how much you've spent on medical bills and how much your property damage costs, it can be very difficult to come up with an appropriate number for your non-economic losses. This is something tour lawyer will handle for you, ensuring you get a fair settlement without any confusion or weight on your shoulders.
If the other party's legal team tries to counter your initial settlement number, your lawyer will go to bat for you in order to make sure you don't walk away with a settlement that's less than you deserve. Your attorney will also make sure that you're not assigned an unfairly high percentage of fault, which would lessen the amount of compensation you are eligible to receive. In all, working with an experienced attorney, like those at Munley Law Personal Injury Attorneys, means you can rest easy through the entire insurance and personal injury suit process. There's no need to worry that you're being lowballed or shortchanged. Your Munley attorney will fight tirelessly for you.
Is There a Statute of Limitations on Suing After an Ohio Car Accident? 
A statute of limitations essentially specifies the period of time in which you are legally  to file a claim or lawsuit. In the state of Ohio, the statute of limitations on suing after a car accident is currently two years from the date of the accident. This may seem like a great deal of time, and you may feel tempted to step back and let the dust settle for a while before diving back in. However, if possible, it is always best to take legal action sooner than later.
A successful personal injury suit requires mountains of evidence, some of which can take time to obtain; waiting too long to start the process means you run the risk of losing access to important evidence and not being able to build a strong case.  If you wait too long, you may lose your chance entirely. If you're interested in learning more about this process, be sure to contact a Munley car accident attorney as soon as possible after your accident. 
What Can An Ohio Car Accident Lawyer Do For You?
Car accident claims are overwhelming, and being a victim of any type of accident is undoubtedly a terrible experience. You deserve nothing but the best when it comes to fighting for your rightful maximum compensation. Our law firm is dedicated to bringing  you top of the line legal services and ensuring that you receive the  justice you are owed. Having an Ohio car accident attorney on your side will help ensure you receive the damages you are owed, and are not lowballed by a powerful insurance company.
Our team of highly experienced lawyers and excellent legal support staff will work tirelessly for you, and we do not get paid unless you win. We treat the attorney-client relationship with the utmost care and respect, and you are welcome to a free initial consultation before moving forward. 
At Munley Law Personal Injury Attorneys, the personal injury lawyers working on your car accident case have over a decade of experience, as well as hands-on trial and courtroom experience. Please don't hesitate to reach out to Munley Law Personal Injury Attorneys to discuss your car accident case and how we can be of service. Contact us today to schedule your free consultation and learn how we can help protect your interests.