What are the Most Common Car Accident Injuries?
Being involved in a car accident is a traumatic experience, even if the injuries are minor. But when a car accident results in serious injuries, it can take weeks or months to recover, and require expensive medical treatment. If your accident involved a truck or other large vehicle, the injuries can be even worse.
According to the National Highway Traffic Safety Administration (NHTSA), an estimated 2.28 million people were injured in vehicle crashes in 2020. If you've been injured in a crash, the car accident attorneys at Munley Law Personal Injury Attorneys know the most important thing is for you to focus on your recovery. Leave the legal aspect of your accident to us. We have decades of experience helping injured car accident victims obtain maximum compensation for their medical bills, pain and suffering, and other damages. 
The Nation's Leading Car Accident Injury Lawyers
When you've been injured in a car accident, you need a car accident lawyer who knows how to maximize your compensation for all of your injuries. At Munley Law Personal Injury Attorneys, your legal team will consult with medical experts as necessary to calculate your present and future medical costs as well as the pain and suffering you have endured as a result of the accident. Call, chat, or fill out our contact form today to schedule a free consultation about your car accident injuries. 
Traumatic Brain Injury
A traumatic brain injury, or TBI, is one of the most common and most serious car accident injuries that can result from a collision. Drivers and passengers can sustain traumatic brain injuries in side-impact collisions, head-on collisions, rear-end crashes, and all kinds of car wrecks. A TBI can result from a direct blow to the head, such as when the head hits the dashboard or window, but direct contact is not required for a TBI to take place. The sudden, forceful movement of the head and neck during a crash can cause injury to the brain as well. A TBI can cause temporary or permanent impairment of brain functions, fractures to the skull, bruising of the brain (hematoma), and damage to nerves. An MRI (Magnetic Resonance Imaging) or CT scan (Computed Tomography) is utilized to diagnose TBI.
TBI symptoms include:
Concussion and seizures

Headaches and dizziness

Concentration and memory difficulties

Anxiety, depression, and/or change in personality and behavior
Traumatic brain injuries are especially dangerous because they are not always immedicately apparent. A TBI will not always cause the victim to lose consciousness, so it's possibel for a concussion or TBI to go undiagnosed. This is why it is important to get medical attention after a car accident. 
Soft Tissue Injuries
Sprains, strains, and bruising are common injuries in a car accident. These are known as "soft tissue injuries," which are damages to muscles, ligaments and tendons. While these types of injuries are generally not serious, they can be painful and long-lasting. 
Whiplash
One of the most common types of car accident injuries, whiplash is a type of soft tissue injury that affects the soft tissues of the neck. Whiplash is most common in rear end collisions, but can occur in many different types of car crashes, bicycle crashes, and pedestrian accidents. Whiplash occurs when the force of a collision causes your head and neck to move suddenly, resulting in damage to the ligaments in the neck and upper back.  Symptoms of whiplash include neck pain, limited head and neck range of motion, and vision difficulties. While no specific whiplash treatment is available, physicians have had some limited success alleviating pain with pain relievers and physical and rehabilitative therapies.
Disc Injuries
Disc injuries are a type of neck and back injury that can occur in a car accident. Discs in the neck and spine may bulge, rupture or tear after an auto injury. A herniated or bulging disc can be very painful and require long-term medical treatment. 
Spinal Cord Injuries
In very serious car accidents, drivers and passengers can suffer damage to the spinal cord resulting in full or partial paralysis. Spinal cord injuries can result in paraplegia, quadriplegia, and other serious conditions. Spinal cord injuries can cause permanent disability
Broken Bones
Broken bones are a sure sign you've been in a serious car or truck accident. Broken bones can be extremely painful and take a long time to heal. In some cases, broken bones may require surgery as well. Common bone fracture injuries include fractures to the arms, legs, collarbone, and ribs. 
Internal Bleeding
The impact of a car crash can cause damage to your organs that results in internal bleeding. Internal bleeding is a very serious injury that can become life-threatening if not treated right away. 
Lacerations and Contusions
It is common to suffer scrapes, cuts, and bruises in a car accident. While some cuts and bruises will heal in a short time on their own, others can be more serious. Serious scrapes like road rash and deep cuts can require medical treatment and even leave scars. 
Disfigurement and Scarring
Scarring or permanent disfigurement from a car accident is an emotional as well as a physical injury. In addition to the medical treatment you'll require, you will also carry the visual reminder of a traumatic event. If your car accident left you with facial scarring or permanent disfigurement, a car accident lawyer at Munley Law Personal Injury Attorneys who understands the severity of these injuries can help you obtain full compensation. 
You Need Pennsylvania's Top Car Accident Injury Lawyers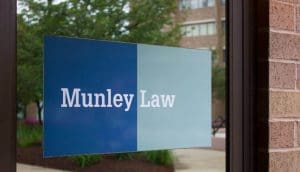 The attorneys at Munley Law Personal Injury Attorneys have consistently been named as the Best Lawyers in America, and have recovered millions of dollars for our clients who suffer from car accident-related injuries. 
A car accident can cause serious physical injury, prolonged and painful recovery, and even psychological and emotional harm. If you or a loved one has been seriously injured in a car accident and are experiencing any of the injuries above, you deserve experienced legal representation from a firm that understands the challenges you face because of your injuries – a firm that is committed to obtaining the compensation you deserve. When drivers engage in behavior that puts others at risk, they must be held accountable – and you shouldn't have to pay the ultimate price for their negligent and reckless refusal to drive safely.
Contact the attorneys at Munley Law Personal Injury Attorneys today. To schedule a FREE consultation, contact us by calling (570) 338-4494 or fill out our online form. We do not recover a fee unless we win your case for you.