Multi-vehicle accidents, also known as pile-ups or chain reaction crashes, can be extremely destructive, traumatic events. 
Getting into a car accident with another driver is always stressful and a scary experience. But an accident involving multiple cars, trucks, or buses can be especially devastating. These types of accidents can cause serious damage, life-threatening injuries, and lasting trauma. What's more, they tend to be legally complex, and present unique challenges when it comes to determining liability. In order to receive fair compensation for your injuries, you will need a highly skilled injury lawyer with experience handling multi-vehicle car accident cases. An experienced car accident attorney at Munley Law is ready to help you with your claim.
For more than 60 years, the multi-vehicle accident lawyers at Munley Law have helped people throughout Pennsylvania and beyond with the most complicated car accident claims. We will pursue all possible sources of recovery, and ensure you receive the maximum amount of compensation you're due. We understand the challenges you will experience in the aftermath of a major accident, and will be by your side each step of the way. Our team has a decades-long record of success, including numerous multimillion-dollar settlements and verdicts. You can rest assured that your case is in the right hands. 
There is no charge for an initial consultation with one of our nationally-ranked personal injury lawyers, and there is no fee for our services unless we win your case. Get the help you need today. Begin with a free, no-obligation consultation. Call, chat live, or fill out our contact form today. 
Causes of Multi-Vehicle Accidents
Multi-vehicle accidents often happen suddenly. An unexpected obstacle in the road or change in road conditions can cause a vehicle to lose control and set off a chain reaction involving numerous other cars, trucks, and buses. 
Here are a few common causes that result in a multivehicle collision:
Bad Weather Conditions
Unfavorable weather conditions such as ice, snow, or heavy rain are a common cause of highway pile-up accidents. Sudden snow squalls can reduce visibility to zero in a matter of seconds; these "whiteout" conditions can easily lead to a deadly multi-vehicle crash. Likewise, ice can cause roads to become slick unexpectedly and cause vehicles to skid or crash into other motorists. Tractor trailers can jackknife, roll over, or skid into other vehicles in their path. Even heavy fog can reduce visibility and lead to a chain reaction wreck. This is why it is extremely important to exercise caution and reduce speed when traveling in poor conditions. 
Chain Reaction Crashes
If an accident occurs on the highway, it can create a hazard for other drivers. If other motorists aren't able to react in time, or are not paying appropriate attention, they can collide with the disabled vehicles and set off a chain reaction involving multiple cars, trucks, and other vehicles. Rubbernecking – when drivers are distracted by trying to look at an accident scene – can also lead to subsequent crashes. 
Reckless Driving
On a busy city street or highway, negligent driving behaviors can result in a multi-vehicle accident. Reckless driving behavior includes:
Speeding, especially in a congested area or work zone

Tailgating and aggressive driving
Injuries in a Multi-Vehicle Crash
Multi-vehicle crashes are more destructive than the average car accident. This is due not only to the number of vehicles involved, but also the types of vehicles involved; multi-vehicle pile-ups often involve tractor trailers, tanker trucks, buses, and other large vehicles. Crash victims often suffer from multiple impacts. Pedestrians fleeing their cars can be struck by out of control vehicles. If the crash involves dozens of cars and trucks or extreme weather conditions, it can take emergency responders longer to reach injured victims who need help. 
Common types of injuries sustained in a multi-vehicle pile-up include:
Whiplash

Traumatic brain injuries

Broken bones

Spinal cord injuries and paralysis

Scarring and disfiguration

Lacerations

Internal bleeding

Death
Compensation for Your Multi-Vehicle Crash
A multi-vehicle accident can take weeks or months for law enforcement to investigate. Investigators must develop a timeline for the crash, interview witnesses, identify drivers and passengers, untangle wrecked vehicles, view dashcam footage, and more to put together a report. During this time, you'll need help navigating the recovery process. What's more, there may be conflicting stories about who hit whom, and who was at fault for the events that occurred. This is why you need a personal injury law firm that has the resources and legal acumen to determine liability and fight for the compensation you deserve.
We help our clients collect compensation for their medical bills, future medical treatment and ongoing therapy, lost wages, lost earning power, pain and suffering, and more. 
Munley Law's on-staff team of investigators routinely visit accident scenes and take photographs of physical evidence. They search for eyewitnesses, skid marks, yaw marks, accident debris, and gouge marks, as well as oil, gas, and radiator fluid stains that can disappear quickly after an accident. We will also obtain police reports, motor carrier records, witness statements, photographs, and safety logs. The sooner you engage us to represent you, the sooner we can get to work.
If you've been involved in a multi-vehicle accident that caused you an injury, don't wait. Contact a multi-vehicle accident lawyer at Munley Law now for a free consultation.
Multi-Vehicle Accident FAQS
Q: What should you do if you're in a multi-vehicle pile-up?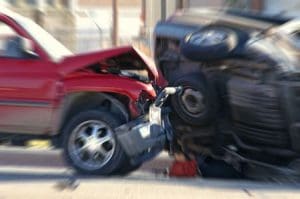 If you see a crash ahead and are able to stop in time, pull off to the shoulder or the side of the road; do not stop in a travel lane if you can avoid it. It is best to get as far from the road as possible to avoid being hit by other vehicles. If you're involved in a multi-vehicle pile-up, don't leave your vehicle until it is safe to do so. If you are injured or cannot exit the car safely, keep your seatbelt on and call 911.  If the scene is clear, and you are able to move, get out of your car and get as far from the scene as possible. Do not linger near your vehicle to assess the damage. Multi-car pile-ups present the risk of being hit by oncoming vehicles as well as fires and explosions that often come with pile-up crashes. 
Many pile-up crashes can be avoided with appropriate caution. If visibility is low, assume there is something beyond your field of vision and drive accordingly. Adjust your speed, use your hazard lights, and give other vehicles extra space. 
Q: Who is at fault in a multi-car pile-up?
Because so many vehicles are involved, it can be difficult to tell who is at fault. While a regular car accident will usually result in a fairly straight-forward police report identifying the at-fault party, this is not always the case in a multi-vehicle crash.  In order to seek full compensation for your injuries, you will need to identify the defendant or defendants in your case. This is where an experienced car accident lawyer can help. 
Q: What is modified comparative negligence?
In Pennsylvania, modified comparative negligence is a legal concept in which negligence is assigned in accordance with the percentage of fault attributed to each party. This means that multiple parties can be found partially at fault for an accident, and your compensation may be reduced if you are found partially at fault for the crash. This is another reason why it is crucial for you to have a top legal team on your side. Because Munley Law works on a contingent fee basis, anyone can afford to hire a top tier lawyer. We do not charge any upfront fees and we do not get paid unless we win your case.