Car Accident Lawyers Helping Victims of Speeding-Related Crashes
Speeding causes thousands of deadly crashes every year. Excessive speed increases the likelihood that a driver will lose control of their vehicle and cause a crash. What's more, collisions that occur at a high rate of speed result in more injuries and are more likely to be fatal.
If you were injured in a car accident with a driver who was speeding or driving aggressively, that driver should be held responsible for the harm they've caused. However, you will still need to prove that the other driver was at fault for the crash and the economic and noneconomic damages you have suffered. Even if your case seems straightforward, insurance companies are unlikely to provide maximum compensation unless you have legal representation. That's where a car accident lawyer at Munley Law Personal Injury Attorneys can make a big difference. 
For more than 60 years, the car accident attorneys at Munley Law Personal Injury Attorneys have helped people throughout Pennsylvania win compensation after an accident with a speeding or aggressive driver. We represent drivers, passengers, pedestrians, and others who have been hurt or lost a loved one in a speed-related crash.  
Our car accident injury lawyers are unsurpassed in terms of experience, expertise, and results. We have been consistently named among the Best Lawyers in America (by Best Lawyers), Best Law Firms (U.S. News and World Report) and have earned membership in the Multi-Million Dollar Advocates Forum. We have decades of experience winning multimillion-dollar settlements and verdicts for our clients. While many personal injury firms only negotiate settlements, we are prepared to bring your case to trial if that's what it takes to get you the compensation you deserve. 
Furthermore, we believe that cost should never stand in the way of justice, so we do not collect a fee unless we win your case. And, our initial consultation is free. Contact us today, and we will answer your questions free of charge.
Fill out our email form, or call (570) 338-4494.
Speeding and Aggressive Drivers Cause Deadly Car and Truck Accidents
Speed is deadly. Of the 30,000+ fatal car accidents that occur each year, speed contributes to as many as one-third of them. When a driver or trucker exceeds the posted speed limit or travels at a speed that is too fast for conditions, that person puts everyone else on the road in danger. Even if a driver is not exceeding the posted speed limit, driving too fast for conditions may mean failing to slow down in icy or snowy weather, in congested areas, or in dense fog with limited visibility. 
Dangers of Speeding
Excessive or unsafe speed increases the time required to stop. This is especially true for tractor trailers and other large vehicles that already require more distance to come to a stop.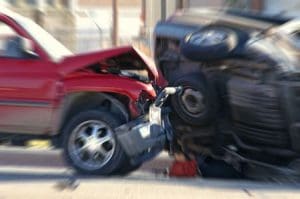 Speed also causes drivers to more easily lose control of their vehicles. If an obstacle appears in the road, it is much more difficult to successfully steer around it. When traveling at a high rate of speed, attempting to turn or steer can result in total loss of control, resulting in a rollover or a spin-out accident. 
In the event of a crash, speed increases the destructiveness of the accident. High-speed impacts result in more damage and more devastating injuries than collisions that occur at lower speeds. Speed increases the risk of traumatic brain injuries, permanent disability, and death. 
Unfortunately, these behaviors are not only extremely dangerous, they are also extremely common. If you or a loved one have been injured in a crash involving a driver who was speeding or driving aggressively, you may be eligible for compensation for your medical costs, lost wages, and pain and suffering. Don't face the legal process alone. Let us work on your behalf to resolve your case so that you can recover and move on.
Check out our list of frequently asked car accident questions and answers.
Speeding Accident FAQs
Q: What if I was hit by a speeding driver as a pedestrian?
If you were hit by a speeding driver as a pedestrian, it is important that you know your rights. As a pedestrian, you are automatically entitled to the benefits of "full tort" under Pennsylvania insurance law, meaning you have the right to seek compensation not only for your medical bills but also for your pain and suffering. A pedestrian hit by a car at a high rate of speed will likely suffer serious injuries, brain trauma, broken bones, spinal cord injuries, and more. You may be unable to work for an extended time. The pedestrian accident lawyers at Munley Law Personal Injury Attorneys know how to investigate your accident and obtain maximum compensation so you can recover from this trauma with financial security and peace of mind. 
Q: How can I prove the other driver was speeding?
Speeding is a form of reckless and negligent behavior. In many cases, the police accident report will reflect whether the at-fault driver was cited for speeding. Your lawyer will also consult with experts and accident reconstructionists if necessary.  If you were hit by a truck or large commercial vehicle, an expert truck accident lawyer will be able to recover the truck's electronic data recorder containing information about the vehicle's speed at the time of the crash. 
Q: What compensation can I receive for an accident caused by a speeding driver?
Every case is different, and the amount of your compensation will depend upon the extent of your injuries, the cost of your medical care, the overall effect the accident has had on your life, your ability to work, and the available insurance coverage. A car accident lawyer can help you recover damages for:
Medical bills, hospital stays, and future treatment

Physical therapy and rehabilitation

Lost wages

Reduced earning power

Altered quality of life

Pain and suffering
Q: Do I need a lawyer if I was hit by a driver who was speeding?
If you were injured in an accident and the driver who hit you was speeding, you may think you have a straightforward case. However, even if the at-fault driver was cited for speeding, you may still face challenges in getting the full amount of compensation you are entitled to. Insurance companies frequently offer insufficient settlements to resolve matters quickly and at a low cost to them. They may not take into account the future treatment you will require, or the suffering you have endured. Often, filing a lawsuit is the best way to ensure you receive full, fair compensation. An experienced car accident lawyer can fight for everything you deserve during this process. If you're unsure whether you need a lawyer, contact us for a free consultation. We will review your case at no charge, and help you decide what to do next. 
Contact a Speeding Accident Lawyer for a Free Consultation
The PA personal injury law firm Munley Law Personal Injury Attorneys has been representing victims of these types of cases for more than 50 years. Our car accident lawyers have won millions of dollars on behalf of our clients. While that money cannot undo the damage caused by a reckless driver, it can help to relieve the financial burden in the aftermath of an accident. At Munley Law Personal Injury Attorneys, our lawyers  often work as a team in order to achieve the best possible results for you.
At Munley Law Personal Injury Attorneys, we charge our clients on a contingent fee basis. This means that we do not collect a fee  (a percentage of the damages recovered on your behalf) unless we win your case. If we are not able to produce results for you, you will not owe us anything. And, our initial consultation is free, so you can feel comfortable coming to us to discuss your potential case. Call Munley Law Personal Injury Attorneys at (570) 338-4494 or fill out our easy-to-use contact form.