Slip and Fall Injuries are Serious and Costly
A slip and fall, or trip and fall, accident is essentially what the name suggests: it's an accident where a person slips or trips and falls on another individual or business's property, leading to some degree of injury.
To many adults, the idea of slipping and falling may not seem like much to be concerned about. But in reality, a simple slip and fall incident can cause a great deal of damage, pain, and suffering. The CDC reports that 1 in 5 fall cases results in a serious injury, such as a broken bone or concussion. Moreover, approximately 800,000 people are hospitalized each year for injuries related to falling.
Beyond the physical injuries caused by a fall, the monetary burden can be immense. The CDC reported that in 2015, total medical costs associated with fall injuries in the US amounted to more than $50 billion. If you have been injured in a slip and fall case, it's in your own best interest to pursue the financial compensation you may very well be entitled to. But just how hard is it to win that compensation?
Is it Hard to Win a Slip and Fall Case in Philadelphia?
It's very possible to win a slip and fall case in Philadelphia, especially with the help of your Munley Law Personal Injury Attorneys slip and fall accident lawyer. Only about 5% of slip and fall or trip and fall accident cases actually go to trial. The vast majority are settled, with the injured party receiving an appropriate financial package as compensation.
One thing to remember is that it can take over a year for the case to reach a settlement. This is often the case because it takes that long to determine the extent of the injured party's damage and what their medical bills and other losses will amount to.
What You Need to Prove (and Win) a Slip and Fall Accident Case?
Whether you are filing an insurance claim or a personal injury lawsuit, there are a few key elements to prove in your slip and fall accident case. First is a breach of duty, which means proving that the defendant had a duty to keep you safe and failed to meet that duty. Proprietors, business owners, landlords, and homeowners all have a duty of care to keep their property safe and free from threats to anyone's physical safety.
Next, the injured party must prove the other party's negligence. One path towards proving negligence is showing that there was an existing dangerous condition that any reasonable person would have recognized and fixed. For instance, if a business owner or homeowner fails to fix a faulty handrail or remove black ice from their pathway, you can show that they should have recognized and fixed this issue. You can also prove that the other party is actually responsible for causing the hazardous condition. This may apply if, for example, they left some kind of hazardous obstruction in a walkway, which caused you to trip and fall.
Lastly, you must show that the fall resulted in legitimate financial losses. This can come in the form of medical bills, lost wages (if the fall and ensuing injury prevented you from going to work), and more. Your slip and fall accident lawyer will help you gather all the evidence needed to show the extent of your financial losses.
Proving that You are Not At Fault
Another key element in winning a slip and fall case is showing that you, the injured party, were not negligent and at fault for your own injuries. While Philadelphia slip and fall cases are certainly winnable with the help of an experienced Munley lawyer, you will most likely be up against a landlord or business owner who very much does not want to pay you the compensation you are owed. They may go to great lengths to try and show that you are in fact the responsible and negligent party. However, your Munley lawyer will be by your side against even the toughest and most determined adversary. Remember that even in a case where you are partially at fault, you are still eligible to receive compensation under the notion of comparative fault. Your dedicated slip and fall accident lawyer will ensure that no stone is left unturned when attempting to win you the maximum amount of financial compensation.
Frequently Asked Questions in Slip and Fall Cases
Q: Do Many Slip and Fall Cases Go to Trial?
No. The majority of slip and fall cases are settled and very few of them go to trial. In the rare case where the parties involved cannot reach an agreement and the case goes to trial, your Munley slip and fall accident lawyer can represent you. All Munley lawyers have hands-on trial experience, which is not the case for all personal injury attorneys.
Q: Who is most likely to be the victim of a slip and fall case?
People over the age of 65 make up the majority of fall victims. What's more, people over the age of 65 are also more likely to experience severe and ongoing damage as the result of a fall. In fact, more than 300,000 older patients are hospitalized each year for fractures, and more than 95% of these hip fractures are caused by a fall.
Q: How much can I expect to receive in a slip and case settlement?
As is true with all personal injury cases, the amount of your settlement depends on the specifics of your case. One of the main determining factors is how much your present and future medical bills amount to, or are expected to amount to. Normally, meeting the value of your medical bills is the bare minimum of the value of your claim.
Additional factors include lost wages, a lowered earning capacity, and pain and suffering, the last of which is typically the most difficult to pin down. For cases on the minor end of the spectrum, somewhere between $10,000 and $50,000 is not uncommon. Of course, depending on the case, the amount can be much higher, potentially up to the millions. It's important to have your  case evaluated by your own attorney so you can have a sense of how much it may be worth.
Q: What Causes a Slip and Fall Accident?
Slip and fall accidents can occur anywhere, but there are certain factors that can increase the likelihood of such an incident. Any type of wet, oily, or slippery surface is fertile ground for a fall. Stairs with missing, faulty, or loose handrails are also a common location for slip and fall accidents. Other factors that can lead to a slip and fall include:
Loose carpeting
Broken or uneven steps
Potholes or cracks in the ground
Dimly lit areas
Uncovered cables 
What Will My Slip and Fall Accident Lawyer Do to Prove My Case?
When you decide to hire a Munley Law Personal Injury Attorneys attorney to handle your case, you can be sure you're getting a dedicated, fearless, and tireless lawyer. Your Munley attorney will examine your case from top to bottom in order to determine how much compensation you're eligible for and how to best prove your claim. They will look at whether the accident could have been prevented by the property owner, and if it was a hazardous situation that any reasonable person could have noticed and repaired. They'll look at whether the property owner was aware of the condition, and if so, whether they were in the process of fixing it or made any attempt to warn the injured party of the potential hazard. They will also examine whether the owner or proprietor could have in fact been individually responsible for creating or causing the dangerous environment. Contact a Munley slip and fall accident lawyer today to begin the process of fighting for the compensation that is rightfully yours.
What Munley Law Personal Injury Attorneys Can Do For You
Slip and fall accident cases can be tough, but Munley Law Personal Injury Attorneys does not shy away from tough. Whether you need help deciding how to file, are unsure if you have a case, or simply want a reliable attorney with slip and fall expertise to guide you through the process, we are here. Our incredible team consists of ten excellent, highly experienced lawyers and dozens of excellent legal support staff whose singular goal is to protect your rights.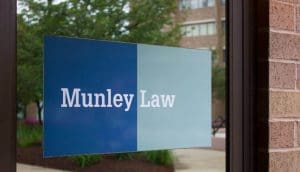 Slip and fall cases rarely go to trial, but you can rest assured that we can fight for you in the courtroom if needed. All of our lawyers have years of experience that includes hands-on trial experience, which many personal injury attorneys cannot offer. We have a fantastic track record when it comes to slip and fall cases, and dozens of glowing reviews from satisfied clients.
Please don't hesitate to reach out to Munley Law Personal Injury Attorneys to meet  one of our incredible personal injury attorneys. Contact us today to schedule your free consultation and learn how we can protect your interests and help you recover compensation.
.
Philadelphia Practice Areas
Munley Law Personal Injury Attorneys
1617 John F Kennedy Blvd
Suite 1690,
Philadelphia, PA 19103
(215) 515-7747