Seeking Justice after a Pittsburgh Bike Share Accident
Biking is a wonderful means of transportation for many reasons, including the environmental impact, the exercise, and the affordability, whether for commuting or simply for pleasure. But like all means of getting around, especially in a busy city such as Pittsburgh, there are inherent risks and dangers. And sometimes, bicycle accidents happen.
With bike sharing specifically, some additional risks come into play. Bike share programs, like Pittburgh's HealthyRide, may mean that people who are not regular or experienced  cyclists are now biking on busy city streets. This is also a popular means of getting around the city for visitors and tourists, which means that people who lack familiarity with their surroundings are biking in high-traffic areas. This can be extremely dangerous.
If you have been injured in a bike accident, or specifically a bikesharing accident, you should seek out a  Pittsburgh bicycle accident lawyer like those at Munley Law Personal Injury Attorneys. Here you will find a personal injury lawyer that has your absolute best interest at heart and is ready to fight for you. Contact us any time for a free bicycle accident case evaluation.
Common Causes of Pittsburgh Bikeshare Accidents
Collisions with car doors.  Often, Pittsburgh bicycle accidents happen as the result of a car door being opened unexpectedly into a cyclists' path. Particularly in a large city like Pittsburgh, where many cyclists are forced to ride in a tight space between parked cars and moving traffic, this is fairly common. In general, it is the driver's responsibility, not the biker's, to prevent this type of incident. If this accident does occur, the driver is most likely the one facing liability. As a driver, be sure to check your surroundings thoroughly before opening your door, particularly if you're near a bike lane.
Collisions with motor vehicles. Unfortunately, collisions with drivers are one of the most common forms of bicycle accident. In fact, in 2019, there were 846 pedalcyclist fatalities due to motor vehicle collisions. In addition to these fatalities, nearly 50,000 pedalcyclists were injured in a crash that involved a car. According to the Pennsylvania Department of Transportation, cyclists in this state are permitted to ride in the rightmost lane of traffic on both two-lane and multilane roadways. Bikes may move out of the bike lane in certain instances as well, such as when overtaking a vehicle that's heading the same direction, or if an obstacle makes it necessary to do so. Of course, any instance in which a bicycle and a car are sharing a lane poses a significant threat to the cyclist and increases the risk of bicycle accidents.
Poorly maintained bikes. As discussed earlier, using a bikeshare service does come with the inherent risk of the bike being damaged or poorly maintained. A bike that doesn't work properly greatly increases the rider's risk of obtaining serious injuries in a Pittsburgh bicycle accident.
Additional causes of bicycle accidents: 
Roadway damage
Falling
Colliding with a stationary object
Frequently Asked Pittsburgh Bikeshare Accident Questions
Q: What kind of compensation can I recover if I've been in a bicycle accident? 
Your Pittsburgh bicycle accident attorney can review your case and help you determine what kind of compensation you may be eligible for. If your case is not sufficiently covered through insurance, you may need to file a personal injury suit in order to receive the compensation you are owed. You can work with your Pittsburgh bicycle accident lawyer to gather evidence of the impact the accident has had on your life and the financial burden it has caused. In general, compensation in a personal injury case can include the following:
Cost of medical billsCost of mental health servicesCoverage of lost wages
Q: How can I stay safe while riding my bike?
Know when to ride. According to the National Highway Traffic Safety Administration, regardless of the time of year, most bicycle accidents and fatalities tend to occur between 6 PM and 9 PM. Pay particular attention to your surroundings if you are riding during these hours.
Know the local traffic laws. Traffic laws vary from state to state and city to city. Make sure you're familiar with the specific regulations regarding biking where you are so that you can move with the flow of traffic safely.
Use hand signals when turning. Bike and motor vehicle accidents can occur when a car isn't prepared for a bike to turn. Make your intentions clear by signaling upcoming turns with your hands so cars can give you a safe amount of distance.
Q: What should I do immediately after the bicycle accident? 
In the immediate aftermath of the accident, your primary goal should be to seek medical attention if you have experienced a serious injury, or an injury of any kind. After that, you should call the police. Once the police arrive at the scene, they will examine the area, interview those involved as well as witnesses, and ultimately write a report. The police report generally serves as the official account of what took place and can be helpful to your bicycle accident case, particularly if you go to trial.
You are also advised to gather your own evidence. If you have been hit by a car, for instance, you should immediately take pictures of the vehicle and the surrounding area. You should also document your injuries should you have sustained any that are immediately visible. You should take down the license plate number and information (both personal contact information and auto insurance company information) from the other drivers or other parties involved.
Q: Can I sue a bikeshare company like HealthyRide?
Yes. Depending on the specifics of your case, you may be able to take legal action against a bike share company if you were injured while using one of their bicycles. HealthyRide, for instance, has a duty to keep all of its bikes in safe and working condition. The company states on its site that riders are obligated to check the bike before riding to ensure it is working properly, but not all damage is visible to the eye, especially for an inexperienced cyclist. If your bicycle accident occurred as the result of a damaged or poorly maintained bike, you may have a case against the company.
HealthyRide also states the riders are liable for all injuries, but your bicycle accident lawyer may be able to help you fight this. You should speak to a Pittsburgh bike accident lawyer who can examine your case and advise you on the best way to move forward.
Q: Who is at fault in a bicycle accident? 
The bike share company. There are many possibilities for fault and liability when it comes to a bikesharing accident. As mentioned above, it's possible for the bikesharing company itself to be liable, particularly if the bike they provided was not in safe working condition
The city. If the bicycle accident occurs as a result of road damage on a city street, you may be able to file a negligence lawsuit against the city.
A driver or drivers. Of course, if you are in a collision with a car, it's very likely that the driver is at fault. All drivers have a duty to drive in a safe and responsible manner and not put any other parties, or themselves, in harm's way. In order to pursue a claim against a driver, you must prove that they were a negligent driver and abandoned these duties or ignored these duties. You also must prove that their negligence resulted in damages for you, whether those be in the form of property damage or personal injury. Contact a Munley attorney today for a free consultation and a review of your potential bicycle accident claim.
Q: What role do insurance companies play in a Pittsburgh bicycle accident?
In the state of Pennsylvania, motor vehicle insurance also applies to bike accidents, and all drivers are legally required to carry insurance. That means that if you are hit by a car while on a bike, you may potentially be covered by either the driver's insurance or your own car insurance, depending on the case.
If the party responsible for your bicycle accident is uninsured or underinsured, or if they fight back on responsibility, take your case to a Pennsylvania personal injury attorney. We can also help ensure that you are not being shortchanged by any insurance companies, as they will most likely try to pay out as little as possible regardless of the severity of the incident. We can review your case and help you file a suit if needed.
Q: What is comparative fault and how does it affect me? 
Comparative fault essentially means that a plaintiff's damages are reduced by whatever percentage of fault they themselves share. In other words, the compensation you are  able to recover is reduced if you are partially at fault for the bicycle accident. Imagine that you are biking against traffic in Pittsburgh and are hit by a car that blasts through a red light. The driver of the car is predominantly at fault, but you also bear some responsibility for breaking a rule and putting yourself in danger by biking against traffic.
If you then sue for $400,000 but the court determines you bear 20% responsibility, your claim would be reduced by 20% and you would be capable of recovering $320,000 in damages. The one caveat is that if you as the plaintiff are determined to bear more than 50% of damages, you are prevented from recovering any damages at all.
An Experienced Pittsburgh Bikeshare Lawyer at Munley Law Personal Injury Attorneys Can Help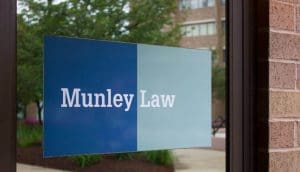 We here at Munley Law Personal Injury Attorneys are so deeply sorry that you or a loved one has experienced serious injuries or any kind of distress while biking or using a bikeshare service. We believe that no one should have to face confusing and overwhelming legal or insurance systems alone, and we stand behind all bicycle accident victims. Munley Law Personal Injury Attorneys is here to support all injury victims and help you find a way through this rocky time.
The bicycle injury attorneys at Munley Law Personal Injury Attorneys are experts in all things personal injury and have a highly impressive track record when it comes to personal injury cases. Our incredible team consists of ten excellent, highly experienced personal injury lawyers and dozens of excellent legal support staff whose singular goal is to protect your rights. Each of our lawyers has over a decade of experience, as well as hands-on trial and courtroom experience. We do not get paid or receive any attorney's fees unless we win your case.
Please don't hesitate to reach out to Munley Law Personal Injury Attorneys to meet an incredible Pittsburgh bicycle accident attorney. Contact us today to schedule a free consultation on your bicycle accident case and learn how we can protect your interests.
.
Pittsburgh Practice Areas
Munley Law Personal Injury Attorneys
510 Third Avenue
2nd Floor,
Pittsburgh, PA 15219
+14125345133