Settling a Slip and Fall Accident Case
Do most slip and fall cases settle out of court? A slip and fall accident occurs when one party is injured when slipping or tripping and falling, usually on another person's property, due to some sort of hazardous condition. This "hazardous condition" could be any number of things, such as a wet or slippery floor, a faulty handrail, or loose carpeting. While a fall may not sound like something serious, the reality is that it can cost much more extensive damage than one might expect. An accident of this type is particularly dangerous for people over the age of 65, who are both more prone to falling and more prone to experiencing severe injury as a result.
If you or a loved one has experienced a slip and fall accident, you may be wondering what your next steps are. Do these accidents get solved through insurance? Should you sue? And if you do sue, what are the chances of going to court? Remember that it's always best to seek out the advice of an experienced slip and fall accident lawyer who can review the details of your case and offer insight into the best way forward. You can contact a Munley Law Personal Injury Attorneys slip and fall accident attorney for a free initial consultation at any time.
Do Most Slip and Fall Cases Settle Out of Court?
If you have been in a slip and fall accident, you want to be sure that you receive fair and proper compensation for your injuries, as well as your pain and suffering. However, no one wants to be stuck in a legal battle that stretches on and on, and the notion of actually having to go to court can be overwhelming. The good news is that the vast majority of slip and fall cases do settle out of court, meaning an agreement is reached between parties outside of the courtroom and there is no need for a trial. Several sources estimate that somewhere between 2% and 5% of slip and fall accident cases ultimately go to court in order to reach a resolution.
The odds are most certainly in your favor in terms of reaching a settlement, and our excellent team of Munley slip and fall accident attorneys are determined to reach one that fairly compensates you for your suffering. However, it's never possible to guarantee that a case will settle out of court, and a trial is, in theory, always a possibility. For that reason, you want to make sure that your slip and fall accident lawyer is capable of representing you in court should it come to that. Many personal injury attorneys across the nation lack actual courtroom experience, but not the lawyers at Munley Law Personal Injury Attorneys. In the case that you do need to go to court, our dedicated and experienced team of lawyers, all of whom have years of hands-on trial experience, will be right there by your side, fighting to protect your rights.
Proving a Breach of Care
In order to be eligible for any type of compensation, you and your slip and fall accident attorney will need to establish and prove a few key elements of your case. The first is a breach of duty, which essentially means proving that the defendant had a duty to keep you safe and failed to meet that duty. Generally, proprietors, business owners, landlords, and homeowners all have a duty of care to keep their property safe and free from threats to anyone's physical safety. Unless you are present on any private property as a trespasser, you have a right to remain safe and free from harm while there. You may be eligible for compensation if you legally visited any personal or private property and experienced an injury as the result of a hazardous condition there.
Proving Negligence in Your Slip and Fall Accident Case
Next, you as the injured party must prove that the other party was negligent in some way. For example, you can show that there was a dangerous condition that caused the accident that any reasonable person should have noticed. Alternately, you can show that there was a dangerous condition that the proprietor or homeowner was actively aware of but did not fix and did not attempt to warn you about, you may have a case. This hazardous condition could include a large range of things, such as loose carpeting, cracked or uneven pavement, a faulty handrail, and more.  Another means of showing negligence is to establish that the defendant actually caused or is responsible for the hazardous condition. This may apply if, for example, they left some kind of hazardous obstruction in a walkway, which caused you to trip and fall.
Remember that under Pennsylvania law, there is a two year statute of limitations on filing any personal injury claim. This means that in most cases, you have two years from the date of the slip and fall accident to pursue legal action. There are a few exceptions; for example, if the injured party is a child who is under the age of 18, they have two years from the time they turn 18 in which to file a claim.
Negotiating the Terms of a Settlement
The details of your settlement negotiations will depend on the specifics of your case. One of the first steps in beginning settlement negotiations is to determine how much your damages amount to. First, this will include calculating your economic losses, such as the cost of your medical bills, lost wages (if your injuries prevented you from working), and compensation for an overall lowered earning capacity. Beyond that, you and your attorney will determine the cost of your non economic losses. This can be more difficult to calculate, but generally includes financial compensation for your pain and suffering, which may include PTSD, anxiety, depression, emotional distress, and more.
Once you've accounted for all of the above and reached a settlement amount, you and your slip and fall accident lawyer will adjust his number based on a few factors. For example, if you are partially liable for the accident, you may still be eligible to receive compensation, but it will likely be less than the original number you reached when totaling your losses.
In the state of Pennsylvania, the notion of comparative negligence generally means that your compensation is lowered by your percent of fault; in other words, if you are 15% at fault for the accident, the total amount of your compensation would be reduced by 15%. If you are 51% or more at fault, you are not eligible for any compensation. Your lawyer will work with you to ensure you are not assigned a higher percentage of blame than you deserve. Your settlement amount may also be adjusted based on other factors, which can vary state to state. Speak with your slip and fall accident lawyer to discuss the specifics of your case.
Once you have your final settlement amount, you and your slip and fall accident lawyer will present that offer to the defendant or their insurance company. In a best case scenario, they will accept your initial offer. However, it's also very likely that there will be some negotiating back and forth. In a case where an agreement cannot be reached even after negotiations, a trial may be necessary.
Preparing for a Trial
Some slip and fall cases will reach a settlement very early on, meaning that preparing for a trial is not necessary. However, there are cases where a trial date is set, and both parties reach a settlement agreement just days before the trial is set to begin. In a situation like this, you may need to prepare for a trial even as you continue working towards a settlement agreement.
Your experienced Munley slip and fall accident lawyer will, of course, take the lead on any and all trial preparations. They will procure evidence, witness statements, and all other documentation necessary to establish a strong and bulletproof case for you. 
What Munley Law Personal Injury Attorneys Can Do For You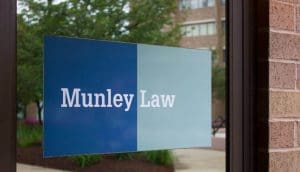 Experiencing an accident can be stressful and traumatic, and we understand that navigating the settlement process can be overwhelming. But the good news is you don't have to go through it alone. We here at Munley Law Personal Injury Attorneys stand with all accident victims and are determined to protest your rights and make the process as smooth as possible.
Our primary goal will be to reach a satisfactory settlement for you, and we have an excellent record of reaching substantive settlements for our clients. However, in the rare case that your claim does necessitate a trial, we can protect you in the courtroom as well.  All of our lawyers have years of experience that includes hands-on trial experience, which many personal injury attorneys cannot offer. We have a fantastic track record when it comes to slip and fall cases, and dozens of glowing reviews from satisfied clients.
Please don't hesitate to reach out to Munley Law Personal Injury Attorneys to meet  one of our incredible personal injury attorneys. Contact us today to schedule your free consultation and learn how we can protect your interests and help you recover compensation.