Determining When to Sue in a Slip and Fall Case
The state you live in and laws surrounding personal injury and wrongful death ultimately determines how long after a slip and fall you can sue. While state laws take into account the amount of time it takes to file a claim with insurance, partake in negotiations, and in some cases, go to trial, should you miss the statute of limitations, you lose the right to seek legal recourse against the party who owned the property and caused your injury.
Learn more about slip and fall statute of limitations and how Munley Law Personal Injury Attorneys can help get the compensation you deserve for your losses.
Pennsylvania, New York, New Jersey, and Delaware Slip and Fall Statute of Limitations
For more than 60 years, the slip and fall attorneys at Munley Law Personal Injury Attorneys have been representing accident victims across Pennsylvania, New York, New Jersey, and Delaware. Learn more about each state's statute of limitations for personal injury claims.
Pennsylvania Personal Injury Law
Under Pennsylvania law, personal injury victims have two years to file a lawsuit against a negligent party.
The two year deadline begins at the date of the incident. The statute of limitations applies to nearly all personal injury lawsuits that are driven by negligence or intentional misconduct.
New York Personal Injury Law
According to the New York State Senate, for negligence resulting in personal injury, victims have three years from date of accident to file a lawsuit.
New Jersey Personal Injury Law
Similar to Pennsylvania, under New Jersey law, personal injury victims have two years from the incident to file a personal injury claim against the negligent party.
Delaware Personal Injury Law
The statute of limitations for a personal injury lawsuit in Delaware is two years from the date of the accident that caused the victim's injuries.
Slip and Fall Cases Take Time
How long it will take for your slip and fall case to settle is dependent on a variety of factors. In general, the length of your case will depend on:
Circumstances surrounding the incident
The extent of your injuries
If the at-fault party counterclaims your case
If it is difficult to prove liability
If the case goes to court
While many personal injury cases are settled outside of court, some end up going to trial which means your claim could go from only a few months to a year or more to reach resolution.
Further, if you suffered extreme injuries, the amount of losses you have incurred will add to the case, potentially lengthening the time it will take to settle or reach a verdict.
A personal injury lawyer will be better prepared to handle your case, no matter how long it takes, while offering you the ability to focus on your physical and emotional recovery.
Circumstances Surrounding the Case
Depending on the circumstances that surround your slip and fall case will ultimately determine how much time your case will take to settle. When you fall inside a grocery store, or in a dark parking lot, the proprietors, business owners, landlords,etc. have a duty to keep their property free from serious hazards.
However, when the property owner has failed to do so, you may be able to seek compensation. When there is clear cut fault in the accident because of the obvious circumstances, that helps your claim move through faster.
However, when you have not taken proper precautions or are at fault, this can impact the length of the case.
Extent of Injuries
It is estimated that injuries suffered in slip-and-fall accidents lead to about 9 million emergency room visits every year and are the second leading cause of unintentional death in the U.S.
While injuries can range from bumps and bruises to minor cuts and scrapes, they also can have serious implications, especially for older citizens.
Common, but serious, injuries from slip and fall accidents include:
Broken bones
Sprains
Traumatic brain injuries (TBI)
Hip fractures
Back/spinal cord/neck injuries
Knee injury
Wrongful death
The extent of the injuries sustained may not only impact your daily life in the short term, but can lead to lasting ramifications that can result in your securing a larger settlement, thus taking more time to reach an agreement.
Further, if you are unable to physically attend meetings with the negligent party and insurance adjusters, it can take time to find a lawyer to represent you while you recover.
At-Fault Party Counterclaims Your Case
Depending on the amount of compensation you are seeking, you may be met with counterclaims from the negligent party. While you may feel like this is diminishing your negligence suit, remember that they are trying to walk away from the claim with as little financial payout as possible which means they will drag out negotiations or take the claim to court.
Difficult To Prove Liability
In many slip and fall cases, it can be difficult to prove liability on solely one individual or entity. Instead, the victim may share in some of the fault.
Your state's laws surrounding shared fault can also impact your case and lengthen the process.
Pennsylvania follows a 51 percent comparative negligence rule, meaning you can recover damages if you were less than 51 percent at fault.
New York follows contributory negligence meaning victims can recover damages in personal injury cases they are partially responsible for, but the amount they recover will be adjusted to the amount that they are at fault.
New Jersey and Delaware follow the comparative negligence law, which states as long as the plaintiff is not more at fault than the defendant, recovery is possible.
The Case Goes To Court
In many cases, a personal injury claim will be settled outside of court. However, if the parties can not reach a settlement in negotiations, the claim may go to court, extending the length of time it takes to conclude the case.
While many slip and fall accidents are settled in as little as weeks or months, should the claim go to court, it may extend the time to months or even more than a year.
Assess Your Injury Losses
While all of the aforementioned factors can impact the length of your slip and fall case, the biggest component will be the time it takes to truly assess your current and future losses related to the injury.
Following the injury, you will want to have a medical exam to ensure that any emergent conditions are addressed as soon as possible. However, not all injuries are apparent right away, which is why you'll want to really make sure you are keeping a log of any changes you experience to your health.
Following the initial medical exam, you will likely have appointments with specialists, or your primary care provider, who can help track your injuries and how they may impact you in the future.
Not all medical costs are upfront, and when new injuries occur or chronic conditions because of the slip and fall accident, you'll need to make sure your settlement fully compensates you for present losses and future ones as well.
Remember, by taking a settlement too early, you lose the chance to seek additional compensation or to file a lawsuit.
However, there is evidence that you can begin to compile from the start to help you assess your injury related losses. This includes:
Initial medical exam notes
Medical reports
Hospitalizations
Medical bills
Rehabilitation
Loss wages
Disability
Pain and suffering
Though this list is not exhaustive, it can help build your case from the very start.
How Will A Slip And Fall Attorney Prove My Case With Documentation?
When you hire Munley Law Personal Injury Attorneys, our team of slip and fall accident lawyers will investigate your case thoroughly to determine who was at fault for your accident and how your medical costs will factor into your compensation.
A personal injury attorney will be able to determine:
If the property owner could have prevented the slip and fall
The overall property conditions
If the property owner was aware of the conditions
Was there an effort to warn the victim of the potential dangers/conditions
If the property owner caused the dangerous condition
Let Munley Law Personal Injury Attorneys Represent Your Slip and Fall Claim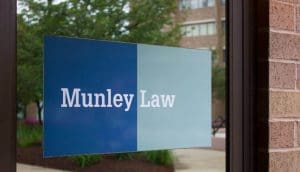 While you may have two-to-three years to file a slip and fall accident claim, these cases are often difficult to prove, leaving many victims opting to not seek legal recourse. However, it is imperative that you work quickly to seek legal guidance and begin the settlement process.
Whether the property owner is solely at fault or you are partially responsible, an experienced slip and fall attorney from Munley Law Personal Injury Attorneys can prove liability and help you win your case.
If you or a loved one had a slip and fall accident caused by someone's carelessness which resulted in injury or wrongful death, don't wait any longer. Call us today at (570) 669-3606 or use our online contact form now to get in touch with one of our slip and fall injury attorneys.
Our attorneys work on a contingency fee basis which means you pay nothing upfront and we don't get paid until you win. You focus on recovery. We'll handle seeking compensation.