Statute of Limitations for Slip and Fall Accidents
The statute of limitations varies by state. For example, in Pennsylvania, slip and fall accidents fall under the broad category of "personal injury," giving you two years from the date of when your injuries first occurred to file suit. When you suffer injuries from slip and falls, trip and falls, and other similar accidents, 42 Pa.C.S. § 5524(2) states that you have two years from the date of your accident to initiate a lawsuit and seek compensation.
Slip and fall accidents caused by negligence or the failure of property owners to maintain safe and hazard-free premises can cause severe injury and even death.  According to the New York Times, the winter months are worse for people of all ages, as ice, snow, and slippery trip hazards make slip and fall accidents more prevalent. Wherever you are in America, slip and fall dangers can be just around the corner.
You need an experienced attorney who will fight to help you get the compensation you deserve for your injuries, medical bills, lost wages, and more. But in most states, you need to act fast. How much time do you have to sue after a slip and fall accident?
How Can a Slip and Fall Accident Lawyers Help Me Receive Compensation for My Injuries?
Falling on some ice or tripping over a broken sidewalk may seem innocent enough, but the injuries you accrue can cause immense pain and suffering. Premises liability injuries can cause you serious setbacks, forcing you to take time off work, putting you behind on your bills, and placing you in danger of losing your home. Because of the overwhelming nature of a slip and fall injury, you may not be thinking of your state's statute of limitations to file a lawsuit.
What are the Dangers of a Slip and Fall Accident?
A slip and fall accident may not feel serious at first but can have severe consequences over time. If a premises liability injury has caused you or your family harm, you need a personal injury attorney right away.
When we think about slip and fall accidents, many of us think of simple trips or incidents where we fall, get up, brush ourselves off, and move on. But slip and fall accidents can be much more serious. According to the Centers for Disease Control and Prevention, "one out of five falls causes a serious injury such as broken bones or a head injury." Moreover, the CDC notes that fall death rates increased 30% over the past decade in the United States.
Falls can happen in any number of ways. The most common types of premises liability accidents occur when you slip on or at:
Ice
Wet spots
Sidewalks (including broken sidewalks or those left in disrepair)
Exposed hazards (including wires, construction equipment, and other safety hazards)
Messy, cluttered areas
The injuries caused by a slip and fall accident or negligent property owner can be life-altering. A slip and fall, trip, or other personal injuries on someone else's property can cause you severe pain and suffering, for which you deserve compensation. Some of the more common injuries associated with a slip and fall accident include, but are not limited to:
Back and Neck Pain
Spinal Cord Injuries, including Paralysis
Brain and Other Severe Head Injuries
Broken Bones (Arms, Hands, Legs, Wrists, Fingers)
Scarring
Lacerations
Torn Ligaments
Dismemberment
Death
It is essential that you contact a slip and fall attorney as soon as possible because every state has a statute of limitations for collecting compensation for your injuries. In most cases, the clock starts ticking from the date of your accident. At Munley Law Personal Injury Attorneys, our team of experienced premises liability lawyers can help you recover damages for your medical expenses, pain, and suffering, even punitive damages.
How Much Time Will Pass Before I Receive Compensation for my Slip and Fall Injuries?
Several factors can affect a possible settlement amount in a slip and fall case, including injury severity, liability, and other things. For the most part, slip and fall accidents are the responsibility of property owners, especially if their negligence caused your injury. Moreover, assessing your injuries can take some time, which is why you should contact an attorney as soon as possible.
To ensure you receive the largest settlement or verdict you can, you need to be examined by a doctor who can determine the extent of your injuries. You may need to visit with specialists and receive physical therapy as well.
Ensuring your injuries are thoroughly evaluated will help you receive the largest settlement possible while also guaranteeing that you don't settle for less than you deserve. At Munley Law Personal Injury Attorneys, we have helped our clients receive over $1 billion in settlements and verdicts. Our slip and fall lawyers know how to fight to get you what you deserve.
A Slip and Fall Lawyer at Munley Law Personal Injury Attorneys Is Here to Help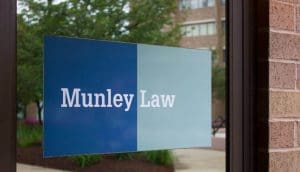 A slip and fall accident can change your life. For more than 60 years, Munley Law Personal Injury Attorneys has been the go-to firm for people who suffer from personal injuries and their families. Our premises liability lawyers understand how icy or wet conditions can change your life. We are here to help.
At Munley Law Personal Injury Attorneys, we believe that cost should not stand in the way of justice for the injured. Therefore, we do not collect a fee for our services unless we recover your benefits. As our client, you will not have to pay anything up front or out of pocket. Contact us today for a free consultation.