While all vehicles are capable of getting in an accident while on the road, motorcycles pose their own special set of risks. The Insurance Information Institute notes that "motorcycles are by their nature far less crashworthy than closed vehicles", and that they are "less visible to other drivers and pedestrians and less stable than four wheel vehicles." All of these factors together mean that when a motorcycle does experience a crash, the impact can be extremely serious. In 2020, there were 67.07 fatalities for every 100,000 motorcycles registered, and a total of 83,00 injuries as a result of motorcycle accidents.
If you or a loved one has experienced a motorcycle accident in Reading, Pennsylvania, you should not have to bear the ensuing emotional, mental, physical, and financial costs alone. Working with a Munley Law Personal Injury Attorneys attorney means that you have an experienced motorcycle accident lawyer advocating for you every step of the way, protecting you as you seek justice and compensation. What's more, even if you are a motorcycle driver who has not been in an accident, it's wise to familiarize yourself with your rights. That way, should the worst case scenario strike, you're at least prepared to take your first steps.
If someone else's negligence resulted in your accident, they need to be held accountable. Contact us today for a free consultation and to learn how we can protect your interests.
Motorcycle Accidents and Laws in Reading, PA
In 2018, there were 835,737 motorcycles registered in the state of Pennsylvania. Many of these will pass through Reading, PA, due to its proximity to several major thoroughfares. Unfortunately, however, this also means the city saw a fairly high number of accidents and injuries. In the same year, Pennsylvania as a whole saw 2,611 motorcycle accident injuries and 164 accident fatalities. While these motorcycle crashes make up only 2.1% of all accidents in the state, they disproportionately represent more than 14% of all fatal crashes.
While Reading, and Pennsylvania as a whole, do encourage the use of helmets and other protective headwear, there are ways to get around these requirements. If a motorcycle driver is more than 21 years of age and has two years of riding experience or has completed a PennDot motorcycle safety course, they may forgo the use of a helmet.
Pennsylvania additionally requires a Class M license in order to operate a motorcycle. Interested parties must pass a written permit test. This permit is valid for one year, during which the permit holder must then pass a skills test.
Fault in a Motorcycle Crash
As with any roadway accident, there are quite a few parties that may potentially be at fault. What's more, multiple of these parties may share a degree of fault. Some of the potentially at fault parties include:
A motor vehicle driver
Another motorcyclist
A pedestrian
A company or corporation (if the accident is caused by a truck or vehicle operating on behalf of a company)
The city or jurisdiction (if the accident was caused by poor signage or unkempt roadways)
And more
Of course, it is also possible for the motorcycle driver to be at fault. But remember that even if you bear partial responsibility for the accident, hope is not lost. In the state of Pennsylvania, you are still eligible to receive compensation for an accident in which you bear partial liability, as long as that percentage is less than 51%. If you believe you may bear partial responsibility for your collision, speak to your motorcycle accident lawyer. They can advise you on how best to proceed and whether your degree of fault still enables you to collect damages.
Motorcycle Accident Injuries 
When a motorcycle collides with a passenger vehicle, there are a great number of potential injuries that can occur. Because the motorcycle rider is far less protected, there is a high risk of severe damage, far higher than there is for most car accident victims. Some common injuries that occur in motorcycle accidents include:
Lower extremity injuries. The National Highway Traffic Safety Administration performed a study that showed that "lower-extremity injuries were the most common injuries sustained by motorcyclists treated in level I and II trauma centers." This refers to injuries below the waist, most commonly to the pelvis and legs.
Traumatic Brain Injuries. Also known as TBIs, traumatic brain injuries are injuries that cause damage to the brain tissue within the skull, often caused by a blunt force trauma to the head. If a motorcycle rider is thrown from their bikes and lands on their head, the chance of a TBI is high. Wearing a helmet is extremely important in lowering the risk of a severe and even life-threatening TBI.
Upper extremity injuries. After lower extremity injuries, upper extremity injuries are one of the most common results of a motorcycle accident. If a motorcycle rider is thrown from their motorcycle, it's a human reflex to extend the arms in order to brace the body against impact. The result is that the arms might collide with a hard surface, such as the road, leading to dislocation, broken bones, ligament damage, and more.
Face and neck injuries. Full face helmets can additionally help to protect against face and neck injuries. If a rider lands on their face, the helmet can keep the neck steady and also protect the face from lacerations and additional damage.
Lacerations. A laceration is a deep cut or tear to the skin or flesh. This can occur from colliding with the pavement or another vehicle. If the car or motorcycle is damaged, there may be sharp metal present, and it's also possible for the skin to snag on this and become damaged.
Organ damage. One of the dangers of organ damage is that it may not be immediately apparent. It's possible for someone to have no external injuries, but for there to be substantial internal bleeding or damage to the organs. For this reason, it's always crucial to seek medical attention after a motorcycle accident, even if you don't see any obvious injuries. You may be experiencing internal damage that needs immediate attention.
And more.
Insurance in a Reading, PA Motorcycle Accident 
Pennsylvania generally uses a no-fault approach to insurance coverage for accidents. This means that each party's own insurance coverage should pay for their own damages. This is in contrast to fault-based states, in which the at-fault party's insurance pays out damages to the victim.
However, the way that motorcycle insurance and car insurance function in the state of Pennsylvania are quite different. One key difference is that with car insurance, many drivers in Reading, PA choose to carry limited tort coverage. This means that in order to make any claim against the other driver for damages to cover pain and suffering, you must meet  the state's criteria of "serious injury". With motorcycle accidents, however, both the motorcycle driver and anyone on the motorcycle are automatically entitled to full tort coverage. This means that motorcycle occupants can claim damages for pain and suffering without having to meet the criteria of a "serious injury", i.e. permanent disfigurement or serious impairment of a bodily function.
All of this means that you are able to seek compensation via the at-fault party's insurance. As you seek to negotiate a settlement, keep in mind that the other party's insurance company is operating from a place of wanting to pay out as little as possible. That is their job, as it is for all insurance companies. Letting them know you're working with an attorney from the beginning means they'll know you can't be lowballed or pushed around, and that you won't accept an unfair settlement. Working with a Reading, PA motorcycle accident lawyer means you are more likely to end up with a satisfactory settlement.
What Kind of Damages to Expect
The damages that you may be eligible to receive after a Reading, PA motorcycle accident depend greatly on the details of your case. It's determined in great part by things like whether you had to miss work due to your injuries, and how much, what your medical bills look like, how much property damage you experienced, and more. Your motorcycle accident lawyer can even attach a dollar value to your pain and suffering; after all, you deserve compensation for the mental and emotional toll that an accident can take on your life.
While it's difficult to estimate what a case may be worth without further details, Munley Law Personal Injury Attorneys has a record of obtaining extremely satisfactory settlements. We've successfully reached multi million dollar settlements for many of our clients; you can explore our wins here.
What a Motorcycle Accident Lawyer Can Do for You
The aftermath of a motorcycle accident, as you try to heal from your motorcycle injury, can be an extremely overwhelming time. Working with a Munley Law Personal Injury Attorneys motorcycle accident attorney ensures that you have an expert in your corner, handling the nitty gritty while you recuperate.
Immediately after your motorcycle accident, your Munley Law Personal Injury Attorneys attorney will get to work compiling all the evidence needed to prove your case and show that you are deserving of compensation. This includes things like the police report, medical bills, photos of the scene, witness statements, CCTV footage, and more. If the accident involved a commercial truck, your lawyer may obtain the truck's black box in order to get more information about the event of the crash. All of this is necessary in order to establish what kind of damages you're eligible to receive.
Your motorcycle accident lawyer will also serve as the key intermediary between you and the insurance negotiators. As soon as you hire your lawyer, all communication with the insurance investigators will happen through them. This means you'll never get tripped up and agree to an unfair settlement or accidentally admit fault, which is surprisingly easy to do. Your lawyer will advise you not to provide any written or recorded statements to anyone from any insurance company, and not to accept the first offer you're given. Almost always, it will be too low, and your lawyer will have to negotiate for something better. Your lawyer will head this process, fighting on your behalf for a settlement that accurately reflects your experience and the financial burden someone else's negligence has placed upon you.
In the vast majority of cases, a settlement will be reached. But in the event that a settlement cannot be reached, your attorney can also protect you in court. Some personal injury attorneys have no courtroom experience and are experienced only in negotiating settlements, but at Munley Law Personal Injury Attorneys, all of our attorneys are prepared to defend you in the event of a trial.
Why Choose a Munley Reading, PA Motorcycle Accident Lawyer?
Experiencing a motorcycle accident is undoubtedly a terrifying experience, and due to the nature of the vehicle, it can often result in horrible consequences. After a motorcycle accident, you should be able to focus on resting, recovering, and getting back to the things you love, not on negotiating with insurance companies. That's where Munley Law Personal Injury Attorneys comes in. Allow us to do the heavy lifting so that you don't have to. We have the legal expertise and decades of experience necessary to fight on your behalf and ensure you're not shortchanged. You deserve nothing but the best when it comes to fighting for your rightful maximum compensation.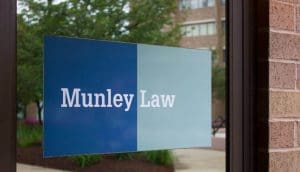 Munley Law Personal Injury Attorneys is dedicated to bringing  you top of the line legal services and ensuring that you receive the  justice you deserve. Having a Reading, PA personal injury attorney on your side will help ensure you receive the damages you are owed, and are not coerced into accepting an unfairly low offer. Our team of highly experienced lawyers and excellent legal support staff will work tirelessly for you, and we do not get paid unless you win.