How to Consider Job Changes While on Workers Comp
If you're on workers compensation after a work injury, but looking for a new job, you may be asking: Can I change jobs while on workers' compensation in Pennsylvania? The answer to this question is a bit complicated and has multiple layers to it, which we will break down in this article. The first layer of the answer is: your workers' compensation claim is based on when your work-related injury occurred. If you qualified for workers' compensation at the time of the injury, then you are eligible to receive those benefits after suffering a work injury.
If you quit your job while on workers' compensation, your former employer's workers' compensation insurance must still pay for medical treatment that is reasonable and necessary to the work injury. If you are currently receiving total disability wage loss benefits, then you are entitled to keep receiving those payments until you recover or work is available. If you are receiving partial disability benefits, your benefits should continue until you recover and are able to take on work that pays more, or you get a new job that pays more.
Finally, if you quit your job while on workers' compensation, you may negotiate with your employer for a lump sum settlement, which is when the employer pays the injured worker one larger sum of money rather than paying in weekly installments.
Contact us today for a free consultation with an experienced PA workers' compensation lawyer at Munley Law Personal Injury Attorneys. The worker' compensation attorneys will be able to provide expert legal advice and a strategy on how to maximize workers' compensation benefits even when you change jobs.
Which Pennsylvania Workers are Eligible to Receive Workers' Compensation Benefits?
According to the Pennsylvania Department of Labor, nearly every employee in the state is covered under the Pennsylvania Workers' Compensation Act. However, there are some exceptions. If you fall into any of these categories, contact a Munley Law Personal Injury Attorneys workers' compensation attorney today for a free case review and see if any coverage is possible.
The following Pennsylvania industries that may not be covered under workers' compensation are:
Federal civilian employees
Railroad workers
Longshoremen
Shipyard and harbor workers
Volunteer workers
Agricultural laborers
Casual employees
Domestics and employees who were granted personal religious exemption from the Workers' Compensation Act
Corporate executive officers who elected exemption from the Workers' Compensation Act
All other employees, including seasonal workers and nonprofit employees, are protected and must be ensured benefits if they sustain a workplace injury.
Temporary Total vs. Permanent Partial Disabilities
Understanding the difference between these two classifications is vital to your workers' compensation case and your decision to leave your job in search of another. A temporary total disability is when a work injury or illness leaves you totally disabled, having no capacity to return to work. The benefits you receive for temporary total disability is a percentage of your average weekly wages.
After 104 weeks, which is a little over two years, your employer may request an Impairment Rating Evaluation to decide if your disability has improved or remained the same. If it is determined that you are able to work, your workers' compensation status will be moved to a permanent partial disability.
A permanent partial disability is when your workplace injury left you only partially disabled and you have the capacity to return to work. If you have to return to a light duty job, which is a job that is less demanding mentally or physically, due to your injury, your wages may be significantly lower than before. If that is the case, permanent partial disability benefits may make up the difference in wages. The benefits are calculated based on the difference between your average earnings before and after the injury or illness that caused your disability.
You may receive permanent partial disability payments for up to 500 weeks in Pennsylvania. However, if you quit your job that has been paying the benefits and move to a higher paying job, you will forfeit these benefits. A Munley Law Personal Injury Attorneys workers' compensation lawyer will be able to guide you through the pros and cons of leaving your current job while on workers' compensation. You will receive honest and fair reasons to leave or remain in your job to continue collecting benefits.
There is a difference between quitting your job and being fired from your job
Pennsylvania is an at-will state, meaning employers have the right to fire employees at any time, for any reason. Employees have the right to quit their jobs at any time, for any reason. However, an employer cannot fire a worker as retaliation for filing a workers' compensation claim. If your work environment has deteriorated after filing a claim, contact a Munley workers' compensation lawyer immediately.
Take note of decreased working hours, threats from your employer, mistreatment, decreased opportunities to advance, and sudden unfavorable shifts. These are all signs that your employer is retaliating against you for filing a workers' comp claim. It is essential for you to know that this behavior is discrimination and it is illegal. If you suspect your employer is retaliating or punishing you for filing or winning a workers' compensation claim, contact Munley Law Personal Injury Attorneys today for a free consultation on how to move forward to protect your rights.
How do I file a workers' compensation claim in Pennsylvania?
Step One
The first step to filing a workers' comp claim in the state of Pennsylvania is to notify your employer of your injury. The notification has to happen within 120 days of the work-related injury. If you fail to tell your employer within 120 days, you may not be eligible to seek compensation.
Step Two
Your employer will then notify their insurance company within 7 days of you reporting the incident. If your workplace injury or illness caused you to miss work, your employer must file a report with the Bureau of Workers' Compensation within 7 days. Your employer then has 21 days to decide if they will accept or deny your claim for workers' comp.
There are four separate outcomes to your initial workers' compensation claim:
Your claim is denied
If your employer refuses to accept liability for your injury or illness they will deny your claim. If this happens, your Munley workers' compensation lawyer will begin the appeals process, which can be taken all the way up to the Supreme Court, if necessary.
Employer Investigation
This is a process in which your employer seeks a 90-day extension to investigate the incident before deciding if they will accept responsibility for the injury. During this time, you will receive compensation until your claim is accepted or denied.
Claim is accepted
If your employer takes full responsibility for the injury and agrees to compensate you, you waive all rights to sue the employer. Your compensation will depend on your wages.
Agreement for compensation
This compensation will occur if the injury or illness is permanent or leaves the employee with a disability. In this situation, the employer accepts responsibility for the work related injury that led to disability and provides damages to the employee.
Step Three
You should seek medical attention right away after suffering a work-related injury. Make sure to inform your doctor that the injury occurred at work. Document all details of the visit, including treatment plans, medications, and follow-up appointments. Keep a detailed record of all medical expenses, including hospital stays, physical therapy, prescriptions, and x-rays.
Do not wait to seek medical care in workers' compensation cases. If you wait even one week, your employer can use that to deny your claim. Your employer and their insurance company may argue that the injury must not have been that serious since you waited to seek help.
Step Four
Contact a Munley workers' compensation attorney as soon as possible. Workers' compensation claims can get complicated, especially if you're dealing with an employer who does not want to pay. A seasoned workers' compensation lawyer knows the ins and outs of Pennsylvania law and various insurance company policies. They will be able to help you navigate the claims process to ensure you receive fair compensation for your work injury.
How much does a workers' compensation attorney cost?
The workers' compensation lawyers at Munley Law Personal Injury Attorneys deeply understand the stress and fear that follows a workplace accident. All of a sudden, you have medical expenses that pile up quickly. If the injury leaves you incapable of working, the medical bills are not offset by your typical earnings. It is incredibly scary for any individual and their families.
This is one of the reasons why the workers' compensation lawyers at Munley Law Personal Injury Attorneys do not work on a retainer. This means, you will not pay your lawyer unless a settlement or verdict is reached in your favor. This leaves you to focus on what is most important – a full and complete recovery – while your lawyer takes over your claim.
Hire an Experienced Workers Comp Lawyer Today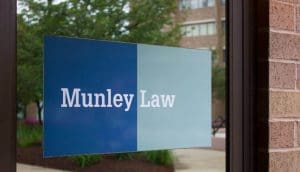 Filing a workers' compensation claim can be extremely intimidating for the average worker. Questions run through your mind – what if I fill out the paperwork incorrectly? What if my employer tries to punish me for filing a claim against the company? What if I don't hand it in on time? These are all valid questions, but the answer to all of them is Munley Law Personal Injury Attorneys. Your workers' compensation lawyer will take care of all the paperwork for you and ensure it is submitted correctly and in a timely manner. If your employer does anything which you deem retaliation for filing a workers' comp claim, your lawyer will guide you through the process of filing a direct claim against your employer.
Munley law offers free consultations to prospective clients. Allow them to take the burden of the claims process off your shoulders so you can focus on healing and moving on with your life as quickly as possible.