Workers' Comp Should Not Impact Employment
According to the Bureau of Labor Statistics and the Insurance Information Institute, on average, there are 3.4 workers' compensation claims filed for every 100 full-time employees. With workers' compensation claims being rather common, one may wonder, does workers' compensation affect future employment?
The answer is no, it should not. Because employees who are hurt on the job are legally permitted to collect workers' comp, a future employer cannot hold it against you for the injury or the collection of benefits.
Regardless, employees want to know how workers' comp laws protect them in their future employment. Here, we explain what you can do to protect yourself now and in the future.
What Does Workers' Compensation Law Say About Getting Hurt on the Job?
In the United States, each state regulates its own workers compensation programs. According to the Social Security Administration, while each state's program will differ slightly, they all include provisions for payment of lost wages, medical treatment and rehabilitation services for employees who were victims of an occupational injury or disease.
Pennsylvania Workers' Compensation Act
Pennsylvania's workers' compensation provisions are held under the PA Workers' Compensation Act. Enacted in 1915, the Act protects both workers and employers following a workplace injury or occupational illness.
Employees are able to receive medical treatment and are provided lost wages due to the work-related injuries and disease while employers cover the cost. In doing so, the employer then is protected from direct lawsuits from the employee.
Workers' comp coverage is mandatory for most employers in Pennsylvania, however, there are exceptions. Further, in some cases, the employer may be held liable in other lawsuits if there is an intentional act which caused the injury.
Can a New Employer Ask Questions About Previous Work-Related Injuries?
Under employee rights laws, employers cannot ask job candidates about previous work-related injuries during the interview process, even if there is an obvious disability because of it.
Instead, employers may ask if a candidate can perform certain physical tasks which are required for the job, or if accommodations are required.
Should an employer solely disqualify a candidate based on physical disability related to a work injury, the candidate may be able to sue for discrimination.
Will an Employment Background Check Show My Workers' Compensation History?
A workers' compensation claim can show up on a background check, however, in many cases this is only visible to the employer once a job offer has been extended.
Further, a medical exam and workers' compensation review should really be the last step of an employment screening to avoid potential lawsuits. However, if your physical and mental health is a critical component of a bona fide job requirement, do not be surprised if they seek a medical exam.
What Are Your Rights In a Workers' Comp Claim?
If you have been hurt at work, you have 120 days to notify your employer from the date of the injury. The process may differ from employer to employer, so be sure to ask your human resources department if you are not sure.
Once you notify the employer, you have up to three years from the date of the injury to file your workers' comp claim. Failure to do so will mean you cannot recover losses.
However, there are exceptions such as:
Hearing loss from long-term exposure of loud noises
Work related occupational illness
Remember, you have a right to file a workers' compensation claim and doing so should not impact your current or future employment. However, if you feel as though your current or potential employer is denying you work opportunities because of a past (or current) workers' comp claim, you do have options.
Can an Employer Fire You or Take Adverse Employment Action for a Workplace Injury?
In Pennsylvania, an employer cannot fire an employee for filing a worker's compensation claim, nor can they deny employment solely based on your previous workers' comp history.
Retaliation against an employee may include the firing or denial of work opportunities for:
Reporting an injury or illness
Filing a workers' comp claim
Winning a workers' comp claim
Receiving workers' compensation benefits
How Do I Protect Myself When Filing a Workers' Compensation Claim?
Though it is illegal for an employer to deny work opportunities because of a previous workers' compensation filing or a previous work injury, there are steps you can take to ensure that your workers' compensation filing does not affect future employment. This includes:
Avoid adding negative feelings about the employer in your workers' comp filing. This includes attacks on the employer's character, integrity, and any other negative comments which may appear vindictive. This may be visible to a future employer and not bode well for new employment opportunities.
Be honest. If you over-exaggerate your injuries or the workplace incident, this may hurt your credibility not just in your statement, but in your own personal reflections to a new employer.
Once you have decided to seek new employment, it is also important to be realistic about your abilities to perform certain employment tasks, especially if your old work-related injury has impacted your physical limitations.
If you withhold information from a new employer, it can hurt your future job prospects.
How Can Munley Law Personal Injury Attorneys Help Me in a Workers' Comp Claim?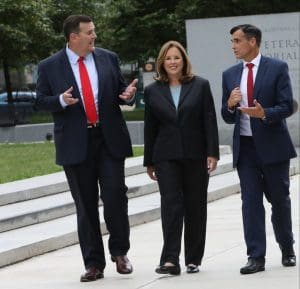 If you have been hurt at work, you likely have many questions about what your next steps should be. Once you have sought medical attention, be sure to notify your employer right away. From there, you will be on a limited timeframe to file your PA workers' comp claim.
At Munley Law Personal Injury Attorneys, we help employees file workers' compensation claims in the following industries:
Healthcare
Grocery and retail
Transportation and delivery
Warehouse and big machinery
Our workers' comp lawyers have helped Pennsylvania employees recover millions of dollars for:
Concussions
Head, neck, and back injuries
Burns and electrical injuries
Hearing loss
Vision loss
Fractures
Loss of limbs or amputation
Knee, shoulder, and elbow injuries
Occupational illness
Further, if you have suffered a "specific loss", Munley Law Personal Injury Attorneys can help you collect payment for the loss of a hand, thumb, eye, foot, leg, permanent hearing loss, etc.
Many employees fear the long-term effects of filing a workers' compensation claim including the impact it has on their reputation at work, or in future employment endeavors.
However, you must know under the law you have a right to file a workers' comp claim and recover lost wages. Further, filing a claim should not impact your current job or future career opportunities. If it does, you may have a claim under the Americans with Disabilities Act.
The experienced workers' compensation lawyers at Munley Law Personal Injury Attorneys can help you navigate the process, inform you of your rights, and aid you through any obstacles that come up during the process or with future employers.
Call Munley Law Personal Injury Attorneys Today For Your Workers' Compensation Claim
If you have been hurt at work, call the workers' compensation attorneys of Munley Law Personal Injury Attorneys. We will review your claim, and help you navigate any issues that may arise. For a no-obligation, free consultation, call us today or fill out our online form.
We work on a contingency fee basis meaning you don't pay until we win. Time is of the essence, contact Munley Law Personal Injury Attorneys today.