Working in certain industries leaves some workers more susceptible to toxic exposure in the workplace. However, many workers are unsure what they should do if they've been exposed to toxic chemicals at work. They may fear the loss of their job, retaliation from their employer, or an inability to stay in their field if they report the exposure, or come forward with their workplace concerns.
If you have been exposed to toxic chemicals in the workplace, the toxic exposure attorneys of Munley Law Personal Injury Attorneys are here for you.
What Employees Need to Know
According to the U.S. Bureau of Labor Statistics, in 2017, 41 employees in the United States died on the job after a single exposure of inhaling chemicals and chemical products. However, many employees suffer from long-term exposure in the workplace where the implications are not felt for sometimes months or even years.
With an estimated 32 million workers in more than 3.5 million workplaces who are regularly exposed to hazardous chemicals, knowing what to do following exposure to a toxic substance in the workplace can be a rather complicated task. This is because not all exposure results in immediate illness. Sometimes, it can take years before the effects are noticed. This can complicate the legal process of seeking compensation when you must prove exactly where the exposure took place.
However, that also means it is up to the employee to be diligent in their health and occupational safety measures in the workplace. This includes documenting things that occur in the workplace, issues with the protective measures in place, and keeping a record of all related illnesses and injuries.
Steps to Take After You've Been Exposed to Toxic Chemicals At Work
Much like any other workplace accident, following the exposure, there are certain steps you need to take after a chemical exposure event at work. By following these steps, you are more likely to have a successful workers' compensation claim, or proceeding lawsuit.
First, you should notify your employer, supervisor, or reporting health officer that the exposure occurred. Here, you will need to document how the exposure occurred. You'll need to clearly explain where, how, and when the exposure occurred.
Further, you'll need to get a list of any witnesses who were present at the time of the exposure. If there are no witnesses, you may be able to seek surveillance footage from your workplace to build your case.
At this point, if you haven't already done so, you will need to seek medical attention, even if the exposure hasn't resulted in any obvious medical changes. When you see your physician, be sure to explain how the exposure to hazardous chemicals occurred. Depending on the length of exposure and the type of chemical it was, it could drastically alter the course of your treatment.
Finally, you'll want to contact a toxic chemical exposure attorney to guide you in the legal process. These cases can be complex and difficult for the victim to handle alone, which is why having a legal team on your side can be incredibly impactful on the benefits you receive.
Where is Toxic Chemical Exposure Most Likely to Occur?
We know that some jobs are more dangerous than others. When it comes to working with toxic chemicals, employers do have a responsibility to tell their employees of all of the potential workplace safety risks. Some of the most common jobs where toxic chemical exposure is likely to occur include:
Aerospace
Construction
Food
Miners
Welders
Painters
HVAC
Plumbers
Textile
Energy
Medical
Some of the most common workplace chemicals employees may be susceptible to include:
Acids
Cleaning products
Glues
Heavy metals (mercury, lead, cadmium, aluminum, etc.)
Paint
Pesticides
Petroleum products
Solvents
Toner
Though knowing the types of chemicals an employee may be exposed to are critical in seeking the right medical treatment, and understanding your own workplace safety risks, for many of us, these names do not mean much. But, knowing the types of reactions they cause within the body is more helpful in understanding the associated risks.
Carcinogen: Cancer causing chemical
Corrosive: Chemical that causes destruction that cannot be repaired
Irritant: Chemical that causes irritation and inflammation to the soft tissues
Mutagen: Chemical that can cause changes to the chromosomes
Sensitiser: Chemical that can cause an allergic reaction
Teratogen: Chemical that has the potential to cause a birth defect
What Rights Do Employees Have After a Toxic Chemical Exposure in the Workplace?
The Occupational Safety and Health Administration (OSHA) is the governing body that regulates employee protective measures when it comes to exposure of toxic substances in the workplace. While the specific regulations depend on the industry, there are general rules that employers must abide by in regards to employee safety.
Below are the measures OSHA requires in the workplace when there is a risk of toxic chemical exposure.
Worker education and training: Employee safety education and communication that provides information about the chemicals and toxins that are used in the workplace and what protective measures are required of employees.
Respiratory hazard communication: Employers must identify and evaluate the respiratory hazard(s) in their workplaces and be transparent in the allowable amount of airborne particles.
In addition, employees have rights to the following:
Workplace training and safety measures
A safe workplace with well maintained machinery and equipment
Safety equipment
Reporting an illness or injury to an employer without retaliation
See test results of workplace hazards
Workers' Compensation For Toxic Exposure
Much like any workplace accident, employees who have been exposed to toxic chemicals in the workplace are also eligible for workers' compensation benefits. You will still need to follow the Pennsylvania workers' compensation guidelines to ensure your eligibility but a toxic chemical exposure attorney can guide you through the process.
Know that if you are seeking to sue for your resulting illness against a third party, you will greatly benefit from the experience of a toxic tort attorney.
Common Injuries and Illness From Toxic Exposure
Because the exposure to toxic substances may not result in immediate illness or injury, knowing the signs to look for can be instrumental to the success of your claim. Toxic chemicals can result in chronic illnesses and even death.
Other injuries and illnesses that may be a result of exposure to a toxic chemicals at work include:
Burn
Rash
Throat and lung illness
Nerve and neurological issues
To best protect yourself in the workplace and to prevent chemical exposure risks, employees should be equipped with personal protective equipment, limit intense exposure, etc.
Exposed to Toxic Chemicals in the Workplace? Call Munley Law Personal Injury Attorneys.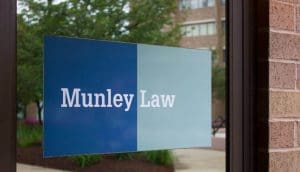 Working in an industry with toxic chemicals comes with its own set of risks. But as an employee, you have a right to a safe workplace with the full understanding of the occupational safety risks associated with the job.
For more than 55 years, the Scranton toxic tort lawyers at Munley Law Personal Injury Attorneys have been helping clients who have been exposed to toxic substances throughout Pennsylvania, New York, and New Jersey. These jobs can have long term complications on the employees health, which inturn can be devastating to your family.
This is why we work so diligently to ensure you get the compensation you need to move forward from these events.
Have you been exposed to toxic chemicals at work? For a no-obligation, free consultation, contact the contract exposure attorneys at Munley Law Personal Injury Attorneys by calling 570-399-0406 or by completing our online contact form.