On-the-job injuries affect both you and your family, causing immense pain and suffering while making it difficult to pay your bills. Lost wages, medical bills, and the inability to go to work can cause you and your loved ones all kinds of stress. But while you may be the beneficiary of o0ne of several workers' compensation programs — according to the U.S. Department of Labor, there are various types of benefits provided to workers injured on the job — you may be wondering whether or not your employer will continue to pay you too.
Employers do not continue to pay their employees while they are receiving workmans' comp. Instead, injured workers receive periodic or lump-sum payments from a workers' compensation insurance plan. The plan will usually provide you with a percentage of your paycheck, giving you and your family the ability to pay your bills and live your life while you are unable to work.
The workers' comp lawyers at Munley Law Personal Injury Attorneys can help you navigate the system to ensure insurance pays you the money you deserve so you can move on with your life. We have earned national recognition and been named among the Best Lawyers in America, Pennsylvania Super Lawyers, Top 100 Trial Lawyers in Pennsylvania, and Best Law Firms via U.S. News and World Report.
What are Workers' Compensation Benefits? Am I Eligible to Receive Workman's Comp if I am Injured On the Job?
According to the Centers for Disease Control and Prevention, the workers' compensation system was designed to "provide partial medical care and income protection to employees who are injured or become ill from their job." The system is also in place to ensure that employers keep a safe workplace for their employees.
Workers' compensation is beneficial because employees do not have to prove that their employers were negligent in causing any injuries. However, should an employee collect from the workmans' comp system, there is a good chance it will preclude them from suing their employer for any negligent actions. At Munley, our team of attorneys can walk you through the best way to move forward when you experience an on-the-job injury.
The workers' compensation insurance system in the United States offers injured employees several different types of benefits, including but not limited to:
Wage coverage or replacement
Medical expenses compensation
Rehabilitation services
Death benefits for dependents
Who Pays for Workers' Compensation Benefits When an Employee is Injured at Work or On the Job?
After an on-the-job injury, an employee seeking compensation will file a workers' compensation claim with their employer. When you file a workers' comp claim after your injury, the insurance company is responsible for paying out your claim, although your employer will be the one to file with the insurance company.
Your employer may have private or state-run workmans' comp insurance, depending on your state of residence. Regardless of how it works in your state, you will receive a check directly from the insurance company.
Generally, you should receive your first paycheck from the insurance company within 21 days of reporting your injury. However, many state-run and private insurance companies will try to find reasons to deny your claim, making the process difficult for you and your family.
How Does the Workers' Compensation System Determine How Much Money I Will Receive for my On-the-Job Injury?
According to the Bureau of Labor Statistics, construction workers and other hard laborers spent, on average, 10 days away from work due to job-related injuries — one more than people in other careers. What type of job you have or what kind of duties you have while on the job can affect your workers' compensation.
In general, an employee will receive about two-thirds of their weekly pay, a number that is based on their average weekly salary. But several different things do factor into workmans' comp payments, including:
Location of the injury
The severity of the injury
The kind of work the employee does
Company finances
Employees who work in complex labor jobs like construction and other more dangerous fields may be eligible for more in workers' compensation than others. If you are unsure how much you should earn in workmans' comp, you should speak with an experienced attorney.
At Munley Law Personal Injury Attorneys, we believe that cost should not stand in the way of justice for the injured. Therefore, we do not collect a fee for our services unless we recover your benefits. As our client, you will not have to pay anything up front or out of pocket.
What Are An Employer's Rights and Responsibilities When I Am Injured On the Job?
Your employer has several rights and responsibilities of their own regarding workers' compensation.
An on-the-job injury can be devastating to you and your family, not to mention stressful and emotionally draining. But not every injury that occurs at work is eligible for workman's comp, and you may be in a situation where your employer is not required to have workers' compensation insurance. The law, like many others, has several exceptions.
Moreover, just because an employee files a workers' compensation claim doesn't mean an employer or their insurance company has to accept it at face value. They may have a duty to their company to challenge the claim. Your workman's comp case may not be so straightforward and, in fact, maybe settled in several different ways. Settlementtypes include:
Agreement – A contract in which both sides agree to all settlement terms.
Compromise – An agreement that occurs when both sides can't agree. The final decision goes before an oversight committee.
Lump-sum– A lump-sum agreement is, as the name suggests, one lump sum payment for your on-the-job injury. Once paid, it usually bars you from future compensation for your injuries
Will I Receive the total amount of my paycheck while out on workers' compensation?
In just about every state in the country, workers' compensation benefits are not taxable. Because of that, you will typically receive about two-thirds of your average weekly paycheck while out on workmans' comp.
Being out of work due to an accident, injury, or illness can be stressful for you and your family. Dealing with government bureaucracy and workers' compensation insurance on top of that can only add to your stress. At Munley Law Personal Injury Attorneys, we're here to help you. We understand how work injuries can affect your livelihood, bank account, and emotional wellbeing. Our team of experienced workmans' comp lawyers could help you if your claim were denied. Contact us todaymail for a free consultation.
Work With an Experienced Workers' Comp Lawyer for Maximum Compensation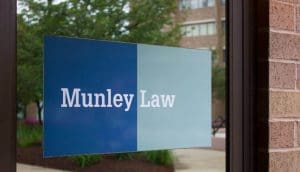 At Munley Law Personal Injury Attorneys, our team of proven and experienced workers' compensation attorneys can help you negotiate with your employer. We know that you need to focus on your recovery and your family, which is why we handle the rest. For more than 60 years, Munley Law Personal Injury Attorneys has been the go-to firm for people who suffer from personal injuries and their families. We have decades of experience dealing with workers comp insurance. Contact us today for a free consultation to discuss the specifics of your case.