If you've suffered a back injury at work, hire an experienced workers' comp attorney
A work-related back injury can have long-lasting affects, ranging from a few missed shifts to short-term or permanent disability. Pushing yourself to keep working despite a back injury can lead to a prolonged recovery process or permanent damage.
At Munley Law Personal Injury Attorneys, our Pennsylvania workers' compensation lawyers can help you navigate the process of filing or appealing your claim so that you receive the compensation you need to recover from your back injury. Where full recovery isn't possible, we will fight to recover the compensation you deserve to account for your new reality.
Common Workers' Compensation Back Injury Claims
Filing a workers' compensation claim for a back injury isn't limited by your field or profession—anyone can sustain a back injury at work, and when that happens Munley Law Personal Injury Attorneys's workers' compensation lawyers will be ready to help you pursue the compensation you are entitled to.
While nearly everyone is acquainted with back pain, it's easy to wave it off and forget about it once the pain has faded. But recurring back pain could signal increased wear and tear on your back, which might in turn become a permanent injury. Common back injuries include:
Workplace Back Injuries: Not Just a Physical Labor Problem
Naturally, physical laborers are most at-risk for work-related back injuries. Constant lifting, twisting and bending puts stress on the spine and surrounding muscles. Improper lifting techniques—primarily using back muscles to lift instead of using the legs—are the main cause of many back injuries. Employees might use improper techniques because they haven't been trained how to do it right or they may be pressured to meet high productivity standards that inadvertently encourage employees to sacrifice safety.
Long-haul truckers can also be at increased risk for back injuries. Long hours of driving and inactivity followed by strenuous labor unloading the truck can easily lead to back injuries. Even office workers can sustain back injuries by sitting all day without proper posture or back support, or through the occasional heavy lifting required in office work (think receiving heavy packages or lifting and carrying a case of printer paper).
In 2020, injuries to the trunk of the body (including back, chest, and abdomen) made up 21.1 percent of  workers' compensation claims in Pennsylvania, according to an annual report put out by the Department of Labor and Industry. Back injuries specifically comprised 11.5 percent of trunk injuries in Pennsylvania. In addition, of all reported injuries, 34.5 percent of claims were for sprains and strains, with nearly a third of those cases affecting the trunk.
While some jobs come with the expectation of at least mild back injuries—jobs such as warehouse work, manufacturing, and construction—some jobs may be more surprising. Industries with some of the largest numbers of compensation claims in Pennsylvania in 2020 include education and health services and professional and business services.
Even if your job isn't heavily physical or constant lifting, you may still be entitled to workers' compensation for your back injury.
How Do I File a Workers' Compensation Claim for My Back Injury?
Every workers' compensation claim begins with notifying your employer that an injury occurred. Your employer can't provide compensation for an injury or illness they are not aware of. In Pennsylvania, employees should report any injury within 21 days of the event. If an employee hasn't reported the injury or work-related disease within 120 days, the window of compensation is closed.
After you have reported your injury to your employer, they are required to send a first report of injury immediately to their insurer. If the injury or illness causes you to miss more than a day, shift or turn of work, your employer has seven days to file the report with the Bureau of Workers' Compensation.
Once the report is filed, the employer has 21 days to notify you of their decision regarding the claim. Employers may:
Deny the claim—this means the employer denies liability for the injury and the claim is closed. At this point, you will want to consult a Pennsylvania workers' compensation attorney to advise you on the appeals process.
Provide temporary compensation payable—this typically means the employer wants or needs more time to investigate the injury and provides an extension up to 90 days. During this time, you will receive temporary compensation while the claim is under review. Once the employer has wrapped up the investigation, they will send a notice stopping the temporary compensation, as well as notifying you whether the claim is approved or denied.
Provide compensation payable—this means your employer has accepted the claim for your injury and will provide compensation, based on your wages, while you recover.
Offer agreement for compensation—Different from compensation payable, this agreement comes into play when your injury leads to disability or is a permanent injury. Your employer accepts liability for the disability or permanent injury and provides compensation.
What Should I Expect During My Claim Process?
Workers' compensation claims often move slowly. While laws set out a timeline for certain notifications and responses, these windows must account for thorough reviews of the facts and situations in order to determine responsibility and value.
Just because your employer has approved your claim doesn't mean the first offer of compensation will be on par with what you deserve. Though you are not required to have a workers' compensation attorney, having an expert in your corner to help judge the value of your claim will ensure that you get a fair settlement.
Your employer's insurance company may offer a lump sum of money that seems appealing on the surface, but compensation should encompass lost wages, medical expenses and, in some cases, payments for lost limbs, senses or abilities. A lump sum, then, might not represent the full amount of compensation you are owed.
Additionally, just because an injury or illness occurred at work doesn't mean your employer will accept liability for it. It may be necessary for your claim to make an appeal and go through the litigation process. Munley Law Personal Injury Attorneys's experienced workers' compensation attorneys will walk with you every step of the way until you get the compensation you deserve.
What Do I Do if My Claim is Denied?
When a compensation claim is denied you have three years (starting at the date of the injury) to file a claim petition to reopen the case. Your petition will be assigned a workers' compensation judge, who will schedule a hearing to gather the facts and evidence of the case from each side. Depending on the case, multiple hearings may be required in order to hear all the witnesses or gather additional medical evidence.
A judge may schedule mediation in order to settle the case instead of rendering judgment. If a settlement is reached, you typically give up your rights to any further appeals or petitions regarding the claim in exchange for the compensation offered by your employer.
Where mediation is futile or unsuccessful, the judge will render a decision and provide written copies to all involved parties. If the decision is unsatisfactory to either you or your employer, each party has the opportunity to appeal all the way up to the Pennsylvania Supreme Court through the following process:
Within 20 days of the judge's decision an appeal may be made to the Workers' Compensation Appeal Board.
If the decision from the appeal board is unsatisfactory, either party has 30 days to file an appeal with the Commonwealth Court.
If the Commonwealth Court's decision is unsatisfactory, either party has 30 days to submit a petition for allowance of an appeal with the Pennsylvania Supreme Court.
Why Should I Hire a Pennsylvania Workers' Compensation Lawyer?
If you choose to, you can navigate your workers' compensation back injury claim on your own. But there are several compelling reasons to seek assistance from an experienced Pennsylvania workers' compensation attorney.
Assessing the value of your back injury compensation claim can be challenging. Claims consist of more than just the earnings you lose from being unable to work. At Munley Law Personal Injury Attorneys, our attorneys are experienced in understanding and valuing workers' compensation back injury claims, factoring in time away from work and medical expenses. Whether your claim ends with a lump sum or scheduled payments, we will ensure that your compensation is fair.
If your initial claim is denied, the appeal process can be long and sometimes complicated. Dealing with the stress of a claim on top of the challenges of recovery is more than you need to bear alone. Partnering with a workers' compensation lawyer frees you up to focus on recovery, knowing that your claim is in experienced and professional hands.
Finally, though many employers take injuries and illnesses seriously, the reality is that compensation claims can be expensive. Insurance companies and their lawyers may be looking for any and all loopholes to avoid paying compensation. At Munley Law Personal Injury Attorneys, we are committed to fighting back and making sure that all our clients are taken care of. No one should have to worry that an injury or illness will destroy their security.
Why is Munley Law Personal Injury Attorneys the Best Choice for My Claim?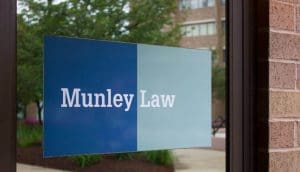 At Munley Law Personal Injury Attorneys, we specialize in personal injury cases and our team has recovered favorable verdicts for many workers' compensation cases. We've been recognized by peers and pros alike as the ones who consistently win the best for our clients. We fight to ensure that every client's claim is recognized and respected, valued fairly so that your recovery process isn't further complicated by the struggle to make ends meet.
Our multi-million dollar verdicts and settlements are about more than the money. For our clients, compensation is often the security and stability they need to achieve the best possible recovery from their workplace injuries. In some cases, claims can also represent the principle of holding an employer responsible for poor training, work environments and/or equipment.
Munley Law Personal Injury Attorneys cares first and foremost for the well-being of you, our client. We work until you receive your legal dues and we don't collect any fees until we've won a verdict or settlement in your favor. When you choose Munley Law Personal Injury Attorneys, you aren't choosing just one experienced workers' compensation attorney; you are choosing a highly skilled and experienced team that will bring its collective knowledge and ability to bear on your claim.
We offer a free, no obligation consultation and claim evaluation to review the facts of your situation and advise on the best course of action for recovering your compensation. Call us today at 844-510-7643 and take the first step toward justice. Munley Law Personal Injury Attorneys has your back.