Core-Mark Warehouse Workers' Compensation
Warehouse employees are essential to the supply chains that keep our society running smoothly. The fast pace of warehouse work, as well as the technical equipment, makes warehouse work particularly susceptible to workplace injuries. If you or a loved one has been injured while working at Core-Mark International's Wilkes-Barre warehouse, you are entitled to workers' compensation while you recover.
What is Workers' Compensation?
Workers' compensation is a type of insurance that nearly all Pennsylvania employers are required to carry for their employees. When an employee is injured during the course of work, he or she is able to file a compensation claim with his or her employer and receive payments to cover medical bills and lost wages for the duration of the recovery.
Workers' compensation also protects the employer from having a personal injury suit brought against him or her.
Workers' compensation does not generally factor in fault, unless the injured employee intentionally caused the accident or if the employee was under the influence of drugs or alcohol. If an employer is negligent in maintaining safe equipment or a safe work environment, employees are able to file complaints with Occupational Safety and Health Administration (OSHA) to get the situation remedied.
In order to operate in Pennsylvania, Core-Mark is required to carry workers' compensation coverage and it is available to every employee starting the first day of employment.
How do I File a Workers' Compensation Claim for a Core-Mark International Injury?
The first step in filing your compensation claim for an injury sustained while working at Core-Mark International is to notify your immediate supervisor within 21 days. Core-Mark International must then report the injury to its insurer and file a First Injury Report where required.
You will know within 21 days whether your claim is denied, temporarily approved pending further investigation, or is fully approved.
You should document on your own as many circumstances surrounding your injury as possible, in case your initial claim is denied. While you can file a compensation claim without legal representation, it is in your best interest to have consultation before accepting any compensation offers or settlements.
What if My Core-Mark Workers' Compensation Claim is Denied
An initial denial is not the end of your compensation claim, nor does it mean that you are not entitled to compensation. If there are any errors in your initial claim, they could result in the claim being denied even though it is a valid claim. Additionally, some employers and insurance companies may try to avoid paying compensation claims wherever possible.
If your workers' compensation claim is denied by Core-Mark International, you should consult with an experienced workers' compensation attorney. An attorney will be able to walk you through the steps of your claim and advise you on the right terms to use. If litigation is required, a lawyer will be ready to go up against the corporate or insurance lawyers to win the compensation you deserve.
What Injuries Should I Claim Compensation For?
Warehouses are known for being hazardous work environments due to the nature of the job and Core-Mark International's warehouses are no exceptions. Several injuries are common in warehouse environments, with varying degrees of severity. If you are injured at work and lose wages because you cannot work, you should pursue a workers' compensation claim.
Some of the most common warehouse injuries include:
Slips and falls: while spilled liquid is perhaps the most notorious culprit of slips, accumulations of dust or powder can also make walkways slippery. Cords and hoses that cross walkways and general clutter also contribute to many slips and falls in the workplace. Whether slipping or tripping, a workplace fall is eligible for compensation. Closely related to slips and falls, employers should make sure that warehouse lighting is adequate so employees can see any potential hazards and employers should also make sure railing is present around any walkways or platforms four feet or higher.

Exertion and repetitive stress injuries: muscle and joint injuries can often be caused by improper techniques, a moment of overexertion, or repeated strenuous duties. Jobs that require frequent lifting, bending, or twisting often lead to these kinds of injuries. Employers should provide training on proper procedures and also provide safe equipment that reduces the need for employees to do the heavy lifting manually.

Equipment-related injuries: though equipment is often intended to make the job easier and safer, the reality is that it can also introduce new safety concerns. Improper training, neglected maintenance, or ignored safety procedures lead to many workplace injuries. Equipment-related injuries can be some of the most severe. Forklifts, conveyor belts, hand trucks, power tools, and compactors are some of the culprits for these workplace injuries.
The physical demands for a Core-Mark International warehouse employee, per the job description, include: ability to lift, carry, and position up to 10 lbs regularly, up to 25 lbs frequently, and up to 60 lbs occasionally; ability to stand for extended periods of time and walk continuously; ability to occasionally bend, kneel, crouch, climb, reach, and crawl; ability to work while exposed to various noises and potential extremes in temperature; and the ability to use and operate or be trained and certified on various tools and powered equipment.
While warehouse jobs, including Core-Mark International, are expected to have significant physical wear and tear on employees, you should not ignore injuries or choose not to file a compensation claim because the job is physical to begin with. You should not have to choose between physical quality of life and financial stability. Workers' compensation helps bring some balance so that you don't have to push through the pain to provide for yourself and your family. The experienced workers' compensation lawyers at Munley Law Personal Injury Attorneys can help you navigate the process and win the compensation you are entitled to.
What Should I Expect from My Workers' Compensation Claim?
The amount of compensation paid for your claim will depend on the particulars of your injury. The more severe the injury, the more compensation you are entitled to. Timeliness in reporting and seeking a diagnosis is key to your claim.
As a no-fault system, workers' compensation covers lost wages, medical expenses, specific loss benefits, and death benefits where applicable.
The usual compensation for lost wages is two-thirds of your average weekly pay, though minimum and maximum caps are calculated each year.
Specific loss benefits compensate partial or total loss of use of a body part or function. This could include full or partial loss of use of a thumb or other finger, hand, arm, leg, foot, or toe. This also includes sight and hearing losses and permanent disfigurement of your face, head, or neck.
Let Munley Law Personal Injury Attorneys Handle Your Claim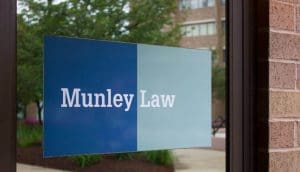 At Munley Law Personal Injury Attorneys, we are committed to winning every client the compensation they deserve. Core-Mark International employees should be able to complete their jobs in safe environments, and when accidents inevitably happen, we believe that Core-Mark International employees should have quick and easy access to their entitled compensation. Though we can't always make the process quick and easy, Munley Law Personal Injury Attorneys's experienced workers' compensation lawyers can ensure that your claim will be heard.
We serve the citizens of Pennsylvania to the best of our ability. We're consistently listed among the Best Lawyers in America and our attorneys have recovered millions for our workers' compensation clients.
We don't collect any fees until we've settled your claim in your favor, so let us review your claim for free and begin the process of claiming your compensation. Call to schedule your consultation today.