Have You Been Injured in a Car Accident?
Car accidents are an all-too-common fact of life on United States roads and highways. Since the first car accident fatality in 1896, society has developed traffic laws and regulations in an effort to keep our roads safe and avoid motor vehicle accidents. Car manufacturers have increasingly developed advanced technology such as adaptive headlights and forward collision warning system (FCWS) to help decrease the frequency with which traffic accidents occur.
Despite these precautions, however, more than 5 million car accidents occurred in 2020, according to the National Highway Traffic Safety Administration (NHTSA), causing the deaths of 38,824 people. In addition to these fatal accidents, 2.28 million people suffered personal injuries due to vehicle accidents. These injured victims can suffer life-altering pain, high medical expenses, lost wages, emotional trauma, and even permanent disability.
If you've been injured in a car accident, it's important to understand what had caused your crash and who can be held responsible for your injuries. If you were involved in a car accident and need legal advice, contact the car accident lawyers at Munley Law Personal Injury Attorneys to schedule a free consultation. We can help you with your next steps and get you the compensation you deserve.
What Are Common Causes of Car Accidents?
But what makes most car accidents happen? According to the NHTSA, 94 percent of car accidents can be attributed to driver error, including distracted driving, drunk driving, reckless driving, speeding, and failure to obey traffic signals. In fact, 45 percent of fatal car accidents include a driver who was either unrestrained by a seat belt, speeding, or driving under the influence of alcohol.
Beyond driver error, the rest of accidents can be attributed to environmental causes, such as poor weather conditions, or vehicle malfunctions.
Crashes Caused by Driver Error
Driver errors are the most common causes of car accidents in Pennsylvania, accounting for the vast majority of accidents. This category includes a broad range of car accident causes, such as the following:
Distracted Driving
One of the fastest growing categories of car accidents are distracted driving accidents. The temptation to glance down at a cell phone to send a text or search something on Google can lead to distracted drivers taking their eyes off the road during a crucial moment, and ending up in a crash.
This is particularly a danger with young drivers, who are both less experienced in driving and more tied to their devices. Other causes of distracted driving include using a cell phone for conversation, or eating a meal, which can lead to a distracted driver taking their hands off the wheel or failing to pay proper attention to the road.
Driver Fatigue
Drowsy driving can can cause a driver to experience slower reaction times to road hazards and exhibit poor judgement in how they operate their vehicle. In extreme cases, after driving long hours on the highway, a driver may even fall asleep at the wheel, causing them to leave their proper lane or run off the highway entirely.
Drunk Driving
Driving under the influence of alcohol is one of the most common causes of car accidents. Drunk drivers can experience poor concentration, poor judgment, slow reaction times, and difficulty seeing the road, leading to a serious accident. Even experienced drivers can show significant impairment after a few drinks.
Driving Under the Influence of Drugs
Alcohol isn't the only intoxicant that can impair a driver's ability to operate a motor vehicle. Drugged driving under the influence of marijuana, cocaine, meth-amphetamines or other drugs can significantly impact a driver's judgment and reaction speed.
Speeding
Almost 20 percent of car accidents involve a driver driving above the speed limit. Speeding can cause a driver to easily lose control of a vehicle, especially when associated with other factors, such as a slick or sandy road. Driving over the speed limit can also reduce the amount of time drivers have to react when faced with making a split-second decision to avoid a traffic accident.
Running Red Lights and Stop Signs
Many car accidents occur at intersections, where a red light or stop sign are meant to control traffic. When reckless drivers fail to heed these traffic signs or drivers run a red light or stop sign intentionally, it can cause them to crash into other vehicles.
Reckless Driving
Other forms of reckless driving that can lead to accidents are switching lanes too quickly, slamming on the brakes unnecessarily, or trying to pass on the right where the other vehicle is not expecting it.
Aggressive Driving
In addition to reckless driving, accidents can also be caused by aggressive driving, in which a driver drives in a way that puts other drivers in jeopardy, such as cutting them off or speeding around them unexpectedly. In extreme cases, so-called road rage can cause a driver to intentionally hit another vehicle.
Unsafe Lane Changes
Failure to adequately check mirrors or blind spots when changing lanes, or failure to use turn signals to signal intentions to other drivers, can lead to cars crashing into each other on the highway.
Tailgating
Driving too close to a car in front of you can be a dangerous practice, that can lead to a car accident if the other driver brakes quickly to avoid road hazards. To avoid this cause of an accident, drivers must keep several car-lengths between themselves and the driver ahead of them.
Wrong-Way Driving
Many streets are one-way, and inattentive drivers can find themselves getting into accidents if they drive the wrong way down one of them. Other places where accidents can occur are on highway on- or off-ramps when a car gets turned around and proceeds the wrong way down one of them.
Teen Drivers
While not a cause of an accident per se, many car accidents do involve teen drivers, who lack experience or judgment of older drivers. They may, for example, be unaware of proper right of way, or more likely to be texting, using a phone, or otherwise distracted while driving a vehicle.
What Are the Common Causes of Car Accidents Unrelated to Driver Error?
While the vast majority of traffic accidents are caused by human error, some accidents are not entirely the driver's fault. In fact, common causes of car accidents can include weather conditions or other factors beyond the control of drivers, such as:
Rain
Car accidents commonly occur when it is raining, due both to the slippery quality of water on the road and the reduced visibility from falling rain on the windshield.
Snow
In winter, snow can create slippery conditions leading to a car skidding out of control. In addition, falling snow can create poor visibility conditions, affecting a driver's ability to see street signs warning of road hazards or other drivers on the road.
Ice
Similar to snow, ice can create unsafe road conditions, making cars especially prone to skidding off the road or into another car.
Fog
Poor visibility due to fog can decrease a driver's reaction time to respond to road hazards or other cars emerging through the mist. Paradoxically, the dangers of fog can be made worse by a driver using their high beams, which are likely to reflect off the fog and make visibility even worse.
Road Conditions
If roads are not properly maintained, then a car could run the risk of tire blowouts or other damage that could cause a driver to lose control.
Animals
Especially common in more rural areas, wild animals running out onto the highway at animal crossings can cause a driver to either hit an animal directly or swerve out of the way, leading to a crash. This could be combined with driver error if a driver fails to notice an animal crossing sign.
Design Defects
One of the least frequent causes of traffic accidents are defects in manufacturing that can cause a car to malfunction in the middle of driving. Problems do occur, however. Examples include poorly designed vehicles that are prone to rollovers, and a malfunctioning computer system.
In addition, some car accidents cn be made worse by vehicle defects, such as when a seat belt doesn't function properly to protect the passenger, or an air bag that fails to deploy.
Injured in a Car Accident? Contact Our Pennsylvania Car Accident Attorneys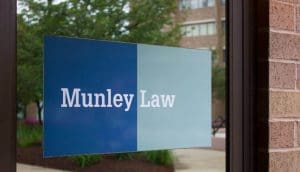 When a traffic accident occurs, the trauma and financial burdens can take a dramatic toll on your life. We will give you the legal representation that you desperately need. Munley Law Personal Injury Attorneys is considered to be one of the top car accident law firms in Pennsylvania. Our goal is to provide the personal attention that other firms do not.
When you contact our firm, you can be assured that we will provide the personal attention you need to get you through the trauma of a car accident. In addition, our firm is dedicated to ensuring that you receive the highest possible cash award or settlement offer.
If you or a loved one has been seriously injured in a drunk driving car accident in Pennsylvania call us today toll free or use our online contact form. We will provide you with a FREE consultation and help you decide how to proceed after your accident.
Munley Law Personal Injury Attorneys has consistently been named to the Best Lawyers in America and have received the highest peer review ratings possible from Martindale Hubble. Additionally, we have received some of the largest settlements and verdicts in the country for our clients.
Our expert car accident attorneys collaborates on our cases, so you will have the benefit of having a full team of expert lawyers representing you. Call us today. We want to help you.