Were You Injured In a Car Accident In Hazleton, PA?
If you or someone you love suffered a serious injury in a car crash in Hazleton, don't settle with the insurance company before speaking with a Hazleton car accident attorney at Munley Law Personal Injury Attorneys.
At Munley Law Personal Injury Attorneys car accident law firm, we understand the concerns you face when you've been involved in a car crash. You may face unpaid medical bills, physical pain, emotional trauma, and an inability to work. Since 1959, we have represented hundreds of auto accident victims in Hazleton, Luzerne County, and the state of Pennsylvania. Our attorneys have been named among the Best Lawyers in America by the esteemed legal guide Best Lawyers and among the Top 100 Trial Lawyers in Pennsylvania by the National Trial Lawyers Association. In addition, we have won multimillion-dollar settlements for injured car accident victims across our area.
$32 Million Wrongful Death
$26 Million Truck Accident
$17.5 Million Car Accident
$12 Million Product Liability
$9 Million Truck Accident
$8 Million Truck Accident
$8 Million Truck Accident
$7.5 Million Auto Accident
$6.9 Million Garbage Truck Accident
$6.5 Million Traumatic Brain Injury
$5 Million Medical Malpractice
$5 Million Bus Accidents
If you were hurt in a car wreck and you're not sure what to do next, call our Hazleton office at [phone-number] for a free consultation with a car crash attorney. We will answer your questions free of charge and help you decide what to do next. We are available to speak with you any time of the day or night.
We do not charge a fee for our legal services unless we win your case.
What Are the Most Common Injuries In a Car Accident?
Car crashes can cause serious and even life-threatening injuries. In addition to the severe physical and emotional pain you endure, you may be stuck with sky-high medical bills, prolonged treatment, and time missed from work. And as the victim of another driver's recklessness, you shouldn't have to bear these costs on your own. We can help.
The most common car accident injury victims in Hazleton endure include:
Traumatic Brain Injuries: The impact felt during a car accident may result in a concussion or severe brain trauma. A serious head injury can affect speech, vision, and memory. Your entire life can change in that brief instant.
Neck Injuries: Neck injuries caused by a car wreck can include everything from neck strain to whiplash or more serious disc injuries. As a soft tissue injury, the symptoms of a neck injury may not appear until a few days or even weeks after a crash.
Spinal Cord and Back Injuries: The force and impact of an auto accident can cause various back and spine injuries. They can range from sprains and strains to fractures, disc, or vertebrae injuries. Spinal cord injuries may result in paralysis or loss of certain bodily functions.
Broken Bones: Arm, leg, and hip fractures are typical of a severe car accident. Fractures to the sternum also occur, especially in unrestrained drivers or passengers.
Internal Injuries: Injuries to the abdomen and various organs can occur due to a car crash. The liver, spleen, and kidneys are especially susceptible to injury during a collision.
Orthopedic Injuries: In addition to fractures, other orthopedic injuries include sprains, dislocations, strains, and torn ligaments and tendons. These injuries can all occur during the impact of a car crash.
Emotional and Mental Distress: Motor vehicle accidents commonly cause high emotional stress to victims and their families, resulting in a high level of anxiety and even PTSD.
If you have been injured in an auto accident in Hazleton, you should seek medical attention right away. However, remember that not all of your symptoms may appear immediately after an accident, so it's best to be thoroughly checked out by a medical professional. Also, be sure to document all information about the accident; that way, when it's time to consult an auto accident attorney in Hazleton, you will be able to provide as many facts as possible.
What Are the Typical Causes of Car Crashes in Hazleton?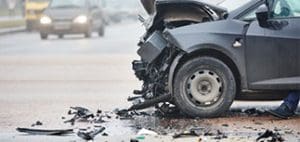 An experienced car accident lawyer will identify and prove the cause of your accident to get you the maximum benefits. At Munley Law Personal Injury Attorneys, we work with investigators and accident reconstruction experts to build your case.
Common causes of car accidents in Hazleton include:
Distracted Driving
A leading cause of car crashes, distracted driving consists of all forms of distraction such as cell phone use, texting, eating or drinking, grooming, talking to passengers, or even reading directions. If another driver takes their eyes from the road and causes an accident, they should be held responsible.
Speeding
Speeding is a factor in many fatal car wrecks. The faster you drive, the less time you have to react to a potential problem. The speed of your vehicle will impact braking time, which could mean the difference in a possible crash.
Reckless Driving
In addition to speeding, other reckless and aggressive driving forms also lead to crashes. Reckless driving can include tailgating, changing lanes too quickly, wrong-way driving, ignoring warning signs, running red lights and stop signs, improper turns, and other forms of aggressive driving or road rage.
Impaired Driving
The CDC estimates that every day, 28 people in the U.S. die in motor vehicle crashes that involve an alcohol-impaired driver. This amounts to one death every 53 minutes. Driving under the influence of alcohol or drugs is unacceptable. Drugs and alcohol can alter perception, coordination and drastically affect reaction time. If you're hurt by a driver who was under the influence, the law is on your side.
Drowsy Driving
Driver fatigue has become a common cause of car and truck accidents. When drivers are tired, they have slower reaction times in response to situations and may also be in danger of falling asleep behind the wheel. Symptoms of drowsy driving can include frequent yawning, tired eyes, restlessness, and difficulty concentrating. Sleep deprivation can cause the same level of impairment as intoxication.
Weather Conditions
The weather in Hazleton can be pretty unpredictable. It can bring heavy snow and ice during the winter months and fog and rainy conditions throughout the year. Ice, snow, and fog can mean danger on highways and other roadways when cars are traveling at high rates of speed in unsafe conditions.
Defective or Recalled Auto Parts
The NHTSA or an individual automaker issue recalls when they determine that a vehicle or a part poses a possible safety risk. Millions of cars are recalled each year for various safety issues, from airbag defects to brake problems, fire hazards, and other potentially dangerous flaws. If a defect or malfunction causes harm, you may be able to sue. Munley Law Personal Injury Attorneys is highly experienced in auto defect and auto recall cases and has dealt with large insurance companies representing auto manufacturers.
How Often Do Car Accidents Occur in the Hazleton Area?
The Greater Hazleton area is home to many nationally known distribution and manufacturing plants. In addition, Hazleton's industrial parks are filled with home processing, distribution, and logistics plants. The city's proximity to some of the major interstates in the state. It sits right at the junction of Interstates 80 and 81, two of the most heavily traveled north-south and east-west corridors in the country.
Since the city is a transportation hub, auto accidents frequently occur on Hazleton roadways, shared by passenger vehicles, buses, and large trucks hauling merchandise from area plants. These roadways are often in the news because of car accidents, truck accidents, and multi-car pileups.
According to the Pennsylvania Department of Transportation's latest data, Luzerne County was named one of the top 10 counties in the state with the most traffic-related fatalities in 2020.
There were 2,956 traffic accidents in 2020, with 1,260 injuries and 34 deaths.
As a leading auto accident law firm, Munley Law Personal Injury Attorneys knows firsthand the devastation caused by serious car accidents. We see the physical and emotional harm done to victims and their families daily. An auto accident can affect every aspect of the victim's life. That's why negligent drivers and their insurance companies must be held accountable and pay damages. Hazleton car accident victims need an experienced car crash attorney on their side, someone qualified to examine the facts of a case, recommend a course of action, and act as a trusted advocate.
Why Choose Our Hazleton Car Accident Lawyers?
The car accident attorneys at Munley Law Personal Injury Attorneys have the experience, skills, and resources to handle even the most complex Hazleton car accident cases including Uber accidents and trucking accidents.
It is essential to consult a law firm that specializes in car accidents and has a strong record of winning maximum compensation for those injured in accidents and their families. Determining the types of compensation in an auto accident case in Hazelton can be quite complex and depends on the particular facts and injuries resulting from the accident. It is a fact that by hiring a personal injury attorney to handle your insurance claim, you will most likely get three times more in compensation than you would have on your own.
Damages can include medical and rehabilitation bills, lost wages, loss of enjoyment, loss of consortium, shortened life expectancy, and pain and suffering. The Munley Law Personal Injury Attorneys car wreck attorneys can put their decades of personal injury case experience to work for you.
If you or someone you love is involved in a car accident in Hazelton, contact Munley Law Personal Injury Attorneys as soon as possible. Our dedicated legal team is prepared to help you seek justice and obtain compensation for your injuries. Chat live, fill out our email form, or call [phone-number] for a free consultation.
Frequently Asked Questions About Car Accidents in Hazleton
Q: When Should I Hire a Hazleton Car Accident Lawyer?
Once you have had a car accident, you may wonder when you should hire a car accident lawyer in Hazleton. And the answer depends on the severity of the car accident. However, if the crash resulted in serious injuries, lost wages, and significant financial debt, you should call a car accident lawyer as soon as possible.
However, suppose the car crash was minor with minimal damage and no injuries. In that case, it's in your best interest to work with the other driver and your insurance company to get the compensation needed.
If you're not sure if you need legal representation following a car accident in Hazleton, your best option is to give Munley Law Personal Injury Attorneys a call. The initial consultation is free, and it will provide you with peace of mind knowing what your next steps should be.
Q: Is it Worth it to Sue After a Car Accident?
You may be wondering whether it's even worth suing after a car accident. Why add more stress and frustration to the situation? And the answer depends on how receptive the insurance company is. If the adjuster is bullying you to take the first settlement you get or your claim is outright denied, then it may be worth speaking to an auto accident attorney to understand your rights and learn what you need to do next.
To determine whether it's worth it to sue for your car accident, you'll need to decide if the insurance settlement you were offered will cover all losses you experienced after the accident. Is it a fair settlement? Will it cover the cost of both damages to your vehicle and any injuries you've sustained? If the answer to these questions is no, then it may be in your best interest to reach out to Munley Law Personal Injury Attorneys.
Q: Who Determines Fault in a Car Accident?
The number one question you may want to be answered following a car accident is, "Who determines fault in my car accident?" And the answer is multiple parties may assign fault.
The first to determine fault in a car accident is the police by law.
The officer must investigate the accident to determine what happened, why it happened, and who is responsible for the accident.
The second party to determine fault is the insurance company. It will examine the police report and ask for information from you and the other driver. Once fault is determined, the insurance adjuster will then assign a percentage of responsibility based on the case's specifics.
The last thing you want to do is admit fault; even an apology at the scene may be considered an admission of fault.
Q: If My Car Accident Was Minor, Can I Still Sue?
Maybe your car accident in Hazleton was just a fender bender. Or your car was hit at the store's parking lot. If the car accident was just an inconvenience, you might be wondering can you sue someone for the minor car accident. And the answer is yes.
Any time you're involved in a car crash, you have the right to file a claim or lawsuit against the other driver. Sometimes, a minor car accident can result in major issues, such as property damage and significant injuries. If you're still unsure about suing for a minor accident, give Munley Law Personal Injury Attorneys a call, and we can answer any questions you may have.
Q: What is the Difference Between Full and Limited Tort Insurance?
In Pennsylvania, you have the choice between opting for full or limited tort. Full tort insurance is usually the one with the higher premium, but opting for this option gives you the opportunity to sue the at-fault driver for any damages that resulted in your accident. This includes receiving pain and suffering from your accident.
Although the cheaper tort option, limited tort is just that — it limits your ability to sue for your accident. Although you can still sue the at-fault driver for economic damages, such as your medical bills or loss of income, you will not be able to sue for non-economic damages such as pain and suffering.
lawyers lawyers lawyers lawyers lawyers lawyers lawyers lawyers lawyers lawyers lawyers car accident lawyers car accident lawyers car accident lawyers accident attorneys accident attorneys accident attorneys accident lawyers accident lawyers accident lawyers accident lawyers truck accidents motorcycle accidents motorcycle accidents motorcycle accidents motorcycle accidents motorcycle accidents motorcycle accidents pedestrian accidents pedestrian accidents pedestrian accidents pedestrian accidents accidents accidents accidents accidents accidents accidents accidents accidents accidents accidents accidents accidents accidents accidents accidents accidents accidents accidents accidents accidents accidents accidents accidents accidents accidents accidents accidents rated car accident lawyer rated car accident lawyer rated car accident lawyer county county county county county county county county county county county county county county county county county county county profile profile profile profile profile serving hazleton serving hazleton serving hazleton serving hazleton serving hazleton reading reading reading reading reading reading super lawyers super lawyers super lawyers super lawyers super lawyers super lawyers op rated car accident op rated car accident op rated car accident op rated car accident op rated car accident op rated car accident firm firm firm firm firm firm firm firm serving serving serving serving serving serving pa pa pa law firm law firm law firm law firm law firm law firm auto accidents auto accidents auto accidents auto accidents auto accidents workers compensation social security social security social security social security social security social security
HAZLETON CAR ACCIDENT LAWYER HAZLETON CAR ACCIDENT LAWYER HAZLETON CAR ACCIDENT LAWYER HAZLETON CAR ACCIDENT LAWYER HAZLETON CAR ACCIDENT LAWYER HAZLETON CAR ACCIDENT LAWYER HAZLETON CAR ACCIDENT LAWYER HAZLETON CAR ACCIDENT LAWYER HAZLETON CAR ACCIDENT LAWYER HAZLETON CAR ACCIDENT LAWYER HAZLETON CAR ACCIDENT LAWYER HAZLETON CAR ACCIDENT LAWYER HAZLETON CAR ACCIDENT LAWYER HAZLETON CAR ACCIDENT LAWYER HAZLETON CAR ACCIDENT LAWYER HAZLETON CAR ACCIDENT LAWYER HAZLETON CAR ACCIDENT LAWYER HAZLETON CAR ACCIDENT LAWYER HAZLETON CAR ACCIDENT LAWYER HAZLETON CAR ACCIDENT LAWYER HAZLETON CAR ACCIDENT LAWYER
Hazleton Practice Areas
Munley Law Personal Injury Attorneys
197 N Cedar St,
Hazleton, PA 18201
+15705369498