Get Help Today From the Philadelphia auto Accident Attorneys at Munley Law Personal Injury Attorneys
If you or a loved one have recently been injured in an auto accident in the Philadelphia area, there is a lot you need to know. First and foremost, your health needs to be your top priority.
We understand that you want to get back to work and get your vehicle fixed as quickly as possible, but you cannot neglect the possibility that you have suffered a severe traumatic injury.
If you have been severely injured, your injury (or injuries) could have a lifetime of consequences, and you must get the medical treatment you need as quickly as possible. You will need the help of a Philadelphia car accident lawyer to guide you through the legal process and ensure you get compensation for your injuries.
You may be entitled to a sizable financial recovery if severely injured. However, mistakes can jeopardize your compensation claim. To take the appropriate steps to protect your legal rights, you are entitled to legal representation throughout all stages of your vehicle accident claim. You do not need to deal with the insurance companies alone, and you have the right to go to trial if you receive a lowball settlement.
At Munley Law Personal Injury Attorneys, we have represented vehicle accident victims in Philadelphia since 1959. With decades of experience, we know what it takes to win a car accident case and have a proven record of success against insurance companies. When you choose a Philadelphia vehicle accident attorney from our firm, your case starts with a free consultation at your convenience. We do not charge fees or costs unless we help you get your deserved compensation.
Your attorney will directly deal with the insurance companies on your behalf and handle the legal process so that you can focus on getting your life back on track.
$32 Million Wrongful Death
$26 Million Truck Accident
$17.5 Million Car Accident
$12 Million Product Liability
$9 Million Truck Accident
$8 Million Truck Accident
$8 Million Truck Accident
$7.5 Million Auto Accident
$6.9 Million Garbage Truck Accident
$6.5 Million Traumatic Brain Injury
$5 Million Medical Malpractice
$5 Million Bus Accidents
Is It Worth Getting a Car Accident Lawyer?
The short answer is yes. Under Pennsylvania law, you are entitled to seek total compensation for your financial and non-financial losses if someone else was at fault.
You risk significant financial loss without a Philadelphia vehicle accident lawyer representing you. Those with representation typically obtain three times more compensation than those who attempt to resolve their claim alone.
While you may not need a car accident lawyer, there is no risk in calling for a free consultation to be sure. An experienced Philadelphia car accident attorney will review the facts of your situation and help you decide how to proceed.
When you choose a Philadelphia car accident lawyer from Munley Law Personal Injury Attorneys, your case starts with a free consultation. We do not charge fees or costs unless we help you get your deserved compensation. In your first consultation, we will listen to your story and give proper legal advice on your next steps.
Once you hire our Philadelphia car accident firm, your lawyer will keep you informed every step of the way. We will deal with the insurance companies and handle the legal process so you can focus on getting your life back on track.
Using our team of medical experts, accident reconstructionists, and investigators, we will investigate the accident scene, speak with witnesses, and gather all the necessary information to strengthen your claim.
Once all the evidence has been gathered, our lawyer will begin negotiating with the insurance company on your behalf. We will not rest until you receive the compensation you deserve following an accident.
Philadelphia Car Accident Lawyers: Here is what you should do after an auto accident.
Recent data from the Pennsylvania Department of Transportation found that 7.5% of reported car accidents that occurred in Pennsylvania came from Philadelphia.
No matter how safe you are behind the wheel, the chances of getting into an auto accident at least once in your lifetime are great. If you or your passengers are injured, it can be significantly confusing after a car accident. You may not know what your next steps should be. However, if you keep this list in mind, you will be able to protect your future claim.
Step 1: Philadelphia auto accident attorneys recommend remaining calm
This may seem like common sense, but you may experience a shock to the system after an accident. You will feel disoriented, frightened, and confused. You may not even realize that you were injured in a car accident, which can lead to severe consequences for your safety.
Before doing anything, take a moment to calm down, breathe deeply, and assess the situation. Are you injured? Is your passenger ok? Are you in immediate danger? If you take a moment to pull your senses together, you can proceed with a clearer mind following the car accident.
Step 2: Our Philadelphia attorneys say you should move to safety, away from any auto wreckage
Once you're able to think straight, try to get to safety. If your car is still operational after the car accident, try to move it to the shoulder and stay in it until emergency personnel arrives. If your vehicle cannot move, try to get yourself out of the car and drive to safety. Once you're safe, try to help others that may still be in danger.
When safe, stay away from the roadway or the vehicles in case of an additional collision or a possible explosion. If you can, set up flares or other warning signals to alert others on the road of the accident.
Keep your distance if someone tries to flee the scene or is a danger to your safety. Try to take note of anything that will help to identify them later, such as a license plate number or the color and make of the vehicle involved in the car accident.
Step 3: Contact emergency services and tell them where in Philadelphia your car accident occurred
Once you and the other parties are safe, contact emergency services immediately. Pennsylvania law requires all drivers to alert the police of an accident. Getting emergency medical services is still a good idea, even if no one seems injured in a car accident.
Remember to stay on the line with the operator until help arrives. Not only will this give emergency personnel up-to-date information on what is going on with the car accident, but since 911 calls are recorded, it may be used in your claim later on to get a sense of what occurred during the accident.
Step 4: Start collecting information about the auto collision. Your Philadelphia car accident lawyer will need it
As you wait for the police to arrive, you can start trying to collect any information that could be beneficial to your claim later on. Try to get the following information:
Contact information of the other driver or passengers and any witnesses to the accident.
Photographs and video footage of the accident scene, the damage to your vehicle, and the damage to the other driver's vehicle.
Take note of any surveillance cameras you may see. This evidence may come in handy down the line.
And, if you're injured, photos of your injuries could also be beneficial.
When collecting information, remember not to disturb the scene in any way. Do not photograph or record injured people without their consent. And stay out of the course of the emergency responders as they're doing their jobs.
Remember, memories quickly fade away, so try to collect as much information as possible.
Step 5: Give Your Statement to the Police About Your Auto Accident
Once the police arrive, they will interview everyone involved in the car accident, including witnesses who may have seen the accident occur. Describe accurately what happened before, during, and after the accident. Remember to be truthful but don't blame yourself or the other driver.
Once the police receive all the information, they will determine if any laws were violated and issue citations to the drivers who broke the law. If necessary, they may perform sobriety tests on drivers they suspect are under the influence.
A report will be written summarizing all the information about the accident, which you may need later for evidence.
Step 6: Seek Medical Treatment
Even if you think you're not injured in a car accident, it's still best to have medical personnel examine you following an accident. Sometimes, injuries from auto accidents will not show up until days later. So if you refuse medical treatment at the scene, remember to visit your Doctor for a follow-up checkup.
Step 7: Take Care of Yourself. An Auto Accident Can Be Tough To Deal With
In the days following a car crash, taking care of yourself and getting your facts in order before speaking with the insurance company is essential. Record any medical treatments, repair bills, property damage, or other financial losses you may have suffered following the accident.
Step 8: Contact a Skilled Philadelphia Car Accident Lawyer ASAP
The sooner you contact Munley Law Personal Injury Attorneys, the more likely you will be able to recover from the accident with the maximum compensation you deserve.
What is the Average Settlement for a Car Accident With Injury in Philadelphia?
One of the main questions our attorneys receive is, "How much is my car accident claim worth?" The answer is: it depends.
Every car accident is different, especially in Philly. Many factors determine how much your case is worth, whether it's a 10-car pileup on the Schuylkill or a simple fender bender on Broad Street. The number of damages you may be entitled to recover will depend on the following set of circumstances;
The severity of your or your family member's injuries.
Whether someone had died as a direct result of the accident
The age and health condition at the time of the accident
What caused the accident, and who was at fault
The difficulty of proving your case
Available insurance coverage
At Munley Law Personal Injury Attorneys, we strive to get the optimal amount for your accident. Our car accident lawyer will not only consider your present situation and medical bills but will also consider any future expenses you may be facing down the road due to your car accident.
What Compensation Could a Philadelphia Car Accident Attorney Get Me?
You must know how much your claim is worth to answer this question. By understanding how much the car accident cost you, you can figure out how much you should receive in a settlement offer.
Our attorneys will sit down with you, review all the costs, and give you a fair estimate of your settlement offer. Some of the factors that go into these calculations include:
Medical expenses include hospital bills, doctor visits, physical therapy, medication, etc.
In-home medical services, such as nursing services
Rehabilitation costs
Property damage, like your vehicle repairs, for example
Loss of income and any future earning potential
Permanent disability, disfigurement, or scarring
Emotional distress, such as anxiety issues, stress, depression, etc.
These are the same calculations your car insurance carrier will consider when valuing your auto accident claim. Once the expenses are added up, the insurance adjuster will multiply that amount by a predetermined number. Unfortunately, these numbers rarely, if ever, produce a fair settlement number. The claims adjuster is minimizing your damages to reduce your claim's value.
These reasons are why it's crucial to speak with an experienced car accident attorney in Philadelphia, and we will determine how much your claim is truly worth. We will not accept an offer on your behalf without your consent.
If a Settlement Cannot Be Reached, Your Philadelphia Car Accident Lawyer is Prepared to Go to Trial
In many cases, a lawsuit is not necessary. However, if a settlement cannot be reached and negotiations break, we will file a lawsuit and represent your best interests in court. We can present a strong case in court with the evidence we collected. If the court finds you in favor, you will receive damages for those who caused the motor vehicle accident.
There are two general categories for damages:
Economic Damages: These damages are meant to compensate the victim and the victim's family for any costs accrued because of the accident. These damages include medical bills, loss of income, property damage, and future expenses.
Non-Economic Damages: These damages are a little harder to put a dollar figure. The most common is pain and suffering — a legal term encompassing any injury you may have received following the accident. This includes not only physical pain but emotional and mental injuries.
In some rare cases, the court may award punitive damages to victims. These damages are designed to punish the actions of the other people or entities that caused the accident, hoping they never act with negligence again. In Pennsylvania, punitive damages are only awarded when the other party's actions are extreme or intentional.
How to Prove Your Philadelphia Car Accident Claim?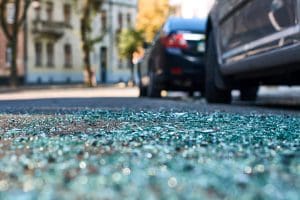 After suffering an injury in a car crash, the last thing you would think you have to worry about is proving that you're not at fault. However, this is easier said than done. Just because you have an injury does not automatically mean you are the victim. Remember, the insurance company and the other driver may claim you are liable for the accident. So you will need proof to support your Philadelphia car accident claim.
To prove liability in a car accident, you will need to show the following:
Each driver had a duty to exercise reasonable caution while behind the wheel
The other driver was negligent in this duty and did not exercise proper care
Because of this negligence, an accident occurred
And because of the driver's carelessness, you were injured as a result
Even if the evidence of the other party's negligence is crystal clear (for instance, if the driver was texting on his phone when he ran the red light and crashed into your car), the insurance company may deny your claim. Therefore, knowing that your first steps at an accident scene are essential to help your claim.
Take Photos of the Scene
Make sure you take photos of the accident scene, and not just the damage is done to your car. Take pictures of the car or cars involved, the position of the vehicles at the location, the road condition, any road signs or markings, the weather, and anything valuable. If you are too injured during the accident, ask your vehicle passenger or a bystander to take photos.
Get the Police Report
Not only should you contact the police as soon as the accident occurs, but you will need to contact them to obtain a copy of the police report. This report will have all the information about what caused the accident, your testimony, and the other driver's testimony. It will also provide the police officer's conclusion of who was at fault and whether traffic citations had been issued to either party because of the accident.
Keep a Journal of Your Expenses
Make sure you keep a log of the expenses relating to the auto accident. This includes medical bills, repair costs, and days off from work. You may want to create a journal that lists the dates you had appointments and what medical treatment you had.
Contact a Philadelphia Car Accident Attorney As Soon As Possible
As soon as you can contact a Philadelphia car accident lawyer with experience and knowledge of car accident cases, your chances are better in proving your claim. The car accident lawyers at Munley Law Personal Injury Attorneys are here 24/7 to start your lawsuit.
What are the Examples of Negligent Behavior that Can Cause Car Accidents?
Under Pennsylvania law, every driver must follow the laws and regulations or "rules of the road" to constitute the duty of care when driving. When a driver breaks these laws and causes an accident, that driver is considered negligent.
For example, not following the laws of stopping at a busy intersection can cause deadly consequences. And yet, a recent study of intersection car accidents in Philadelphia found that the following five corners in our city were hazardous, resulting in fatalities:
Grays Avenue and South 49th Street:
East Roosevelt Boulevard and Cottman Avenue
Penn Street and Arrott Street
Island Avenue and Lindbergh Boulevard
North Broad Street and Vine Street
So what is considered negligent behavior in the eyes of the law? Here are a few common examples:
Driving Under the Influence of Drugs or Alcohol
According to the National Highway Traffic Safety Administration, approximately 28 people in the U.S. die in drunk driving car accidents daily. Not only is it against the law to drink and drive, but driving while under the influence can impair your reasoning, slow your reaction time, and affect your visual functions. All or just one of these impairments will drastically affect your ability to drive a vehicle properly and may cause a car accident.
Auto Accidents Caused by Distracted Driving
Distracted driving claimed the lives of 3,142 people in 2019. Taking your eyes off the road for 5 seconds and going at least 55 mph is like driving the entirety of a football field with your eyes closed. Texting, fiddling with the radio, eating, calling someone, doing your makeup, or anything that distracts your vision from the road is considered distracted driving.
Aggressive Driving
Though you may not realize it, speeding puts the lives of everyone on the road in jeopardy. In 2018, more than 9,378 people died in car accidents, where speeding played a significant part. It contributed to 26% of traffic fatalities that year. Failing to yield, tailgating, break checking, and swerving in and out of heavy traffic also account for aggressive driving.
Car Crashes Caused by Drowsy Driving
Drowsy driving is not only a danger but an avoidable one. In 2019, there were 619 deaths from drowsy driving-related accidents. Driving while fatigued is not only a problem with drivers of cars but with truck drivers as well.
Hit and Run Auto Accidents
Although fleeing from the scene of an accident is considered illegal, it's not an uncommon experience. When it comes to hit-and-run accidents, most of these situations are pedestrian and bicycle accidents.
Bad Weather Accidents
Those who live in the Philadelphia region understand how rapidly the weather changes. One minute there can be sunshine and warm weather; the next minute, we can have icy, slippery conditions. Inclement weather demands that drivers take extra caution. Sudden storms, white-out conditions, and icy roads can lead to multi-vehicle pileups on the Schuylkill Expressway and other major roads. If drivers fail to adjust their speed and take proper care during bad weather, they can be held accountable for an accident that results in injury.
What If Other Circumstances Caused My Car Crash?
Sometimes, driver negligence may not be the only cause of a car accident. According to Pennsylvania law, there are times when someone might be held "strictly liable" for causing harm in a car accident, even if negligence did not play a part in the accident.
One example would be a bar or restaurant. Under Pennsylvania's dram shop laws, a business that sells alcohol is liable for the actions of someone who was served too much alcohol. If that person drives home intoxicated and gets into a car accident, the injured party may be able to sue the bar for its part in the accident.
Another example is a defect in the vehicle, causing an accident. If the car manufacturer of the product previously knew about the defect yet failed to warn consumers, the manufacturer may be liable in a car accident.
For more information on strict liability law, it's best to speak with our experienced Philadelphia personal injury lawyers to learn more.
How Can My Car Insurance Dispute My Claim?
When you are injured in a motor vehicle accident caused by another driver, you will seek compensation from the at-fault driver's insurance to pay for any financial losses you have suffered. What you need to remember is that the insurance company is in the business of making money first. During your auto accident insurance claim, be prepared to face resistance when getting your claim paid.
Some of the tactics the insurance adjuster may use include:
Offering a Quick Settlement in Exchange for a Liability Waiver
The adjuster will know how much an injured victim will be struggling to make ends meet at this time. An adjuster will offer a small settlement as soon as possible to capitalize on the victim's emotional state. Generally, this settlement will come with a waiver that states that you are giving up the option to recover additional money later. That means that even if your injuries become complicated or worsen later, you will be barred from collecting other compensation.
Although it is tempting to get this quick money, never sign anything without your Philadelphia car accident lawyer looking at it first. Instead, decline the offer and ask the adjuster to speak with your accident attorney. While the offer may sound like a lot of money, it is unlikely to cover all your losses sufficiently, and you will continue to suffer due to the crash. An experienced Philadelphia car accident attorney knows how to calculate the total value of your damages and fight for the maximum payout.
Questioning the Severity of Your Injuries
Another tactic the insurance adjuster may try to do is to doubt the injuries you have received following the accident. For example, suppose you need knee replacement surgery after your accident. In that case, the adjuster may claim that you always had arthritis in your knees and would have eventually had the surgery despite the accident. If the insurance company can find proof that your injury was caused by other means, it can find a way to escape liability for your claim.
These reasons are why seeking medical treatment following an automobile accident is essential. A medical expert can later be used to prove that your injuries only came from the accident and not a previous injury.
Finding the Victim at Fault for the Serious Car Accident
As mentioned above, the modified comparative negligence rule can easily damage a victim's claim if they are found faulty for the accident. Knowing this, the other party's insurance carrier will try to see you at fault for the accident so they do not have to pay.
Please do not give them a chance. Before speaking to the insurance adjuster or the insurance, talk to an experienced Philadelphia car accident lawyer at Munley Law Personal Injury Attorneys. For over 60 years, we have been battling insurance companies across Pennsylvania. We understand the tactics they use to disprove your claim and are more than willing to fight on your behalf to ensure you receive the compensation you deserve.
How Do I Deal with Insurance Companies After a Car Accident?
While you report the crash to your insurance company, you are not obligated to speak with the other party's insurance. We strongly recommend that you not make any statements to the other party's insurance company and instead allow your lawyer to handle that communication.
It's always best not to speak with an insurance adjuster without your lawyer. However, the adjuster may try to get you on record to find the cracks in your statement that the insurance company can exploit. They will try to get you to give a recorded message. You mustn't provide one.
Is the Insurance Company Acting in Bad Faith?
Too often, the insurance carrier acts in bad faith towards a victim following car accidents. This can occur when the insurance adjuster ignores or refuses to pay a legitimate claim. Some examples include:
Denying a valid claim
Delaying an investigation or payment without reason
Paying only partial benefits of what is owed
Under Pennsylvania law, there is a two-pronged test to determine a case of bad faith: clear and convincing evidence that the insurer did not have a reasonable basis for denying benefits and that the insurer knew or disregarded its lack of reasonable basis in denying a claim.
Unfortunately, it can be challenging to determine whether your insurance is acting in bad faith without an attorney. Fortunately, Munley Law Personal Injury Attorneys has decades of experience dealing with insurance companies. We know their tactics and what to look for in a bad-faith insurance claim. If you believe your insurance is utilizing bad faith tactics on your claim, contact our Philadelphia car accident lawyers as soon as possible.
Frequently Asked Questions of Philadelphia Car Accident Attorneys
My Doctor said I would Need Ongoing Treatment and Maybe even Additional Surgeries. Will a car accident lawyer in Philadelphia help me recover money to pay medical expenses?
When our Philadelphia car accident lawyers represent you, they will work with your Doctor and our trusted medical experts to ensure we have a clear picture of your future medical needs. We will calculate your future medical bills, prescription costs, and other expenses to ensure you have the money you need for your recovery.
Can a car crash lawyer help me recover money for my pain and suffering?
Potentially, yes. Car crashes are not only physically damaging but mentally and emotionally damaging. In addition to medical expenses and other financial harm, victims can also seek compensation for their non-financial losses. This includes:
Pain and suffering
Scarring and disfigurement
Emotional distress
Loss of society, companionship, and consortium
Loss of enjoyment of life
To prove pain and suffering, our highly skilled Philadelphia car accident lawyer at Munley Law Personal Injury Attorneys will work with experts to illustrate your suffering and assign economic value to your damages.
Can my auto accident attorney hold multiple parties liable for a collision?
In Pennsylvania, if more than one person or entity is considered at fault for causing an accident, the courts will use the legal doctrine of "modified contributory negligence" to determine the amount each party owes to the injured individual.
For example, a driver hits another car while driving on the Blue Route toward Chester. The first driver had been driving too fast and failed to see the traffic up ahead slowing down. Meanwhile, the other driver had been texting a friend and didn't notice that the traffic in front of the car had moved. The texting driver was injured in the accident and sued the speeding driver.
Using the modified contributory negligence rule in the example above, the court will assign a percentage of fault to each responsible party. If the plaintiff is found either equally or more reliable than the defendant for their injuries, they will not be able to recover any damages.
Suppose your incident involves a commercial vehicle like a delivery van, a truck, a bus, or a large car. In that case, multiple parties might be involved, such as a trucking company or the vehicle owner. Car accident cases with a commercial vehicle often require a specific type of Philadelphia injury lawyer. While many Philadelphia car accident attorneys handle regular car crashes, a lawyer with experience and credentials can successfully run a crash with a commercial vehicle or heavy truck. The Philadelphia injury lawyers at Munley Law, Personal Injury Attorneys, devote a significant portion of our practice exclusively to major transportation and commercial truck cases. We will immediately take action to preserve evidence, obtain black box data and company records, and protect your rights.
What if I was Partially at Fault in the Car Accident?
This is a question we get from many of our clients. When you have been involved in a car accident, it is natural to wonder whether you may have done something wrong. However, it is imperative that you not make any assumptions about your role in the accident. Numerous factors can lead to car accidents, and even if you may have been doing something (such as speeding) at the time of the crash, it is not necessarily that your actions caused or contributed to the accident.
But, even if the police found you partially at fault for the accident that caused your injuries, you still have options. Under Pennsylvania law, even if you were partly at fault, you may still be entitled to partial compensation, which our lawyers can help with.
As mentioned above, modified comparative negligence means that victims who share some of the blame for their injuries can still pursue compensation from the other party if the victim is less than 51 percent at fault. In this situation, your payment would be adjusted in proportion to your share of the blame. So, if your case was worth $100,000, and you were 20 percent at fault for the accident, you could collect $80,000 in damages from the defendant. Comparative negligence can be complicated, but the experienced Philadelphia car accident lawyers at Munley Law Personal Injury Attorneys can help you sort it out.
Speak with our Philadelphia Car Accident Attorneys for Free
If you have questions about your rights after a car accident, we encourage you to contact one of our lawyers. We are happy to help you understand your situation, and we will help you make informed decisions about protecting your legal rights. If you choose to work with us, our Philadelphia car accident attorneys will work quickly to help you secure a maximum settlement. We will be fully prepared to take your case to trial if necessary.
For more information about how we can help maximize your financial recovery in your case, don't hesitate to contact our personal injury law firm to arrange your free initial consultation. Call or contact us online today to speak with a lawyer at our Philadelphia law offices.
Philadelphia Practice Areas
Munley Law Personal Injury Attorneys
1617 John F Kennedy Blvd
Suite 1690,
Philadelphia, PA 19103
(215) 515-7747