Injured in a Taxi in Philadelphia? We Can Help.
If you were injured as a passenger in a taxi cab, our Philadelphia auto accident lawyers are here to help you recover. In many ways, calling a taxi cab is an easier way to get from point A to point B, especially in a city like Philadelphia.
Whether you're taking a taxi to go out with friends, avoid parking near a busy restaurant, or heading to the airport, you expect an experienced taxi driver can get you there safely. However, taxi drivers can also be overly confident they know how to drive in a familiar city and may rush while trying to maximize their time and the fare.
Getting into an accident in cab can be a stressful experience. You have no control over the vehicle or the driver, and yet you could sustain serious injuries. Pair that with the regular dangers around a car accident, and your damages could extend far beyond any physical injuries. Or maybe you are another drive who has been in a car accident with a cab driver and curious about insurance and how to recover compensation.
At Munley Law, our taxicab accident lawyers have been helping taxi accident victims for more than 60 years. We're passionate about ensuring our clients get the compensation they need to recover and move on with their lives. Our lawyers are experienced personal injury lawyers who know how to negotiate, fight, and win your case. Don't try and go it alone. Contact us today for a free consultation.
Who is Liable In Philadelphia Taxi Cab Accidents?
One of the first steps in any personal injury case is determining who is liable for the taxi cab accident. This will be the part you are able to pursue for damages in a taxi accident claim. In a taxi accident, the list of liable parties involved is more than just the taxi driver.
Here is who may be liable in your taxi accident:
Taxi Driver: In many cases it is the taxi cab driver's negligent behavior that caused an accident. In this case, their insurance company will usually be responsible for damages and injuries caused.
Taxicab Companies: Many taxi drivers operate under larger companies. These companies may cover insurance policies that cover accident victims if they were in any way at-fault. Their negligence can include not repairing or servicing the vehicle while under their care, or other reasons they could have caused your accident.
Others Sharing the Road: If your taxi accident was not the driver's fault and was instead caused by another drive on the road, you could seek compensation from that driver's insurance company.
Manufacturers: If your accident was due to a malfunctioning or defective auto part, that company could hold some negligence for causing a taxi accident.
Philadelphia City Government: Some taxi accidents are caused by road conditions that have deteriorated to the point where the Philadelphia government should have alerted the public or fixed. In these cases, they could potentially be held liable for causing an accident on the roads.
If you've been injured in a taxi accident, it can be difficult to determine who on the above list – and it can be more than one! – are liable for your taxi accident. An experienced Philadelphia taxi accident attorney will be able to help you identify who is at-fault and who to pursue in a personal injury case. Contact Munley Law today for a free consultation.
Do Taxicabs Have Insurance for Accidents?
When you get into a car accident, your first call may be to your insurance company. After a taxi accident you may be wondering if your cab driver has insurance to cover any damages. They do. In the state of Pennsylvania, all taxi drivers are required to have a liability insurance policy that covers up to $35,000. That is broken down into "$15,000 bodily injury per person, $30,000 bodily injury per accident and $5,000 property damage per accident."
A Philadelphia taxi accident lawyer can help you recover damages from your taxi driver's insurance company.
Reasons Why Taxi Accidents Occur
Just like car accidents, a taxi accident can happen in Philadelphia for a variety of reasons. Maybe there's inclement weather, causing deteriorating conditions on the road. Sometimes an accident involving pedestrians, bicyclists, or other parties can cause a cab driver to crash.
Taxi accidents can have many causes but most are caused by one of the six types below:
Speeding
Aggressive Driving
Poor Weather Conditions such as ice or fog
Who Could be Injured in a Taxi Cab Accident?
In a city like Philadelphia, taxi cabs can always be found taking passengers around the city. While taxicab drivers usually are very familiar with city roads, they can also work long shifts or get distracted when looking for their next ride. When that happens, negligent errors can happen that threaten anyone sharing the road. This includes:
Taxicab passengers
Other drivers of other vehicles
Pedestrians
Bicyclists
Motorcyclists
Bus drivers
Whether you were a passenger, pedestrian, or fellow driver, if a cab driver's negligence caused an accident in which you sustained injuries, contact us today for a free consultation.
What Can I Get Compensation for in a Philadelphia Taxi Accident?
A taxi cab accident in Philadelphia can cause serious injury to passengers as well as other people sharing the road. Similar to any other kind of auto accident, taxicab accident victims can be owed compensation for a variety of damages — and it could extend well pas just covering medical bills.
If you are a passenger, car driver, pedestrian, bicyclist, or anyone involved in a cab accident, here are some of the damages you may recover in a Philadelphia taxi accident case:
Medical expenses, including medical bills, medical treatment, medical attention
Property damage, including to your vehicle
Lost wages
Loss of earning potential
Physical therapy or rehab
Pain and suffering
Wrongful death
Common Taxicab Accident Injuries
Taxicab accidents can cause a variety of injuries, depending on the details of the accident how you were involved. A passenger, for instance, might sustain lesser taxi accident injuries, while a pedestrian hit while crossing the road. Regardless of the severity of the injuries suffered, you can seek compensation from the negligent parties.
Here are some common physical injuries you could sustain after a taxi cab accident:
Broken bones
Traumatic Brain Injury
Whiplash
Compound Fractures
Spinal Cord Injury
Herniated Discs
Other Back injuries (Thoracic, mid-back, lumbar and lower back discs, leading to disc compression or herniation)
Internal bleeding or damage to organs (heart, lungs, spleen, liver, kidney, ribs, etc.)
Dislocation
Burns
Amputated Limbs
Paralysis
Soft Tissue Damage
Frequently Asked Taxi Accident Questions
Q:What Should I Do Right After a Taxi Accident?
A: Whether you are a passenger or another person involved in an accident with a taxicab, here is what you should do at the scene:
Stay calm and in the vehicle, unless it's too dangerous to remain inside
Make sure someone at the scene is calling 911 (even if it seems like a minor accident)
Seek medical attention, even if you don't think you are injured
Do not leave
Record names of everyone involved, including witnesses
Photograph the entire scene – vehicles involved, any injuries you or others have sustained
Q:What Should I Do in the Days Following My Taxicab Accident?
A: In the days following your accident, once you have had some time to recover from the initial shock, you should be sure to:
Keep a detailed account of any doctor visits, including test results, prescribed medications and any other treatments
Keep receipts and any proof of out-of-pocket expenses
Record missed work & other activities
Do not accept a settlement offer from anyone's insurance provider
Q: Should I Accept an Offer From the Taxicab's Insurance Company?
A: No. Do not talk to an insurance company before speaking to a lawyer. The insurance company in many cases wants to avoid having to pay out. A Philadelphia taxi accident lawyer can help you understand the value of your case. They will review all your costs and come back to you with a fair estimate of what your settlement offer should really be.
How a Philadelphia Taxi Accident Lawyer Can Help
Sustaining injuries in any kind of accident can be a traumatic experience. If you've been in an accident involving a taxi cab, it can be complicated to determine negligence and then fight for the compensation you deserve. This is where an experienced taxi accident lawyer can help.
From fighting insurance companies to settlement negotiations, taxi accident lawyers have the skills and experience you need to receive maximum compensation. Here is how a Philadelphia taxi accident lawyer can help:
Gather Evidence: After an accident, it's imperative to collect evidence that can help prove your case. This includes the police report, witness statement, immediate medical treatment, photos and videos, security footage where applicable, and more. A lawyer can help navigate collecting all of this documentation.
Negotiating with Insurance Company and Liable Parties: A taxi accident lawyer will fight on your behalf with insurance adjusters, as well as the companies of other parties involved. Without a lawyer you could get taken advantage of or pressured in accepting a settlement that won't even scratch the surface of helping you recover from your injuries.
Use Experts to Evaluate & Prove Your Case: While the evidence is key in proving your specific case, experts can help further add validity to your claims. An expert can also help your lawyer understand taxicab accidents and what compensation you should expect to receive.
Munley Law Taxi Accident Lawyers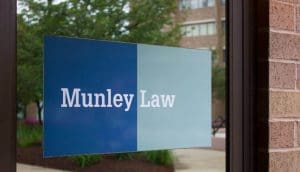 If you've been injured in a taxi cab accident in Philadelphia, let one of our experienced personal injury lawyers make sure you get the help you deserve. We have been helping accident victims in Pennsylvania for more than 60 years. We're passionate about helping our clients and we have a winning record to prove it.
At Munley Law, we work on a contingency fee basis. That means we only get paid if we win your case. Speak to a Philadelphia auto accident lawyer today about the details of your case. Contact us for a free consultation.