If you were struck by a car, truck, or bus in Philadelphia, Munley Law can help. Contact a Philadelphia pedestrian accident lawyer for a free consultation.
Philly is one of the top five walkable cities in the United States. From the historical Center City neighborhoods to the al fresco dining in Rittenhouse Square, Philadelphia's restaurants, book shops, cafes, local grocers and shops are a short walk from many Philadelphia addresses.
According to this Philadelphia real estate report Philly is becoming even more walkable each year. "Some main retail arteries that run through hot residential areas are experiencing a huge renaissance," said Philadelphia Redfin agent Jennifer Seal. "The likelihood that there's a new grocery store, coffee shop or even spinning studio within blocks of many Philadelphia homes has greatly increased in recent years."
Unfortunately even the most careful pedestrians can encounter a careless or reckless driver, leading to a pedestrian accident injury that changes the course of their lives. If you or a loved one has been involved in a pedestrian accident anywhere in Philadelphia, you may have a personal injury claim. You need PA's top Philadelphia pedestrian accident lawyers on your side. Call us today for a free consultation with your Philadelphia pedestrian accident lawyer.
Pedestrian crashes lead to serious injuries, which leads to huge medical expenses. Pedestrian injuries can cause you to have months of lost wages, doctors' visits and physical therapy in your future. You may be rightfully scared and confused about what to do about ever increasing medical expenses or missing work for pain or trips to the doctor.
You need an experienced Philadelphia pedestrian accident attorney at Munley Law to help you fight for the compensation you might be due following your pedestrian accident. A consultation with our experienced attorneys is always free.
Pedestrian Accidents in Philadelphia
Pedestrian deaths have increased nationwide in recent years, and in Philadelphia they are higher than the national average.
The City of Philadelphia reports that pedestrian fatalities occur at a higher rate in Philadelphia than in similar large cities; the pedestrian fatality rate in Philly is double that of New York City.
Vehicle fatalities in Philadelphia and nationwide spiked in 2020 despite the significant drop in overall miles traveled in 2020. The Governors Highway Safety Association recorded more than 6,700 fatal accidents involving pedestrian accident victims in the U.S. in 2020 — up 5% from 6,412 the year before, or 21% when factoring in the reduced number of vehicle miles traveled.  In 2020, pedestrian crashes accounted for 36% of people killed in traffic accidents in Philadelphia. Most pedestrian accidents occur during the day, and they commonly take place at intersections or a crosswalk – places where drivers should be most alert for pedestrians crossing.
Philadelphia's most vulnerable pedestrians like children and the elderly are more likely to suffer severe injuries or die after being hit by a car. Contact a Philadelphia pedestrian accident attorney as soon as possible after your accident to determine what compensation you might be entitled to for your pedestrian accident injuries. Pedestrian accident cases can be complex and you want an experienced Philadelphia pedestrian accident attorney fighting for you.
Who is to blame for a pedestrian accident?
While both drivers and pedestrians must remain alert and adhere to the rules of the road, driver negligence is a major contributing factor in pedestrian accidents in Philadelphia.  Drivers have a responsibility to take reasonable care and pay attention to their surroundings. Common causes of pedestrian crashes include:
Distracted driving. Smartphone-related distraction is the top cause of the spike in pedestrian accident deaths. Drivers who take their eyes and/or attention from the road to answer a text or scroll through social media are less likely to see a pedestrian in the roadway or intersection.
Speeding.  Drivers who fail to maintain a safe speed, especially in congested areas where pedestrians and cars share the road, endanger the lives of the people around them.  Speed is the number one factor in determining whether a crash will be fatal or not. When struck by a vehicle traveling at 20 MPH, a pedestrian typically has a 90% chance of surviving. If the car is moving at 40 MPH, the pedestrian has just a 10% chance of surviving the impact. Maintaining a safe speed not only reduces the damage done in a crash, but can also decrease the likelihood of a crash in the first place.
Aggressive driving. Some drivers fail to yield to pedestrians at a crosswalk, or fail to wait until the pedestrian has fully exited the crosswalk before proceeding.
Driving under the influence of drugs or alcohol. Driving while under the influence of alcohol or drugs is wholly unacceptable and puts innocent people's lives in danger. If you were struck by a driver who was intoxicated, we will help make sure that person is held accountable.
Crosswalk/road design. It may be that the crosswalk or intersection itself has been designed in such a way that puts pedestrians at risk, especially if more than one pedestrian accident has occurred in the same place. We will look into this possibility and investigate all potential paths to recovery.
In Pennsylvania, pedestrians have the right of way within a crosswalk or at an intersection, whether or not there is a traffic signal present. Pedestrians are to yield the right of way to vehicles in places where there is no intersection or crosswalk. It is illegal for drivers to pass a vehicle that is stopped for a pedestrian in a crosswalk, as the second driver may not see the pedestrian in the crosswalk.
Do I need a Philadelphia pedestrian accident lawyer?
After being hit by a car, you  may think the situation is fairly cut and dry – the driver was in the wrong, and you are owed compensation. The at-fault driver's insurance company may even offer you a sum of money up front. However, it is extremely important that you do not accept an offer of settlement before speaking with a Philadelphia pedestrian accident lawyer. Most often, settlements offered by insurance companies won't be enough to cover your losses and long-term expenses after such a terrible accident. They may even attempt to claim that you deserve less because you were partially at fault. If you accept an offer, you waive your right to seek additional compensation, even if your condition worsens over time.
Our pedestrian accident lawyers have handled cases like these since 1959, and have reached some of the largest settlements and verdicts in the state of Pennsylvania. Let us put that experience to work for you. We will help you recover compensation for your medical bills, future treatment, lost wages and/or earning power, as well as pain and suffering.
At Munley Law, we won't spare any time getting to work on your case. We will deploy investigators and experts right away to begin building your case. As your lawyers, we will be your resource for anything you might need in the aftermath of your pedestrian accident. We will answer any questions you may have, help you rebuild your life, and take care of the legal process on your behalf.
How much does it cost to hire a Philadelphia pedestrian accident lawyer?
The Philadelphia pedestrian accident lawyers at Munley Law do not get paid unless we win your case. After we get you the financial compensation you deserve, we take a lesser portion of the settlement to cover our expenses. If we cannot get results for you, you owe us nothing. We incur all of the risk and cover all of the upfront costs so that you never pay anything up front or out of your own pocket.
Since Munley Law was founded 59 years ago, it has been our philosophy that justice is for everyone, and cost should never keep someone from getting the help they need.
Philadelphia Pedestrian Accident FAQs
Q: How common are pedestrian accidents in Philadelphia?
A: Despite advancements in safety technology and efforts to increase awareness, pedestrian crashes remain far too common. A pedestrian is injured or killed in Philadelphia every six hours. Philadelphia has a higher rate of pedestrian fatalities per resident than other major U.S. cities like Boston, New York, and Minneapolis.
Q: Who is most likely to be hit by a car or bus in Philadelphia?
A: The age groups most likely to be struck by a car, truck, or bus in Philadelphia are the most vulnerable members of our society: seniors and children. Almost half of pedestrians killed by vehicles are over the age of 50; another 30% of fatal pedestrian accident victims are under the age of 19.
Q: Where do most fatal pedestrian crashes take place?
A: Northeast Philadelphia, Kensington, Elmwood, and parts of Center City see the highest number of pedestrian deaths in the city.
Q:  I was hit by a car but have limited tort. Will this affect my case?
A: If you were struck by another vehicle as a pedestrian, your auto insurance tort option will not apply. Instead, you will be granted the benefits of full tort in the context of this claim. As such, you have the right to seek compensation for your pain and suffering without the need to prove that you meet the threshold of "serious injury."
Q: What Injuries Can Occur During a Pedestrian accident?
A: Although we are all aware of the dangers of crossing the street, nobody ever plans on being struck by a moving car. When it does happen, the outcomes are frequently catastrophic.
The amount of physical stress caused by thousands of pounds of metal striking the human body, possibly at extremely high speeds, is beyond the capacity of the human body to withstand. As a result, people hit by cars frequently suffer very serious injuries such as:
Internal bleeding
Broken ribs
Head injuries such as concussion
Shoulder displacement
Vertebrae injuries
Neck injuries
Jaw Fractures
Spinal cord injuries
Skull damage
Injuries leading to death
Q: What are the Most Dangerous Streets and Intersections for Pedestrians in Philly?
A: "Vision Zero" is a five-year action plan implemented by Mayor Jim Kenney to reduce and eliminate fatal pedestrian accidents and motor vehicle accidents across the city. According to the project's website, "Using a five-year trend of crash data (PennDOT, 2014 – 2018; excludes interstates), the High Injury Network is comprised of the corridors across the city on which fatal crashes and crashes that result in severe injury occur. These crashes may have involved people in vehicles or people walking and biking.
Eighty percent of all traffic deaths and serious injuries occurred on just twelve percent of Philadelphia streets. This twelve percent of streets comprises the High Injury Network. These streets are:
Fifth Street & Olney Avenue
Broad Street & Race Street
Broad Street & Girard Avenue
Cottman Avenue & Roosevelt Boulevard
Broad Street & Olney Avenue
Broad Street & Lehigh Avenue
Market Street & 40th Street
Market Street & 11th Street
Chelten Avenue & Wayne Avenue
Market Street & 12th Street
Cobbs Creek, Market Street & 63rd Street, and
Cecil B. Moore Avenue & Broad Street.
Q: How Long do I Have to File a Lawsuit After a Philadelphia Pedestrian Accident?
A: In the Commonwealth of Pennsylvania, injured parties have two years to file your pedestrian accident claim but you want to talk to your attorney soon after the accident occurs. Your recollections can fade as time passes, witnesses can be more difficult to contact and gathering a record of the incident and collecting any data and evidence is always most effective when done as soon as possible.
Q: What Damages Can I Receive if I Was Hit By a Car in Philadelphia?
A: Compensation for any loss of income due to the accident such as lost time at work due to injury suffered as a result of your pedestrian accident, lost work due to pain or physical therapy or doctors' visits
Direct medical costs related to injury caused by the accident
Pain and suffering resulting from the accident
Cost of mental health treatment for post traumatic stress disorder
Cost of physical therapy following an injury related to the accident
To discover what compensation you may be entitled to, call us for a free consultation with your personal injury accident attorney at Munley Law. To schedule an appointment at your convenience, please call  or tell us about the accident onlinenow.
Contact a Philadelphia pedestrian accident lawyer at Munley Law for a free consultation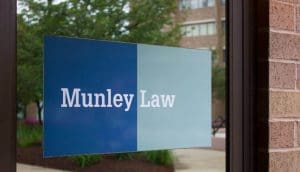 Our pedestrian accident lawyers are ready to get to work for you today. Start with a free consultation to get answers to your questions and learn about your legal options. We will explain the process and help you decide what to do next. There is no obligation associated with the consult and no charge. If you are unable to come to us, we will travel to meet with you, or we can meet with you virtually.
With Munley Law, you can rest assured that your pedestrian accident case will be in the best possible hands. Our personal injury lawyers are consistently listed in the Best Lawyers in America, Pennsylvania Super Lawyers, and Best Law Firms rankings. Our attorneys are regarded as experts in the field and frequently travel the country to educate other attorneys on complex personal injury matters. But most importantly, we put our clients first. See what some of our past clients have to say about their experience with our firm.