Getting up and getting yourself to work every day can sometimes feel like a challenge even in the best of circumstances. But when you're injured or become sick due to an incident at your workplace, that challenge can become entirely overwhelming. Unfortunately, many Americans are injured in the workplace every year. Some industries pose a greater threat to employees' health and safety than others.
According to the Insurance Information Institute, the top private industry occupations with workplace injuries and illnesses include nursing assistants, registered nurses, truck drivers, stockers, and repair workers. That being said, anyone performing any professional role is capable of experiencing a workplace injury.
Workplace injuries and illnesses can have long lasting damages. Whether it's the physical effects, the financial burden, or the mental and emotional toll, it can be a lot. But if you are hurt or become sick in your workplace, you should not have to carry that burden alone. The good news is there are ways for you to receive fair compensation, and our experienced attorneys at Munley Law Personal Injury Attorneys are here to help you do just that. We will assess your case in great detail in order to determine the right course of action for you.
Are you eligible for workers' compensation? Are you eligible to file a third party claim? What's the difference between those? These are all questions we are here to answer as we guide you through the process of securing justice. Don't hesitate: if you or a loved one has experienced a workplace injury or occupational illness, contact Munley Law Personal Injury Attorneys today. We have the resources and experience to tackle your case and secure you a successful outcome.
What is Workers' Compensation? 
In most cases, employees are prohibited from suing their employers or coworkers for a workplace injury. Instead, the injured party can receive damages through workers' compensation.  Often referred to as "workers' comp", this is a state-mandated insurance program that offers payment to those who have been hurt or experienced an occupational disease while at work.
The system is intended to both ensure injured workers are compensated for things like medical bills and lost wages, while also protecting employers from being sued. There are some exceptions, but most Pennsylvania workers are guaranteed coverage through the Pennsylvania Workers' Compensation Act. This Act has been in place since 1915, and has since shifted from its original form to also include coverage and compensation for occupational diseases.
Those exempted from coverage include railroad workers and longshoremen (who are covered under separate workers' comp acts specific to those industries), federal employees, some domestic servants, agricultural employees who work less than 30 days in a calendar year, and other employees who seek exemptions due to religious beliefs or executive status within a company.
Coverage for workers' compensation begins on the date of hire. Injuries that are self inflicted or those that involve illegal behavior, such as drug use, may not be covered.
What Benefits Does Workers' Compensation Provide? 
In the state of Pennsylvania, workers' comp generally covers medical bills and expenses, wage-loss compensation, and, in the event of a death, death benefits to the individual's dependents.
How Do I File for Workers' Compensation?
Your very first step after sustaining an injury in your workplace should be to seek medical care and prioritize your safety and health. Beyond that, you should alert your employer about your injury immediately. You have 21 days to alert your employer in order to receive benefits starting from the date of your injury. If you wait more than 21 days, your benefits will start from the date of your claim. If you wait longer than 120 days, you may lose your right to seek any benefits at all. It is always best to avoid waiting that long. Tell your employer as soon as possible.
Once you've alerted your employer, it is their obligation to file a First Report of Injury with the Bureau of Workers' Compensation.
Your employer will also notify their insurer or insurance company, and it's then up to the insurance company to examine the accident and injury and determine whether the claim is valid. If the insurance company accepts your claim, you will receive a Notice of Compensation Payable, and will begin to receive workers' compensation benefits.
In some cases, you will be issued a Notice of Temporary Compensation Payable, which means the insurance company has not yet reached a decision about your claim, but is willing to offer you some benefits in the meantime. Remember that It's in your best interest  to hire an experienced workers' compensation lawyer such as the Pittsburgh workers' compensation attorneys at Munley Law Personal Injury Attorneys as soon as possible after your injury. Working with an attorney ensures that your employer will not attempt to avoid paying you the full compensation you deserve.
What is a Third Party Claim? 
In the event of a workplace injury, you are the first party, and your employer or coworker is the second party. In many workers' compensation cases, these are the only two parties involved. But in some cases, a third party enters the fold, and in these cases, it is possible to file a personal injury suit.
A third party, in this context, is anyone aside from you and your employer. If this third party, whoever they may be, causes or participates in your workplace injury or illness, you may file a personal injury suit against them.
For instance, if a factory worker is injured by a faulty piece of machinery in their workplace, they can most likely recoup workers' compensation benefits, but they also be able to file a personal injury suit against the machinery manufacturer for creating or supplying unsafe or damaged machinery. Another example would be a truck driver who is on the road on company time, and is T-boned by another driver. The truck driver can receive workers' compensation from their company, but can also file a third party claim against the driver who caused the accident.
How Do I Prove Liability in a Third Party Claim?
In order to file a successful third party claim, you and your lawyer will need to be able to prove that the third party, whether an entity or an individual, is directly responsible for your accident and injuries. This inherently makes filing a third party claim more complex than filing for workers' compensation.
In Pittsburgh and the state of Pennsylvania as a whole, workers' compensation functions on a "no fault policy", which means you do not need to prove your employer was responsible for your workplace injury in order to receive workers' comp benefits.
In order to prove liability and have a successful claim against a third party, there are a few standards of proof that you and your lawyer must meet. You must prove that:
The third party owed you a duty of care
The third party breached this duty of care
This breach of care directly caused your accident and injuries or disease
Your injuries require financial compensation
This can seem like an overwhelming set of standards to meet, but that's where your Munley Law Personal Injury Attorneys third party claims and workers' lawyer comes in. We are experts at handling these kinds of cases, and will be by your side every step of the way to ensure the best outcome possible. Our attorneys and legal team have decades of experience handling these kinds of cases, so don't hesitate to reach out. Contact our workers' compensation lawyer today for a free initial consultation.
How Much Compensation Can I Get From Workers' Compensation Versus a Third Party Claim?
Generally, workers' compensation provides coverage for lost wages, medical bills, and vocational rehabilitation. Regarding lost wage benefits, most people receive a weekly check with what amounts to approximately ⅔ of their pre-injury salary, capped currently in Pennsylvania at $1205 per week. How long these benefits extend for depends on the extent of your injury and disability.
However, it is not uncommon for employers and their insurance carriers to try to undermine someone's disability status in order to avoid paying out benefits for longer than they wish to. If you believe this is the case, please contact a Pittsburgh workers' comp attorney at Munley Law Personal Injury Attorneys as soon as possible so that we can help you set things right.
In any personal injury case, such as a third party claim, it's difficult to estimate how much a suit may be worth without examining the specific case details. This number will depend on the extent of your injuries, your lost wages, your pain and suffering, changes to lifestyle, and more. You can speak to your Munley Law Personal Injury Attorneys attorney today to get an estimate for your case and decide whether filing a third party suit may be the right course of action for you.
What the Munley Law Personal Injury Attorneys's Pittsburgh Workers Compensation Lawyers Can Do For You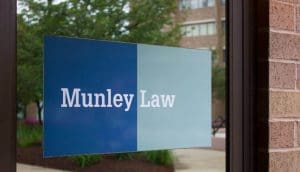 Experiencing an injury in the workplace is, without a doubt, a stressful and traumatizing experience, and it's made all the more difficult when you try to seek compensation alone. Allow the attorneys at Munley Law Personal Injury Attorneys to navigate the legal system for you so that you can focus on your recovery and getting back to your work and your life.
At Munley Law Personal Injury Attorneys, we know that employers and their insurance providers are sometimes resistant to workers compensation claims, and that third parties and their legal teams will do everything they can to disprove your case.
But we are committed to fighting for you at every turn, and we have the excellent track record to prove that you can rely on us. Our incredible team consists of ten excellent, highly experienced lawyers and dozens of excellent legal support staff whose singular goal is to protect your rights. All of our highly-qualified workers' compensation lawyers have years of hands-on trial experience, which is something many personal injury attorneys and firms cannot offer.
Please don't hesitate to reach out to Munley Law Personal Injury Attorneys to meet  one of our incredible personal injury and workers' compensation attorneys. Contact us today to schedule your free consultation and learn how we can protect your interests and help you recover compensation.
Pittsburgh Practice Areas
Munley Law Personal Injury Attorneys
510 Third Avenue
2nd Floor,
Pittsburgh, PA 15219
+14125345133