A Commercial Truck Accident Can Be Catastrophic. Munley Law is Here to Help.
In a time when we click a button and expect a product to arrive at our doorstep within 24 hours, commercial trucks have become an exceptionally important part of the world as we know it. Commercial drivers ensure that goods move from point A to point B and eventually end up with us. But with a shortage of drivers and more demanding schedules, in no surprise that commercial truck accidents have increased in the past few years. Getting into a crash with a commercial truck can result in severe injuries, leading to a hefty financial debt. You will need the assistance of a truck accident attorney to help you with the burden.
If you or a loved one has been in an accident that involves a commercial truck, we are first and foremost so deeply sorry you've had to endure that experience. The commercial truck accident lawyers at Munley Law Personal Injury Attorneys understand that the aftermath of a truck accident contains a great deal of suffering, physically, emotionally, and financially. But you do not have to go through this alone. Our truck accident attorneys are experts in taking on commercial truck accidents, and we have the resources and experience to secure you the justice and compensation you very much deserve. What's more, you don't pay a cent unless you win. Don't wait any longer. Contact us today to schedule your free consultation.
What Makes a Commercial Truck Accident Different Compared to a Car Crash?
The average commercial truck in the United States is 72 feet long, 8.5 feet wide, and 13.5 feet tall. A Prius, in contrast, is 15 feet long, 5.75 feet wide, and 4.8 feet tall. Based on this difference alone, it's clear that when a passenger vehicle comes into contact with a commercial truck, the passenger vehicle is likely going to receive the majority of the damage, and the occupants will receive severe injuries. And unfortunately, these types of truck accidents are not uncommon.
According to the latest data from the National Highway Traffic Safety Administration, there were over 5,600 commercial truck accidents in the United States in the past year. It is a 13 percent increase in the number of truck accident fatalities as compared to 2020.
Because of the size and weight of a commercial truck, the injuries sustained by accident victims are usually severe and can be life-changing. The truck injury victim will be facing large medical bills and lost wages and could be experiencing emotional and mental suffering.
Not only does the severity of injuries make commercial truck accidents different, but liability is also more complicated. Since the truck is a commercial vehicle, there may be more parties responsible for your accident. For example, if the truck driver was found to have been driving more than 24 hours without a long rest, and it was discovered that the trucking company had offered an incentive to get the load to its location quicker, the trucking company may be held liable for the accident.
To learn who may be held responsible for your trucking accident, contact an experienced truck accident lawyer at Munley Law Personal Injury Attorneys to schedule a free consultation.
What Can a Truck Accident Attorney Do for Your Commercial Truck Accident Case?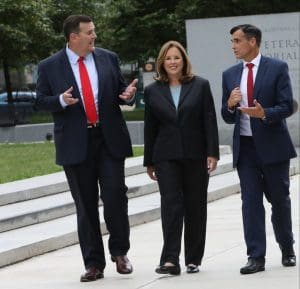 You want the best legal team by your side in the aftermath of any type of accident, but it's even more crucial when that accident involves a commercial truck. These types of carries can be extremely complex, and require an understanding of how to negotiate with a powerful company, how to procure essential evidence, and more.
First of all, when an accident involves a truck, the mediation process automatically involves the trucking company. Sometimes these companies are very powerful and have extensive resources, meaning they have a team of lawyers specifically dedicated to finding ways to avoid paying you. This can be an intimidating challenge to take on alone, but with your Munley Law Personal Injury Attorneys attorney, you can rest easy. Our lawyers have handled hundreds of truck accident cases and have a stellar track record in procuring settlements for our clients.
What's more, evidence that's useful in a truck accident case can be hard to obtain with a lawyer, and someone without experience in truck accidents may not even know what kind of evidence to look for. For example, many commercial trucks carry black boxes that record information about any incident the truck encounters. This can be crucial for your case, but often times black box recordings only last a finite amount of time before they're recorded over.
Your Munley truck accident lawyer will know to act quickly to obtain this information and exactly how to go about getting it. Other crucial pieces of information include driver training records, vehicle maintenance, and inspection records, CCTV footage from near the scene, phone records, and more. Your lawyer will work tirelessly to secure all of this for you and use it to build a successful case.
In addition to all of this, your lawyer will mediate all contact between you and any insurance carriers or legal teams. They will ensure you're not shortchanged and will fight to win you a satisfactory settlement. They will make sure you're not assigned a higher percentage of fault — if any — than you deserve.
Should I Contact My Insurance Company After a Commercial Truck Accident?
Most accidents that involve a commercial truck, unfortunately, cause a lot of damage. The size and weight of a commercial truck in comparison with a passenger vehicle also mean that the person most likely to be severely injured is the driver or a passenger in that car. So if you or a loved one finds yourself injured after an accident with a commercial truck, what are your legal options?
One of the key factors that determine your way forward is what state your accident took place in. This is because different states have different types of insurance plans, which impacts where you'll first seek compensation. States like Michigan and Ohio function on fault-based systems, which means that the driver uses their insurance coverage to pay for the other party's medical expenses. If your injury occurred in an at-fault state, you will most likely file an insurance claim with the commercial truck driver's insurance company, though this may differ if it turns out a third party is liable for the crash. In a perfect world, you would then receive full coverage through that insurance payment. But the reality is that insurance companies are in the business of making money, and they'll often try to pay out as little as possible. They may offer you coverage that does not adequately cover for your injuries, lost wages, and general pain and suffering.
If this is the case, you have the option to file a personal injury suit and seek compensation that way. Remember, it's important to work with an experienced attorney right from the beginning. This ensures you don't accept an offer or settlement that's far lower than what your case is worth.
There are other states that follow the no-fault system. This means that regardless of who caused the accident, your own insurance carrier pays to cover your medical bills and other costs related to the accident. For this reason, most drivers in the state are required to carry at least $5,000 of medical benefits coverage to pay for their medical expenses in the event of an accident. Pennsylvania is one of a few "choice no-fault" states, which means that drivers have the choice to opt-out of the no-fault system.
If your accident occurs in a no-fault state, your path may be slightly different. Again, ideally, you would receive adequate coverage through your own insurance company, but this is not always the case. However, in many no-fault states, you must meet certain criteria in order to file a personal injury suit against the commercial truck driver and their insurance carrier. Often, you need to meet the criteria of a "serious injury," which includes things like permanent disfigurement, prolonged impairment or loss of function of a bodily organ, and more. If you meet your state's criteria, you may be able to seek compensation via a personal injury suit.
Frequently Asked Questions About Commercial Truck Accidents
What is Considered a Commercial Truck?
According to the California DMV, a commercial truck is "used or maintained for the transportation of persons for hire, compensation, or profit or designed, used, or maintained primarily for the transportation of property." But this can include a huge variety of vehicles, ranging in size, shape, and function.
Some of the common types of commercial trucks involved in accidents include:
18-wheelers. These trucks, also known as big rigs, can weigh up to 80,000 pounds when fully loaded. This is 16 times the weight of an average passenger vehicle.
Box truck accidents. If you picture a FedEx truck or a UHaul, you're likely picturing a box truck. Though smaller than an 18 wheeler, these delivery trucks are still much larger than passenger vehicles and have substantial blind spots. An accident when one of these vehicles can cause huge damage.
Flatbed trucks. A flatbed truck is a truck whose body has no sides or top. They are often used to transport things like construction materials. Because the bed of this truck is open, accidents can occur when materials are improperly secured and fly off during transportation.
How is Liability Determined in a Commercial Truck Accident Case?
Determining fault and liability in a commercial truck accident case is oftentimes more complex than it would be for an accident between two passenger vehicles. In most regular car accident cases, the parties involved are the drivers of the cars involved and their insurance companies, and one or more of these parties is at fault. But in a commercial truck accident case, it's a little more complicated. In addition to just the drivers, there's a slew of parties that may potentially be found liable, including the truck and trucking company, the driver, the cargo loader, the person/people responsible for vehicle repair, the manufacturer, and more. Complications can also arise based on whether the driver is a direct employee versus an independent contractor.
Even in a case where it seems clear that the driver's negligence played a role in the accident, it's important to have a lawyer who can determine whether other parties may be partially liable as well. This may impact how much compensation you receive, and where it comes from.
What Are the Common Injuries in a Commercial Truck Accident?
One of the most common injuries that can occur from a commercial truck accident is a traumatic brain injury, also known as a TBI. These can be caused by head trauma or blunt force trauma that occurs during the collision. TBIs range in severity in terms of how intensely it disrupts brain function. Concussions are in the mild range of the spectrum. In its more severe incarnations, TBIs can cause loss of vision, loss of speech, coma, and even death. Doctors often use the Glasgow Coma Scale to determine the severity of a brain injury. The scale is divided into three sections: Eye Opening Response, Verbal Response, and Motor Response. Doctors test responses in each of these categories to determine the extent of the patient's injury.
Other common injuries that occur during a commercial truck accident include:
Lacerations
Back and neck injuries
Spinal injuries
Broken bones
Burns
Injuries requiring amputation
Death
What Compensation is Available After a Commercial Truck Accident?
Truck crashes are not only devastating, but they are also expensive. Depending on the severity of your injuries and the type of damage the accident caused, you may receive the following in compensation:
Medical expenses
Lost wages
Lost earning potential
Pain and suffering
Loss of consortium
Loss of companionship
Mental anguish
Why Choose Munley Law's Truck Accident Lawyers?
If you have experienced a commercial truck accident, you know that it is a devastating experience. Reckoning with the aftermath of an accident, whether for yourself or a loved one, can be incredibly overwhelming. But you don't have to take all this on alone. With Munley Law on your side, you can relax knowing that your interests are being fought for and protected by a group of true experts.
At Munley Law, we specialize in commercial truck accidents and have years of experience winning for our clients. We've secured our clients settlements of 4, 8, and even 26 million dollars in truck accident cases, and we are ready and waiting to do the same for you. Our team of ten excellent, highly experienced lawyers and dozens of excellent legal support staff will work tirelessly for you so that you can rest easy. Contact us today for a free consultation.