In an accident with a FedEx truck? Hire an experienced truck accident lawyer today.
FedEx offers an important service, allowing packages to be delivered to consumers and businesses throughout the United States quickly. Unfortunately, the pressure to make deliveries on time can lead many FedEx drivers to speed and disobey traffic laws, causing accidents. When you get into an accident with a FedEx truck, you may not know what your next steps should be. Who is to blame for your accident and how can you be properly compensated for your injuries?
$32 Million Wrongful Death
$26 Million Truck Accident
$17.5 Million Car Accident
$12 Million Product Liability
$9 Million Truck Accident
$8 Million Truck Accident
$8 Million Truck Accident
$7.5 Million Auto Accident
$6.9 Million Garbage Truck Accident
$6.5 Million Traumatic Brain Injury
$5 Million Medical Malpractice
$5 Million Bus Accidents
If you or a loved one were injured in a FedEx truck accident, or if a family member was killed, contact an experienced FedEx truck accident lawyer at Munley Law Personal Injury Attorneys for a free, no-obligation consultation as soon as possible. We are happy to discuss the circumstances of your injuries, help you understand your legal options, and provide a free case review. Truck accidents can be difficult to navigate on your own. That's why it's always wise to speak with an experienced truck accident lawyer for peace of mind, knowing your claim is in safe hands.
Can FedEx Be Held Responsible For the Truck Accident?
Depending on the circumstances surrounding the crash, FedEx may be held responsible if its employee, the truck driver, is found to be negligent. This is considered "vicarious liability" — a legal concept that holds an employer accountable for the negligent actions of its employee.
FedEx could also be held responsible if it had failed to train its driver properly or hired an inexperienced driver.
In addition, it is FedEx's responsibility to maintain its equipment so that it is safe. Since FedEx trucks are much larger and heavier than most passenger vehicles, an accident involving a FedEx truck can be very serious. It can cause life-threatening injuries to passengers in other vehicles. It can also cause a total loss of your car. If an accident is caused by a faulty FedEx truck, the company is responsible to compensate you for your injuries and losses.
It's important to note that FedEx may deny liability for the accident by claiming the driver is an independent contractor. Its insurance company could attempt to delay your claim or offer a lowball settlement. If this occurs, your best option is to speak with an experienced FedEx truck accident lawyer to learn what your rights are after a trucking accident.
What Are the Types of FedEx Truck Accidents?
There are many different kinds of FedEx truck accidents. The most common types of accidents are:
Blindspot collisions. Every vehicle has blind spots that prevent the driver from seeing other vehicles as they pass. A large commercial vehicle has a larger blind spot than a typical passenger vehicle. This can lead to accidents when the FedEx driver changes lanes.
Trailer sway. Many FedEx trucks are tractor-trailers. These large semi-trucks are prone to trailer sway, which happens when the large trailer sways into the lane of another vehicle.
Cargo shift. Cargo in a FedEx ground truck must be balanced and distributed evenly to prevent cargo shifts. The truck must be inspected by the company and the driver to make sure it is balanced and not overloaded. When cargo shifts, it can cause a truck crash.
What Are the Common Causes of a FedEx Truck Accident?
Similar to other types of car accidents, FedEx crashes can be caused by driver mistakes or other factors. FedEx truck drivers have extensive training in how to operate their vehicles. Still, they make mistakes when they drive. Some of these errors may be negligence or reckless driving. Negligent driving includes things like distracted driving, speeding, and not obeying traffic laws.
Some of the most common actions that contribute to FedEx delivery truck accidents include:
Texting and driving
Improper or poor maintenance of commercial vehicles
Equipment failures, such as worn brakes or parking brake
Not conducting safety checks
Bad weather conditions
Improper loading of cargo
Failure to engage the parking brake when making a delivery
Drivers backing up on the road when they pass a delivery address and need to backtrack
Not obeying traffic laws
Failure of truck drivers to yield when pulling into traffic, especially out of driveways
Tired or sleepy drivers
Driving under the influence of drugs or alcohol
If a FedEx driver's mistake causes an accident that injures you, you may be worried that you cannot provide for your family while you recover, especially if you cannot work. It may be hard for you to pay for the medical bills you have because of your injuries. You may also need a new car if yours was destroyed in the accident.
The truck accident lawyers of Munley Law Personal Injury Attorneys can help. Call us today for a free case consultation.
How Do I Know If the FedEx Truck Driver Was At-Fault?
FedEx has safety rules in place in order to avoid accidents. Some of these rules include proper cargo loading so that it does not shift and cause a crash. FedEx also has strict driver requirements to keep their truck drivers and other drivers safe. Still, FedEx drivers can cause accidents.
In order to be at fault, the truck driver must have caused the accident by acting negligently or recklessly. Proving negligence or recklessness is critical to obtaining the maximum compensation for your injuries.
A FedEx Accident Lawyer Can Prove Who Was At-Fault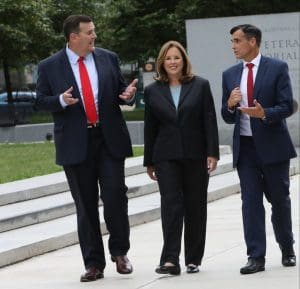 FedEx truck accidents are different than other kinds of truck accidents. They are complicated because there are various people and companies that can be responsible. In accidents involving FedEx drivers, it is hard to prove who caused the accident. It can also be complicated to know which insurance company to seek compensation from for your financial losses, severe injuries, lost wages, medical bills, and property damage.
Even when it is clear who is at fault – for example, if it is clear the employee behind the wheel caused the accident – it can still be challenging to show who is responsible to pay accident victims for their injuries and losses.
To prove who is at fault, the following conditions must be met:
The at-fault party had a responsibility to keep everyone safe from harm.
The at-fault party was negligent in their duties, causing an injury to occur
The injury resulted in damages for the injured victim, such as medical bills and lost wages
A FedEx truck accident lawyer at Munley Law Personal Injury Attorneys can help you receive the compensation you deserve to cover the accident's huge financial burden. In the personal injury lawsuits we handle for our clients, we investigate the accident, build a case to prove who is at fault, and show who is financially responsible.
Contact a Munley Law Personal Injury Attorneys FedEx truck accident lawyer for a free consultation to learn how we can help you.
The FedEx Trucking Accident Lawyers at Munley Law Personal Injury Attorneys Have the Right Experience to Help You
Our truck accident attorneys are skilled at suing FedEx and negotiating settlements so you receive fair compensation for your injuries. While a settlement without courtroom litigation can be best in some circumstances, it is not always best. Some lawyers who are not confident in the courtroom may pressure you to settle outside of court. Not the FedEx truck crash lawyers of Munley Law Personal Injury Attorneys. Our board-certified trial lawyers are prepared to go to trial. The personal injury lawyers at our law firm have extensive experience in the courtroom and have gotten significant trial victories for our clients.
Our law firm has a proven track record of focusing on what is best for our clients with our legal advice. We have over 60 years of experience obtaining the maximum compensation possible for victims of motor vehicle accidents. Our experience means we fight aggressively and effectively for you, both in settlement and in litigation. We have repeatedly been named among the top trial lawyers in Pennsylvania and have been named to Pennsylvania Super Lawyers and Best Lawyers in America.
Frequently Asked Questions About FedEx Truck Accident Claims
What Should I Do If I Was Injured in an Accident With a FedEx Truck?
If you were involved in a FedEx truck accident, report the accident as soon as possible, get medical treatment, then contact a truck accident attorney. You do not have to speak to Federal Express, the FedEx driver, or their insurers about the trucking company accident or your injuries. It is better to speak to a lawyer before you talk with them. Insurance companies often try to obtain information from victims in a FedEx truck accident case to reduce any amount they must pay. They can also try to get you to admit the accident was your fault. This is why it is best to speak with an experienced truck accident attorney first. Your lawyer will speak to FedEx and their insurance company.
How Long Do Accident Victims Have to File a FedEx Truck Crash Case?
The statute of limitations to sue FedEx in Pennsylvania is two years. This means you have only two years from the time of the accident to file a lawsuit. If you do not start your lawsuit in court within two years, you will not be able to receive compensation from the at-fault parties. Because of this short timeframe, it is important for you to contact a truck accident lawyer as soon as possible.
Do I Need a Truck Accident Lawyer to Sue FedEx?
Yes, almost always, especially if your medical expenses are high or you have catastrophic injuries. Even if your injuries are not life-threatening, they could require long-term treatment such as physical therapy. Because of the two-year window for filing a FedEx accident lawsuit, it is very important to discuss the accident with FedEx truck accident attorneys as soon as possible.
In order to receive compensation, you must prove that the driver's negligence or the company's negligence caused your injuries. Or that the driver or delivery company was reckless. An experienced and skilled personal injury lawyer familiar with accidents caused by delivery trucks can help you.
You must also show that the at-fault party or the insurance company is required to pay for your losses under the circumstances of the accident. This can be hard to do when the at-fault parties and their insurers get into a liability dispute with you. The experienced lawyers at our law firm can help, starting with a free case consultation.
The legal team in our law firm will guide you through the legal process when you are a victim of an accident with a FedEx vehicle. We are experienced at serving clients by collecting evidence to show who caused your injuries so they accept liability. We also handle discussions with witnesses, other attorneys, and insurers. Most importantly, we fight for your rights so you can receive fair compensation.
Who Can File Claims Against FedEx For a Truck Accident?
Injured parties can file a claim against trucking companies, drivers, or their insurers. Injured parties include:
Drivers in other cars
Drivers in other commercial vehicles
Motorcyclists
Pedestrians
You may also be able to file a wrongful death lawsuit if your loved one was killed in a crash with a commercial motor vehicle.
How Much Does It Cost a Trucking Accident Lawyer?
The FedEx truck accident attorneys at Munley Law Personal Injury Attorneys provide a free consultation, review your case, determine fault, negotiate with insurers, file a lawsuit, and represent you in court, without any upfront cost to you. Unlike some other law firms, we work on a contingency fee basis, which means that when our law firm accepts your case and establishes an attorney-client relationship, we don't get paid until you receive compensation.
What Compensation Can I Get in a FedEx Accident Lawsuit?
You may be entitled to receive compensation for:
Medical expenses
Damage to your vehicle and replacement costs
Medical rehabilitation costs
Pain and suffering
Current and future lost wages
Other expenses and costs
The amount of compensation is different for every accident involving FedEx vehicles. There is no average settlement or judgment amount. A truck accident attorney can provide you with an estimate of the compensation you deserve after a financial analysis and investigation that answers these questions:
What or who caused the FedEx truck accident?
How severe and long-lasting are your injuries?
Will you be able to return to work?
How much insurance coverage is available?
Fortunately, FedEx generally has proper insurance coverage. This means that you may be able to receive full compensation for your injuries and losses.
Call Munley Law Personal Injury Attorneys to Schedule a Free Consultation Today
If you or a loved one were injured in a FedEx truck accident, call today for a free, no-obligation legal consultation with an experienced FedEx truck accident attorney. The attorneys in our law firm can explain your rights.
After conducting a free case review, we can help you understand whether you are entitled to compensation and how much you might receive. Obtaining the compensation you deserve for your injuries and losses can be complicated. We are here to help.
Contact Munley Law Personal Injury Attorneys today for a free consultation, with no obligations, to discuss the circumstances of the FedEx accident and your legal options.