How Do You Choose the Right Truck Accident Lawyer in Pennsylvania?
When you've been in a truck accident, you need to know your case is with the best Pennsylvania truck accident lawyers. Commercial truck and tractor trailer accidents can be far more devastating and complicated than a regular car accident. That's why they should only be handled by a PA truck accident lawyer with years of experience and a record of success handling these specific cases.
Munley Law Personal Injury Attorneys is unique in that our firm has developed a special focus on these complex, heavily defended cases. For more than 60 years, the Pennsylvania truck accident lawyers at Munley Law Personal Injury Attorneys have become nationally recognized for their success in representing truck crash victims. We are dedicated to aggressively pursuing the justice and compensation that our clients deserve. Each member of our firm has extensive experience in these heavily defended truck injury cases.
If you've been in a Pennsylvania truck accident, it's time to call a PA truck accident lawyer and start working to get the compensation you deserve for your suffering. Make sure you are choosing the right lawyer to represent you.
What Should I Look For in a PA Truck Accident Attorney?
When you're looking for an attorney to represent you in your PA truck accident case, you want someone who is well-versed in the field. In a Pennsylvania trucking accident, you may have to face down the trucking company in addition to the truck driver and their insurance companies. So, when choosing a PA truck accident lawyer, make sure they have a successful track record in truck accident law.
In order to win your truck accident lawsuit, your attorney will need to present evidence about the circumstances leading to your crash. In a truck accident case, your truck accident attorney will need to have the resources available to obtain vital information such as:
Photos. Accident scene photographs from you, witnesses or traffic cameras, or security cameras in local businesses.
Truck information. We know vital data about the accident can be found in logbooks, black box data recorders, and more.
The driver's cell phone. Cell phone data can be obtained to determine if the driver was using their phone at the time of the crash.
Medical records. Your injuries and medical records are essential in calculating the extent of what you are owed.
Police reports. The accident report is the official record of your accident.
Trucking company records. An excellent truck accident lawyer knows how to investigate the trucking company for negligence.
Truck accident trial process
Not all instances will require a court case, but it is important to speak to a knowledgeable lawyer who has experience in the courtroom and can advise you on what your next step should be.
The truck accident trial process can be complex. It involves multiple events that your experienced truck accident lawyers must be prepared to tackle. These involve investigation, pre-trial, discovery, negotiation to see if a satisfactory settlement can be reached, and possible trial events such as jury selection, preparing opening statements, witness testimony and cross-examinations, closing arguments, jury instruction, jury deliberation, and verdict.
At Munley Law Personal Injury Attorneys, we have been defending our clients against truck companies for more than 60 years to ensure they get the compensation they deserve.
How Can a PA Truck Accident Lawyer Prove Who is At Fault?
Remember, not every personal injury lawyer has the experience to handle truck injury cases. A lawyer who only has experience with car accident cases will not do. A truck accident can cause more damage, to more victims, over more road areas, than a normal car crash. Truck accident cases tend to involve more responsible parties, with more complicated commercial interests, more insurance coverages, and more money at stake, than car accident cases. At Munley Law Personal Injury Attorneys, we know how to prove liability and damages in order to get you the compensation you are rightfully owed.
According to the most recent Federal Motor Carrier Safety Administration report, there are 500,000 truck accidents in the U.S. every year. As every crash victim knows, a semi-truck collision can change your life in an instant.
Winning a truck accident case takes a lot of specialized knowledge. Truck accident trials can be complex. We know how to prove negligence in a truck case.
It might seem like your truck accident case is open and shut. The truck driver may be at fault, they may have even been cited on the scene for speeding or reckless driving. But proving liability and negligence is far more complicated than that.
In most cases, these are the four elements that you need to prove:
Duty
Your truck accident attorney will need to establish that the defendant you are suing owed you a duty. "Duty" in this context is a legal term. It means that someone had an obligation to conduct themselves with a certain level of care in order to protect others. Drivers of all vehicles have a duty to drive with reasonable care. Depending on where you are and the company's structure, trucking employers may owe duties related to hiring, training, and maintenance.
Trucking companies can be considered "common carriers". A common carrier is an entity responsible for transporting passengers or goods for a fee. Common carriers must demonstrate not just reasonable care, but the utmost care and vigilance in order to protect the safety of the public.
Breach
Your personal injury lawyer must show that the defendant breached their duty. "Breaching" a duty means violating or failing to adhere to the level of care owed. Essentially, it is the thing that the defendant did wrong. For example, a truck driver who drove drunk or sped above the speed limit during an ice storm and crashed breached his or her duty to drive carefully.
Causation
Your trucking accident lawyer must show that the defendant's breach directly caused your injuries and other damages. While this sounds straightforward, many truck accident plaintiffs discover that this is the most difficult element to prove.
Damages
Your truck accident lawyer will have to prove that you suffered damages as a result of your injuries. Damages can include financial losses because of medical bills and lost wages, as well as non-economic damages such as pain and suffering.
To speak with one of our experienced truck accident lawyers call us for a free consultation today.
How Do I Know I've Found the Right Pennsylvania Truck Accident Lawyer?
The law firm you choose to represent you in your tractor trailer accident case has to have experience. They have to have a proven track record of success and have the numbers to prove their worth. The lawyers you pick should be ready to work with you and your needs to provide the best experience for you during this difficult time. Ideally, you should pick a firm that employs many lawyers and staff members that are all dedicated to providing you with the best legal service available.
At Munley Law Personal Injury Attorneys, this is the type of experience you will have. We are a family of lawyers who work diligently to get the compensation our clients deserve.
Why is Munley Law Personal Injury Attorneys the Best Truck Accident Law Firm in PA?
When you're looking for the best truck accident attorneys in the United States, look no further than here in Pennsylvania. Munley Law Personal Injury Attorneys partners Marion Munley and Daniel Munley are widely regarded as the nation's top truck accident attorneys, and work tirelessly across the nation to get truck accident victims compensation they deserve.
In 2018, Daniel Munley and Marion Munley achieved the highest settlement for a single plaintiff in Northeastern Pennsylvania – $26 million for the victim of a truck accident who suffered a traumatic brain injury.
Both Daniel Munley and Marion Munley have been:
Recognized as one of the Top 10 Trucking Trial Lawyers by the National Trial Lawyers Association.
Board-certified in Trucking Law by the National Board of Trial Advocacy
Head of the American Association for Justice's Trucking Litigation Group
Named to the Board of Regents for the Academy of Truck Accident Attorneys
Chair of the American Justice Association's Trucking Litigation Group (Marion was the first woman to serve in this role.)
Receives regular requests to teach the best practices and technologies in truck accident cases to lawyers around the country in seminars and on panels.
The Pennsylvania truck accident attorneys at Munley Law Personal Injury Attorneys have consistently been named Best Lawyers in America (via the legal guide Best Lawyers), Pennsylvania Super Lawyers (Pennsylvania Magazine), Best Law Firms (U.S. News and World Report), and are proud members of the Million-Dollar and Multi-Million Dollar Advocates Forums. Our truck accident lawyers are regarded as experts in the industry, and we are regularly asked to speak about trucking laws at events all over the country.
Hire an Experienced Pennsylvania Truck Accident Lawyer Today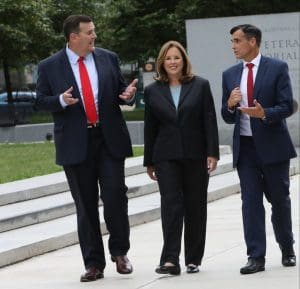 If you are hurt in a trucking accident, you need help from a firm with decades of experience handling claims involving PA trucking accidents and trucking company insurers. Our Pennsylvania truck accident lawyers know how to prepare a case strategy designed to protect your interests – not those of the trucking company. When trucking companies put others at risk, they must be held accountable, and you shouldn't have to pay the ultimate price for their negligence.
At Munley Law Personal Injury Attorneys, we work on a contingent fee basis, which means we do not collect a fee unless we win your case. If we lose your case, you will owe us nothing out of pocket.
When choosing an attorney to protect you and your family, consider the following tractor trailer accident settlements and verdicts from our PA truck accident lawyers. At Munley Law Personal Injury Attorneys, our goal is to provide exceptional legal services to our PA truck accident clients. Our Pennsylvania truck accident attorneys have decades of experience and expertise. For a free consultation to discuss your case, contact our PA truck accident lawyers today.