The truck accident lawyers at Munley Law Personal Injury Attorneys have represented truck drivers from all over the country. 
Truck drivers face a higher risk of highway accidents than other drivers, and a far higher risk of workplace injury and death than the national average. When a truck driver gets into an accident with another truck driver or a passenger vehicle, they may experience severe injuries as well. Since truck driving is a job for many, truck drivers may not know what their steps should be to get compensation for their injuries.
$32 Million Wrongful Death
$26 Million Truck Accident
$17.5 Million Car Accident
$12 Million Product Liability
$9 Million Truck Accident
$8 Million Truck Accident
$8 Million Truck Accident
$7.5 Million Auto Accident
$6.9 Million Garbage Truck Accident
$6.5 Million Traumatic Brain Injury
$5 Million Medical Malpractice
$5 Million Bus Accidents
If you are a truck driver who has been hurt on the job, contact a truck accident lawyer at Munley Law Personal Injury Attorneys. We have represented truckers from all over the country who have suffered due to a work-related accident.  Our consultation is free, and we never charge a fee unless we win your case, so you risk nothing. Fill out our email form or call now to schedule a free consultation with our truck accident lawyers.
Our attorneys are nationally recognized as some of the top truck accident lawyers in America.  We have been named among the Best Lawyers in America, Pennsylvania Super Lawyers, and among the country's Best Law Firms (U.S. News and World Report). Other attorneys around the United States look to our lawyers as the truck accident experts. We are frequently invited to speak at symposiums around the country to educate other lawyers on truck accident litigation. When you work with Munley Law Personal Injury Attorneys, you can be sure that your case is in good hands.
What Are the Risks Truck Drivers Face While on the Road?
Driving a truck or tractor trailer is no easy job. A recent article from CNBC states that truck driving is one of the most dangerous jobs in the U.S. Truckers face an increased risk of injury from the physically demanding work of changing tires, performing maintenance, loading and unloading trailers, and spending long hours behind the wheel.  Driving in all kinds of weather, on badly maintained roads, and long overnight trips increase the risk of accidents with other trucks. Rollbacks on safety regulations put truck drivers at an even greater risk for harm. Many employers put excessive pressure on their drivers to make deliveries on time, or to work beyond their designated service hours. Worse yet, some trucking companies look the other way when it comes to proper vehicle maintenance, safety training, and driving history checks.  If you suffer an injury while driving a truck, you may be legally entitled to compensation for your medical bills, lost wages, and pain and suffering.
We represent truckers who work for national transportation companies as well as locally owned businesses. We also represent delivery truck drivers, garbage truck drivers, dump truck drivers, tanker truck drivers, construction vehicle operators, and more. Our truck accident lawyers represent truckers who have been hurt or killed in a crash caused by another truck, a car or SUV, or a bus. We also help truckers injured while riding along as a passenger in the cab of a truck being operated by another driver.
Did a Passenger Vehicle Driver Cause Your Truck Accident?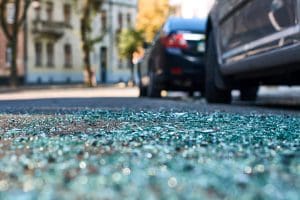 Every truck driver knows that other motorists can create serious hazards on the road, especially if they don't know how to safely share the road with a large truck. As truck accident lawyers, we have seen many cases where a truck driver suffered injuries because of the carelessness of another motorist.
According to truck accident statistics by the American Trucking Associations, 80 percent of truck accidents occur due to the fault of passenger vehicle. Drivers in passenger cars or other motor vehicles can cause truck accidents if they are texting or multitasking behind the wheel, or if they are intoxicated.
Many members of the driving public fail to appreciate the size and weight of a tractor trailer. Big rigs and large trucks cannot slow down, stop, or change lanes as quickly as smaller vehicles can. If a car brakes suddenly, swerves into a truck's lane or remains in the truck's blind spot, it may cause a devastating accident that the truck driver is unable to avoid. In some instances, such reckless driving can cause a truck to lose control or roll over in an attempt to avoid colliding with the car.
What Are Some Contributing Factors to Truck Accidents With Passenger Vehicles?
Negligence and breaking laws are the main factors that lead to truck accidents caused by passenger vehicle drivers. Regardless of where trucks are moving, passenger vehicle drivers should exercise caution and observe all set rules and laws. If not, then they will be held accountable and at fault for the accident.
Truck crashes caused by cars can be a result of:
Driver fatigue. When passenger vehicle drivers are drowsy, they can cause large truck crashes by ignoring traffic conditions, weather conditions, traffic signals or otherwise driving recklessly
Reckless driving. A driver tailgating a large truck, which can cause a crash if the semi truck brakes unexpectedly seize up or fail.
Driving in a truck's blind spots. Car drivers need to understand that a semi trucks have blind spots where an entire passenger vehicle can be totally invisible.
Other potential defendants in a truck accident might include the transportation company or the party responsible for the truck's maintenance.
Is the Trucking Company Responsible for a Trucking Accident?
Large semi-trucks usually have 18 wheels and a total of 10 air compression brakes. If any of these are not functioning properly, they may cause the truck to lose control or be unable to shop. Maintenance and inspection of large trucks is essential, especially given the amount of mileage put on these large vehicles.
It is the trucking company's responsibility to make sure that their vehicles are road safe. A full inspection must be completed every 12 months. If a company fails to make these inspections or keep proper records, it may be held liable for an ensuing accident caused by vehicle malfunction.
Truck crashes by the numbers
Truck drivers have one of the most important but dangerous jobs in the United States. According to the Federal Motor Carrier Safety Administration (FMCSA), here are some of the highway statistics involving big trucks that we should consider:
Of the approximately 450,000 police-reported crashes involving large trucks in 2017, there were 4,237 (1 percent) fatal crashes and 344,000 (23 percent) injury crashes.
Single-vehicle crashes (including crashes that involved a bicyclist, pedestrian, nonmotorized vehicle, etc.) made up 20 percent of all fatal crashes, 15 percent of all injury crashes, and 23 percent of all property damage only crashes involving large trucks in 2017.
The majority (63 percent) of fatal large truck crashes involved two vehicles.
Fatal crashes involving large trucks often occur in rural areas and on Interstate highways. Approximately 57 percent of all fatal crashes involving large trucks occurred in rural areas, 27 percent occurred on Interstate highways, and 13 percent fell into both categories by occurring on rural Interstate highways.
Collision with a vehicle in transport was the first harmful event (the first event during a crash that resulted in injury or property damage) in 74 percent of fatal crashes involving large trucks, 81 percent of injury crashes involving large trucks, and 76 percent of property damage only crashes involving large trucks.
There were 13.0 fatal large truck crashes per million people in the United States in 2017, a 23-percent increase from 10.6 in 2010.
Why You Need the Best Truck Accident Lawyers on Your Side
After a big rig accident, many truckers worry that their injury will prevent them from working. They may even fear losing their jobs or their CDL licenses. These fears shouldn't stop you from getting the treatment and the compensation you deserve. The expert truck accident lawyers at Munley Law Personal Injury Attorneys will stand by your side.
We have decades of experience dealing with trucking companies in these heavily defended cases, and we will ensure that your rights are protected throughout the legal process so that you can focus on recovering from your injury.
Our Truck Accident Lawyers are Second to None
When you've been in an accident with another truck, your choice of lawyer matters. Many personal injury lawyers who handle car accidents do not have the necessary experience required to handle truck accidents, which are much more complex. Because we have a special focus on truck accident lawsuits, we are very familiar with trucking laws concerning loading and maintenance procedures, CDL requirements, hours of service, and more. We also work with industry experts who will review the details of your situation and help us build a winning case. The sooner you contact us, the sooner we can get to work.
We have achieved numerous multi-million dollar settlements and verdicts for our clients, including truck drivers hurt on the job. In 2015, Munley Law Personal Injury Attorneys obtained the 2nd-largest settlement in Pennsylvania and the 25th largest in the entire country: $26 million, on behalf of the family of a truck driver killed in a crash.
No Settlement, No Fee
At Munley Law Personal Injury Attorneys, we operate on a contingency fee basis. This means that we only charge a fee if we obtain a settlement or verdict for our client. If we cannot recover benefits for you, you owe us nothing. And, our initial consultation with you is confidential and absolutely free. Call our office or fill out our email form today, and learn more about what we can do for you.
Truck Driver Accident FAQs
Q: How Will Munley Law Personal Injury Attorneys Help Me Following My Truck Accident?
After a truck crash, you need investigators who will document favorable evidence to support your case. Munley Law Personal Injury Attorneys's on-staff team of investigators will get to the accident scene right away to get photographs, contact eyewitnesses,  document skid marks, yaw marks, accident debris, and gouge marks, as well as oil, gas, and radiator fluid stains can disappear quickly after a crash. We will also obtain police reports, motor carrier records, witness statements, photographs, and safety logs.
Q: What Might I Be Entitled to After My Semi Truck Accident?
If you are a truck driver, you have different options available to you when filing a personal injury claim after a trucking accident. For example, if you were on the clock when the accident occurred, you are available to receive workers' compensation benefits from your employer. These benefits will pay for any medical costs or lost wages you experience because of the truck crash.
In addition, you may have the opportunity to file a third party claim with the other driver's insurance, if that party is found at fault. You may receive the following from your third party claim:
Property damage
Pain and suffering
Loss of enjoyment of life
Loss of companionship
Loss of earning capacity
To learn what compensation is available to you, contact a personal injury lawyer at Munley Law Personal Injury Attorneys.
Q: What Happens When a Truck Driver Gets Into an Accident?
When a truck driver gets into a truck accident, the trucker may face missed time from work, and even fear being terminated from his/her job. If the truck crash resulted in injuries to the trucker, they will likely face steep medical bills as well.
To maximize your chances of receiving fair, full compensation for your injuries, be sure the accident is reported to the police and an accident report is created; document the scene as much as possible; keep careful records of all medical treatment (don't delay treatment if you suffered injuries). And, contact an experienced truck accident lawyer who can begin protecting your interests on day one.