Navigating the insurance system in the aftermath of a car accident can be overwhelming, especially when you are healing from injuries. As a no-fault state, Pennsylvania insurance policies generally make it a little easier to get your medical bills covered quickly regardless of who may have been at fault.
However, seeking compensation from another driver for injuries and damages can be complicated, depending on your insurance policy and the percentage of negligence you are responsible for. Partnering with an experienced car accident attorney will help you navigate your claim and recover the most compensation available for you.
When Can I Seek Compensation from Another Driver?
When you can seek compensation from another driver depends on what kind of compensation you are seeking. In general, Pennsylvania's no-fault system means that the average insurance policy does not allow you to seek compensation for medical bills or personal injuries sustained in an accident. Instead, your own policy includes that coverage for you.
However, when you purchased your insurance policy you may have chosen to opt out of a no-fault policy. Purchasing limited tort or full tort coverage would allow you to pursue compensation from another responsible driver.
A limited tort policy, as the name implies, limits what kind of compensation can be claimed and the specifies the circumstances for claiming compensation. Generally, it covers only medical expenses and other out-of-pocket losses, but not pain and suffering or other non-monetary losses.
Additionally, limited tort policies require injuries to qualify as "serious," usually meaning more than soft-tissue injuries. A full tort policy will generally be more expensive but gives virtually total freedom to pursue compensation from another responsible driver, regardless of severity of injuries.
No-fault and tort policies do not affect your ability to claim compensation for vehicle damage. Instead, your rights to compensation for vehicle damage and the amount you can claim depend on modified comparative negligence.
What is Modified Comparative Negligence?
Modified comparative negligence essentially breaks down the percentage of responsibility or fault that each driver holds. Pennsylvania follows the 51% rule, which means that any party who is 51% at fault is ineligible to claim compensation. If you carry less than 51% of responsibility, you may claim compensation, minus the percent you carry. For example, if you are involved in an accident with one other driver and he carries 70% of responsibility while you carry 30%, you are eligible to claim 70% of the value of your vehicle damage.
What if I am Partially at Fault?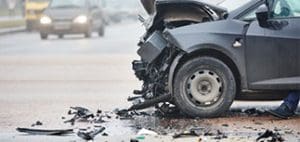 Under modified comparative negligence, you are still allowed to claim compensation for vehicle damage even when you share responsibility for an accident—as long as your percentage of responsibility is less than 51%. Your own insurance policy's personal injury protection will cover your medical fees, regardless of who is at fault in an accident, though the amount available will depend on the coverage you have purchased. 
If you have opted out of a no-fault policy, you will need to file a claim with the other responsible party's insurance to claim medical compensation. Filing a claim, whether for personal injuries or property damages, will require an investigation into fault. If your accident meets certain prerequisites, you may be able to claim compensation from the other responsible driver, even if you carry a no-fault policy. If you sustained a serious injury—one that seriously impairs bodily function or causes serious permanent disfigurement—you may be able to pursue compensation from the other responsible driver.
Pennsylvania law does not have a hard and fast definition for a serious injury. If you believe that the injuries you sustained from a car accident are serious, partner with an experienced car accident lawyer to explore your options for claiming for compensation.
How do I Know My Percentage of Fault?
Percentage of fault will be determined through an investigation by insurance companies or by presentation of the facts to a jury. You may not be able to calculate your percentage of fault right away after a car accident, even if you have an understanding of what happened and the fault you carry.
Because Pennsylvania allows multiple drivers to share fault, it is important that you do not make any statements claiming or accepting responsibility in the immediate aftermath of an accident. Doing so may hinder your ability to collect compensation from another at-fault driver. Instead, you may want to hire an experienced car accident lawyer to review your case and help you pursue compensation while avoiding taking more than your percentage of fault.
What do I do if My Claim is Denied?
An insurance company might deny a valid claim for various reasons. An initial denial does not mean you should drop your claim—especially if you are confident that the other driver carries at least some responsibility for the accident.
Some insurance companies might deny a claim in the hopes that you won't pursue it, or they might try to claim that the root cause is not covered by the policy. Other times denial could be because of a policy lapse, the insurer's failure to collect adequate facts, or a failure to notify the insurance company in a timely manner. Pennsylvania's statute of limitations on car accidents is two years.
If your insurance claim has been denied, your next step should be to contact an experienced car accident attorney to review your case and take legal steps to win you the compensation you deserve.
What if My Accident Was in a Company Vehicle?
If you were involved in a car accident while driving a company vehicle, fault may be a determining factor for whether the employer's insurance will provide compensation or you will be required to pay or reimburse compensation. In general, if you were using the vehicle properly and within the scope of work, your employer's insurance will cover any valid claims. If you were engaged in any negligent or illegal behavior at the time, or were using the vehicle in a personal capacity, you may be personally liable for compensating other parties.
If your accident occurred in the course of work-related driving, you may be eligible for workers' compensation in addition to compensation from another at-fault driver. It may be in your best interest to seek legal assistance to navigate both claims and make sure you get the compensation you are entitled to.
How can Munley Law Personal Injury Attorneys Help Me?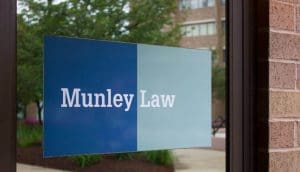 Munley Law Personal Injury Attorneys's experienced attorneys have been rated by peers as outstanding lawyers. Nationally recognized as superior lawyers and having received various honors, our team is more than capable of taking on your car accident case and winning a recovery in your favor.
We've recovered multi-million dollar settlements and verdicts for our clients. But whether the case is large or small, our car accident lawyers are committed to doing the very best they can for each and every client.
Bringing our cumulative decades of experience to bear on your case, Munley Law Personal Injury Attorneys is dedicated to working harder for you than any other attorney or firm out there. We don't collect any fees until we've made a recovery in your favor, so call today for a free consultation and take the first step toward the compensation you deserve.