Though legal representation is never required after a car accident, there are many things an attorney can assist you with. A Munley Law Personal Injury Attorneys Car accident attorney can help you communicate with the insurance companies including during negotiations, calculate the damages you incurred, and represent you in court.
Learn more about how an attorney can help you after a car accident.
How Can A Munley Law Personal Injury Attorneys Attorney Help Me After a Car Accident?
There are a variety of things a lawyer can do for you following a serious car accident. Take a look at some of the legal tasks you may need guidance on and the ways a lawyer can benefit your overall outcome.
Filing an Insurance Claim
After taking care of your immediate medical needs, the first step in taking action after a car accident is filing an insurance claim. Depending on if you live in a no-fault or fault state will ultimately determine whose insurance will be paying for your losses. Further, if you live in a state like Pennsylvania where modified comparative negligence is applicable, this can complicate your claims process.
While the insurance company may be able to provide you with information about your specific policy, they are not looking out for your best interest. Instead, you'll want to consult with a car accident attorney who can review your policy and see if the insurance company is holding up its end of the deal.
Filing a Personal Injury Claim or Third-Party Claim
Sometimes your insurance will not give you enough compensation to account for the losses you sustained as a result of your serious injuries in the car accident. Because of this, you may be able to file a personal injury claim or another third-party claim.
You will likely need a lawyer to determine if a lawsuit is possible. A car accident lawyer will be able to:
Determine if the other driver was at-fault for the accident

Negotiate with the insurance companies if they refuse to pay in full for your injuries

Represent you in communication if your injuries are so severe you cannot do so yourself

Determine if there was extreme negligence at play or if this was not the driver's first offense
Personal injury claims and third-party lawsuits can become complicated, especially if you have already accepted an insurance settlement as you may have signed away your ability to sue. This is why it is better to have an attorney by your side before the claim goes any further.
Determine Fault
Car accidents are often not clear-cut when it comes to determining fault. Rather, one or more parties can actually be to blame for the injuries sustained in the collision. However, when it comes to recouping your losses, how much fault you have can be imperative.
To determine the percentage of fault held by each party, you must first know what system of negligence your state follows.
There are three forms of negligence: pure contributory, pure comparative, and modified comparative.
If your state follows pure contributory negligence, this means you must not be at fault at all in order to recover losses otherwise, you become ineligible. States that follow pure contributory negligence are:
Alabama

North Carolina

Washington, D.C.

Virginia

Maryland
Know that in these states, you can add personal injury protection (PIP) insurance plan to protect yourself in these cases.
States that follow a pure comparative negligence system calculate payout based upon the level of fault of each party. States that follow pure comparative negligence are:
Alaska

Mississippi

Arizona

Missouri

California

New Mexico

Florida

New York

Kentucky

Rhode Island

Louisiana

Washington
This means that if you are 70% to blame for an accident, you can only collect 30% of your total damages.
The final form of negligence is modified comparative negligence. Under this system, the amount of fault of each driver is calculated, but if and how much a driver can collect will depend on the state's threshold, typically 50% or 51%.
States that follow the 50 percent Bar Rule, meaning they cannot be at fault by 50% include:
Arkansas

Colorado

Georgia

Idaho

Kansas

Maine

Nebraska

North Dakota

South Carolina

Tennessee

Utah

West Virginia
States that follow the 51 percent Bar Rule, meaning that if they are at fault by 51% or higher include:
Connecticut

Delaware

Hawaii

Illinois

Indiana

Iowa

Massachusetts

Michigan

Minnesota

Montana

Nevada

New Hampshire

New Jersey

Ohio

Oklahoma

Oregon

Pennsylvania

Texas

Vermont

Wisconsin

Wyoming
Gathering Evidence
While you may have taken photos at the scene of the accident, a car accident attorney can help you take it a step further by gathering witness testimony from those at the scene, can ask for video or surveillance footage from nearby establishments or traffic cameras, and can call upon experts to recreate the scene if needed.
Further, an attorney is well versed in the law, and will be able to use their skills and knowledge to the utmost advantage, meaning a higher payout for you.
Can A Car Accident Attorney Help Me Secure More Compensation?
When you are going through a car accident, you hope that your insurance company will provide the compensation you deserve, simply because you've been paying for their protection. However, this isn't the case.
The insurance company is not on your side and certainly is not going to pay the full amount you should receive, all to pad their bottom line. This is where a car accident attorney from Munley Law Personal Injury Attorneys comes in.
We have secured millions of dollars in settlements and verdicts for car accident victims and we can do the same for you. At Munley Law Personal Injury Attorneys, we help car accident victims and their loved ones recover losses related to:
Medical bills

Rehabilitation and physical therapy

Long-term care

Lost wages

Lost earning capacity

Pain and suffering
Further, we help you get the most out of your compensation because you don't pay unless we win or secure a settlement for you. This means no upfront costs and our contingent fee will never exceed the total amount paid to you.
The cost of legal representation should not be what holds you back from securing the compensation you need to recover from a serious car accident.
Injured in a Car Accident? Let Munley Law Personal Injury Attorneys Help You on The Road To Recovery.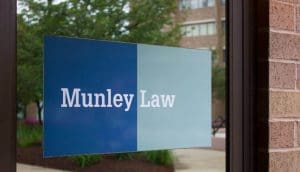 If you or a loved one have been seriously hurt or killed in a car accident, you need to speak with a car wreck attorney from Munley Law Personal Injury Attorneys as soon as possible. Our team will gather all available resources to make sure you get the compensation needed to help you recover post-accident. Further, if there was a death as a result of the collision, we can help the loved ones of the victim move forward and bring justice for the preventable incident.
If you have concerns about your state's negligence statutes or have questions about the insurance claim process, our attorneys are here to help. We know how stressful a car accident can be, which is why we handle all of the communications on your behalf, so you can focus on recovery and your loved ones.
There is a statute of limitations on car accident claims, so do not delay. For a no-obligation, free consultation, call today at (570) 209-5514 or use our online form to connect with an attorney now.