Determining Fault in a Car Accident
It's the unfortunate reality that your insurance profits by paying as little as possible to policyholders and car accident victims when tragedy strikes. Because insurance companies are the ones determining fault in a car accident, knowing the process becomes imperative in getting what is rightfully yours.
These cases are complex, especially when fault in a car accident is difficult to determine. However, Munley Law Personal Injury Attorneys can help protect Pennsylvania drivers and their loved ones who have been injured in a car accident.
If you're asking yourself "how is fault determined in a car accident?" the answer is varied. There are many factors at play, and it's not a clear-cut process. All parties involved, including the negligent driver, in the accident must provide any and all relevant information about the incident to your insurance company. Figuring out fault in a car accident includes looking at details like:
●      Who was there and involved
●      What occurred
●      When did it happen
●      Where the accident took place
●      What were the extenuating circumstances
Also, you'll need to have the other driver's information including name and address, vehicle registration, and car insurance details to submit for your claim. Not just the drivers involved can partake in this; bystanders and any other parties present at the time of the collision can provide valuable information.
From there, the insurance company will begin to piece together who caused or contributed to the car crash. Once the determination has been made, the individual insurance companies will begin to cover the costs for injury, treatment, property damage, vehicle replacement or repair, etc. Remember, if you are uninsured, or the other driver is uninsured, this can become complicated.
The amount of compensation will vary based on the nature of the auto accident. Further, if a party can seek additional compensation to cover their losses will depend on the type of policy held.
Remember, fault isn't just up to the insurance company; there are technically five ways fault can be determined–the drivers; the police report; your insurance company; arbitration; or a jury. Being diligent in collecting information will be key to your case.
If Fault is Unclear In a Car Accident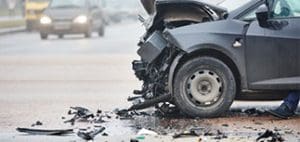 Oftentimes, one driver may be more at fault than the other in a car accident however, it is not always clear who ultimately caused the car crash.
In situations where it is not obvious who was at fault, witnesses can provide insight. Typically, drivers involved in an accident may not want to admit to wrongdoing if it means they have contributed fault in some way–even if it was accidental. In those cases, impartial eyewitnesses may be asked to give their side of the story. Impartial witnesses include other drivers, people in nearby establishments or walking along the road.
This is why it is critical to acquire bystander contact information so that they can give details of what they witnessed without the emotional connection to the accident.
Sometimes though, the details provided by eyewitnesses won't match up. When witnesses are not able to connect the details together, insurance companies may seek traffic cameras that could have possibly recorded the accident. In addition, any photos that were taken at the scene of the accident may also be used as evidence in determining fault. Further, police involvement and any citations issued to either driver may help determine liability.
Don't rule out physical evidence including skid marks left on the road after auto accidents; paint on a vehicle from impact as it will help determine driver's fault.
What It Means To Live in No-Fault States
While insurance companies are primarily the ones determining fault in a car accident, depending on if you live in fault states or no-fault states will also play into the judgment the insurance company makes.
Pennsylvania is a no-fault state, meaning the insurance company will pay for the injuries and damage to the vehicle regardless of who is at fault. In no fault states, the caveat to this is that if the property damages or other damages exceed the minimum amount allowed under your policy–such as receiving a severe or life-threatening injury– you may be able to seek additional compensation from the at-fault driver.
Ultimately, it all comes down to the type of auto insurance policy you hold. For example, the tort option on your insurance will dictate if you can and how much compensation you may pursue after auto accidents. This includes:
●      Full Tort: You can pursue compensation regardless of the severity of your injury.
●      Limited Tort: You may only sue the at-fault party for medical bills, but not pain and suffering.
There are exceptions to this, however, such as being struck by a drunk driver, if the other driver was out of state, if the defendant is uninsured, etc.
Car Accident Attorneys at Munley Law Personal Injury Attorneys Can Help
If you are involved in an auto accident, you know the insurance companies are there to determine fault in the accident. However, sometimes additional protection is needed. Make sure to contact a car accident lawyer at Munley Law Personal Injury Attorneys. An experienced lawyer can help personal injury victims answer "how is fault determined in a car accident?" We will review the details of the accident, give you legal advice on how to proceed, negotiate with the insurance company, and make sure you get the compensation you deserve following the accident.
Munley Law Personal Injury Attorneys serves accident victims throughout Pennsylvania. Call today at (570) 399-0406  or use our online form to schedule your free consultation or free case review today.