If You Were Injured in a Truck Accident and need an Attorney, Don't Wait. Call Munley Law Personal Injury Attorneys.
Dealing with the aftermath of an accident with a truck in Philadelphia can be frustrating, stressful, and devastating. Faced with medical expenses, pain and suffering, and lost wages, the road to recovery may seem long and hard for both you and your family. What you need is an experienced truck accident lawyer to help you receive the maximum amount of accident compensation for your losses so you and your family can start the healing process.
$32 Million Wrongful Death
$26 Million Truck Accident
$17.5 Million Car Accident
$12 Million Product Liability
$9 Million Truck Accident
$8 Million Truck Accident
$8 Million Truck Accident
$7.5 Million Auto Accident
$6.9 Million Garbage Truck Accident
$6.5 Million Traumatic Brain Injury
$5 Million Medical Malpractice
$5 Million Bus Accidents
Although any motor vehicle accident can be life-changing, an accident involving a truck can be particularly catastrophic. Commercial trucks can weigh over 80,000 pounds and are 25 times the size of an average passenger vehicle. Trucking accidents are usually more difficult to navigate on your own. Multiple parties may be held responsible for your accident injuries and the accident insurance company will try to prevent you from receiving a fair accident settlement. If you were involved in a accident, an  accident lawyer at Munley Law Personal Injury Attorneys is here to help.
Who Can Be Held Liable in a Philadelphia Truck Accident?
Although the fault may lie with the truck driver, there may be many potential defendants in a truck accident case. For example, after a truck accident on I-95, it was discovered the truck driver had fallen asleep at the wheel. The truck driver admitted that they have been on the road for 20 hours straight to meet the deadline. If it's determined that the truck company had forced the driver to ignore federal regulations, the company can be held responsible for the truck accident.
Potential at-fault parties in a Philly truck accident injury include:
The truck driver
Owner of the truck or tractor-trailer
Person or company that leased the semi-truck or trailer from the owner
Manufacturer of the vehicle, tires, or other parts that may have contributed to the cause or severity of the accident, and;
Shipper or loader of the truck's cargo (in cases involving improper loading).
Proving these accident cases can be difficult because trucking, hauling, and leasing companies will deny responsibility. In Philadelphia motor vehicle accidents, including truck accidents, they will try to pass the blame to avoid paying compensation to the accident victim. To help you navigate how to build your personal injury case, you'll need an experienced accident attorney by your side.
What Damages Can I Receive in a Philly Truck Accident Case?
Due to the unique nature of every accident case, crashes with big trucks can be complicated. Just like there are many parties who can be at fault in truck accidents, there is a range of damages you might be owed depending on the accident circumstances.
Some of these accident cases are straightforward, others can be more complicated to win. Our experienced truck accident attorneys can help ensure you get what you deserve. Damages owed to truck accident injury victims often include:
Medical expenses
Loss of income, both present and future
Pain and suffering
Emotional distress
Lessened quality of life
Funeral costs for family and loved ones
In very rare cases, punitive damages may be awarded to accident victims. These damages are meant to punish the other party for reckless or negligent behavior.
It can be difficult to give an exact figure of how much you may receive following an accident with a truck All truck crashes are different so what one injury victim receives is not the same for another. However, during your first accident consultation, our Philadelphia accident lawyer will sit down with you and go through all the expenses you have following the accident. We can then come up with a rough estimate of how much your accident claim is worth.
How Do Trucking Companies Deny Fault for a Truck Accident?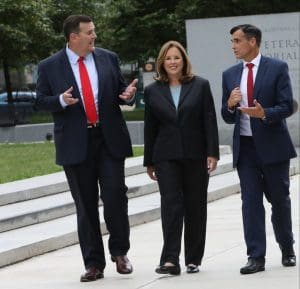 To avoid liability for accidents, some trucking companies would attempt to distance themselves from the truck driver, the vehicle, and/or the equipment. For instance, the driver might get permits to operate the truck, but then lease the equipment from the truck owner. The trucking company would then hire the drivers as independent contractors from the truck owner instead of hiring them as employees. If an accident occurred, the trucking company would be able to claim that the driver was not an actual employee and it is not responsible for the accident.
However, under current federal law, that practice is now illegal. Any company that owns a truck permit is responsible – regardless of whether the driver is an employee or an independent contractor.
Trucking companies can also be held responsible for negligence in a car accident with a truck (or any other kind of truck crash), including failure to:
Maintain the truck and parts;
Provide proper training to drivers;
Hire safe drivers;
Conduct background checks;
Properly monitor truck driver safety;
Check log books and require accurate entries;
Enforce limited driving hours.
What Causes Large Truck Accidents in Philadelphia?
According to recent data from the Pennsylvania Department of Transportation, Philadelphia County sees the most truck accidents in the Commonwealth of Pennsylvania. Of the 10,458 motor vehicle accidents in 2021, 4.83 percent involved a large truck.
Some of the most dangerous and congested highways in Pennsylvania, such as the Delaware Expressway (I-95), the Schuylkill (I-76), and the Blue Route (I-476), run right through the middle of Philadelphia. Larges trucks barrel down these roads every day to reach the suburban areas surrounding Philly, as well as hopping the Northeast Extension or crossing into New Jersey. According to a recent article from the Philadelphia Inquirer, truck drivers are constantly frustrated driving through Philly because of the high level of congestion on our streets. And with frustration, traffic, and tight deadlines, truck accidents in Philadelphia are bound to occur.
When you get into an accident with a truck, finding the cause of the accident is essential to your case. An experienced truck accident lawyer can help you navigate the challenges of finding the cause of your accident. Common causes of trucking accidents include:
Ignoring the Hours of Service Regulations
If a driver is tired or drowsy, it can result in reckless behavior. This includes failure to keep in the proper lane, failing to stop for traffic, or suddenly running off the road. Many equate drowsy driving to driving under the influence. In both instances, the reaction time is decreased, making it difficult to stop suddenly if an emergency arises.
In June 2020, the Federal Motor Carrier Safety Administration (FMCSA) instituted new provisions to the hours of service regulations to help curb truckers' long hours and fatigue. Truck drivers are now required to take a 30-minute break after 8 hours of driving time. In addition, drivers are required to spend at least 7 hours of their required 10-hour off-duty requirement in the sleeper berth. Although these laws have helped reduce the number of accidents, the U.S. National Transportation Safety Board still credits driver fatigue as being a likely factor in 20 to 40 percent of truck crashes.
Intoxicated Truck Drivers
According to the latest accident statistics from the Pennsylvania Department of Transportation, alcohol played a part in approximately 7 percent of the total accident cases reported in 2020; yet, they resulted in 26 percent of fatalities.
Drinking and driving is illegal for everyone, even truck drivers. If a trucker is under the influence of either drugs or alcohol at the time of the accident, not only will they face criminal charges but risk losing their commercial driver's license (CDL) as a direct result of the accident.
Driver Error
When semi-trucks travel at rates exceeding 55 mph, they are speeding and the likelihood of a jackknife or rollover accident significantly increases. Other ways truck accidents happen due to driver error can include maneuvers like wide turns, inability to stop after following too closely, cars in their blind spots, texting and driving, and more.
Substandard Inspection
Of more than 2 million roadside inspections, 23.2 percent of the trucks were found to have serious violations, according to FMCSA. Truck companies may try to save some money by not regularly servicing their fleet. Therefore, defective and unsafe trucks continue to be a leading cause of truck and car accidents on the nation's highways.
What Are Common Injuries Truck Accident Victims Face?
When you are in an accident with a large big rig, your accident injuries could be catastrophic due to the size and nature of the impact. This means your injuries can range from minor injuries to lifelong trauma that will impact you for the rest of your life. A truck accident lawyer at Munley Law Personal Injury Attorneys can help you navigate your accident case and recover from these with compensation from the parties at fault.
The accident injuries seen most often in a truck crash include:
Internal injuries: These are dangerous because you often cannot see these injuries without medical intervention. It's imperative, no matter how you are feeling, that you seek medical attention after an accident with a tractor trailer. Internal injuries could take days if not weeks to appear so the sooner you get checked out by a medical professional, the better.
Back injuries: These are especially common in all kinds of car accidents. However, truck accidents come with extra force, which can make back injuries more serious.
Paralysis: The sudden impact from an accident, which again is a larger impact, can cause permanent accident injuries like paralysis.
Wrongful death: Truck accidents are very serious, and can lead to fatalities. These fatalities more often occur in the driver of the passenger vehicle, not the truck driver. Ensuring the family is taken care of when someone passes is critically important.
Why Do You Need Our Experienced Truck Accident Attorneys?
Even with escalating scenarios and statistics, powerful trucking industry lobbyists continue to call for the weakening of truck safety rules and regulations to reap a higher profit. We only keep track of accidents and fatalities; who knows how many lives have been spared or collisions avoided because of the laws we do have in place governing accident liability and causation.
When a truck accident in Philly occurs, big companies involved in the accident will often immediately send accident representatives to the accident scene. These agents' responsibility is to handle everything at the scene of the accident in order to limit or mitigate their company's liability. This doesn't just include negotiating with the victim of the truck crash. This includes investigating any at-fault parties; many times trucking, hauling and leasing companies will dispute whose accident insurance will provide for victim accident compensation.
These representatives for these accident companies are sent there immediately because they know the ideal time to speak with an accident victim is immediately following the event. The victim is in a heightened state, traumatized by their car accident with a big truck. They also may need to make important decisions that will impact their future on the spot.
Trucking and insurance companies' tactics too often work when people are this vulnerable. Too often, truck crash victims and their families struggle alone. It's important you have someone on your side in an accident case. An experienced truck accident attorney can ensure you have some control and participation in ensuring your rights and interests are protected.
Why Choose Our Philadelphia Truck Accident Lawyer?
With over 60 years of experience in truck accident litigation, Munley Law Personal Injury Attorneys has been aggressively going after those responsible for a truck crash throughout Philadelphia. We understand the complexities that these cases have and are ready to help you any way we can.
At Munley Law Personal Injury Attorneys, we are known for our experience in truck accident settlements and trial victories. We have decades of experience representing trucking accident victims ; for example, in 2015, we negotiated the second-largest truck accident settlement in Pennsylvania. Our experience gives us the insights we need to represent our accident case clients efficiently, and our accident case results give you the confidence that we will settle for nothing less than just compensation.
"I got into a serious accident with a tractor trailer . . . that took me out of commission for months. The trucking company was fighting my case, saying I was the one who caused the accident. Luckily, I had Dan Munley at my side. He got me the money to help pay the medical bills and much more. He really pulled through for me and my family and I am eternally grateful to him." – Munley Law Personal Injury Attorneys Client
Hire a Philadelphia Truck Accident Lawyer From Munley Law Personal Injury Attorneys Today
There are no easy answers to providing a productive and safe environment for everyone who shares the road. But the decision of hiring an expert truck accident attorney to represent you should be an easy one. If you or a loved one have been injured in a commercial trucking accident, you need the experienced truck accident lawyers of Munley Law Personal Injury Attorneys to protect your rights. Trucking companies both big and small will have their own investigators and attorneys fighting for them. So make sure you have someone fighting for you.
All truck accident cases begin with a free consultation and you do not pay anything unless we win, so contact our  truck accident attorney now to start protecting your legal rights today.
Frequently Asked Questions About Philadelphia Truck Accident Cases
Q: Is the Truck Company Liable If I Was Injured by a Speeding Truck Driver?
Potentially, yes. If the truck driver who hit you was employed by one of the trucking companies, then the trucking company could be liable for your accident injuries. This is true not only for speeding but also for other common driving mistakes that lead to a trucking accident, such as:
Braking too suddenly or too late
Failing to maintain control
Falling asleep behind the wheel
Following too closely
Merging without looking
Talking or texting behind the wheel
Q: What Are Some Other Common Factors in Commercial Truck Accidents?
Along with truck driver negligence, there are a number of other common factors in commercial trucking accidents. Many of these have to do with maintenance and loading issues, including:
Brake, engine, and transmission failures
Failure to conduct routine maintenance
Faulty brake jobs and other negligent repairs
Unpressurized liquid cargo
Unsecured and unbalanced cargo loads
If you suspect that was the case, you need to contact our Philadelphia truck accident attorney immediately.
Q: How Can I Prove That the Truck Driver's Negligence Caused My Accident?
That's where our truck accident lawyer comes in. When we represent truck accident victims, we rely on numerous sources of accident evidence to prove that our clients are entitled to maximum compensation for their injuries and losses. We work with accident eyewitnesses,other  expert witnesses, as well as accident reconstructionists, and utilize the latest technology to prepare your case. Our truck accident attorneys leave no stone unturned.
In a truck accident case, the following conditions need to be met to prove who is at fault for the accident:
The truck driver or trucking company had a responsibility to keep you safe from harm.
The at-fault parties failed to keep you safe, causing a truck accident.
The truck crash resulted in an injury
The injured party now has expenses because of the accident, such as medical bills or lost wages.
Q: Where Can I Learn More About My Rights After a Truck Accident in Philadelphia?
If you would like additional information, we encourage you to read our Truck Accident Questions and Answers. Here, you will find tips for what to do (and what not to do), as well as information about hiring a truck accident lawyer. For detailed legal accident advice that is personalized to your individual accident circumstances, we encourage you to schedule a free consultation with a Philadelphia Truck Accident Lawyer at our firm.
Schedule a Free Truck Crash Consultation at Munley Law Personal Injury Attorneys
Our truck crash lawyers serve all areas of Philadelphia, including Center City, Rittenhouse Square, South Philly, Northern Liberties, and the surrounding suburbs such as Doylestown, Norristown, Jenkinstown, and New Hope.
To speak with a lawyer about your truck accident claim, please call Munley Law Personal Injury Attorneys or contact an attorney online. You can reach us 24/7.
attorney attorney attorney truck accident lawyers truck accident lawyers law firm injury lawyers commercial trucks law offices immigration lawyer accident client accident client accident client accident client nyc nyc nyc nyc bronx bronx bronx bronx lauderdale lauderdale lauderdale lauderdale fort fort fort fort fort lauderdale fort lauderdale fort lauderdale fort lauderdale car car car slip slip slip immigration immigration immigration highly highly highly recommend recommend highly recommend highly recommend years client client client client settlement settlement settlement car accident
Philadelphia Practice Areas
Munley Law Personal Injury Attorneys
1617 John F Kennedy Blvd
Suite 1690,
Philadelphia, PA 19103
(215) 515-7747