Were You Injured in an Accident With a Lowboy Truck? We're Here to Help
Lowboy trucks are often carrying heavy loads, and accidents involving these types of rigs can be particularly devastating. Although things can go wrong in any type of trucking accident, there are a few specific outcomes that drivers should be aware of in a lowboy truck accident. Some of these scenarios include limited visibility because of the trailer, reduced brake responsivity due to the inertia of the trailer, and the possibility of the trailer detaching in a crash.
$32 Million Wrongful Death
$26 Million Truck Accident
$17.5 Million Car Accident
$12 Million Product Liability
$9 Million Truck Accident
$8 Million Truck Accident
$8 Million Truck Accident
$7.5 Million Auto Accident
$6.9 Million Garbage Truck Accident
$6.5 Million Traumatic Brain Injury
$5 Million Medical Malpractice
$5 Million Bus Accidents
Collisions with lowboy trucks can be messy to navigate. In a regular, non-commercial crash, the relevant parties include the motorists and their respective insurance companies. As lowboy truck accidents are commercial in nature, the employer of the truck driver will be an additional party involved in the claims process.
If you or a loved one was injured in a lowboy truck accident, navigating the aftermath of an accident can be extremely difficult. Munley Law Personal Injury Attorneys recognizes that these crashes can be particularly devastating for everyone involved. Hiring our experienced lowboy truck accident lawyer can help make this already trying process a little easier. Our team at Munley Law Personal Injury Attorneys includes a roster of nationally-recognized truck accident attorneys and has the experience and knowledge necessary to get you the legal outcome you deserve. Please reach out to us today to schedule your free consultation.
What is a Lowboy Truck?
According to a study conducted by the National Highway Traffic Safety Association, 85 percent of truck accident fatalities occurred in collisions involving large vehicles, like lowboy rigs. But what exactly is a lowboy truck?
Driving a lowboy truck can be a dangerous and intimidating task. Unlike a regular flatbed rig, lowboys are specialized hauling rigs with flatbed trailers in tow. What makes them different from regular rigs is that their bodies sit much closer to the road than standard flatbeds. Because their center of gravity is lower, they are used to haul loads that are too tall or too large to fit on standard flatbeds; often they are used to haul heavy machinery, like bulldozers, excavators, or even perishable goods, which require a specialized refrigerated trailer.
The most common configuration on the road is a tri-axle semi truck with a lowboy trailer. It is not uncommon for lowboys to carry machinery up to twelve feet in height. Thus, driving a lowboy can be stressful, just for the fact that, as a driver, you are aware that you are carrying a tremendous amount of weight behind you.
Thankfully, there are restrictions in place to protect lowboy drivers and other motorists—namely, limitations on size, length, and weight. According to the Pennsylvania Department of Transportation, no vehicle, including load and bumpers, may exceed the length of 40 feet.
For vehicles with trailers in tow, the length restrictions are determined by the unique configuration of the rig. In terms of weight, the Pennsylvania Department of Transportation encourages motorists to follow the manufacturer's instructions for their specific vehicle's suggested limit. However, the legal limit for overall weight– vehicle, trailer, and load– should not exceed 80,000 pounds.
What Damages Can I Receive Following a Lowboy Truck Accident?
Once you hire a lowboy truck accident lawyer from Munley Law Personal Injury Attorneys, one of the first actions we will take and determine how much your truck accident claim may be worth. We will sit down with you and look over your expenses. This will allow us to estimate how much your truck accident case is worth and whether the settlement offer you received will cover your expenses.
Truck accident victims may be eligible to receive the following compensation:
Medical expenses such as doctors' visits, lab results, medical treatments, and long-term care
Lost wages, including vacation and personal time off
Loss of earning capacity
Emotional distress
Pain and suffering
Loss of enjoyment of life
Loss of consortium
Loss of companionship
To find out what compensation your lowboy truck accident claim may be eligible for, contact an experienced truck accident lawyer at Munley Law Personal Injury Attorneys to schedule a free consultation.
How Will My Liability for the Lowboy Truck Crash Be Assessed?
Liability to cover damages is determined by fault. In most states, this means whichever driver is at fault will be liable to cover the other motorist's damages. However, Pennsylvania is a "no-fault" state, and in the case of truck accidents, fault is assessed in a more nuanced way.
Pennsylvania is a comparative negligence jurisdiction, which means that parties take on corresponding degrees of fault for large truck accidents. This means that the plaintiff can proceed with litigation and still be partially at fault, as long as they are deemed to be less than 50 percent responsible for the crash. The plaintiff's corresponding degree of culpability will ultimately be reflected in the jury's verdict.
Who Will Be Paying for My Expenses Following a Lowboy Truck Accident?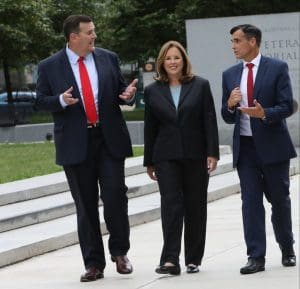 It's important to note that the financially liable parties will be different than in a non-commercial crash. In "no-fault" states like Pennsylvania, drivers must file their damage and injury claims to their respective insurance providers in the event of a non-commercial crash. This means that for non-commercial crashes, victims' ability to sue the at-fault party will be partially limited.
However, in commercial crashes, there are fewer restrictions. Trucking companies take on what is called vicarious liability, meaning that, as an employer, they are held legally responsible for their employee's actions. As long as the truck crash was on the clock, and the employee was behaving within the boundaries of rational behavior, the trucking company will be responsible for covering the damages related to the crash. Obviously, this coverage has limitations; for example, if the truck driver was driving under the influence of drugs or alcohol, or pursuing a personal vengeance.
In the case of a commercial lowboy trucking accident, victims are able to sue the truck driver if they believe that the driver was behaving in a negligent manner. Because of vicarious liability, though, this means that the lawsuit, and the truck driver's negligent behavior, will be absorbed by the trucking company or the truck owner. The trucking company will have the proper vehicle liability insurance plans, as required by Pennsylvania law. The trucking company's insurance company, therefore, will be the party to which the victim files their claim.
How Do Truck Accident Personal Injury Claims Work?
Because Pennsylvania is a no-fault state, motorists will file their personal injury claims with their own insurance providers. This protocol applies regardless of fault. Pennsylvania law requires that motorists carry the minimum liability insurance before getting behind the wheel. Liability insurance covers medical expenses, lost wages, and any other damages that occur from vehicle-related injuries. More specifically, Pennsylvania requires drivers to carry:
$15,000 for bodily injury or death per person in a single accident
$30,000 for bodily injury or death in total for a single accident
$5,000 for property damage per accident
After a commercial truck accident, the injury victim will first file an insurance claim with their own insurance company. However, truck accidents usually result in catastrophic injuries which means that your insurance coverage may not cover all your expenses. If that is the case, then you can file a truck accident lawsuit against the lowboy truck driver and the trucking company.
What Does Suing the At-Fault Party Accomplish?
There are many limitations to what insurance companies will cover. Insurance companies will only cover the basics– chiefly your medical care and lost wages. Even then, insurance companies will often still require you to pay for certain procedures or medical care out of pocket. Moreover, insurance companies will not compensate you for the emotional damage and losses that you incur in the accident. Proceeding with litigation can help you recoup some of your losses.
Frequently Asked Questions About Lowboy Truck Accidents
What is Negligence and Why is it Important to Truck Accident Cases?
Legally, negligence is defined as the failure to use reasonable care to prevent injury or disaster. On the road, this could mean not performing the mandatory safety checks or forgetting to check a mirror before changing lanes, for example. Negligence is important to trucking accident litigation because it helps determine fault. When someone behaves negligently and their actions result in damages for others, victims are able to hold them legally accountable.
Negligence is established if the following conditions are true:
The at-fault party was responsible for keeping the injured victim safe from harm. Commercial truck drivers are responsible for keeping everyone road safe when driving a lowboy truck. This is what's called duty of care.
The defendant acted in a negligent manner and failed to keep the injured victim safe. For example, in a lowboy truck accident, the truck driver was driving too fast when the traffic ahead began to slow. The truck driver slammed on the brakes but couldn't stop in time and hit the passenger vehicle ahead of them.
As a result of the negligence, the truck accident victim received an injury.
The injury results in damages. In the case of a truck accident, damages refer to any expenses the injury victim has received such as medical expenses, lost wages, and emotional distress.
What Should I Do If I Am Involved in a Lowboy Truck Accident?
First and foremost, seek medical attention. Lowboy trucking accidents can be extremely destructive. Common injuries include bone breaks, whiplash, concussions, and internal trauma.  Even if you feel your injuries are minor, you should still seek out medical attention. As a result of the crash, your body will create adrenaline and may even put you into a state of shock, which means you may not be able to feel the full extent of your injuries.
After you have taken care of yourself and others involved in the accident, get in touch with a lowboy truck accident lawyer as soon as possible. It is imperative that you seek legal representation as quickly as you can because your lawyer will need to get to work immediately to preserve the evidence. Gathering the necessary evidence is crucial to proving liability in trucking accident litigation.
When our Munley Law Personal Injury Attorneys team arrives, we work alongside law enforcement to secure the scene, take photographs, and record eyewitness testimonies. Unfortunately, trucking companies have been known to destroy evidence after a lowboy truck accident, so contacting a trusted truck accident attorney as soon as you can will ensure that an accurate representation of the incident is captured in the record.
Once you have contacted your lowboy truck accident attorney, a best practice is to take down notes of who you have spoken to, and any information you think is pertinent to your case. Understandably, you may be rattled by this experience. Even a simple voice note or message to a loved one can do the trick. This record will be valuable to your lawyer if your case requires litigation.
I Am A Lowboy Truck Driver and Was Involved in an Accident. Am I Entitled to Workers' Compensation?
If you are an employee of a trucking company and were working at the time of the truck accident, then yes, you should be entitled to workers' compensation. Workers' compensation will cover your medical expenses and any wages you lose as a result of recovering from your injury. Your workers' compensation payout will depend on the severity of your injury.
Unfortunately, many trucking companies misclassify truck drivers as independent contractors, both by accident and for more malicious reasons. If you are classified as a contractor, getting an experienced workers' compensation lawyer will help you navigate the claims process.
Why Should I Choose a Munley Law Personal Injury Attorneys Lowboy Truck Accident Lawyer?
Our team of truck accident attorneys is nationally recognized as the leader in truck accident law. Don't believe us? Our results speak for themselves. We have won more than $1 billion in settlements for truck accident victims, with the largest settlement clocking in at $26 million, the largest settlement on record for a plaintiff in Northeastern Pennsylvania.
Similarly, two of our lawyers, Marion and Daniel Munley have been recognized as being in the Top 10 for Trucking Trial Lawyers by the National Trial Lawyers Association. Both are board-certified in trucking law by the National Board of Trial Advocacy. Notably, Marion Munley broke ground as the first woman to chair the American Association for Justice Trucking Litigation Group, an organization which Daniel served as chair for in 2011.
What's more, in 2019, the AAJ Trucking Litigation renamed the "Chairman's Award" after the founder of our law firm, Robert W. Munley (1930-2019). This award honors his service to the field of trucking litigation, as he was one of the first lawyers to specialize in truck cases and treat them as unique from generic automobile accidents. Each year, the Robert W. Munley Award is given to one outstanding attorney who makes advances in the field of trucking litigation. Marion Munley and Daniel Munley were the first lawyers to receive the award after it was renamed the "Robert W. Munley Award" in honor of their father and Munley Law Personal Injury Attorneys founder.
Our trucking accident lawyers are the best in the business. We welcome the opportunity to review your case. Let us put our expertise to work for you. You won't pay us a dime until we win your case. Please reach out to us for your free consultation.