Sam's Club is a chain of warehouse stores that scores profits of $50 billion every year, boasting member-exclusive priced home and lifestyle products. However, due to the immense range of products and the speed with which the staff must work to process large order quantities, accidents amongst employees can happen. Some of these incidents could lead to life-altering injuries that require ongoing medical attention and lowered lifetime earning capacity.
The risk of injury is present for all American warehouse workers. In 2020 alone, there were 213,100 warehouse-related injuries reported in the US. The year prior, the warehouse industry saw the second-highest number of fatal workplace injuries in any industry.
If you're one of the nation's 100,000 Sam's Club employees, you know that the company has faced some profiled injury settlements. As of January 2022, Sam's Club operates 600 membership warehouse clubs in the United States. With a bustling, high-functioning workplace like this, an accident is bound to happen.
If you get injured while working at Sam's Club, it's important to know how you can best protect your own interests and hold any negligent parties accountable. Contact Munley Law Personal Injury Attorneys if you want to pursue a claim and have a Workers Compensation Lawyer with you every step of the process. 
Common Injuries at a Workplace Like a Sam's Club Warehouse
Slip and fall injuries are commonly reported as typical warehouse injuries, but any number of types of injuries are possible in an environment like Sam's Club.  The following are the 7 most common:
Forklift Accidents 

Hit By An Object

Caught Between Objects 

Hazardous Materials 
All of the above are not out of the ordinary and nearly all require some form of medical attention. This means that if you've suffered one of the injuries listed, you could be entitled to compensation, and your Munley attorney can help you get there. For a woman injured in a forklift accident, Munley recently secured a $12 million settlement. 
What is Workers' Compensation?
Workers' compensation is a state-mandated insurance program that almost all Pennsylvania employers must carry. In most cases, it's not possible to pursue legal action against your employer if you experience a workplace accident, but that's where workers' compensation comes in. Rather than receive your rightful compensation by suing your employer for negligence, you and your attorney will file for workers' compensation. This helps alleviate costs and ensures you don't take on an unnecessary financial burden after your accident. 
Why Do You Need a Workers' Compensation Lawyer?
Sam's Club is renowned for its hard-ball tactics in avoiding any admittance of wrongful practices or negligence. The attorneys that represent Sam's Club and their insurance associates will try everything in their power to discredit or weaken your claim. For this reason, you'll want to involve an experienced attorney at the very beginning. Remember not to speak with anyone at Sam's Club before talking to Munley about your claim. They may take advantage of things you say and can twist your words out of context. Once you hire a lawyer, they will navigate all contact with Sam's Club. 
We are proud of the customer satisfaction we've enjoyed since beginning to take on Workers Compensation cases. Maggie, a Workers Compensation Client, raved that our own Caroline Munley was with her 'every step of the way', getting her 'back on her feet again' and 'back on the job'. 
How Do I Know If My Injury Was Due to Negligence?
Warehouse injuries at a workplace like Sam's Club could be due to one party's negligence or lack of care. Some of the most common parties at fault for negligent practice are: 
A company or employer 

A product that is defective 

Heavy machinery 

Clutter leading to falls or cuts
Suspect that negligence may have played a role in your workplace injury? We will evaluate the incident fully. 
What Compensation Can I Expect?
Workplace injuries cost American businesses $170 billion each year. When you obtain a Workers Compensation Lawyer from Munley, you know that you have someone fighting for your rights and ensuring that you receive the compensation you are legally owed. 
Several factors are considered when determining how much compensation you may receive. These factors include: 
Medical Bills 

Income Loss

Damage to Personal Property 
There are regulations that exist around what amount of compensation you are awarded and for how long they will be provided. Often, you will receive compensation that will cover the majority of medical bills and a certain percentage of your salary since you have been forced to take time off. The Workers Compensation Judge will be the one to decide on the severity of the injury to determine the benefits and how long they will last.
The workers compensation for warehouse entities like TJ Maxx have been constant examples of where settlements can be reached every day for a firm like Munley. 
What Do I Do If My Claim is Denied?
It is not uncommon for a claim to be denied at first. However, this does not mean the claim is doomed. The decision can be petitioned and appealed with the help of an experienced workers' comp lawyer like those at Munley Law Personal Injury Attorneys.
Many insurance companies try to take advantage of the complexity of the appeals process and rely on the presumption that the victim will give in at this hurdle. The most likely cause of a claim being denied is the argument that there is insufficient evidence to wholly suggest that an injury was work related. However, our lawyers can fight back and win.
The other common argument that is made for a claim to be rejected is that it was filed too late. In Pennsylvania, the Claim Petition can be filed within three years of the injury date if it was originally denied workers' comp. If it is filed after this time, it may not be considered. If in time, the claim will then be assigned to a judge to hear the case and make a decision. You will also have the opportunity to appeal this second decision from the judge, as long as this is filed within 20 days. This appeal will then be heard by the Workers' Compensation Appeal Board. 
Despite the intricacies of workers' comp litigation, Munley are experts on the subject and can assure you that your case will be taken seriously until given ample justice.
Why Munley Law Personal Injury Attorneys?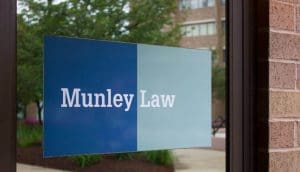 Munley Law Personal Injury Attorneys is home to some of the brightest, most experienced workers compensation lawyers who will aggressively work to achieve the justice you're seeking. We're proud to say that our legal team will not get paid unless you win — so we hope you have faith in our work ethic, fair practices and dogged enthusiasm. If the case calls for it, we are more than willing to go to court. Until you and your family are satisfied with the outcome, we will not give in. 
To understand the specifics of your case, please reach out today for a free consultation.