A recent study from researchers at the Massachusetts Institute of Technology (MIT) shows that, "Uber and Lyft are behind a sharp rise in US traffic deaths." With an increase in Uber and Lyft rides also comes an increase in rideshare accidents in Allentown. These cases can be complicated and hard to navigate without an experienced Allentown rideshare accident lawyer by your side. The personal injury lawyers at Munley Law have handled all types of car accidents in the Lehigh Valley since 1959. When you have been injured in an accident involving a driver for a major rideshare company, you need top-tier lawyers familiar with rideshare insurance rules.  An expert car accident rideshare attorney at Munley Law can help you obtain the compensation you need for your medical bills, pain and suffering, and other damages. 
We represent rideshare passengers, as well as pedestrians, bicyclists, and other drivers hit by an Uber, Uber Eats, or Lyft driver. 
An experienced Allentown Lyft or Uber rideshare lawyer will fight on your behalf to help you get the compensation you deserve. Call today for a free, no-obligation consultation with an injury lawyer. We will review the details of your claim at no charge, and there is no fee for our services unless we win your case. 
What to do after an Allentown Uber or Lyft Accident
If you have been in an auto accident as a passenger in an Uber or Lyft, there are some important steps to follow and then relate to the accident attorney. You will want to stay on the scene until authorities and help shows up to ensure you are not injured. Do not leave the scene. Make sure to:
Call 911

. Even if you don't appear to be seriously hurt, call the police to ensure the accident is properly reported. The police report will be a crucial piece of evidence in your case. 

Take as many photos as you can

. With smartphones, it's easier than ever to document an accident scene. These photos can greatly help your case if you have been injured.

Get the driver's info. It's likely the app will have some info, but you will want to get as much information about your driver as possible. This includes full name and insurance. If there is another driver involved, collect their information as well.
Document your ride.

Make sure you have screenshots of the ride from your rideshare app.

Submit a claim within the app.

You can notify Uber or Lyft of the incident by filing a claim within the app. Be sure to report only the facts of the crash. Do not give a detailed description of your injuries at this time. 

Seek medical attention.

If you are injured, seek medical attention, or make sure you tell the authorities that you would like medical attention. Sometimes you don't immediately feel the impacts of an injury because of adrenaline in the system. It's better safe than sorry. Document any medical attention you receive and bills you owe.

Call an experienced Allentown rideshare accident lawyer to represent you.

The accident attorneys will help you build your case, using the documents mentioned above. Ensure you get the compensation you deserve. 
Can I Sue Uber or Lyft for an Accident in Allentown? 
If you were hurt in an accident as a passenger in an Uber or Lyft, or if you were hit by an Uber or Lyft driver, you may be able to seek compensation from the rideshare company. In a rideshare accident, determining fault is not as straightforward as in a typical car accident. Details like circumstance, injuries, and who is involved can greatly impact liability. This is why you need a car accident lawyer with experience handling rideshare cases to represent you.
Even if you sustain injuries in an Allentown rideshare accident, the large companies will often still fight the personal injury claim and deny liability. This is true even if it has been determined that the driver was on-duty and is at-fault.
For these reasons, it's imperative you have an Allentown Uber or Lyft accident lawyer on your side. Munley Law has been helping Allentown accident victims for more than 60 years.
Insurance in a Rideshare Accident
Rideshare companies like Uber and Lyft carry $1 million in liability insurance. However, this rideshare accident coverage doesn't always apply. Rideshare drivers are also required to carry their own personal auto insurance that meets the minimum coverage requirements in their state. In Pennsylvania, the minimum coverage amounts are:
$15,000 for injury or death of one person in an accident

$30,000 for injury or death of more than one person in an accident

$5,000 for damage to property of another person
The party whose insurance will be responsible for your damages will depend on the circumstances of your accident. 
If you were hit by an Uber or Lyft driver, your right to receive compensation from the rideshare company will depend on whether the driver was considered "on duty" at the time of the crash. If the rideshare driver was not logged into their app at the time of the accident, Uber and Lyft will not provide insurance coverage. If the driver was logged in but waiting for a ride request, Uber and Lyft provide some limited coverage. If the rideshare driver is logged in and is picking up a rider or transporting a passenger, the full $1million in coverage would apply. 
However, sometimes it is difficult to know the status of the rideshare driver who caused your accident. In some cases, the rideshare company may dispute your claim in order to avoid paying you damages. You may face a situation where the rideshare company's coverage does not apply, and the driver's personal insurance denies liability or is insufficient to cover your damages. This is why it is important to have an experienced rideshare accident lawyer on your side. 
Top Reasons for Allentown Rideshare Accidents
The big  rideshare apps like Uber and Lyft have standards their drivers must meet, including background checks, age and car requirements, and more. But a clean driving history doesn't help you avoid dangerous accident risks on the road. The accident lawyers at our law firm have a lot of experience with such cases.
The top reasons Allentown rideshare accidents happen include: 
Driving while drowsy

. Whether driving long hours or working multiple jobs,  Allentown Uber and Lyft drivers are very prone to driver fatigue. Driving drowsy can impact alertness and reaction time as much as

driving while under the influence of alcohol

can. If your driver was under the influence, make sure to mention it to the police and to the accident lawyers that you hire.

Driving while distracted

. The nature of driving for a rideshare app means you're often on your phone. From arranging passenger pick-up/drop-offs to looking at directions, many rideshare drivers are prone to distracted driving. 

Driving under pressure

. Many rideshare drivers can feel under pressure when they are on duty. Scenarios like being late to pick up or drop off a passenger can cause a driver to speed, often on unfamiliar roads. 

Driving in bad weather.

Snow or rain can be very hard for some drivers to navigate, especially if they are in areas they've never driven before. Couple that with the safety precautions already present during inclement weather, and it could lead to disaster.

Driving without experience.

While these rideshare apps have minimum age requirements, newer drivers can still get behind the wheel. All the distractions mentioned above can be even more dangerous.
Accident attorneys will need to know what happened to the driver before the accident for the injury claim, so pay attention to their status from time to time.
Allentown Rideshare Standards & Requirements for Uber Drivers
Around the U.S., including Allentown, Uber and Lyft require their rideshare drivers meet certain standards. If you suspect that they don't in a crash, the accident attorneys will need to know that. While it's important to maintain these standards, these alone cannot prevent rideshare accidents in Allentown. 
These requirements include: 
AGE: Drivers for Lyft must be 21 years old. Drivers for Uber must meet age requirements for the city in which they work.

LICENSE: Of course these drivers must have a valid drivers license. 

EXPERIENCE: All Allentown rideshare drivers must have at least one year of driving experience (or three years for Uber if younger than 23)

DOCUMENTS: Rideshare drivers must give proof of insurance, vehicle registration, and valid inspection

SAFETY: These drivers must pass a background check and safety screening 
These drivers must also be operating vehicles that need to meet certain standards, including four-doors and less than 10-15 years old. Make sure to let your accident lawyers know if that was not the case with the car you have been using. If your driver was not compliant with Uber or Lyft's requirements in any way, you may be able to hold the rideshare company accountable for failing to properly vet their drivers. 
Allentown Rideshare Accident FAQs
Q: What if I was hit by an Uber Eats driver?
Uber Eats food delivery drivers can cause accidents just like any other driver, though they also have some additional risk factors. Uber Eats drivers often drive as a second or third job, increasing the risk of fatigue behind the wheel. Uber Eats drivers' pay is dependent upon the number of jobs they complete and how quickly they complete them, which can incentivize both speeding and distraction. Even though Uber Eats drivers do not carry passengers, they are still insured by Uber while they are on duty. So, if you are hit by an Uber Eats driver, you may be able to sue Uber for damages. 
Q: How much does it cost to file a rideshare accident lawsuit?
Suing a big company like Uber or Lyft can be intimidating and expensive. Large corporations have nearly bottomless resources including top-notch legal defense firms. At Munley Law, our mission is to give regular people the same access to justice as the most powerful entities. This is why we do not charge a fee for our services unless we win your case. As your legal team, we invest our resources into building your case, so you don't have to risk any money of your own. If we cannot obtain a favorable outcome for you, you owe us nothing. 
Allentown Uber and Lyft accident lawyers at Munley Law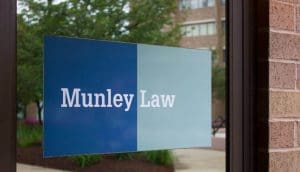 If you are injured in an accident involving a Lyft or Uber driver, you need an experienced rideshare car accident lawyer. The Allentown rideshare accident lawyers at Munley Law have been helping car accident and rideshare accident victims in the Lehigh Valley for more than 60 years. We will fight the large rideshare insurance companies to ensure you are compensated for pain, suffering, and injuries sustained.
Call us today for a free consultation. An experienced rideshare accident lawyer from our law firm will review the details of your case and answer any questions you may have.