Workers Comp Attorneys Help You Recover
If you're asking, "Is it worth getting an Allentown PA workers comp attorney? The answer is yes. When employees suffer work related injuries, they deserve workers compensation and it's not always an easy process. The Pennsylvania Workers' Compensation Act is meant to protect both the employee and the employer through a benefit program where employees are compensated for medical treatment and lost wages associated with workplace injuries and illnesses.
Employers provide the cost of the coverage and in return, are protected from direct lawsuits by their employees. Not all workers' compensation (informally known as workers' comp) cases are cut and dry. It is beneficial for an employee to seek legal advice before filing a workers' comp claim.
The workers' compensation attorneys at Munley Law Personal Injury Attorneys have a proven track record of securing fair compensation for their clients. They will work tirelessly to make sure you are covered for medical expenses, lost wages, and loss of future income.
Contact us today for a free consultation and speak with an experienced Allentown workers comp attorney who can guide you through the claims process and help you recover the compensation you deserve.
What Industries Dominate the Allentown Landscape?
Allentown, Pennsylvania boasts a booming economy. The Lehigh Valley is home to Fortune 500 business headquarters, such as Crayola and Martin Guitar. The Lehigh Valley Hospital Center employs more than 8,000 people. Though manufacturing isn't what it once was in Pennsylvania, the industry is still alive and well in Allentown, making up over 10% of the workforce.
According to PA.gov the industry that filed the majority of the workers' compensation claims in 2019 was the Education and Health Service industry, with 47,508 claims. The Transportation, Trade, and Utility industry came in second with 46,153 claims. Manufacturing claims were behind reaching 22,000 in 2019.
When and Why You Need to Hire a Workers' Compensation Attorney
If you suffer a work injury that is relatively minor, you may choose to file a workers' compensation claim without representation. Injuries that are clearly work related, such as being caught or hit by moving machinery in a factory, are not usually disputed by insurance companies. If you don't require extensive treatment, do not need to take time off work, or have not sustained permanent injuries, then a workers' comp claim may be clear-cut.
However, there are many circumstances that complicate the workers' comp claim process. You are more likely to secure a favorable settlement or verdict with an expert workers' compensation lawyer by your side. If any of the following circumstances reflect your current situation, consider reaching out to a Munley Law Personal Injury Attorneys workers' compensation attorney for a free case evaluation:
Underlying conditions: If you have serious underlying health conditions, Pennsylvania employers and their insurance companies can use that to deny benefits. They may claim that it was your pre-existing condition that caused the current injury or illness.
Employer will not accept liability: If your employer disagrees that your injury occurred in the workplace or was due to anything related to your job duties, they may deny your claim.
Disagreement on returning to work: Your employer may disagree with you about when you can return to work following an injury and refuse to pay compensation for loss of wages.
Permanent disabilities: If the injury you sustained at your place of work causes permanent disabilities, your employer may fight harder to deny compensation to reduce their own costs.
Employer retaliation: If you filed a workers' compensation claim and suspect that your employer is retaliating against you, you should speak with a workers' compensation lawyer immediately. Employers are not allowed to demote, reduce hours, harass, or terminate you for filing a claim.
Questionable fields: If you belong to the following industries, then you may not be covered by the Pennsylvania Workers' Compensation Act:
Federal workers
Longshoremen
Railroad workers
Casual employees
Domestic workers
Agricultural laborers
Employees with personal religious exemption
Volunteer workers
Employer's Insurance: If your employer failed to acquire or allowed the workers' compensation insurance to lapse, a Munley workers' compensation attorney will be beneficial to make sure you can still collect benefits through the Uninsured Employer Guaranty Fund.
How Do I File a Workers' Compensation Claim? 
The flow of workers' compensation claim is outlined for your reference on the Pennsylvania Department of Labor's website. Here are the steps you need to follow in order to file a claim:
Notify Your Employer of Your Injury
An employee must notify their employer about their injury within 120 days of discovery. If the employee fails to tell their employer of the illness or injury within the 120-day window, they can no longer seek compensation, except for cases involving "progressive diseases," such as gradual hearing loss due to the environment at your place of work.
Employer Notifies Insurance Company
After you notify your employer of your injury, your employer has 7 days to report it to their insurance company. If your injury or illness causes you to miss a shift or day of work, then your employer must file a report with the Bureau of Workers' Compensation within 7 days. According to Pennsylvania law, your employer must notify you of their decision regarding your workers' compensation claim within 21 days.
Four outcomes of your claim:
After you notify your employer and submit the claim, your employer has four choices regarding the claim:
Claim is denied: If your employer does not accept liability for your injury, they will deny the claim and your case will be closed. If you do not have legal counsel already, contact a Munley workers' compensation attorney following the denial of your claim so you can begin the appeals process as soon as possible.
Employer investigation: This is called temporary compensation payable. It is a process in which your employer needs more time to investigate your injury claim and seeks a 90-day extension before accepting or denying full liability for your injury. During this time, you will receive compensation until the investigation is over and your claim is either accepted or denied.
Claim is accepted: This is when your employer accepts full liability for your injury and agrees to compensate you for your work related injury. The amount of compensation will vary depending on the employee's wages.
Agreement for compensation: This happens when the employee's injury is permanent or leaves them with a disability. In this situation, the employer accepts responsibility for the work related injury that led to disability and provides damages to the employee.
Seek Medical Attention
Seeking medical attention immediately is not only beneficial for your health, but it is also essential to your workers' compensation case. Make sure to inform your doctor that your injury is work related and that it occurred at your place of work. The doctor visit should be prompt. If you wait even one week before seeing a doctor about your injury, your employer and their insurance company can use that to deny your claim. They can argue that your injury must not be that serious since it took you days or weeks to seek help.
Keep detailed records of all medical bills related to the injury, including office visits, emergency room visits, ambulance rides, medical treatment, and follow-up appointments. Keep your medical records and detailed documentation of all medical attention related to the work injury.
Did Your Workers' Compensation Claim Get Denied?
According to a Lockton study, workers' compensation claims denials inched up from 5.8% to 6.9% from 2013 to 2017. If your claim is initially denied by your employer, you will need a Munley workers' compensation lawyer to guide you through the appeals process. Your attorney will be able to investigate the workplace accident, speak to any witnesses, and use evidence gathered to ensure you are properly compensated for your workplace injury.
Here are the steps you should take if your claim is denied:
File a Claim Petition
The employee has three years from the date of the injury to file a claim petition to reopen the workers' compensation case. After a petition is filed, a workers' compensation judge will be assigned to the case. The judge will schedule a hearing for the case, where your PA workers' compensation lawyer will use facts gathered from your workplace and relevant medical bills and documentation to prove you deserve financial compensation for your work injury.
Instead of rendering a judgement, the judge may decide mediation is the better way to settle the case. If you reach a settlement with your employer, then you waive rights of any further appeals or petitions.
Appeal to the Pennsylvania Higher Courts
If the mediation is not successful, the employee has 20 days to file an appeal to the Workers' Compensation Appeals Board.
If that appeal is unsuccessful, the employee has 30 days to file an appeal with the Commonwealth Court.
Finally, if that decision is unsatisfactory to the employee, they have the right to appeal to the Pennsylvania Supreme Court within 30 days.
Why Was My Pennsylvania Workers' Compensation Claim Denied?
There are several reasons your workers' compensation benefits may be denied. The most common reasons for denial are:
You did not notify your employer of your injury within 120 days.
The injury is your fault.
Your injury isn't serious.
You were impaired by alcohol or drugs on the job, which led to the injury.
Your accident was not related to your job.
The accident happened outside the workplace, or on the commute to or from the workplace. This is typically known as The Going and Coming Rule.
What Can Munley Law Personal Injury Attorneys Workers Compensation Attorneys Do For Me?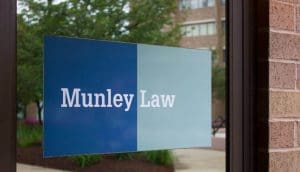 The Pennsylvania workers' compensation lawyers at Munley law have secured millions for their clients over the years with countless success stories of recovering the maximum amount of damages for workers who were injured on the job. They allow you to focus on a full recovery while they will hold employers responsible for unsafe work environments, poor training, or defective equipment.
Contact Munley Law Personal Injury Attorneys today for your initial consultation. You won't be hiring just one workers' compensation attorney, but an entire team of lawyers who will look out for your well-being before anything else. Call today for a free consultation on how to proceed with your claim. Munley Law Personal Injury Attorneys will take the burden of the claims process off your shoulders so you can focus on getting your life back to normal as soon as possible.