If you were injured in an accident in Bethlehem, the personal injury lawyers at Munley Law are ready to help you.
Since 1959, people throughout Lehigh County, including Bethlehem,  Allentown and Easton, Pennsylvania have trusted Munley Law to represent them when it mattered most. If you were hurt due to someone else's negligence, your choice of personal injury attorney is important.  Let us put our world-class legal team to work for you.  Munley Law has a long record of success achieving multimillion-dollar verdicts and settlements for our clients. We have earned national recognition as leaders in the personal injury field, and have been named in Best Lawyers in America, Super Lawyers, U.S. News and World Report's Best Law Firms, and more.
Get started with a free consultation with a Bethlehem personal injury lawyer. This is your opportunity to ask questions, meet our lawyers, learn more about your legal options, and take the first steps toward getting the justice you are owed. We do not collect a fee for our services unless we win your case.
Call, chat, or fill out our email form to get a free case evaluation today.
Types of Cases Our Bethlehem Personal Injury Lawyers Handle
At Munley Law, we have extensive experience with all kinds of personal injury matters ranging from workers' compensation to complex litigation against large companies. While some law firms practice many different types of law, at Munley Law, personal injury is all we do. We are plaintiffs' lawyers and we devote 100% of our practice to representing the injured and their families. 
Bethlehem Car Accident Lawyers
The personal injury lawyers at Munley Law help people who have been seriously injured in car accidents, including those who are hit by a car as a pedestrian or on a motorcycle or bike. We also handle rideshare accidents, representing passengers injured in an Uber or Lyft, as well as drivers and pedestrians hit by an on-duty Uber or Lyft driver.  We will deal with the insurance companies on your behalf, conduct any necessary investigation, and make sure you receive the maximum compensation you are entitled to under the law. If you were injured in an accident on I-78, Route 22, or any of the highways or streets in the Lehigh Valley, we are here for you.
Bethlehem Truck Accident Lawyers
While many injury lawyers claim to handle truck crash cases, few have the experience and the track record to back their claims. At Munley Law, we have spent years developing a special focus on commercial truck and tractor trailer cases. We represent motorists, passengers, pedestrians and truck drivers who suffer serious injuries in accidents involving large trucks and tractor trailers, as well as garbage trucks, tanker trucks, construction vehicles, and more. Truck accident lawyers Marion Munley and Daniel Munley are two of the top trucking trial lawyers in the country; they both have served as Chair of the American Association for Justice Trucking Litigation Group and have received national recognition for their case victories. Along with truck crash lawyers Caroline Munley and Bob Munley, they have won record-setting settlements in truck accident cases.  Our experienced truck accident team travels around the United States to teach other lawyers about how to handle these complex kinds of cases. Munley Law is the firm other lawyers call to assist with the most challenging truck accidents. 
Workers' Compensation and Work Injury Lawyers in Bethlehem
If you were injured on the job in Bethlehem, the attorneys at Munley Law will fight for your workers' compensation benefits. We will guide you through the claims process and help you file an appeal if your claim is denied. And, if someone other than your employer was to blame for your work injury – a faulty piece of equipment or a reckless motorist – we will also pursue a third-party claim to maximize your recovery. We represent workers in all of Lehigh County's major industries, including nurses and healthcare workers, construction workers, truckers and delivery drivers, warehouse and distribution center employees, and more. 
Bethlehem Medical Malpractice and Birth Injury Lawyer
The Lehigh Valley is home to some excellent medical facilities, including Lehigh Valley Hospital, St. Luke's University Hospital, Lehigh Valley-Cedar Crest, St. Luke's Regional Trauma Center, and more. But, medical errors are common occurrences, and can happen at even the best hospitals and surgery centers. A delayed diagnosis, misdiagnosis, medication error, or other serious mistake can be life-altering. Medical negligence can even result in permanent disability or the death of your loved one. If someone in your family suffered due to medical negligence, you deserve justice for the suffering you've endured. We will examine the course of events in detail and help you determine the next steps to take. We also help families whose child suffered a birth injury  due to medical mistakes during the course of a pregnancy or delivery. If your child was diagnosed with a preventable condition, you have the right to seek compensation for medical bills, ongoing therapy, and future suffering. 
Nursing Home Abuse Lawyer Bethlehem
The personal injury lawyers at Munley Law have handled numerous cases involving families whose loved ones were neglected or abused at a nursing home, retirement home, or long-term care facility. If you suspect your parent or grandparent suffered from maltreatment at a Lehigh Valley nursing home, call us for a free case review. 
Premises Liability Lawyer in Bethlehem
If you were hurt on someone else's property, a premises liability lawyer can help you hold the negligent property owner accountable. All property owners – from homeowners and landlords to restaurants and businesses – have a duty to keep their premises free from hazards. Failure to do so can result in a slip and fall, dog bite, burn injury, toxic exposure, or other serious accident. A Bethlehem personal injury lawyer at Munley Law can help you with a premises liability claim if you were hurt at someone's home or place of business. This can include all kinds of accidents including slip and falls, burn injuries, carbon monoxide or gas poisoning, dog bites, or any other type of injury that results from unsafe conditions on someone's property.
Bethlehem Wrongful Death Lawyers
In the most tragic cases, an act of negligence leads to the death of a dear member of your family. While nothing can replace that kind of loss, a wrongful death suit will accomplish two things: first, it will hold the negligent party accountable for their action or inaction, helping to ensure that other families might not suffer in the same way, and second, it will alleviate the financial burdens that come with an unexpected death and provide future security for you and your loved ones. Our legal team has won millions of dollars in recent wrongful death settlements.
Our Bethlehem Personal Injury Lawyers: No Settlement, No Fee
At Munley Law we work on a contingent fee basis. This means we only get paid if we win you a settlement or verdict. There will be no upfront costs or anything for you to pay out of pocket. The fee agreement also protects you from any financial risk in the event that your case is not successful; if we don't obtain compensation for you, you owe us nothing, regardless of how much we have invested in your case.
Our firm was founded on the belief that all people deserve access to the justice system regardless of income. We believe that powerful companies with expansive resources shouldn't be able to take advantage of ordinary people.  The contingent fee makes it possible for anyone to afford the best legal representation in a serious injury case.
Get Maximum Compensation for Your Injury Case in Bethlehem
While some injury firms will accept insufficient offers in order to settle your case quickly, the personal injury lawyers at Munley Law know how to fight for maximum compensation. We will explore all possible avenues of recovery, and we are prepared to take your case to trial if necessary. As the victim of another person or company's negligence, you may be able to recover compensation for:
Medical bills and future medical costs

Physical therapy and rehabilitation

Lost wages and earning capacity

Pain and suffering
Bethlehem Personal Injury Lawyers at Munley Law Answer Frequently Asked Questions
If you're considering hiring an injury lawyer in Bethlehem, you probably have many questions. While we have been handling injury cases in Bethlehem and the Lehigh Valley for decades, we know this is a new experience for most of our clients.  The personal injury attorneys at Munley Law are here to help you understand the legal process and explain what you can expect when working with us.
Who can I sue in a personal injury lawsuit?
Depending upon the circumstances of the injury you suffered, there are several different entities who may be held responsible. For example, if you were hit by a tractor trailer, potential defendants might include the truck driver, the trucking company he/she works for, the owner of the truck, and others. If you fall and get hurt on someone else's property, the property owner can be held responsible.
If you suffered an injury at work, you would seek compensation through your employer's workers' compensation provider. While you cannot sue your employer in Pennsylvania, you may be able to bring a claim against a third party if a person or company other than your employer was responsible for your injury. For example, if you were hurt by a faulty piece of machinery, you may be able to seek compensation against the machine's manufacturer in addition to collecting workers' comp.
Some people hesitate to pursue a personal injury claim because they don't want to sue the person responsible. What you should understand is that in most cases, the compensation will come from the at-fault party's insurance company, not from the individual.
Every case is different, and there may be more than one person, company, or entity responsible for your injury. An experienced personal injury lawyer will thoroughly review the details of your situation and identify all appropriate sources of recovery.
How much does it cost to hire a personal injury lawyer in Bethlehem?
At Munley Law, our philosophy has always been that all people should have equal access to legal representation, and that superior legal service should alleviate financial burdens, not add to them. For this reason, we work on a contingent fee basis. This means that our injury attorneys collect the standard fee for our services only after we obtain a settlement or verdict in your favor. Our clients do not pay an hourly retainer, deposit, or any out of pocket costs.
The contingent fee also protects our clients from any financial risk associated with your case. If we are unable to reach a settlement or favorable verdict, you owe us nothing, no matter how much we have invested in the case.
Do I need a lawyer to represent me for a personal injury case in Bethlehem?
Whether or not you need to hire a lawyer depends on your circumstances. If an insurance company denies your claim or attempts to settle for an insufficient amount; if your employer denies responsibility for a work-related injury; or if you're up against a powerful entity like a large corporation or transportation company, you should consult a lawyer. There is no charge for a consultation with a Bethlehem injury lawyer at Munley Law, and it might be one of the most important things you can do to protect your future security after a serious injury.
Consider this: people with legal representation tend to recover three to four times more compensation than those who go it alone (if they get anything at all). The injury attorneys at Munley Law have been representing individuals and families in Bethlehem and throughout the Lehigh Valley for more than 60 years. Let us use our experience and expertise to achieve the best possible outcome in your case.
When will I get paid for my personal injury claim?
Every personal injury case is different, and the length of the legal process will depend on a number of factors. You should be highly skeptical of any lawyer who claims to be able to resolve your claim in a fixed amount of time – either they're being dishonest, or they're not willing to give your case the time and attention it deserves. A personal injury case generally takes several months to resolve, but some may take years depending on the amount of discovery to be done, and whether or not the case will be going to trial (and will be subject to the court's schedule).
At Munley Law, your case will be assigned to an attorney and a paralegal, so you will always have access to someone from our office who will keep you updated about the status of your case. Learn more about the phases of a personal injury case on our blog.
How much time do I have to file a personal injury claim in Bethlehem?
For most personal injury cases in Pennsylvania, the statute of limitations is two years from the date of injury. However, it's best to contact a lawyer as soon as possible for two reasons. First, there is a fair amount of work that must be done before a case can be filed in court. Second, the more time that elapses since the date of injury, the greater the chances that evidence can be lost or destroyed.  Speaking with a Bethlehem injury lawyer as early as possible will not force you to take any kind of action, but it will maximize your options and your chances of obtaining compensation.
How do I choose the right injury lawyer for my case?
There are so many personal injury law firms out there, it can be hard to tell the difference. Choosing legal representation is an important decision, and not all injury firms are equal in terms of experience, knowledge, resources, and success rate. When choosing an attorney, consider:
Experience – No amount of education or training can compensate for years of experience in the courtroom in front of a jury, or at the negotiation table. Munley Law was founded in 1959 and our partners each have decades of experience in complex injury cases.
Knowledge – Our lawyers have become recognized nationally as leaders in their field. Marion Munley and Daniel Munley travel around the U.S. to educate other trial lawyers on how to handle truck accident cases. Their expertise has resulted in numerous multimillion dollar settlements and verdicts for their clients.
Resources – Not all law firms have access to the resources necessary to conduct a thorough investigation, obtain expert testimony, and more. At Munley Law, we are a small firm with the resources of a big firm. We have longstanding professional relationships with the top industry experts, and can use state of the art technology to build a strong case for you.
Success – When choosing a lawyer, results matter. Our firm has used our experience, knowledge, and resources to achieve record-setting results for our clients.
Free consultation with a Bethlehem personal injury lawyer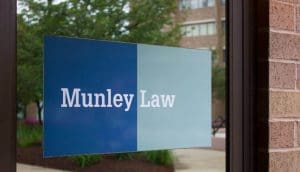 Your case is unique and you probably still have questions about your situation. A Bethlehem personal injury lawyer at Munley Law can answer your questions.  Call, chat live, or submit our contact form for a free consultation with an injury lawyer.
Contact a Bethlehem personal injury lawyer at Munley Law for a free case review
If you live in Bethlehem and were involved in an accident, don't delay. Contact the Bethlehem personal injury lawyers at Munley Law today for a free consultation.