Determining When To Speak to a Car Accident Lawyer
Car accident cases can be complicated. From dealing with the insurance companies to determining fault, most car accident victims don't know where to begin. Car accidents in Philadelphia also have certain dates to meet under Pennsylvania law. If you want to file a car accident claim, you should not delay.
While not all car accidents require the aid of a Philadelphia car accident lawyer, in many car accidents, it is worth seeking legal advice.
Learn more about the situations in which a car accident may require an experienced car accident lawyer.
Questions For Philadelphia Car Accident Lawyers
It is normal after an auto accident to have multiple questions. For starters, what do I do now? Following a car accident, you'll want to do the following:
Go to a safe location off the road if possible.
Seek medical attention. Document all care received and medical expenses.
File a formal police report.
Keep documentation of all property damage, evidence, witness testimony, etc.
File a claim with your insurance company.
Once you've completed these steps, you will likely still have even more questions after a car accident, like:
How am I going to pay my medical expenses?
What if my car is totaled?
Will the insurance adjuster deny my car accident claim or not provide me with fair compensation?
During a free initial free consultation after car accidents in Philadelphia, car accident lawyers can answer any questions you may have.
As stated, not all car crash cases result in a personal injury lawsuit. Some can be negotiated with the insurance company outside of court to seek the compensation you need.
However, when a car accident results in piling medical bills, lost wages, serious injuries, physical pain, and in some cases, wrongful death, it is best to secure the representation of an experienced car accident attorney.
How The Severity of Collision Impacts Your Car Accident Lawsuit
According to PA car accident statistics, most car accidents are not severe in nature. In 2020, of the nearly 105,000 reported incidents, only 1,060 resulted in fatalities.
While the number of fatal car crashes remains low, it does not mean they go without impact. Many traffic accidents result in:
Serious injury
Broken bones
Property damage
At least one totaled motor vehicle from the car accident case
When Philadelphia car accidents result in more than just scuffed paint and an inconvenience to your day, reach out to an experienced car accident attorney. Philadelphia car accident lawyers can help you understand Pennsylvania law regarding collisions, and help you make car accident claims with your insurance or the other driver.
When The Cause of Car Accidents Impact Your Need for an Attorney
Most car accident lawyers will tell you, there is a difference between a simple fender bender at a stop sign and a drunk driving accident that resulted in fatalities. Because of this, the cause of your car accident may also impact your need for a Philadelphia car accident attorney.
Common causes of a car accident include:
Other driver negligence
Failing to abide by Pennsylvania law by running red lights, stop signs, etc.
Distracted driving
Aggressive driving
Drunk driving
Any time negligence is at play in a car accident, you will need a car accident attorney. However, it is now always just the negligence of another driver that can cause a car accident; other causes can include:
Negligence of the government to fail to maintain roadways
Negligence of car manufacturers for utilizing faulty parts
Negligence of a trucking company for employing unfit drivers, or utilizing unsafe semi trucks
When it comes to determining negligence after a car accident, a car accident attorney can help you navigate Pennsylvania law. The type of insurance you and the other drivers involved hold ultimately will impact your ability to bring forth a personal injury claim.
What if I can guess the cause of the accident? Do I still need car accident lawyers?
We know many car accidents have similar root causes — distracted driving, motor vehicle failure, inability to control the vehicle, etc. However, no two car accidents are the same, which is why it is important to talk with your local car accident attorneys to come up with a plan.
Speak to experienced car accident lawyers today. We offer a no-obligation, free consultation where we can review personal injury, non-economic damages, and your current and future lost wages.
Because so many Philadelphia car accident attorneys work on a contingency fee basis, they will carefully decide if your care is worth taking on. This is because they do not receive payment unless you win.
Insurance in Car Accident Claims
It is no secret that the insurance company will want to save as much as possible in personal injury cases. And often, they are able to do this if you are not well versed in your policy and your rights to sue another party.
For example, if you hold limited tort insurance, you can only sue the at-fault driver in a car accident for your pain and suffering to the amount the insurance policy can pay. So, if the other driver does not have adequate insurance, your medical expenses may not be paid. Regardless of the insurance of the other driver, you cannot sue for non-monetary damages under this coverage.
However, if you have full tort insurance, after a car accident you can sue the other driver for non-economic damages past what the insurance company will cover.
Knowing the difference between full and limited tort insurance can be monumental in your insurance company's ability to provide you the compensation you need after a car accident.
Does Comparative Negligence Impact My Claim?
Pennsylvania follows the modified comparative negligence system which means that so long as you are 50% or less responsible for a car accident, you can still seek compensation following a motor vehicle accident.  If you are 51% or higher responsible for a car accident, you give up your right to seek compensation.
Further, your percentage of damages will be reduced by your percentage of liability in the car accident. So, if you are 30% responsible for the accident, your settlement will be reduced by 30%. This is important to keep in mind as it ultimately will impact the compensation you can receive to recoup losses.
Do Injury Victims Need a Philadelphia Car Accident Attorney?
While you can always try to take on the insurance companies on your own, we always recommend at least meeting with a personal injury law firm following your involvement in any serious car accidents. Whether you have been involved in fatal car accidents resulting in the loss of a loved one, or have suffered car accident injuries resulting in broken bones and a totaled motor vehicle, car accident attorneys can help.
To ensure you get the maximum compensation for your losses in car accidents, you need to calculate the damages associated with the personal injury, as well as any related noneconomic damages. From there, your lawyer can put together a Philadelphia car accident claim to recoup lost wages and bring the other driver to justice.
How Soon Do I Need To Decide If I Want to Hire a Philadelphia Car Accident lawyer?
If you decide your car accident injury requires the guidance of a Philadelphia personal injury attorney, you will need to act quickly. You only have two years from the date of any car accident to bring a case against the other parties involved. And if you accept an early settlement from the insurance companies, it's already too late.
Injuries from car accidents often have long-lasting ramifications from chronic conditions to lost wages. Take advantage of a free consultation with a car accident attorney to learn what you can recover following car accidents in Philadelphia and how non-economic damages may also be recovered.
Speak to a Philadelphia Car Accident Lawyer Today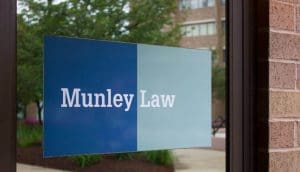 Getting into a car accident can be a horrifying experience, especially if you are injured or there are car accident fatalities. If you have questions about your car accident claim worth, or if your insurance company has not offered you maximum compensation for your property damage and injuries, we can help.
As car accident lawyers, we work diligently to communicate with insurance companies to settle your case outside of court. But if an agreement cannot be made, we will fight for you in court to ensure you are compensated for the losses you endured in a motor vehicle accident.
If you or someone you love has been injured in a car crash, an experienced car accident lawyer at Munley Law Personal Injury Attorneys is ready to fight for you today. Call today or use our online form to schedule your free consultation.