Preserving Evidence After a Truck Accident
Most people know, generally, that they have rights after an accident caused by someone else. However, knowing you have rights in the abstract is very different from being in a situation in which you have to enforce those rights. This is especially true following a truck accident, which often times cause more severe injuries and involve multiple drivers. A truck accident lawyer can help you navigate the aftermath an accident. But that lawyer will need evidence if they're going to win.
There's no way around it, being in an accident is scary and overwhelming. For that reason, our first thought after a truck accident is rarely "What evidence do I need to successfully recover for my injuries in a personal injury claim?" It's completely understandable; injuries after a truck accident are often traumatic, and you and your family are focused on recovery. However, in the days, if not the moments, after a truck accident, sometimes vital evidence to your truck accident claim can be lost.
There is important information every personal injury lawyer will need from the accident scene, the doctor's office thereafter, and beyond, to successfully help you recover all the compensation you deserve following an accident. While every case is different, there are some "best practices" you can follow to make sure that you preserve evidence that your truck accident lawyer will need.
What Do I have To Prove After a Truck Accident?
Because every case will be different—because every accident is different—it is important to first understand what you have to prove before digging into how to preserve evidence. After all, while we can tell you in general terms what evidence you'll need, if you know what you have to provide, you'll be better armed to gather and preserve crucial evidence in the moment.
What follows is just a brief introduction. If you have questions, the truck accident lawyers at Munley Law Personal Injury Attorneys are more than happy to discuss your case with you free of charge. During an initial consultation, we can listen to what happened, explain your rights, and help explain what evidence we will need to prove your claim.
A Negligence Lawsuit
First, you have to prove that the truck driver or trucking companies were negligent. You've likely heard of "negligence" lawsuits before. Negligence is a legal concept, and has a special meaning in the law. Typically, it just means that someone owed you a duty to act with a certain level of care, and they failed to act carefully, which caused you injuries.
There are four elements of a negligence claim: duty, breach, causation, and damages.
Duty: This means that the defendant, the person who did wrong, owed you a duty not to cause harm. Whether a duty exists is a complex question. But generally, under the law, a person owes you a duty to not cause foreseeable harm by their actions. That means that you can hold a truck driver, or a trucking company, responsible, because they owed you a duty as a passenger, pedestrian, or someone else on the road.
Breach: To prove breach, you must prove that the wrongdoer failed to act according to a specific standard of care. Generally, all people must act as a reasonably prudent person would in a given situation. If a truck driver crashes because they weren't paying attention, or if a trucking company fails to maintain their trucks as they should or permits an unskilled or overtired truck driver to be on the road, they will have often times breached a duty.
Causation: Causation is simple in theory, but often a complex factual and legal issue. You must prove that the breach of a duty, what the wrongdoer did, caused your injuries. This can sometimes be difficult when it comes to medical injuries. That's where expert witnesses come in.
Damages: You must also prove that the breach of a duty caused you financial or emotional damages. This is where we must prove the amount of money involved.
What Can I Recover in a Truck Accident Case?
Of course, no conversation about evidence, and how to gather and preserve evidence, is complete without first discussing the types of damages you could recover after an accident. Damages in the law are meant to compensate you for your injuries; said differently, the money you recover is meant to "make you whole."
Injuries resulting from a truck accident are often catastrophic, and accident victims often feel that no amount of money is enough, especially if a loved one lost their life. But a personal injury lawsuit can go a long way towards covering the many expenses following an accident, and providing you the financial ability to start moving forward.
Physical Injuries
First, in a truck accident case you can recover for your physical injuries. Physical injuries can include cuts and other lacerations, burns, broken bones, and even traumatic brain injuries. At bottom, any physical harm you or a loved one suffered in the crash can be recovered.
Damage to Property
Second, you can usually recover for damage to your property. For example, the costs necessary to repair a damaged vehicle.
Mental or Emotional Damages
Next, you can recover for mental or emotional damages. These damage are meant to cover the mental anguish you experienced as a result of a truck crash, and can include things like PTSD and anxiety, or a fear of driving or riding in a car.
Lost Wages or Loss of Future Earning Capacity
Damages in a personal injury claim after a commercial truck crash can also include things like lost wages or a loss of future earning capacity. This means that an experienced truck accident attorney can help obtain money to compensate you for the time that you were unable to work due to the accident and the resulting injuries. Similarly, if you are unable to continue working your same job because of your injuries, these damages can also compensate you for that.
In Some Rare Cases, Punitive Damages
Finally, while not every case qualifies, in some circumstances, an experienced attorney can help you recover punitive damages through a truck accident claim. These damages are meant to punish careless truck drivers or trucking companies. That said, punitive damages usually are only available in the most extreme situations, when a trucking company or truck driver was grossly negligent, for example, by intentionally hiding or disregarding a known problem or risk.
What Should I Do To Preserve Evidence After an Accident?
Now that you know what you have to prove, we can talk about how you are going to prove it. There are many key ways you can take after an accident to preserve evidence. For example:
Call 911 and File a Police Report
After an accident, call 911 to summon first responders. Once they arrive, make sure to file a police report and get a copy if possible. Either way, write down the name and badge number of the responding officer and save this information someplace safe.
Furthermore, try to find out (you can ask) for which department the responding officers work. For example, are they Pennsylvania State Police? A Sheriff's Office? Or do they work for a specific city or town? There are many different law enforcement agencies in Pennsylvania (and across the country), so knowing where a police report was filed and where the officers work could be invaluable. This is especially true if you can't get an accident at the scene or shortly thereafter. Your truck accident attorney will need that report.
Don't let anyone talk you out of making a police report!
Take Pictures and Video
If your injuries allow, use your cellphone to photograph and record the accident scene. While there is no such thing as too many photos or videos, focus on quality. Remember, the goal is to be able to use your photos and videos later, be it in court or in negotiations. Try to photograph the road and the vehicles involved from up close, far away, and from different angles if possible. Take a video capturing the entire accident scene.
Of course, make sure you record any damage, both up close and far away, and be sure to show the location of the damage in relation to the whole vehicle. Try to take pictures and record before any vehicles are moved from where they were after the accident.
In general, remember that you're going to have to prove your version of what happened, so if there is anything else out of place or of note (for example, debris or spills on the road, specific elements of the area surrounding the road that made it harder to drive carefully, or weather conditions) try to record it. This includes any skid marks on the road and/or any damage to street signs or road barriers.
If your vehicle was damaged, photograph it. Also photograph the truck involved, including any signage on the trailer or truck, and/or the license plate.
If you notice any visible injuries, take pictures as soon as you can. It's also a good idea to re-assess after a few hours. Injuries may be more noticeable after time has passed.
It is also a good idea to email these photos to yourself and/or send them to a family member to make sure they will be saved. An injury lawyer will need those pictures as well to provide accurate legal advice. If an expert witness becomes necessary, they can rely on this evidence to recreate the accident.
Speak to and Identify Witnesses
If there is anyone else near the accident scene, try to get their name and contact information if you can. They may also be suffering serious injuries, so be cautious and respectful, but these people may be integral to proving negligence. Your lawyer can contact these people to provide witness statements or to testify in court.
Keep the conversation general. You may want to commiserate or discuss what happened with the other drivers. But remember, until you talk to a lawyer, it's important to say as little as possible about your actions. We don't want your words to be twisted into an admission of fault or otherwise be used against you.
Seek Medical Treatment
In the wake of an accident, many injured passengers do not feel pain or think they are hurt, so they do not seek medical treatment. However, once the adrenaline from the crash wears off, they realize they are seriously injured and have done additional damage by not going to the hospital right away.
Even if you think you are fine, seek medical treatment after an accident. While this is of course good for the health and wellbeing of you and your loved ones, having a medical professional document your injuries after an accident can be a great way to prove your injuries and make sure you get fair compensation. Save all medical forms and records.
Note separately who your medical providers were and generally what you discussed. While the medical records should document this information, especially in an emergency department, sometimes only one medical provider is listed, when you in fact saw multiple.
It is also possible, in the fast moving environment of an emergency department, that the medical records don't reflect a complaint or concern you raised. If that is the case, mention it to the medical professional. It may have been an oversight. These medical records are critical evidence for proving both your damages and the causation element of your legal claim.
Keep and Document Everything
You should keep all documentation, including emails and text messages, you receive in the weeks and months following a truck accident. It does not matter whether it's from another driver, the truck driver, an insurance company, the trucking company, or anyone else. If it involves the accident or your injuries, keep it. That includes everything we've already discussed, but also things like receipts from the pharmacy or wherever you buy your medication and statements from your health insurance regarding your coverage.
If you speak to someone on the phone or in person, first, we suggest you wait and speak to an attorney first. But second, you should always memorialize every conversation you have "live." For example, if an insurance company calls you, try to get a follow up email address or physical address. Then, draft a short email acknowledging the call, the date, and briefly what was discussed. Also include anything that you agreed to do (or, just as importantly, did not agree to). Your goal is simply to create a "record" of the phone call and what was discussed that your lawyer can point to later. This is an important way, and sometimes the only way, to preserve evidence related to that phone call.
Can a Truck Accident Attorney Gather More Evidence?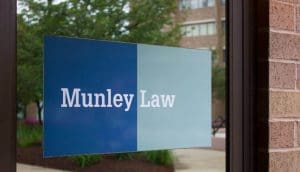 An experienced truck accident attorney can also help you gather many different kinds of evidence that you probably could not access alone. For example, valuable information can be found in a truck's maintenance records. These records could demonstrate that the trucking company negligently maintained the truck that crashed. These records can also establish compliance, or lack thereof, with federal regulations.
The truck driver's employment file could also have important evidence related to the driver's qualifications and experience, and will likely reflect whether they've been involved in previous truck crashes.
Finally, the truck itself will often have a "black box" or another type of computer system that contains incredibly valuable electronic data that could be key to your case.
Because some of this evidence is only available through formal legal processes, you should talk to an attorney as quickly as possible.
What Can Munley Law Personal Injury Attorneys Do?
For more than 60 years, Munley Law Personal Injury Attorneys has been the go-to firm for injured drivers and their families. The truck accident attorneys at Munley Law Personal Injury Attorneys understand how truck accidents can change your life, and no firm is more experienced representing truck accident victims, in Pennsylvania and around the country.
At Munley Law Personal Injury Attorneys, we believe that cost should not stand in the way of justice for the injured. Therefore, we do not collect a fee for our services unless we recover benefits for you. As our client, you will not have to pay anything up front or out of your pocket. Our fee gets paid exclusively out of the money we recover for you. Contact our truck accident lawyers today to schedule a free consultation.
Share this post: