What to Do After a Truck Accident
We know that if you or a loved have been injuried in a truck accident, you may have many questions. You may be wondering what to do after a truck accident. An experienced truck accident lawyer at Munley Law Personal Injury Attorneys can answer your questions. We've answered some of the most frequently asked questions here. You can also call us at 844.385.7535 for a free case evaluation where we can discuss the specific details of your truck crash. We will help you understand your rights and what you need to do.
Steps to Take After a Truck Accident Happened
In the immediate aftermath of a truck accident, there are things to do at the accident scene if you are able. The steps to take include:
Remain calm
Stay in your vehicle if it is safe to do so
Turn on your hazard lights
Use your cell phone to call 911, even if you sustained injuries that seem minor (for example, internal bleeding can be serious but can be hard to detect immediately following the accident)
Seek medical attention for yourself and your passengers
Never leave the scene of the accident
Get the names, addresses, and phone numbers of all drivers involved in the accident
Get the names, addresses, and phone numbers of any witnesses
Write down the names and badge numbers of any police officers at the scene
Take photographs of any vehicle damage
Take photographs of any injuries
Do not admit fault
File an accident report
Call your insurance company to start your insurance claim
Do not discuss the truck collision with the other drivers or other involved parties. Only discuss the accident with the police officer or your own insurance company.
Know your legal rights: you are not required to give a statement to the other driver's insurance company.
If you suffered injuries that are severe, you may not be able to handle these steps at the accident scene. In that case, take these steps as soon as possible after seeking immediate medical attention.
Next Steps to Take After a Truck Accident
In the days after a truck accident, there are additional steps to take to ensure you obtain the financial recovery you need to compensate you for your injuries and property damage. These steps include:
Get a copy of the police report
Get the damage to your vehicle appraised by your insurance adjuster
Keep track of all visits to the doctor's office, medical treatment, and medical expenses.
Get copies of all test results, prescriptions for medications, and any other relevant medical assistance and information
Keep a detailed list of any out-of-pocket expenses you incur
Record days of missed work or other activities/events
Never accept a settlement offer from an insurance company unless you have consulted with an experienced attorney
Protect Your Legal Rights After a Truck Accident
Victims of truck accidents have a right to recover compensation for injuries and property damage. Unfortunately, obtaining fair compensation can be difficult because truck accidents often involve multiple responsible parties and insurance companies. This means it could be difficult to prove who is liable and which insurance company is required to compensate you.
It is important to have an experienced lawyer on your side so that the trucking company's insurance carrier doesn't bully or mislead you out of a fair settlement. Trucking companies will typically have unlimited resources, including teams of lawyers to fight against any lawsuit you may file as a result of an accident—regardless of how injured you are.
The best way to protect your rights after a truck accident, especially if you suffered serious injuries, is to first speak with an experienced truck accident lawyer at Munley Law Personal Injury Attorneys who will defend your rights and ensure you recover fair compensation.
How an Experienced Truck Accident Attorney Can Help
A truck accident lawyer can handle all aspects of the legal process following your truck accident. The claims process can be more complicated in a truck accident case than in a car accident case. This is because multiple parties may be responsible, from the truck driver to the trucking company to the commercial truck manufacturer.
A truck accident claim requires a thorough investigation of the accident and its causes, the opinions of expert witnesses, testimony of any witnesses, and the ability to obtain the information and documents needed to prove your case.
Your truck accident attorney will:
1. Collect Evidence at the Scene
Prompt investigation of the accident scene is crucial. The commercial truck company will quickly dispatch its own investigators right after it learns of the accident to collect evidence. This evidence can quickly disappear and you will need someone on your side who will save it. This is especially true of you suffer catastrophic injuries that require immediate medical help from emergency services at the scene.
Munley Law Personal Injury Attorneys's on-staff team of investigators is quick to respond to an accident scene as soon as possible. Our team will document skid marks, accident debris, as well as oil, gas, and radiator fluid stains at the scene. Our investigators will also obtain a police report, records from the driver's employer, witness statements, photographs, insurance information, and safety logs.
In accident invovling commercial trucks, we will secure the "black box" which contains vital information about a semi-truck. The sooner you engage us to represent you, the sooner we can get to work.
2. Hire Expert Witnesses for Large Truck Accident Claims
Munley Law Personal Injury Attorneys's truck accident attorneys have long-established relationships with trucking industry experts and investigators. These expert witnesses can review the facts of your case and help us craft a winning trial strategy. Other experts including engineers, medical professionals, economists, and accident reconstructionists will work alongside us to put your strongest case forward.
Not all law firms have access to these types of experts. But since Munley Law Personal Injury Attorneys has been helping truck injury victims for over 60 years, we have created relationships that stand the test of time.
3. Guide You with Experience in Complex Trucking Accident Claims
Since truck accident cases differ greatly from car crashes and other types of personal injury claims, experience counts. Truck drivers and transportation companies must comply with a complex set of federal and state laws and regulations governing hours of service, maintenance and inspection requirements, and other safety protocols.
The truck accident attorneys at Munley Law Personal Injury Attorneys have in-depth knowledge of these (frequently changing) laws and regulations. We will determine whether a violation of this kind contributed to your crash, and hold the at-fault driver and/or company responsible.
Getting evidence for your claim on your own is nearly impossible. Demand letters must be sent to get what's needed to prove your case. You are only able to do this with a trusted truck injury attorney.
Frequently Asked Questions After a Pennsylvania Truck Accident
As attorneys that have handled truck accident cases for decades, we are familiar with the kinds of questions truck accident victims have. These questions may include:
Q: Can I file a truck accident claim by myself, without hiring a truck accident lawyer?
Yes, but it's not a good idea. In fact, statistics show that victims injured in truck accidents who work with an experienced personal injury lawyer obtain about three times more in settlement than victims who try to handle the case on their own.
When you and your loved ones are in vehicles involved in a truck collision, you are entitled to fair compensation to cover your medical bills, lost wages, property damage, and more. You need an attorney experienced in handling cases similar to yours to guide you through the legal process and get the financial compensation you deserve.
Q: What compensation can I receive after a truck accident?
Injured parties may be able to seek a financial award for:
Current and future medical expenses
Lost current and future income
Damage to your vehicle
Pain and suffering damages
Temporary or permanent disability
Disfigurement
Physical therapy
Psychological therapy for emotional trauma
Loss of consortium
Q: How much will it cost to hire a truck accident lawyer?
Munley Law Personal Injury Attorneys works on a contingency fee basis. That means that we only get paid if your case reaches a settlement or verdict in your favor. This makes it possible for anyone to hire the best possible legal representation. It gives everyone equal access to the justice system and representation of the same caliber that insurance companies, transportation companies, and other defendants can hire.
Q: What should I do if the insurance company for the trucking company calls me?
If an insurance adjuster from the insurance company call you, do not agree to make a recorded statement to the truck company or their insurance carrier. Do not sign any forms sent to you by the trucking company and their insurance carrier. Call Munley Law Personal Injury Attorneys for a free consultation, and we will look at any paperwork they send to you.
Q: Can the truck driver be liable for the truck collision?
Yes, if the truck driver was negligent. In a truck accident case, the truck driver, transportation company, or owner of the truck may be liable. In other cases, the facility responsible for loading the truck, or even the entity responsible for the contents of the trailer can be held responsible as well. Each case is unique, so the best way to determine who is at fault is by speaking with a lawyer. That is why we offer free consultations to our potential clients.
Munley Law Personal Injury Attorneys helps accident victims for free until their case is won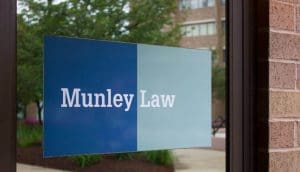 You could deal with the trucking insurance company by yourself without a personal injury lawyer, but the problem is that trucking companies have nearly endless money to spend on attorneys and experts who will fight against you to devalue your claim as much as they can.
Trucking companies have what is called "Rapid Response" teams that include lawyers, investigators, photographers, etc., that will actually go to the scene of the accident as soon as possible to start crafting their defense against you.
Statistics show that having a lawyer on your side after an accident with a big truck could increase your settlement amount by as much as three times.
But you may be worried about how much you'll have to pay a truck accident lawyer.
The good news: the personal injury lawyers at Munley Law Personal Injury Attorneys will represent you for free unless they win your case. If they win, they'll take their fees out of the settlement itself, so you don't have to worry about up-front fees or paying anything out of pocket. Plus, the truck accident lawyers at Munley Law Personal Injury Attorneys always make sure you get more money from your settlement than they take in lawyers' fees.
Contact us or call Munley Law Personal Injury Attorneys for help and get your questions answered by a Pennsylvania truck accident lawyer now: 844.385.7535
Share this post: