Reading Pennsylvania is home to nearly 100,000 residents, making it the fourth largest city in Pennsylvania (after Philadelphia, Pittsburgh, and Allentown). The city is also located on a major transportation route from Central to Eastern Pennsylvania, meaning there is a great deal of traffic passing through the city at any given time.
This heightened amount of traffic creates a substantial risk for car accidents. Interstate 78, which passes just above Reading, is a particularly high-risk area. In fact, a deadly five vehicle pile-up recently occurred on the section of I-78 that passes through Berks County.
Data shows that in 2019, there were a total of 8 fatal car accidents in Reading, involving 13 vehicles and leading to 9 fatalities. 3 of these accidents involved drunk drivers, and 2 involved pedestrians. These numbers are tragic, and of course do not even account for the number of accidents that did not result in a death, but may still have resulted in severe injury.
If you or a loved one has experienced a car accident or car accident injury in Reading, Pennsylvania, you deserve the very best as you fight for justice and compensation. This means working with Munley's Reading car accident lawyers. The team at Munley Law Personal Injury Attorneys are extremely experienced, with an incredible track record of securing impressive settlements for clients. Reach out to us today for a free initial consultation, and learn how we can help protect your interests.
Causes of Car Accidents in Reading 
Car accidents, in Reading and across the globe, are often caused by a combination of factors. Most often, at least one of these factors is some kind of driver error. In fact, a National Law Review published an article in 2020 that showed the vast majority of accidents involved various forms of driver distraction. Here, we'll dive into the most common causes of car accidents across Pennsylvania, and why these causes are so widespread:
Distracted driving. Distracted driving can include anything that takes the driver's eyes off the road, their hands off the wheel, or their mind off the act of safe and responsible driving. This may include texting, emailing, making a phone call, eating, playing with the radio, or even engaging in conversation with a passenger. All of these things distract the driver, which can cause them to run a stop sign, hit
Speeding. In 2019, Pennsylvania saw nearly 30,000 speeding related crashes, nearly 300 of them involving a fatality. Speeding can be incredibly dangerous, and is even more so when combined with something like distracted driving. If you're moving at a dangerously high speed and not looking at the road, there are high odds that you won't be able to stop in time if needed.
Reckless Driving. Reckless driving constitutes any form of driving that exhibits a lack of care for the safety of the driver and/or others. This may include improper passing, tailgating, dangerous lane changes, and more. All of this greatly increases the likelihood of an accident.
Driving under the influence. A report from the Pennsylvania Department of Transportation cited drinking and driving as "a top safety issue" across the state. In 2019, there were 9,380 alcohol-related crashes, and 299 alcohol-related crash fatalities in Pennsylvania. It's important to remember that a driver does not have to be over the legal limit in order to be considered a drunk driver. If alcohol, or any other substance, is present and impacting a driver's ability to drive safely and responsibly, they could be at fault for an ensuing accident.
Improper turning. While improper turning may sound like a specific and fairly small issue, it in fact contributed to more than 13,000 accidents across Pennsylvania in 2019. An improper turn may be one in which the driver does not signal, does not move into the proper turn lane, or does not properly account for their surroundings before executing the turn.
If a driver exhibits one or multiple of these factors, they may be at fault for an accident. It's also important to remember that even if you bear some partial responsibility for causing an accident, that doesn't mean your case is a lost cause.
You may still be able to receive some compensation. Pennsylvania follows a 51 percent comparative negligence rule, which means that as long as you are less than 51 percent responsible for the auto accident, you can receive compensation. Your compensation will simply be reduced by the percentage of fault you bear. Your Reading car accident attorney can review your case in great detail to ensure you're not assigned a higher percentage of fault than you deserve.
Liable Parties 
When two cars collide, it can be easy to assume that sole blame must fall to one of the two drivers. While this is certainly possible and not uncommon, there's also a long list of other parties who may potentially be found liable for the accident and your injuries. Fault may fall only to one party, or it may be shared amongst multiple parties. Some of the parties who may be at fault for your auto accident include:
The other driver. Of course, fault may fall with the other driver involved in the accident. This may be particularly clear if the driver was doing things like disobeying traffic laws, exhibiting distraction by texting, or driving while under the influence. It's also possible the driver simply made an error in judgement that resulted in the accident, and they could be found liable for this.
The driver's employer. If the other driver is a commercial driver (ie, driving for a trucking company or a delivery service, for instance) their employer could be found liable for the driver's actions.
The city or municipality. Accidents sometimes occur due to things like poor signage or unsafe street conditions. Maintaining proper signage and making sure that streets are well-paved and safe to drive on falls under the city's responsibility. If the accident occurred due to one of these conditions, the city could bear some degree of fault.
Bars or restaurants. When a drunk driving accident occurs, the drunk driver will almost certainly be found liable. However, they may not be the only one. If a restaurant or bar knowingly overserved this driver, or served an underage driver, they could also carry some degree of liability for the ensuing accident.
What To Do At the Scene and Immediately After
Car accidents are extremely scary experiences, and it's understandable to let adrenaline, fear, and panic get the best of you immediately after a collision occurs. But there are some things you should (and should not) do at the scene of an accident that both ensure your safety and also set you up for a strong case down the road as you seek compensation.
Call the police. In Reading, you must call the police if there was a hit and run, if there in an injury, and if any vehicle involved cannot be moved from the scene and needs to be towed. However, if you're the victim of an accident, calling the police is a wise decision regardless. This will ensure there's an official police report of the accident, which can be useful to you down the line.
Stay at the scene. You must stay at the scene of the accident until the police arrive, unless your injuries require you to seek immediate medical treatment. If the at-fault driver flees the scene, it is a punishable offense in the state of Pennsylvania.
Exchange information with the other driver and with any witnesses provided you didn't need immediate medical assistance. You'll want to get the other driver's name, address, phone number, email, insurance information, and license plate number. Additionally, you may want to collect names and contact information of any witnesses of the accident. If the other driver was at fault, having a witness account to attest to this can be extremely useful.
Report the accident to your insurance provider. You'll want to report the accident to your insurance provider as soon as possible. Failure to do so may result in a delay in compensation, or even an attempted denial of compensation.
Call your attorney. Call a Munley Law Personal Injury Attorneys car accident lawyer as soon as possible to begin the process of seeking justice and compensation.
Receiving Compensation After a Pa Reading Car Accident
Your auto accidents injuries may be putting not just a physical and emotional, but also a financial toll on you and your family. Depending on the severity of the injury, medical bills can easily add up to tens of thousands, if not hundreds of thousands of dollars. No one deserves to pay for an accident they did not cause, so you'll want to work with your personal injury lawyer to ensure you receive the compensation you are owed.
In most Reading car accidents, your first course of action is to seek compensation and coverage via your own insurance policy. Reading is subject to Pennsylvania's no-fault car accident policy, which essentially means that each party's car insurance covers their own medical bills and expenses. In states that use a fault-based approach, the at-fault driver uses their insurance to provide coverage for the victim. Your first course of action will be to file a claim with your insurance company. Doing so with the assistance of a car accident lawyer ensures that your insurance provider does not try to lowball you or get you to accept an unfair offer.
Seeking Compensation Outside Insurance Coverage
However, this does not mean that your compensation is always limited strictly to what's offered by your insurance coverage. There are certainly cases where the motor vehicle damage and car accident injuries are so severe that even the maximum coverage you can seek through insurance will not be enough. In a case like this, you may be able to seek compensation from the other party. In order to be eligible to do so, your car accident injury must meet the state's definition of "serious", defined as an injury causing death, permanent disfigurement, or serious impairment of a bodily function.
Your car accident attorney will work tirelessly to ensure the players involved understand the full extent of your injuries, and that you don't lose out on any of the compensation that may be necessary in order for you to function comfortably and return to your pre-accident life. Your lawyer will work hard to obtain a fair and satisfactory settlement.
What's more, your Munley Law Personal Injury Attorneys accident lawyer can also protect you in court if necessary. The vast majority of car accident claims and personal injury claims reach a settlement before a trial becomes necessary, but you can rest easy knowing that should you need one, Munley car accident lawyers are able to fight for you there as well. Contact us today to schedule a free initial consultation and learn how we can protect your interests. You won't be disappointed with our Reading Car accident Attorneys.
Why Choose Munley Law Personal Injury Attorneys Reading, PA Car Accident Lawyers Legal Providers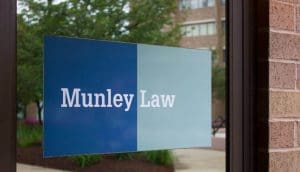 For the past 60 years, Munley Law Personal Injury Attorneys personal injury attorneys have fought tirelessly to protect the rights of hundreds of thousands of accident victims across the state of Pennsylvania. Munley commonly achieves multi-million dollar settlements for their clients. This ensures that car accident victims are able to get back to doing the things they love without the heavy financial burden that an accident can cause. We have the best Reading Auto Accident Attorney for you.
Our car accident attorneys for your injuries have consistently been named among the Top Lawyers in America, selected to Pennsylvania Super Lawyers, and are board certified by the National Board of Trial Advocacy.
When you work with a Munley Law Personal Injury Attorneys Reading, PA personal injury attorney, you are treated like family, and you can rest assured that your experienced personal injury lawyer has your best interest at heart. We will be at your side every step of the way, and we do not get paid unless you win. Not just any auto accident attorneys will do.
Experiencing a car accident is undoubtedly one of the most terrifying things a person can go through, and we are here to help you find peace on the other side. If you or a loved one has experienced a car accident in Reading, PA, do not hesitate to contact Munley Law Personal Injury Attorneys for a free initial case review. We are waiting to hear from you, and we are ready to fight on your behalf to the end.
Contact us at Munley Law offices for the best car accident lawyer. We will provide you with the best personal injury attorney.
If you are involved in a motor vehicle accident, contact us at our law offices for the top rated car reading personal injury attorneys. We will help you understand the personal injury law. An injury accident is traumatizing event. Munley Law providers are serving Reading and surrounding areas.