What Can Cause a Truck Accident?
There are many different causes of large truck accidents, but one thing is consistent – truck accidents have the capacity to cause  severe injury or death. If a tractor-trailer loses control, it can truly become a weapon. Due to the immense size and weight of these vehicles, when they collide with a car, truck, motorcycle, or pedestrian, the victim is likely to suffer major injuries requiring long-term recovery.
An experienced truck accident lawyer can help you get all the financial compensation you will need to recover from your injuries. To hold the at-fault truck driver and transportation company responsible, you will need to prove liability. This is where it's important to have a serious truck accident lawyer who will investigate the cause of your truck accident, and win you the compensation you're owed. 
$32 Million Wrongful Death
$26 Million Truck Accident
$17.5 Million Car Accident
$12 Million Product Liability
$9 Million Truck Accident
$8 Million Truck Accident
$8 Million Truck Accident
$7.5 Million Auto Accident
$6.9 Million Garbage Truck Accident
$6.5 Million Traumatic Brain Injury
$5 Million Medical Malpractice
$5 Million Bus Accidents
What Are the Common Causes of Truck Accidents?
If you or a loved one suffered injuries or loss due to a truck accident, you are not alone. According to the Federal Motor Carrier Safety Administration (FMCSA), in 2017, there were more than 450,000 reported accidents involving large trucks in the United States. Of those crashes, 4,237 resulted in a fatality and 344,000 resulted in injury.
The common causes of truck accidents include driver negligence or recklessness, faulty truck tires or brakes, and irresponsible behavior on the part of the trucking companies. You or your loved one's large truck accident may have been caused by one or a number of these factors. If so, you deserve compensation for your injuries and property damage. 
Overspeeding/ Overtaking
Trucks move America. There is no disputing that. But with consumers ordering more and more online products and demand for those products to be delivered within days, trucking companies can make unreasonable demands on large commercial truck drivers. Bad weather, traffic, road construction and mechanical issues can put drivers under pressure to drive over the speed limit and ignore some traffic regulations.
Being overtaken by a large truck can be heart-stopping. A large commerical truck barreling down on nearby vehicles, ignoring posted speed limits and traffic conditions can cause devastating accidents. Speeding also greatly reduces the ability of large trucks to brake safely which can cause accidents and severe injuries to other motorists.
Driver Fatigue
Driver fatigue is probably one of the most familiar hazards of the trucking industry. Long hours, long runs and strict timetables might force some drivers to skip breaks and required sleep. Exhaustion is one of the most common causes of all vehicle accidents.
Distracted Driving
Distracted driving has become a huge problem in this country and the cause of many commercial truck accidents. Distracted Driving falls into three main categories:
Visual: taking your eyes off the road
Manual: taking your hands off the wheel
Cognitive: taking your mind off driving
When a truck driver is distracted, the resulting accident could be catastrophic. Texting while driving a truck, checking social media or replying to social media messages or eating while driving, looking at paperwork, or taking attention off the road for any reason while driving a truck can cause a fatal truck accident.
Driver negligence or recklessness
A truck driver's actions can cause a collision. Also, failure to act in a way that shows a reasonable duty of care to other drivers on the road can demonstrate the driver's part in causing the accident. Both driver negligence and recklessness may be factors in your accident. Consider some examples.
Negligence is one of the main factors we consider in analyzing the truck driver's part in causing the accident. All drivers are expected to act in a way that shows reasonable care towards others. However, when drivers inadvertently fail to demonstrate their expected standard of care, they may cause accidents. 
For example, a truck driver may be considered negligent for failing to take proper rest breaks. This can easily lead to driving while drowsy. Tired driving can be extremely dangerous, especially while operating large machinery such as a tractor-trailer. Even though this may be done inadvertently, the driver is negligent nonetheless. 
Yet, sometimes drivers may act in an intentional way – knowing that their actions endanger the lives of those around them. This is known as recklessness. Some examples of recklessness include driving while texting, driving while impaired by alcohol, and speeding. 
Truck drivers that demonstrate negligence or recklessness and later cause an accident may be held responsible for the damage they inflicted. In order to fully understand the role of the driver in your truck accident case, it's important to speak with a qualified truck accident lawyer.  
Failure to Adjust to Weather Conditions
Pennsylvania enjoys four beautiful distinct seasons during the year. Warm, often rainy springs and summers, and white, snowy winters.
Unfortunately, these shifting weather patterns can affect road conditions. We see low visibility due to rain, fog and snow, icy sleet and frozen, icy roads, and sometimes heavy winds. Bad weather can lead to bad accidents, especially when a tractor trailer is involved.
According to the Federal Motor Carrier Safety Administration, about 21 percent (more than 1.2 million) vehicle accidents each year are related to bad weather.
Failure to inspect tires and brakes
Large semi-trucks usually have 18 wheels and a total of 10 air compression brakes. If any of these are not functioning properly, they may cause the truck to lose control or be unable to shop. Maintenance and inspection of large trucks is essential, especially given the amount of mileage put on these large vehicles. 
It is the trucking company's responsibility to make sure that their vehicles are road safe. According to the Federal Motor Carrier Safety Administration, drivers should check their vehicles at the end of every workday and make a report. Furthermore, a full inspection must be completed every 12 months. If a company fails to make these inspections or keep proper records, it may be held liable for an ensuing accident caused by vehicle malfunction.
If you aren't sure whether or not vehicle malfunction was a factor in your accident, a truck accident lawyer can help. At Munley Law Personal Injury Attorneys, our experienced truck accident attorneys know how to analyze trucking company records and flush out every important detail for your case. We want you to get the compensation you are entitled to, and we work hard to get you those results.
Pressure to meet deadlines
Nowadays, long-distance semi-truck deliveries fuel the online shopping economy and have become even more prevalent and essential. Consequently, trucking companies may be under extreme pressure to fulfill their deliveries in even shorter times. Trucking companies often place strict deadlines on their truck drivers. 
These deadlines may cause the driver to be unable to take a needed rest break, causing him to drive tired. Also, the deadlines may be impossible to meet, encouraging the driver to go over the speed limit in order to achieve them. The pressure that a trucking company places on its drivers to meet their quotas can have a direct impact on tractor-trailer accidents.
However, in the face of an accident, a trucking company will not be willing to admit its culpability. You need an attorney who has extensive experience in dealing with trucking companies in order to sift through all the information and get to the truth. Munley Law Personal Injury Attorneys does just that for our clients, in order to get them the compensation they deserve. 
How Do You Determine the Cause of Tractor Trailer Accidents?
Some people may be unaware that, like planes, large trucks have a "black box" on board that records information. These black boxes can provide crucial information about how and why a collision occurred. For example, they record the truck's speed, GPS location, seat belt usage, steering angle, braking time and force, airbag deployment, cruise control settings, tire pressure, and whether or not the driver communicated with the trucking company.   
These black boxes record objective information about a crash, and the data can provide crucial evidence for a personal injury case against the truck driver or company. Nevertheless, this information can be difficult to attain, as most devices delete the records automatically after 30 days, and a trucking company may not be forthcoming in releasing the black box data. 
The truck accident lawyers at Munley Law Personal Injury Attorneys are highly knowledgeable when it comes to commercial truck technology and data. We have obtained and analyzed black box data on dozens of trucks and used that information to win a settlement or at trial. Munley Law Personal Injury Attorneys knows how important this information can be in determining the cause of a trucking accident. We also know how to legally oblige the trucking company to hand on information to us which we can use to strengthen your case. 
What Compensation Can You Recover From a Truck Accident?
If you have been involved in a distracted driver accident, you may be entitled to financial compensation for economic and non-economic losses caused by the accident such as:
Repairs to your vehicle or a vehicle replacement
Compensation for any loss of income due to the accident such as lost time at work for injury, pain, or doctors' visits
Direct medical costs related to injury caused by the accident
Pain and suffering resulting from the accident
Loss of or damage to property as a result of the accident
Other expenses that are related to the accident such as
Cost of mental health treatment
Cost of physical therapy following an injury related to the accident
Cost of rental vehicles or other transportation costs due to loss or damage of your primary vehicle in the accident
To discover what compensation you may be entitled to, contact the experts at Munley Law Personal Injury Attorneys for a free consultation.
Truck Accident Lawyers Who Care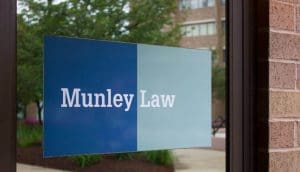 Driver negligence can be as simple as the driver failing to take a sufficient rest break. Driver recklessness can include speeding, driving while on the phone, driving under the influence, and aggressive driving. Trucking companies can also cause accidents by failing to perform maintenance on the tractor-trailers or by pushing the driver to meet unrealistic deadlines. 
In any case, if you or a loved one has been injured in an accident involving a tractor-trailer, you may have a right to recover funds for your medical expenses and other losses. 
Don't let the trucking company's insurers talk you into accepting a low settlement offer. It is vital that you speak with experienced truck accident lawyers as soon as possible.
The team of lawyers at Munley Law Personal Injury Attorneys has helped tractor-trailer accident victims throughout the Northeast get the compensation they deserve for more than 55 years. Let our experienced truck accident attorneys get you the best settlement possible in your personal injury case. We are available to talk now – contact us today for a free consultation.