At the end of 2021, Lyft was able to boast an 11% increase in ridership, ending the year around 18.9 million riders across the country. While a return to pre-pandemic leisure activities surely has boosted the nation's economy, increased ridership certainly will lead to an increase in traffic accidents. In fact, MIT conducted a study that found that rideshare apps like Lyft and Uber have driven an increase in traffic fatalities. Reach out to a Allentown Lyft Accident Lawyer.
While calling a car through a rideshare app undoubtedly has its benefits, there are a number of risks inherent to using an application like Lyft or Uber that consumers should be aware of. For instance, many rideshare drivers are distracted on the road. Rideshare drivers receive requests for new rides, directions to drop-off locations, and other instructions from the apps.
Unlike a crash involving two civilians, a crash involving a Lyft driver can be made much more complicated because of the corporation's involvement in the case. To ensure you get the outcome you deserve, we encourage you to seek out an experienced rideshare accident attorney to represent you. At Munley Law Personal Injury Attorneys, we have more than 60 years of experience litigating personal injury and car accident claims. Reach out to us today for your free consultation. We look forward to receiving your case and putting our expertise to work for you.
$32 Million Wrongful Death
$26 Million Truck Accident
$17.5 Million Car Accident
$12 Million Product Liability
$9 Million Truck Accident
$8 Million Truck Accident
$8 Million Truck Accident
$7.5 Million Auto Accident
$6.9 Million Garbage Truck Accident
$6.5 Million Traumatic Brain Injury
$5 Million Medical Malpractice
$5 Million Bus Accidents
How Does Insurance Work in Allentown Lyft Accidents?
All drivers, regardless of whether or not they drive for Lyft, must carry the minimum amount of vehicle liability insurance before getting behind the wheel. In the state of Pennsylvania, the Department of Transportation specifically requires the following:
$15,000 for bodily injury or death per person in a single accident
$30,000 for bodily injury or death in total for a single accident
$5,000 for property damage per accident
A driver's personal insurance, though, only kicks in when they are off the clock; that is when they are not driving for Lyft. When they are accepting rides through the app, Lyft's general insurance policy is in place. Although Lyft does not require its drivers to carry commercial insurance, its blanket corporate policy provides its drivers with roughly a million dollars in coverage. While this may seem like a lot, for particularly devastating crashes, this sum will not go very far; between medical care, compensation for lost wages, and material damages, victims can often require much more support.
If you are involved in a crash and do require a sum of more than one million dollars, you will likely face a few challenges. Lyft will probably try to shift the responsibility for your claim to either your insurance company or the other drivers' personal insurance company. If this happens, try to remain calm. In this scenario, the best thing you can do is hire an experienced Lyft accident lawyer. Without one, you may be unable to recover the compensation you are entitled to. We are experts in rideshare accidents here at Munley Law Personal Injury Attorneys and will fight to get you the support you deserve. Please reach out to us today for your risk-free consultation.
What is the Difference between Lyft Car Accidents in No-Fault and At-Fault States?
The main crux of any car accident legal case revolves around determining who was at fault. In short, if you are able to prove that the other party was at fault for the crash, you will be able to claim compensation for the case.
However, there are some nuances to this schematic, especially regarding state-specific definitions of fault. The majority of US states are "fault" states, meaning that the driver who is at fault for the accident is legally responsible for covering all damages. Pennsylvania, on the other hand, is a "no fault" state, which means that each party involved in an accident must file their damages claims to their own respective insurance providers.
To make matters more complicated, Pennsylvania auto insurance policies are "choice no fault." This means that each insurance policy can be either a fault or no-fault policy for personal injuries resulting from a motor crash. Policyholders, therefore, must decide which type of coverage they want.  A "no-fault" policy will cover a minimum amount for injuries to the policyholder regardless of who was at fault, but the driver may be unable to recover additional damages such as pain and suffering.
The first step in filing your claim will be to understand what type of insurance policy you have selected. A "fault" level of insurance will be easier for you to seek compensation for. If you have a "no-fault" level of insurance, you will benefit from seeking legal representation for your case.
What Should You Do Immediately Following an Allentown Lyft Car Crash?
In the aftermath of the crash, the first thing you want to do is seek medical attention for yourself and the others involved in the accident. Even if you feel your injuries are minor, it is still best to get a doctor's opinion. After a traumatic event, like a crash, many people go into shock. Your body will produce adrenaline, which often masks the full extent of your body's damage. Similarly, if you do end up filing a claim, a physician's evaluation will be an important piece of evidence for your case.
The next thing you will want to do is to contact an experienced accident lawyer as soon as you can. Once we arrive on the scene, we work alongside law enforcement to gather pertinent evidence. Because proving fault is so important in car accident litigation, giving your lawyer the opportunity to survey the scene with their own eyes will make sure that no piece of evidence goes unturned. For example, skid marks, oil spills, and other physical demarcations will help us reconstruct the scene.
If you have the wherewithal, it is also a good idea to try to capture your account of the events. You can do this as a voice recording or even as a note taken on your phone. Especially after chaotic events, our memories can be scrambled. Getting out a few facts immediately after will ensure that you remember everything as clearly as possible.
The Claims Process after Rideshare Car Accident
The next major thing you'll need to do is to file your claim. In order to do that, you'll need to estimate how much your accident is worth. To calculate the value of your claim, start by adding up all of your medical costs. Remember, this doesn't just include the cost of your care. It can also include the cost of prescription medications, rehabilitation like physical therapy, medical equipment, and even in some cases, travel to and from medical appointments.
Similarly, if your injury prevents you from working, you'll want to factor in the cost of lost wages.
Finally, you'll also want to add in any damages or specific losses to the cost of your claim. For material losses, this could include the price of repairs to your vehicle, for instance. If you are disfigured in a permanent way as a result of your injury, you will also be able to seek compensation for those specific losses.
After you figure out how much your accident is worth, then you can file your claim. Since there are multiple parties present in a commercial rideshare crash, reaching out to an experienced attorney will help you figure out which insurance provider you should file your claim to.
If your claim is denied, try to remain calm. Many claims are routinely denied as scare tactics. Just because your claim is denied does not mean that you will not receive compensation. Reach out to us here at Munley Law Personal Injury Attorneys today to discuss the appeals process.
Lyft Accident Settlements and Litigation
While your claim is in motion, there are essentially two paths for your case. The first option is to settle. This occurs when an insurance provider offers to pay you a sum to avoid bringing the case to court. Settlements are proposed by the insurance provider, and because of that, are often lower than the value that the victim thinks is fair. Despite this, though, there are advantages to settling.
First, settlements are by nature quicker resolutions than taking the case to court. For a victim who is feeling financial pressure, a settlement may therefore be more appealing. Similarly, when you settle, you essentially get to be involved in deciding what value is fair. When you take the case to court, on the other hand, a judge will decide what he or she thinks is fair for both parties.
Litigation can be a powerful tool if the insurance provider either refuses to engage or offers a settlement that is far too low. If you feel confident about your case, bringing it to court may be your strongest option. To figure out whether to accept a settlement or pursue litigation, reach out to an experienced accident lawyer. All of our lawyers at Munley Law Personal Injury Attorneys are trial lawyers and will be ready to bring your claim to the courts, should it be right for your case.
Why Choose an Allentown Lyft Accident Lawyer at Munley Law Personal Injury Attorneys?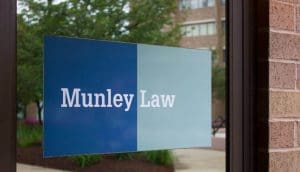 You should pick Munley Law Personal Injury Attorneys to represent you because our lawyers are simply the best in the personal injury business. Don't believe us? Our results speak for themselves. Many of our lawyers have won multi-million dollar settlements for our clients. Our lawyers have therefore earned the honor of being a part of the Million Dollar Advocates Forum– a distinction awarded to less than 1% of lawyers nationwide for their outstanding history of receiving record-breaking settlements for their victims.
Our team is stacked with a number of award-winning motor vehicle crash experts. All of our attorneys are board certified trial lawyers. They have likewise been recognized by their peers and legal organizations across the country. In addition to having our team consistently named on the Best Lawyers in America list, many of our lawyers have been recognized for their unique personal contributions. For instance,  Partner J. Christopher Munley was named "Lawyer of the Year " in 2016 for his work in Workers' Compensations-Claimants in the Allentown Metro area. Marion Munley is an active member of the American Association for Justice and was the first woman to chair the AAJ Trucking Litigation Group in 2018. Similarly, Daniel Munley served as chair of this same group from 2011 to 2012 and now serves on the AAJ executive board. Notably, he also received the AAJ Champion of Justice Award for his work with trucking and motor vehicle accident litigation.
Our firm has over sixty years of experience representing the Lehigh Valley and is proud to call the state of Pennsylvania our home. Please reach out to us today for your free consultation. We look forward to winning you the outcome that you deserve.
1275 Glenlivet Dr
Suite 100-599,
Allentown, PA 18106
(610) 232-7006