An Allentown Uber accident lawyer can help get you the compensation you deserve
The last thing you think about when getting into a rideshare vehicle is what will happen if the driver crashes. If you've been in an accident in a rideshare vehicle, such as an Uber or Lyft, it's important to have an experienced attorney on your side.
While we don't think about them, rideshare car accidents are happening more frequently than ever. In a two-year period, Uber reported that there were approximately 107 motor vehicle fatalities reported across 97 fatal Uber-related crashes — and experts believe that those numbers may even be higher than reported.
These accidents have many causes. For example, sometimes rideshare drivers are not qualified to be driving. Indeed, in most states, rideshare drivers have no professional licensing requirements. This distinguishes rideshare drivers from more formal taxi companies, whose drivers are often regulated by state, and sometimes local, authorities. Furthermore, while many taxi drivers are familiar with the locations in which they drive, Uber and Lyft drivers often rely on phone apps and GPS to get around. While certainly convenient, relying on these apps leaves rideshare drivers distracted and, given their unfamiliarity, susceptible to sudden stops. What's more, these vehicles perform pick-ups and drop-offs in crowded, high-traffic areas, increasing their chances of being involved in a car accident. Furthermore, rideshare drivers often must circle around these crowded areas while they wait for riders to be ready for pick up. This maneuvering, paired with the reality that it is in a rideshare driver's financial interest to finish a ride quickly, creates a recipe for disaster.
The Uber accident lawyers at Munley Law Personal Injury Attorneys know how to get you the compensation you need to recover from your injuries. For over 60 years, car wreck victims in the Lehigh Valley have come to Munley Law Personal Injury Attorneys, where our team of accident attorneys in Allentown consistently ranks among the Best Lawyers in America. We have earned the highest possible client satisfaction rankings and are board certified by the National Board of Trial Advocacy.
$32 Million Wrongful Death
$26 Million Truck Accident
$17.5 Million Car Accident
$12 Million Product Liability
$9 Million Truck Accident
$8 Million Truck Accident
$8 Million Truck Accident
$7.5 Million Auto Accident
$6.9 Million Garbage Truck Accident
$6.5 Million Traumatic Brain Injury
$5 Million Medical Malpractice
$5 Million Bus Accidents
When you or your loved ones find yourselves injured in an accident with an Uber driver, or a driver for any rideshare company, anywhere in the Lehigh Valley, don't move forward with your accident claim on your own. You should first speak with an experienced accident attorney at Munley Law Personal Injury Attorneys, who will fight for the compensation you deserve.
To find out if you may be entitled to compensation, fill out our contact form, chat live, or call now. Our Allentown car accident lawyers will review the details of your situation at no charge. Contacting us is completely free. We do not collect a fee unless we win your case, so you will never pay anything out of pocket. Furthermore, contacting us will not obligate you to take any actions. We are here to answer your questions and explain your options.
Why Are Uber Accidents More Complicated?
As with any car wreck, Uber accidents can cause cascading damages to you and your family. You may be suffering from an injury that keeps you from functioning as you normally would. That injury may keep you from returning to work, or from working at the same level you used to. What's more, you could be left with a vehicle that is severely damaged or completely nonfunctional.
Now, who do you hold responsible? If you were injured by the careless driving of a rideshare driver, the natural inclination is to go after that driver. But the fact of the matter is car accidents involving an Uber driver in Allentown are filled with complexities. While even the simplest of fender bender can create problems for you and your family, matters get even more complicated when the other driver was driving for Uber. For example, there can be questions about who is ultimately responsible for any damages caused by the driver. Is it the driver (who is likely considered an independent contractor for the rideshare company)? That driver's insurance company? Is there a claim against the rideshare company?
The reality is, you might have to fight with all three in order to get the recovery that you deserve. This is a complexity that you do not need to deal with when suffering from painful or life-threatening injuries caused by a negligent rideshare driver. The Allentown personal injury lawyers at Munley Law Personal Injury Attorneys can deal with figuring out who is responsible for an accident while you focus on your recovery. In fact, our lawyers deal with Uber accident lawsuits in the Lehigh Valley all the time. You deserve proper care and compensation for your losses, and our team of Allentown auto accident attorneys will fight for you every step of the way.
If you were injured in an Uber accident anywhere in the Lehigh Valley, our Uber accident lawyers will conduct a thorough investigation of your crash and explore all possible sources of recovery. We will explain your options to you, and if you choose to move forward, we will hold all negligent parties accountable to get you the compensation you deserve for your injuries.
Can I Sue Uber After an Accident Caused by an Uber Driver?
Most rideshare companies have insurance that covers their drivers, and by extension you as a passenger or injured other driver. For example, Uber has specific insurance policies that correspond to different parts of the ride. Understanding these rideshare insurance policies can help you get a better understanding of who can be held responsible for your car accident.
For example, if you're a passenger or a driver, Uber's insurance policies cover:
When the driver is waiting for a passenger request: Uber's first level of insurance coverage begins when drivers turn on the app and search for passengers who need a ride. This coverage is limited to liability only, meaning it will cover the medical bills and property damage incurred by the victims of the car accident because of the rideshare driver's careless driving. The latest figures state that these policies cover $50,000 per person for injuries, $100,000 in total injury, and $25,000 for property damage (per accident). Additionally, this insurance may only apply if the driver's insurance will not be able to cover the damages.
When a passenger is in the vehicle: Uber's second level of coverage begins when a passenger is in the vehicle. This policy covers accidents in which the Uber driver's careless driving results in a collision with other vehicles, pedestrians, or property. Uber's insurance policy will cover up to $1,000,000 per accident. If a third-party driver is at fault and underinsured or uninsured, Uber also offers $1,000,000 worth of coverage. Finally, Uber also offers contingent collision and comprehensive coverage regardless of liability. It covers the cost of the driver's vehicle and has a $1,000 deductible.
When there is no passenger and the driver is not waiting: If the Uber app is turned off and the driver is not "on the clock," the Uber driver's own insurance policy typically applies.
Do not speak with an insurance company without talking to an attorney first. After an Uber accident, you may be contacted by an insurance company or by an attorney representing another party. It could be the company that provides Uber's insurance, the driver's insurance company, or the insurance company covering a third party. These insurance companies, or even attorneys representing other injured parties, may ask you for statements, declarations, waivers, or to sign some document. You should not speak with them without an attorney; you can politely inform them that you'd like to reschedule your conversation until after you've had the chance to speak to an attorney. While it may seem silly, it is very easy to accidentally waive certain rights in these conversations, or limit your ability to recover all the money to which you may be entitled. For that reason, you should always check with an attorney before signing anything or talking to anyone after an accident in which you were injured.
What Are the Different Types of Uber Accidents?
Ridesharing services have revolutionized the ways in which we get around, and provide a convenient way for passengers to get a ride. However, sometimes these companies have less-than-optimal standards for their drivers. The lower standards established by ridesharing companies have contributed to many of the car accidents involving rideshare companies in Allentown over the years.
For example, Uber drivers only need to meet the following criteria:
Meeting the minimum age to drive
Have at least one year of licensed driving experience (three years if you are under 25)
Have a valid driver's license
Use an eligible 4-door vehicle
Drivers need to pass a background check which includes a review of their driving record and criminal history. And once that information is provided, within a day the driver can start work for Uber.
But the reality is that these hiring practices have allowed negligent drivers to slip through the cracks.
Rideshare accidents in Allentown usually involve one of four situations:
An Uber accident where you are the passenger: You are the passenger in an Uber, Lyft, or another rideshare service, and your driver hits another vehicle, is hit by another car, or hits a pedestrian or cyclist.
A rideshare driver crashes where you are in another vehicle: You are the driver of or a passenger in another car on the road when you are struck by an Uber, Lyft, or another rideshare car in Allentown.
A rideshare accident where you are not in the vehicle: You are a pedestrian or cyclist walking or biking throughout the Lehigh Valley when you are hit by an Uber, Lyft, or another rideshare vehicle.
A rideshare driver crashes, causing damage to your vehicle or property, even when you are not in the vehicle: For example, an Uber driver backs into your parked car, or a Lyft driver runs off the road, damaging your home or property.
What to Do After Uber Accident in Allentown?
When you enter the backseat of a rideshare vehicle, your only thought is reaching your destination safely and on time. None of us ever think that we will be the victims of a serious car accident, especially in Allentown. But even the best-rated rideshare drivers can make mistakes. If you find yourself in a Lehigh Valley Uber accident, here are a few things you should do:
Make a police report: Contact the police right away and make a report. You will need this for your insurance company and, if it comes to it, your lawsuit. Do not let your driver, another passenger, or a third party convince you not to file a police report. They are extremely important.
Seek medical attention: Even if you do not think you were injured, make sure to seek medical attention and have yourself checked out by a doctor. Sometimes, the symptoms from an injury caused by a car accident can creep up days, or even weeks, later, and you want to be prepared. Seeking medical attention will help your case as well, as it will provide a documented source of the damage caused by the rideshare driver's careless driving.
Document everything: While it may not be the first thing on your mind at the time of a crash, take pictures, take down the names of drivers and witnesses, and document everything. You should also try to reduce any conversation to writing. Your lawyer will need these things later.
Contact the rideshare company: You will need to contact the rideshare company to let them know what happened. You can usually report the crash either through the app or online. For example, Uber lets customers and drivers report online by filing out a form.
Do not talk to opposing insurance companies: While it is okay to speak with your own insurance company, you do not want to talk to anyone else's. They may try to get you to admit fault or waive your rights. Even when discussing the incident with your own insurance company, it's best to memorialize all live conversations in writing. For example, if you discuss the accident with your insurance company, ask for an email address to which you can direct follow up questions. Then, after the conversation, you can go ahead and respond to that email address, thanking the person for their time and summarizing the conversation. This way, there is a record of what was discussed. You can use this method to reduce to writing any important conversation that you have in the moments and days after an accident.
You should photograph any injuries you have as well. After the accident, try to obtain a copy of the accident report from the police and, if necessary, have your insurance company perform a valuation of the damage.
Keep track of all of your out-of-pocket expenses and any work or activities you miss. Maintain a journal or log of all of your doctor's visits, test results, prescriptions, treatments, or other relevant medical information from the doctor. While you may think you can remember these facts, as time goes on, and as you attend more and more appointments related to the accident, the exact dates and purpose of doctors appointments may become hazy. Furthermore, it's easy to forget about small expenses, especially early on. But, these expenses add up and are important to fully capture all the damages that you may be able to recover.
What Are the Common Causes of Uber Accidents?
Whatever the cause of your accident, the car wreck lawyers at Munley Law Personal Injury Attorneys will perform a thorough investigation to ensure that you receive appropriate compensation from all responsible parties. We will find out if your rideshare accident was caused by:
Distracted Driving: Was your Uber driver talking on the phone, texting, eating, playing with the radio, looking at their GPS, or otherwise distracted? These are all tell-tale signs that your driver was not driving with the necessary level of care.
Driver Fatigue: Did your driver stay out all night partying before deciding to come to work too tired to drive? Was your Uber driver behind the wheel for an excessive number of hours, causing your accident? You may not know, but anything you observe, or anything your driver says during the ride, can be helpful.
Drunk Driving: If your rideshare driver was drinking or under the influence of illegal substances, even marijuana, before getting behind the wheel, causing you injury, it can be used to support your case.
Speeding: We know that Uber drivers make more money by picking up more passengers. If your Uber crash in Allentown was caused by a speeding rideshare driver who was too busy worrying about the next passenger, we can help.
Recalled or Defective Vehicles: If your accident was due to a poorly maintained vehicle, our team of investigators will find out what went wrong and why. Drivers have an obligation to adequately maintain their vehicle, and if your driver's failure to do so caused you harm, they should own the consequences, not you.
Reckless Driving: For whatever reason, sometimes your rideshare driver tailgates, runs red lights, and breaks other traffic laws. We've all seen it. However, this reckless driving can, and often does, cause accidents and sometimes lead to severe injuries. Let us know if you saw the rideshare driver acting recklessly before a crash.
What Compensation is Available in an Uber Accident?
Uber car accidents can leave both physical and emotional scars. You may be out of work and unable to earn for your family. Mental anguish, anxiety, and fear of driving or being a passenger in a car again are all possibilities following an auto accident, especially one caused by someone else. Your physical injuries may be debilitating and can include:
Head and neck injuries, including whiplash
Traumatic brain injuries
Back and spine injuries
Internal injuries
Broken bones
Lacerations
Wrongful death
Vehicle rollover crushing injuries
Burns and scarring
Our team of experienced rideshare accident attorneys have experience representing clients recovering from all manner of car accidents. We will fight to win you the maximum amount we can, be it through a settlement or verdict. While we always hope to get you the financial relief you deserve as quickly as we can through a settlement, if we can't settle your claim, our professional team of Allentown car crash attorneys do some of their best work in the courtroom. We aren't afraid to take a case to court. You aren't just another case to us; we'll stand with you every step of the way so you can win compensation for your:
Lost income
Medical bills
Pain and suffering
Emotional distress
The Allentown Uber accident lawyers at Munley Law Personal Injury Attorneys will fight for the compensation you deserve. To find out if you have a rideshare car accident case, fill out our contact form, chat live, or call now. Our Allentown auto accident lawyers will review the details of your situation at no charge. And, we do not collect a fee unless we win your case. This means that you never pay anything out of pocket. Furthermore, calling us does not obligate you to take any action. We're here to help; not pressure you.
Frequently Asked Questions About Rideshare Accidents in Allentown
An Allentown rideshare lawsuit can be complex and overwhelming. After an Uber accident in the Lehigh Valley, you may be wondering how you're going to pay your bills, feed your family, and more.
We gathered a few of the most common questions that come across our desks. If you do not see the answer to your question below, or if you would like to discuss your particular situation with an experienced car accident lawyer, contact Munley Law Personal Injury Attorneys today.
Is There a Difference Between Uber and Lyft?
On the surface, Uber and Lyft are both similar rideshare companies. However, Uber is a larger company than Lyft, as Uber is available worldwide and Lyft is only available in the United States. Both companies charge about the same for their respective services. Each company also has different insurance policies and slightly different procedures for responding to accidents by drivers.
What Do I Do If My Rideshare Driver Was Responsible for My Car Accident in Allentown?
As discussed above, regardless of the company involved, there are a few common steps you should take. But you shouldn't panic. For example, drivers have multiple levels of insurance coverage, including personal auto insurance and coverage through their respective rideshare company. Which one they use depends on the situation. Things can get complicated when trying to make a claim with the insurance companies, which is why you should always have an attorney to make sure you aren't left holding the bill for someone else's wrongdoing.
What If Another Driver is Responsible for My Uber Accident in Allentown?
In most situations, the driver at fault will have insurance to cover the accident and any costs. However, if the driver is uninsured or underinsured, most rideshare companies carry insurance for those situations. Rest assured, an experienced attorney, like those at Munley Law Personal Injury Attorneys, can help find the right person (or company) to hold accountable.
Would Uber be Responsible for My Car Crash in the Lehigh Valley?
The answer here depends. You might be able to sue Uber, but that would be very fact-dependent. Uber drivers are considered independent contractors, meaning the rideshare companies are generally not directly at fault or responsible for the actions of their drivers. But new case law is challenging this assertion, so you should check in with an attorney.
What Should I Do If Someone Calls Me About the Accident?
Never speak to anyone without an experienced lawyer by your side. Do not make any recorded statements to the other party or their insurance carrier, prior to discussing it with your attorney.
Hire an Uber Accident Lawyer From Munley Law Personal Injury Attorneys Now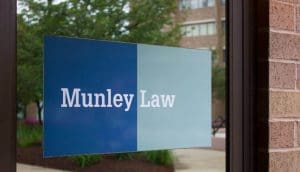 For more than 60 years, Munley Law Personal Injury Attorneys has been the go-to firm for injured workers and their families. The car accident attorneys at Munley Law Personal Injury Attorneys understand how an Allentown Uber crash can change your life. No firm is more experienced or more successful in handling rideshare crash cases in the Allentown area.
At Munley Law Personal Injury Attorneys, we believe that cost should not stand in the way of justice for the injured. Therefore, we do not collect a fee for our services unless we recover benefits for you. As our client, you will not have to pay anything up front or out of your pocket.
Chat, email, or call us today to arrange a free consultation with a car accident lawyer.
1275 Glenlivet Dr
Suite 100-599,
Allentown, PA 18106
(610) 232-7006