Does Workers' Compensation Pay for Death Benefits?
If your family member dies in a work-related accident in Allentown, the last thing you need to worry about at this time is paying for the expenses. Fortunately, most workers' compensation benefits policies are provided to surviving family members for the employee's lost wages caused by a work-related death. Under Pennsylvania's workers' comp laws, a deceased workers' family member can file a claim when an employee dies while on the job, so long as workplace injuries or death happened on the job.
Unfortunately, employers and insurance companies deny workers' compensation death benefits, even though the injured workers' claims are valid. When this happens, an Allentown workers' compensation attorney can help your family receive the compensation you deserve.
If you need help to receive workers' compensation death benefits, or your workers' compensation benefits claim was denied, call the Allentown workers' compensation attorneys at Munley Law Personal Injury Attorneys or contact us online to schedule a free consultation.
How Much Compensation Can a Family Receive After a Worker Dies?
Families may be able to receive weekly death benefits calculated as a percentage of the deceased worker's weekly salary. There is a weekly maximum on death benefits set by Pennsylvania law based on the state's average salary.
In Pennsylvania, roughly 85 employees died in 2021 as a result of work-related accidents. Most fatalities occur in the construction and transportation industries. When an eligible worker dies, workers' compensation insurance pays the family for funeral expenses and a percentage of the deceased worker's salary.
After a workplace injury that results in a deceased worker, workers' compensation law can give Allentown family members the following:
$3,000 for a funeral, and
Between 22 percent and 67 percent of the deceased worker's weekly salary
The percentage of salary paid and the length of time benefits are provided varies based on whether the surviving family member is a spouse, child, parent, or sibling of the deceased worker and how many children the injured employee has. Typically, a surviving spouse receives 51 percent of the worker's average weekly wage until he or she remarries, plus two years of death benefits after re-marriage.
A spouse with one dependent child under the age of 18 living in the house is usually entitled to collect benefits equal to 60 percent of the deceased worker's average weekly wage, and approximately 67 percent if they have two or more children under the age of 18 still living at home.
Children are eligible to receive workers' compensation death benefits until the age of 18 for a deceased parent due to a workplace injury. There are circumstances in which a dependent child may be entitled to receive benefits beyond the age of 18. For example, if a child is enrolled full-time in a university, college, or trade school, benefits may continue until the child is 23 years old. If a child is dependent on the late employee due to a disability, benefits may continue for as long as the disability exists.
If the late worker does not leave behind a widow or widower, or any surviving children, other family members may receive death benefits from the Pennsylvania workers' compensation system. A parent who was partially dependent may be eligible to receive up to 32 percent of the worker's wages and fully dependent parents may receive up to 52 percent of the prior weekly wages. If parents survive the deceased worker, siblings may also receive death benefits if they were partially or completely dependent on the late employee.
To determine if you are eligible to collect death benefits when your family member died as a result of an accident on the job, contact the experienced Allentown workers' compensation attorneys at Munley Law Personal Injury Attorneys. We can advise you of your rights and how to proceed in order to obtain the compensation you deserve.
Steps to Take Immediately After a Workplace Accident in Allentown
After receiving an on the job injury, a report must be filled out and submitted to the employer. It is important to document the incident as soon as possible. In Pennsylvania, this report must be filed within 120 days of the accident.
Once you've submitted the incident report, insurance adjusters from your employer's insurance company are likely to contact you to find out more. This is why injured workers need to speak with a skilled workers' comp attorney serving Allentown and the surrounding areas before talking to the insurance company. We can negotiate with the insurance adjuster on behalf of injured workers to protect your interests.
If you need a highly skilled workers' compensation attorney in Allentown, contact Munley Law Personal Injury Attorneys today. Call today to speak to an experienced workers' compensation lawyer with a free consultation.
What to Do If Your Workers' Compensation Claim is Denied in Allentown, PA
According to the Pennsylvania Workers' Compensation Act, death benefits for a fatal work injury should provide compensation to family. Unfortunately, an employer's workers' compensation insurance company can deny your claim for several different reasons, including:
The incident report contains inaccurate information
The report was filed more than 120 days after the accident
The late employee or his injury isn't covered by the employer's insurance coverage
The employer asserts that the fatal injury happened outside of work
The employer accuses the deceased worker of using alcohol or drugs while at work
What can you do if your death benefits claim was denied? You can appeal. Unfortunately, the appeals process can be time-consuming and frustrating, which is not what you want to deal with while grieving the loss of your loved one. An Allentown workers' compensation lawyer well-acquainted with Pennsylvania law will start the appeal process on your behalf so you can focus on other important issues.
Do you need to appeal a work comp death benefits denial in Lehigh County? Discuss your options with a qualified Munley Law Personal Injury Attorneys workers' comp lawyer today. Call or contact us online to schedule a FREE initial consultation and speak to an experienced Allentown compensation attorney.
FAQs for Workers' Compensation Death Benefits in Allentown
Q: Can I seek benefits if my loved one was injured at work but did not die until several months later?
Yes, even if the work-related injury or illness suffered by your loved one did not cause immediate death, you may be entitled to receive death benefits for the fatal work injury if he or she passed away within 300 weeks of suffering the injury or illness.
Q: How Many People Are Injured at Work Each Year in Pennsylvania?
According to the Bureau of Workers' Compensation of the Pennsylvania Department of Labor & Industry, over 147,000 workers in Pennsylvania were injured at work in 2020. Over 6,000 workers in the Lehigh Valley alone suffered work-related injuries on the job in 2020. Seventy-two workers were killed in work-related accidents. The most fatal work injuries occurred in the construction industry, with the second highest number in the trade, transportation, and utilities industry followed by the education and health services industry.
Q: What is Pennsylvania's Workers' Compensation Coverage for Fatal Work Injuries?
The Pennsylvania workers' compensation program is designed to protect both employees and employers. Through the framework, the surviving family of the deceased employee can seek compensation for wage loss benefits. Employers pay to cover their workers. In exchange, they are protected from lawsuits by their employees' surviving families. For most employers, a workers' compensation program is required. If employers do not cover their workers, they may be sued by their employee's family and may be criminally prosecuted.
Q: How do I know if I am covered by Workers' Comp?
The Pennsylvania Workers' Compensation Act requires most Pennsylvania employers to protect their employees with workers' comp insurance, no matter how large or small the business. Employees are covered by Pennsylvania's workers' compensation system for the entire time they work, beginning on the first day of the job. Full-time, part-time, and most seasonal workers are covered.
Because policies ensure the family of fatally injured employees receive benefits for on-the-job accidents, all work injury claims proceed through a special process within the workers' compensation system and could be decided by a workers' comp administrative judge.
While most businesses are required to provide workers' comp coverage to their employees, some are not required. Some situations where a worker might not be covered include:
People covered by specific workers' compensation laws, such as regulations that apply to railroad workers and federal employees,
Agricultural workers who work less than 30 days in a year for one employer,
Farm workers who earn less than $1,200 annually from one job,
Independent contractors who are not employees,
Volunteer workers, and
Workers who provide domestic services such as house cleaning and lawn care.
Q: How long do I have to report my loved one's injury or illness or file a claim?
Under Pennsylvania law, a worker's injury or illness must be reported to the employer within 120 days of the injury and the claim must be filed with the workers' compensation bureau within 3 years of the date of the injury. These time limits make it very important for you to speak with an experienced Allentown worker's compensation lawyer as soon as possible. If you fail to timely report the fatal injury or file your death benefits claim, you will not be able to receive compensation for your loved one's injuries and your claim will be denied.
Q: What needs to be proved in a workers' compensation death benefits claim?
You will need to prove that you are an eligible surviving family member and that your loved one's injury and death occurred as a result of his or her job. Eligible family members include a surviving spouse, dependent child, parent, or sibling. You may also need to prove that the deceased employee was not under the influence of drugs or alcohol at the time of the fatal work injury.
Why should I hire a Munley Law Personal Injury Attorneys attorney?
At Munley Law Personal Injury Attorneys, you don't just get a lawyer, you get a law firm. Our attorneys work together as a team to give you the insight, experience, and combined efforts of our entire team. Our attorneys are highly skilled in PA workers' compensation, including death benefits, and have earned status as hard-working Allentown attorneys who protect your rights and ensure you receive the compensation you deserve. Our mission is to help families of fatal workplace accidents. Plus, we don't charge you a fee unless we recover money for you for your loved one's death. Call us today for a FREE case evaluation.
When to Hire an Allentown Workers' Compensation Attorney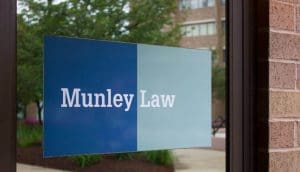 In Lehigh County, the death benefits process can be complicated and time-consuming. It is a difficult, frustrating process for people who are unfamiliar with filing workers' compensation claims, especially when you are dealing with the death of a loved one. A simple mistake could put the entire work injury claim in jeopardy. Worse still, even if you're already receiving your benefits, the insurance company can decide to stop your payments earlier than allowed.
You need a highly qualified lawyer to help you secure the compensation you deserve for as long as legally possible. Munley Law Personal Injury Attorneys experienced workers' compensation lawyers work hard to protect your interests and ensure you are satisfied with the outcome of your workers' compensation case.
Call Munley Law Personal Injury Attorneys for a free consultation today to speak to a qualified personal injury lawyer who can provide legal advice. Or contact us using our online form. We work on a contingency fee basis, which means you only pay us for our services if and when we obtain a workers comp settlement for your claims.