If you have never filed a personal injury suit before, you're not alone. Many will likely never have to file more than one personal injury claim in their lifetimes, so it's likely you're curious what the process look like and what steps need to be taken to ensure you receive compensation to recover from your injuries.
Preventable injuries are not uncommon in the U.S. According to the National Safety Council, 48.3 million people experienced an injury in 2019. There were 173,040 preventable deaths. If you've experienced an injury or a loved one's death due to someone's negligence, you should speak to a lawyer today.
The most important part of a personal injury lawsuit is that you have an experienced personal injury attorney by your side to help win your case. These cases can be complex, especially if the specifics of your personal injury case involve many parties, long-term medical care, or other nuances. Proving negligence will be key to your case, and your best chance is to work with a personal injury lawyer.
At Munley Law Personal Injury Attorneys, we have been helping accident victims for more than 60 years, and we're passionate about helping our clients recover. Contact us today for a free consultation.
What Are the Stages of a Personal Injury Claim?
Determining At-Fault Party. The key to any personal injury lawsuit is that you must have suffered due to someone else's negligence. Therefore, the first step in any case is to identify the negligent party. It is possible for there to be more than one at-fault party.
Send Claim Notification. Once you and your personal injury lawyer identify who you would like to pursue a lawsuit against, you will need to let them know. This letter of intent will go to the negligent party, your insurance company, and more depending on the type of personal injury case. Personal injury attorneys handle this step for you.
Gather Evidence. In this step of the personal injury claims process, your lawyer will build your case. The evidence in a typical personal injury case includes details of the accident scene, injuries sustained, lost wages, police reports, and anything else important. As far as your injuries, your lawyer will seek detailed records of medical treatment, medical records, medical bills, medical expenses, medical care, including anything you will need in the future.
Ask for Compensation. Based on the findings above, your personal injury lawsuit will then move to asking for compensation. An experienced attorney will be able to estimate the cost of your personal injuries to ask for a fair and maximum settlement.
Negotiate, Mediate, or Go to Trial. In many cases a personal injury lawsuit doesn't conclude after you ask for compensation. Instead, an experienced attorney will use their skills to negotiate with insurance companies. This could involve a lot of back and forth, so it's important you have a winning personal injury attorney on your side. Most personal injury cases are able to be resolved through negotiations, avoiding personal injury trial. However, if your case does need to go to trial, you should make sure your lawyer has the experience to argue in the court room.
Finalize Settlement. Once both parties agree to the settlement, there will be paperwork to sign off on.
Common Personal Injury Case Types
Personal injury lawsuits share one common factor: The accident or injury was caused by someone else's negligence. However, many personal injury claims can happen in very different ways. Whether you slipped on a wet floor or were injured in a car accident, you could have a personal injury lawsuit. This includes if you were injured at work during a shift or if you received an improper medical diagnosis from a doctor, resulting in pain and suffering.
Here are some common accidents or injuries that turn into personal injury cases:
How Long Do Personal Injury Cases Take to Settle?
Every personal injury case is unique, so the timeline from filing a claim to receiving a settlement can vary greatly. The first time to consider is that statute of limitations. In Pennsylvania, you have two years from the date of your accident to file an injury lawsuit. So do not delay.
In most personal injury claims, you are seeking damages from an insurance company – that can include auto insurance, home insurance, liability insurance, malpractice insurance, and more.
Some cases can take months to resolve, while others can take years. The timeline of an injury lawsuit really depends on if serious injury occurred, how many accident victims there are, how many at-fault parties there are, or other factors that could lengthen the litigation process.
If you're curious about how long your specific personal injury lawsuit might take, reach out to a personal injury lawyer. Contact us today for a free consultation.
What is a Typical Personal Injury Settlement?
Unfortunately, it is hard to quantify your "typical" personal injury settlement. Instead, the money you receive after an accident can vary greatly depending on how severe the injuries sustained are. For instance, you will receive a smaller settlement for broken bones than you would in the case of wrongful death.
It's important in every personal injury lawsuit that you're not worrying about how you are going to pay for your case. At Munley Law Personal Injury Attorneys, we work on a contingency fee basis. This means we only get paid if we win you a settlement. Below are some of the settlements we have won for accident victims. We're passionate about helping guide victims through the personal injury lawsuit process and ensuring you get the compensation you need to recover.
How to Win A Personal Injury Lawsuit?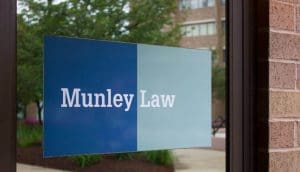 If you want to ensure you get what you need to recover from accident injuries, you need an experienced personal injury attorney by your side. These cases are complex and you'll need someone with the skills to guide you through the process.
At Munley Law Personal Injury Attorneys, we have been helping accident victims in Northeastern Pennsylvania and across the country for more than 60 years. We are passionate about holding negligent parties liable to ensure victims get the compensation they deserve.
We don't get paid unless we win your case. If you've been injured in an accident due to someone else's negligence, contact us today for a free case evaluation to understand what you may be owed.