You need a Pittsburgh motorcycle accident lawyer who will fight for you
Although motorcycles are fun to drive throughout the streets of Pittsburgh, they do carry a risk that other vehicles may not. With less protection than that of a car or truck, motorcycle riders could suffer severe injuries. When that occurs, you will need the help of an experienced attorney in Pittsburgh to help you get compensation for your injuries while you concentrate on your own recovery.
$32 Million Wrongful Death
$26 Million Truck Accident
$17.5 Million Car Accident
$12 Million Product Liability
$9 Million Truck Accident
$8 Million Truck Accident
$8 Million Truck Accident
$7.5 Million Auto Accident
$6.9 Million Garbage Truck Accident
$6.5 Million Traumatic Brain Injury
$5 Million Medical Malpractice
$5 Million Bus Accidents
If you or someone you love suffered a catastrophic motorcycle crash, you need a attoney from Munley Law Personal Injury Attorneys who will deliver for you. When our father, Robert W. Munley, started Munley law in 1959, he pledged to always fight for accident victims. His iron-clad commitment to treat Munley Law Personal Injury Attorneys clients as family is at the heart of everything we do. As a result, over 60 years, our small Pennsylvania law firm became the nation's leaders in motor-vehicle crashes.
The Munley Law Personal Injury Attorneys Promise is simple and the key to our success. As your lawyers, we will use all of our resources and knowledge to help you win big. When you are a Munley Law Personal Injury Attorneys client, we know you will receive nothing but professional and honest legal representation. We promise:
If you're ready to see the difference that the Munley Law Personal Injury Attorneys make in your case, then schedule your free consultation today.
What Compensation is Available After a Motorcycle Accident in Pittsburgh?
It's no surprise that can be expensive for the injury victims. According to a recent study conducted in California, the average cost of hospital admissions for a non-helmeted rider involved in a motorcycle crash is approximately $17,704. This cost does not include lost wages and repair bills the injured rider would have to face after the incident.
With so many costs associated with a Pittsburgh motorcycle accident lawyer injury, it's no surprise that you may be concerned about how you're going to pay for everything. Chances are you may not receive a settlement offer from the insurance company that will cover all your expenses. This is where a claim could help you with the costs.
If you file a personal injury claim, you may receive the following compensation for your injuries:
What Should I Ask My Accident Attorney After a Motorcycle Accident to Protect My Personal Injury Claim?
If you've never been in a motor vehicle accident before, you may not know what you need to do after getting into an accident to protect your claim. Fortunately, our attorneys are here to help.
You can start immediately after the accidents motorcycle occurs by taking photos of the scene, collecting contact information of witnesses and those involved, and speaking with the police. You will also want to go to the hospital as soon as possible to get checked out. Even if you don't feel like you were seriously injured, it's important to seek medical attention after any type of motor vehicle accident. Many times, you may not experience pain until hours if not days following the crash.
In the days following the accident, keep a log of all your expenses. This includes any medical bills you received, a record of time off from work, and repair estimates. You will also want to get a copy of the police report once it is completed — not only is it important to know what happened but this document will be used by the insurance company to determine who is at fault.
You will start receiving phone calls from the insurance company who want to know your side of the story. Remember you do not have to speak with the other driver's insurance company. If you do find yourself in a conversation with the insurance adjuster, keep your comments as brief as possible and only discuss the facts. Do not mention how injured you are or what you were doing before the accident occurred. And above all us, do not have your conversation recorded.
Finally, it's important to speak with an experienced personal injury attoney as soon as possible. Your attorney will be able to advise you on what your next steps should and will negotiate with the insurance company on your behalf so you can receive the compensation you deserve following a motorcycle collision.
Why Are Motorcycle Accidents in Pittsburgh So Dangerous?
According to the National Highway Traffic Safety Administration (NHTSA), there were 4,985 fatal motorcycle collisions last year. In other words, every single day, more than 13 motorcyclists crash and die on America's streets, roads, and highways. Thousands more suffer serious injuries when motorcycles collide with cars, trucks, and SUVs. According to the Pennsylvania Department of Transportation (PennDOT), Pennsylvania has 825,898 licensed motorcyclists alone.
There are several reasons why Pennsylvania motorcycle riders face a greater risk for injury and wrongful death than other motorists:
In Pennsylvania, learning to safely ride your motorcycle is easy and free through PennDOT's Pennsylvania Motorcycle Safety Program (PAMSP). The PAMSP course teaches motorcycle permit-holders everything they need to know about riding a motorcycle. The course includes both a classroom component and a "skills" component where experienced instructors will teach you how to ride in a safe and controlled setting. Best of all, after you successfully complete the PAMSP Basic or Intermediate class, PennDOT will waive the skills test requirement for your motorcycle license. In addition, the course is a great way to lower your motorcycle insurance rate.
How Long Do I Have to File My Motorcycle Accident Case in a Pennsylvania Court?
The time limits that states set for filing cases are called "statutes of limitations." These time limits vary both by state and by type of case. In Pennsylvania, the statute of limitation for bringing a claim for motorcycle collision injuries is 2 years, measured by the date of the crash. If your loved one died in a tragic motorcycle collision and you want to bring a case on his or her behalf, the answer is slightly different. The statute of limitations is still two years, but courts measure the two years starting with the date of death.
However, every case is different, and depending on the facts of your accident, different rules may apply. In order to get the most accurate information about your lawsuit, you should speak to an experienced motorcycle attorney. To discuss your case with one of our award-winning  car accident attorneys, schedule your free consultation today.
Frequently Asked Questions About Motorcycle Accidents in Pittsburgh
Q: Who Can Be Held At Fault When For The Accident?
A: Motorcycle who has their case can be more complicated than first thought. Even though the driver or the motorcyclist is usually at fault, there are times when a third party is to blame. For example, if the crash was caused by a faulty part on the motorcycle and the manufacturer knew about the part, the manufacturer could be held responsible. The local or state government may also be to blame if dangerous road conditions led to the accident.
To prove who is to blame for your injuries, your motorcycle accident attorney will need to show the following:
Q: How Much is a Case Worth?
A: Every case is different, and the amount of compensation will depend on a number of things, so you should be wary of any attorney who tells you how much you will get too early in the process. At Munley Law Personal Injury Attorneys, our experienced motorcycle collision attorneys will investigate your claim and negotiate with the insurance company for the maximum amount owed. Your motorcycle collision attorney will keep you up to date on the negotiations and won't accept a settlement offer without your permission.
The amount of money you get from your motorcycle collision case will depend on how bad your injuries are, how much your hospital stays, surgeries, and any other medical care you need now or in the future will cost. It will also depend on how much time you have to miss from work and/or how the accident affects your ability to work in the future. Your compensation will also be based on how much pain and suffering the crash caused and will continue to cause you.
Q: Can a Motorcyclist be Blamed For The Pittsburgh Motorcycle Accident?
A: Short answer: Yes, a motorcyclist could be found to be at fault for the motorcycle accident. For example, if a motorcyclist was driving illegally in the middle of traffic and was hit by a car that was switching lanes, the motorcyclist could be found partly to blame for the accident.
According to Pennsylvania's comparative negligence doctrine, if the person who was hurt was partly to blame for the accident, they can still get compensation, but for a less amount. To get money for damages, the person who was hurt must be found to be less than 50 percent at fault. The court will decide who is at fault.
Using the example from above, if the motorcyclist is found to be 20 percent responsible for the accident, they will only get 80 percent of the money they are owed.
Q: How Do I Choose an Attorney to Represent Me?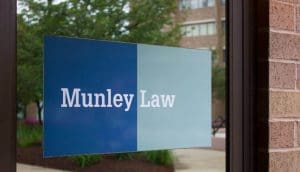 A: Who you choose to represent you in your fight for compensation for your injuries makes a difference. To maximize your financial award, you want a motorcycle accident attorney who:
Get the justice, results, and maximum compensation that you deserve for your motorcycle crash injuries. For more than 60 years, the Pittsburgh motorcycle accident attorney at Munley Law Personal Injury Attorneys has been helping motorcycle injury victims throughout Allegheny County get compensation for their injuries. We understand the court system in Pittsburgh and we will do whatever is needed to get the maximum amount for your injuries.
Time is limited so the sooner you contact an attorney, the quicker we can get to work on your case. Contact one of our motorcycle accident attorneys at Munley Law Personal Injury Attorneys today for a free consultation. You don't pay a fee until we win your case.
Call Now For Your Pittsburgh Motorcycle Accident Attorney Advice
Pittsburgh Practice Areas
Munley Law Personal Injury Attorneys
510 Third Avenue
2nd Floor,
Pittsburgh, PA 15219
+14125345133